Mystery of Sargasso Sea
While on a yacht trip in the Sargasso, you suddenly find yourself trapped in a fierce storm. Struggling with the elements you've lost consciousness, and when you come to your senses, you see a strange place resembling an island of abandoned ships. But soon you realize that the island is far from deserted...

What is this mysterious place? How did you get here? What secrets are hidden on this island of abandoned ships? Is it possible to get out? Answer all these questions and more in Mystery of Sargasso Sea!
Over 60 light adventure locations
Beautiful graphics
Ships of different eras
Game System Requirements:
OS:

Windows XP/Windows Vista/Windows 7/Windows 8

CPU:

1.0 GHz

RAM:

512 MB

DirectX:

9.0

Hard Drive:

691 MB
Game Manager System Requirements:
Browser:

Internet Explorer 7 or later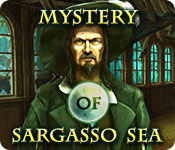 NEW299
The Big Fish Guarantee:
Quality tested and virus free.
No ads, no adware, no spyware.

Reviews at a Glance

Mystery of Sargasso Sea
0
out of
5 (
0
Reviews
Review
)
Customer Reviews
Mystery of Sargasso Sea
20
20
Good game
This is a well designed game of good length. The story is interesting and is well told with a good journal. The setting is great, all these old ships. Good production with VOs. Game play is average. There are lots of HOS that are of the junk pile variety with IA. This kind of detracts from the game, but not too badly. There aren't that many puzzles, and they are the standards. There is a jump map, but it isn't informative. The HINT button works well, although it doesn't include jumps and is slow charging. It is very enjoyable, but there is a lot of back-and-forth.
December 13, 2014
Not Horrendous, But...
BASED ON DEMO FIRST IMPRESSIONS The intro cut scene was promising. Unfortunately, the game did not deliver. The only aspects that were not mediocre, were the ones that were bad. There are certainly worse games out there. But there is just nothing in this one to recommend it. SIGHTS & SOUNDS The graphics were fuzzy. Mainly pseudo-realism, it is also unfashionable, leaving most gamers unenthusiastic. Cut scenes remain the best visuals. The wind in the background is suitably ghost-like. The voiceovers, well, while I quite enjoyed the accents, many won?t. The lines were said with little emotion and too slow. WHAT?S HAPPENING We seem to have wandered into a ships? graveyard, haunted by a ghost/man who needs souls to feed the ?Dark Stone? that rewards him with eternal life. We meet other ghosts who help in whatever ways they can. The story is too slow at this point, and fairly confusing. MAKING PROGRESS It is a HOG game, not a puzzle in sight. There is some adventure, but basically there is our loosely fitting story wrapped around a framework of HOPs. These are interactive lists, with some interesting activities, each visited twice. There is not much animation, which makes a game feel flat to me. As I say, can?t remember a single puzzle so far, but there is a fair amount of (easy) adventures, finding a key, getting into safes, that sort of thing. FINAL VERDICT I won?t be buying it. For me, it was boring. If you love HOPs, and are not too interested in brilliant visuals, this game is worth a look.
December 18, 2013
This is a Hidden Object Game
This is posted after playing the entire game. This is a hidden object not an adventure game whatsoever. If you like this type of game you will love it. There are numerous hidden object scenes and a few mini games. So far as being fun, I have to say I was glad it was over. There is a journal and a map. Neither one gave much help in figuring out where to go next. The map was good for navigation and that was about it. The ending just about drove me crazy(ier). I simply could not figure out what to do and the help button kept sending back to where I just left. Oh yes, there is a wonderful help button that refills in about a minute. I used it to navigate from place to place rather than rely on my memory or the map. It does a good job heading you in the right direction. The graphics are fantastic and the sound is good, but the effects grated on my nerves and I turned them and the music down. The voice overs were just a bit difficult to understand. But being ghosts what would you expect. All in all the visuals are clear and well done. The hidden objects varied from extremely easy to where in the world is it all in the same scene. I don't think I used the hint on any of the hidden objects, so you know they were nice and clean. The mini games were okay, but they were about the same as you would see in any of these games. To be quite honest I skipped most of them. Just not a mini game person, but the ones I did play were challenging enough for me. The story is like many others. You have until the eclipse to set the world right. I can't say the story kept my interest, but it was acceptable. It isn't one that reached out and grabbed me like some. If you like hidden objects like I do, you are really going to like this game. I bought it after playing the demo, but I do like a bit of adventure to go along with my search. Let the search begin... Save the world!!
December 19, 2013
Dunno!!??
All I can say is, if you really like your HOS you'll like this. I would have enjoyed this game a lot more if it didn't have sooooooooooo many of them....or at least some different varieties, not just the same over...and over again. So, those who don't mind an overabundance of HOS should enjoy this game. But for others, don't bother....you'll end up with no hair left!! :o)
December 20, 2013
Loved the Accents!
If you've read any of the long 5-star reviews you already know the gist of the story, i.e., bad man wants to steal souls and you must stop him before sundown. For me this game was just okay and I was glad when I finally finished. There is no walkthrough for this game, but if you really get stuck, as I did at the very end of the game, go to the BF Forum. That's always a good place for information. I'd tell you how to solve the ending but that would be spoiling it -- just go to the forum -- lots of people got stuck at the end, as the game stopped giving hints. The storyline is pretty good. The visual and sound were appropriate for this type of spooky game. I must admit I did love the accents of all the people and the voice overs weren't too bad -- not perfect -- but we are talking about talking to ghost so all in all I liked it. There is a map which shows a small image of a scene and it transports you there. However there is no clue as to which scene you need to go to and there are tons of scenes! There is a wonderful hint button until the very last scene. It gives free directional arrows and highlights areas or items (in a HOS) and takes about 45 seconds to recharge. There is also a skip button for puzzles if you choose to skip, which I did. I hated the whack-a-snake game and it seemed like forever for the skip button to recharge, so I watched TV for a minute or so. Thankfully there weren't a lot of puzzles and none of them were new to me. There are many list-style HOS and most are revisited. The objects are mostly easy to find, but one or two objects may be harder to find. There is usually at least 1 object that requires you to move/cut/unlock something to get at it. Nothing new. There is no shame in using the hint button LOL. There are no collectables or morphing objects and you can't go back and replay any of the puzzles or HOS. Usually these things are limited to CE only, so no disappointment there. And there is no bonus play, which I really would have loved because the game ends very abruptly IMHO. This review is based on completing the game in the easy of the 2 modes. I always suggest you play the demo and read the reviews. I hope you read mine and find it informative. Good gaming at Big Fish!
May 2, 2014
Would have been good 5 years ago...
...now, not so much. The opening cutscene gave me high hopes, but they were quickly dashed. The storyline is okay - the evil soul-sucker isn't as common as some. Music was okay - creepy and appropriate. Graphics so-so. But this is your basic HOG, with very little adventure or puzzles. Typical junkpiles, and revisited, to boot. No, no, no, no, I can't take it no mo'... Didn't finish the demo. Got woefully tired of HOS.
January 18, 2014
Pretty basic HOG...
Tried the whole hour trial, but just didn't grab me. Far too many HOS, and you do each one twice. Offers two game modes and I played advanced as I hate sparkles. The few puzzles I came across were very easy, the graphics a bit fuzzy and didn't offer much of a challenge. Linear in game play, and the map didn't offer up much help. Had a dated feel to it. Not the worst HOG out there by far, and if you like basic HOS then this game might suit you, and they were marginally interactive. A few years ago this would have been a good game, and probably the reason it was a soft release.
December 19, 2013
creepy
I too only played this demo for 30 minutes. The music is creepy and makes me feel like, get me out of here. The map is terrible; a waste. I know everyone has their own opinions and I respect that, but I wonder how sometimes a game like this gets a five star from someone, and I would not pay $2.99 for it, maybe 99 cents. On second thought, not even that.
December 19, 2013
Not for me
This was a glitchy, run of the mill game that really tried my patience. Not even when the kinks are worked out would I buy this based on the demo. Hos were junky, graphics old style. I play with sound off, so couldn't say about sound
December 18, 2013
Didn't like it
I played the demo for 15 minutes and then stopped it. Poor graphics and supereasy "challenges" left me bored in minutes. Don't bother trying it!
December 18, 2013