Tales From The Dragon Mountain 2: The Lair
It has been years since brave Mina Lockheart defeated Lord Strix, but the spirits are restless and the dark shadows are rising once again! Lord Strix is back and breeding a new army to enslave all creatures from the Dragon Mountains! Now it's up to Mina and her best friend Malik to travel to distant parts of the world collecting clues that will lead them to a hidden wasteland - Lord Strix's lair. Discover new and exciting locations and meet unique characters to help you along your journey. But hurry! Lord Strix gets stronger by the minute!
Explore many unique fantasy locations
Meet mythical creatures on your journey
Solve dozens of puzzling mini-games
Bright and colorful fantasy atmosphere
Game System Requirements:
OS:

Windows XP/Windows Vista/Windows 7/Windows 8

CPU:

1.6 GHz

RAM:

1024 MB

DirectX:

9.0

Hard Drive:

627 MB
Game Manager System Requirements:
Browser:

Internet Explorer 7 or later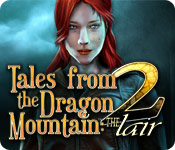 NEW299
The Big Fish Guarantee:
Quality tested and virus free.
No ads, no adware, no spyware.

Reviews at a Glance

Tales From The Dragon Mountain 2: The Lair
0
out of
5 (
0
Reviews
Review
)
Customer Reviews
Tales From The Dragon Mountain 2: The Lair
30
30
Delightful Adventure Game
Tales From The Dragon Mountain 2: The Lair is a delightful Adventure Puzzle game suitable for all ages. There are no hidden object scenes to be found here, just an array of puzzles and mini-games to solve as you make your way through various quests that ultimately lead you to your final goal; to stop Lord Strix from taking over the Dragon Mountain and all its inhabitants. Our story is the continuing saga of your character, Mina Lockheart who had once defeated the Evil Lord Strix with the help of her trusted companion, the cute little sprite called Malik. Now years later, trouble is once again brewing in the Sphere and Lord Strix has returned, this time with a new army of trolls, serpent dragons and other wasteland beasts, all marching, burning and destroying everything that gets in their way of enslaving the creatures of the Dragon Mountains. Your help is needed and together with Malik, you set out on an adventure of a lifetime as you use your wits to find a way to enter the lair of Strix and defeat him once again. I actually loved playing the demo and am anxious to play the rest of this terrific adventure game. Although graphics are a bit dated, they are nevertheless, sharp and clear. Voice-overs are very well done but at times dialogues do tend to ramble on. You have three modes of difficulty and your only tool of the trade is your journal that holds your clues, outlines your tasks and shows your current stats in the game. There is no map to rely on so be prepare for a bit of backtracking. You have a directional hint system as well as walk indicator that will point you to available access points. Other than that, you are alone to figure out the puzzles and decipher your clues. There are no Hidden object scenes in this game but plenty of inventory items to locate, tools to be combines and a variety of mini-games to solve; some were easy while others required a bit more effort on my part. I loved the characters that you meet along the way and Malik, the green sprite does offer comic relief but does tend to ramble at times. Some puzzles do require you to check your journal for clues and that at times did get tiresome. I do love playing adventure games and surprisingly, I found The Lair to be both entertaining and delightful to play. Fun for the family and fun for grown ups who like a bit of fairy tale and fantasy in their lives. Not exactly a five star game but definitely worthy of a purchase on my part.
April 28, 2014
Fun ADVENTURE Game
BASED ON DEMO We are used to HOPAs, the occasional puzzle/adventure lite and purely HO games. Rarely do we see this kind of game on Big Fish ? a near enough to pure adventure, so it is easy to be disappointed because this game does not fulfil our expectations. But measured against its own genre, this is a wonderful little adventure lite game with puzzles and easy gameplay. This game has good (HD optional) graphics, very well done of their type, which is also unlike the usual way HOPAs are animated. I never know what to call the distinctive graphic style. I personally don?t like it, but the game is bright and colourful, varied engaging enough for me to overlook it. The characters are pure chatterboxes, and although you can skip them, these little dialogues are a large part of the game experience and are at times quite amusing. They are also very well acted and lip synched. The background noises are delightful in the locations seen so far, and the music is unobtrusive. In all these ways it is not a HOPA game, but there are occasional HOP scenes, of the type where a ring of silhouettes encircles the item you will need to use these objects on, and a couple of pseudo-Frogs (fragmented objects, in this case in only 2 or 3 pieces). There are a total of 30 mini-games, according to the game stats, and unusual for this type of game, there is a fast skip (on level 1 of 3 difficulties). The puzzles are in some cases arranged into 3 or 4 layers needed to open the lock, each one slightly harder than the one before. The journal is a necessary and useful item, and holds the safe codes etc. that you will need. It also has a section for achievements, game statistics (including things like how many puzzles you have completed from the total, and a game timer), and a help section with basic interaction instructions covered in the tutorial. It seems designed with those who are not normally adventure gamers in mind. There is a symbol of walking feet on the left of the (lockable) inventory bar, which toggles exit indicators. There appear to be at least 3 worlds that we will be exploring, and no map in sight. Hint is directional. One of the achievements is for collecting all 20 of the stone dragons hidden in the locations. One frustrating thing with this game is that there are sometimes stone dragons as part of the location, not the collectible ones. Annoying. This is a sequel to the original Tales Of The Dragon Mountain: The Styx, which I have not played, but it would seem this is a direct follow on. I haven?t seen anything that suggests you?d need to have played it, except that the characters and story are not familiar to us. An evil sorcerous-looking guy called Lord Stryx is putting together an army to go up against our character, Mina. Which makes me wonder just how powerful ARE we? Our elfin companion seems to be light entertainment rather than actually useful, but maybe he is useful later on. I finished the trial ? unexpectedly, always a good sign ? with him whimpering about the giant spider. COMBINED IMPACT I don?t know if this game is really me, but it would certainly be an excellent starting point for anyone wanting to improve their adventure and puzzle skills. It is simple and pretty and involving. I recommend it for those who like their adventures easy, or who want to play something OTHER than HOPAs for a change.
April 28, 2014
Nice Adventure
After playing the entire game, I found it strange that there were so many poor reviews. But most of those reviewers didn't give it a chance, quit within minutes, and gave no honest helpful reasons that were understandable. True, it lacked the pyrotechnics and phenominal graphics of recent games, but I enjoyed the fact that HOS were not the predominant focus here, ie. no junkpile lists, a few "collect items to fill a pinwheel" (not sure of the specific name for these ). There were dragon collectibles, nice voiceovers, interactions with various characters, and the hint button on expert was not slow at all. No need for a map. It kept my interest because there was always something to do that followed a logical story. I enjoy finding usable inventory items that are somewhat hidden rather than sort through garbage to get them. That approach helps to immerse the player in the adventure, rather than fill game time with distractions. It isn't relaxing at all to have to rummage through trash. Doing that actually takes me right out of the story and into real life scenarios tackling house cleaning around kids. No thank you. I am always a proponent of new and better ways to handle HO scenes. For me, this game was a very good choice for a casual afternoon free game credit.
April 30, 2014
Easy Adventure HOG Game
This is a relaxing hidden object quest game with mini-games that are relatively easy so they are not headache-inducing. I like adventure games that don't have random hidden object scenes necessary to gain a needed quest item - This is one of those rare HOG games that doesn't rely on you needing to pick out a useful object after finding 20 useless ones in a scene, yet there are still lots of hidden objects to find. I like that there are 3 difficulty levels, so you can potentially play this 3 times over. This game is a touch unpolished graphics wise, although the artwork is still lovely. I found the voice overs very annoying and was thrilled that I could turn them off without needing to ditch the rest of the sound.
April 29, 2014
Definately worth the play
I was a bit skeptical at first, whether I would like this game; but after playing for a bit, I found I really enjoyed it. I good change from the normal Hunt and seek (which is getting rather tiresome.) I turned off the sound but the characters were a wee bit long in the tooth (in the verbal dialogue on the screen.) that was my only complaint and it is a small one. I think if you are bored with the normal Hidden objects games, you will enjoy this one.
May 3, 2014
adventuer
intriguing game enjoyed a lot fun
April 30, 2014
Hidden Object Game
I enjoyed this game very much. The HD feature was excellent and the game play was very well done. .
April 28, 2014
Tales from the Dark Mountain
a different kind of game...more adult than child game .intense !
September 24, 2014
Like it !
I played the original game and enjoyed that one also. Great colors and graphics and interesting mini games.
September 22, 2014
fun
great game, fun puzzles, had great time playing it
September 1, 2014
The Apple logo is a trademark of Apple Computer, Inc.