New Yankee in Santa's Service
Mary goofed when casting a spell and scattered Santa's reindeer with a loud KABOOM! Now the bearded one is demanding she and Johnny collect his sleigh pullers before Christmas Eve. Find the missing reindeer to avoid a Yuletide cancellation in this instant holiday classic, New Yankee in Santa's Service!
Game System Requirements:
OS:

Windows XP/Windows Vista/Windows 7/Windows 8

CPU:

1.0 GHz

RAM:

512 MB

DirectX:

8.0

Hard Drive:

73 MB
Game Manager System Requirements:
Browser:

Internet Explorer 7 or later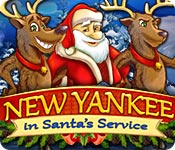 NEW299
The Big Fish Guarantee:
Quality tested and virus free.
No ads, no adware, no spyware.

Reviews at a Glance

New Yankee in Santa's Service
0
out of
5 (
0
Reviews
Review
)
Customer Reviews
New Yankee in Santa's Service
24
24
very fun game,
This game is very similar to all Yankee's games, It's fun and relaxing. Maybe for the adding the nasty snow man, there is not much difference from the other games with Yankee's . I loved this game and can recommend it for all as people having too much times on our hunds
December 25, 2013
Could be better
I like "New Yankee". This one however, was very short and got quite "nasty" when having to build and re-build towers during an onslaught of mad snowmen AND enormous women. I didn't enjoy that part and Father Christmas was pretty useless, it takes him too long to bump one off. Agree they should pick, dig and hammer a little faster. Loved the feeding of the reindeer- he was quite handy !
December 28, 2013
Decent Game
May not be worth paying the full price, but it's not a bad game at all. It's a fun holiday-themed game, but it doesn't have annoying holiday music playing all of the time. I've been playing Rescue Heroes 1-4, and it feels just like those games - only much less refined. The graphics feel a bit more childlike and unrefined, but the game itself is not glitchy. It's enjoyable to play, and it's possible to get Gold in most of the levels without too much issue. You'll need to manage Wood, Gold, Food, and Mana as you help Santa deliver gifts and whatnot around the world. The maps are much smaller than in similar types of games like this, but that's because you can cast "spells" that renew your resources such as Trees and whatnot. Completely playable with a laptop touchpad. Totally worth purchasing on the Holiday sale.
December 22, 2014
Great Game
This was a fun game, some levels I had to do several times to get the gold. Cannot complete all the achievements though as the wrong level number is listed, this is very frustrating. Some were the level before or after but the achievements for levels 37 & 39, I cannot figure out what is the correct level. Overall, it is one of the more challenging time management games.
January 22, 2014
BORING
A LITTLE SLOW FOR ME. NO RELAX MODE. I NEED A RELAX MODE WHEN I'M PLAYING TMG.
December 25, 2013
Wait there was a story line?
I decided to give this a try. despite many of the warnings of it being the worst in the series. I am desperate for some tm games! The game play is a regular old collect, build, collect game. You are a funny little elf. There is a santa that kills things (?) a female santa elf/missy claus that sets off magic. there are creepy polar bears that kind of wander, they don't bother you which is why you cant click on them- other than when they start to eat your crops, then you tickle them once or twice and they wander to the next crop. they don't actually do anything. the crops reproduce so quickly I just let them eat the crops. there are reindeer that will be tamed once you feed them - several times over. not sure what they do. there is one board where there are yeti and they are maniacally cutting down trees. that board is so chaotic and so emotionally draining that I shut it down. There is also evil snowmen, santa kills them too. the play is very fast. one thing that is uncomfortable compared to the hundred or so tm games I have played is that there is no defined path- the characters just kind of move around. In fact if you don't assign tasks they literally mill around. its strange. If you are desperate, play it. purchase it? no I don't think so.
December 24, 2014
Boring & too slow
I love these types of games but this one was just too slow to keep my attention. We need more games like Northern Tale and the Island Tribe TM games.
December 24, 2013
Crab-walking?
I downloaded the demo, not really expecting that much as I realised that this was probably a 'rush release' given the season, however I didn't actually realise how 'rushed' this game felt. The Game developer have a long heritage thus should have been able to 'throw together' a better game than this. The premise of the game itself was usual 'clear the obstacles' type of game-play. The dialogue would have probably been fun, if I had continued to play beyond five minutes, but unfortunately that is all I could realistically spend on the game. The music was ok, and for once with from this game developer (others that I have tried recently didn?t) the game controls were mapped with the systems settings of the computer are, I am left-handed thus have the buttons mapped for a left-hand person, and this was unusual for an Game developer game was reflected in the game. The graphics were good, and the 'snow' was falling, it did evoke a saccharine American Christmas, with the decorated trees and the jolly cartoonesque elves. Now we come to one of the main reasons why I can't in all honesty recommend the game, the title really says it all, but let me explain a bit further. The characters sort of do a side-ways shuffle walk in that instead of walking in a straight-line they don't, I mean how long have we had computer games and how long have this particular Game developer been in business to not be able to let the characters walk in a straight line, have they been on the egg-nog? Another reason for the negative is that you had to 'drive' a polar bear away, in the instructions it said to click on the bear several times to drive it away, I tried this but, it didn't go away it just kept roaming, after I had clicked several times it stood on its back-legs but then just kept getting closer to the crops, so I couldn't actually see what I was supposed to do to actually drive the polar bear away. As another review stated with the advancement over the last few months of these kinds of game, this one sadly is not really 'cutting the mustard' for Christmas 2013, it may have been ok two or even three years ago, given the way they walk, but now casual gamers deservedly expect more. I have not given a score for the 'storyline' as whilst the beginning was good, and it felt like it may have developed into a cute, Christmas sweet storyline, I don't think I have played the game long enough to warrant actually giving it a score. If I was to score on the little bit that I did view then I would give it around a 3. Sorry no can do. I don't recommend the game.
December 26, 2013
The Most UNhappiest North Pole EVER!
Somehow, through SOME means, 2 characters were off fighting a war when one "spelled" them home. Except, the spell landed them in the North Pole and frightened off the reindeer. Santa doesn't know what to do. Now, these 2 characters are enlisting the aid of the elves to build???? Build ... what exactly? Why? The reindeer have been frightened away ... THAT'S the issue. The graphics were okay, although somewhat small. The music was not Christmasy at all. The sound effects were good. The gist of this game is as any other "build-it" game. You cut down trees, gather crops, build windmills, houses, mine gold and send Santa to fight off snarly polar bears (who are supposed to be tame) and a Medusa looking female who I think freezes the elves. The elves start off very few ... 2 ... to do a TON of work. Later, you have a MAZE to go through of doing all the things mentioned above, rescuing elves in the process, who then help you ... in that level. There is a CONSTANT litany of things to do and not enough elves to do it. I never see the 2 original characters other than having useless conversations between levels. Not to mention, THIS North Pole is the UNhappiest place I've ever seen! Santa is angry, the elves are angry, the reindeer are angry ... EVERYONE is angry! It's CHRISTMAS! It's SANTA! It's ELVES and the NORTH POLE! There should be SMILES and a RELAXED UNTIMED option (since getting a gold cup is impossible). This is definitely not a purchase for me, nor will I recommend it for anyone ..... except the GRINCH! Or Scrooge! Merry Christmas.
December 22, 2014
good sleeping pill
this game is ok not so hot . It's boring and does go slow, but it is a good game to put you to sleep. My son quit after 5 minutes that's how slow this game is. What ever happen to the good time management games that were worth the money?
December 25, 2013
The Apple logo is a trademark of Apple Computer, Inc.