Adelantado Trilogy: Book Three
The story of Adelantado continues in Book Three – get ready for an epic conclusion of this amazing trilogy!

Don Diego finds himself on top of the high cliff. There he comes across a stone that tells the story of these ancient and mysterious lands and its beautiful but dangerous inhabitants. Despite the risks that lay ahead the brave explorer has to push forward and finish his quest to find the lost expedition.
Ten challenging levels
Mesmerizing locations and quests
Game System Requirements:
OS:

Windows XP/Windows Vista/Windows 7/Windows 8

CPU:

1.2 GHz

RAM:

1024 MB

DirectX:

9.0

Hard Drive:

171 MB
Game Manager System Requirements:
Browser:

Internet Explorer 7 or later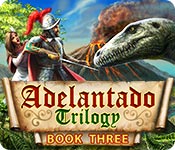 NEW299
The Big Fish Guarantee:
Quality tested and virus free.
No ads, no adware, no spyware.

Reviews at a Glance

Adelantado Trilogy: Book Three
0
out of
5 (
0
Reviews
Review
)
Customer Reviews
Adelantado Trilogy: Book Three
56
56
Best game of the three
I've finished 5 levels and so far I've only gotten expert time on the first three. I think this game is more challenging than Books 1 and 2. My main drawback in all of the games is that the game tells you when you must build a building and you have to comply. Other than that, great graphics, story, action and challenge. I too wish there'd be another sequel and this game only has 10 levels, but for me the challenge will be getting to expert time on all of them.
December 24, 2013
Adelantado Trilogy: Book Three
Please see my reviews of "Adelantado Trilogy: Book One" and "Adelantado Trilogy: Book Two" for the basics on this series' gameplay. They provide a lot of info I've left out here for the sake of brevity! Well, here it is, the final installment of the series, and it was a fantastic run that I'm sad to see end. I haven't engaged in such immersive gameplay in perhaps two decades, so that says a lot about what "Adelantado" has to offer players. Plot #since yes, in this there really is one#: Don Diego De Leon, the Adelantado, is seeking not only the missing members of an earlier expedition #led, I believe, by a man named Don Vincent, who may either be possessed or going insane#, but also his beloved native Milintica/Milintika #spelling of her name varies in the game#, who has been kidnapped by cavemen. During his travels he has to build and maintain various structures to provide for his party's needs, explore new territory, send gold back to Spain, and interact with the natives, who are planning a great ceremony to cleanse their land of evil once and for all #or something along those lines#. It all comes to a great climactic ending--including the appearance of a few surprising faces--and the concluding "bonus" chapter provides an even more spectacular, if rather bizarre, postscript. #Rest assured that however weird it might seem, ample foreshadowing was provided in the earlier games.# Just as before, you can play in untimed mode. Apparently you miss out on the challenge of competing against another explorer #Commander Rodriguez# as well as against the clock, but I didn't mind this detail. Gameplay is about the same, but again with more challenges and bonuses, the latter including new types of buildings, such as one that helps you combat the ever-bothersome cavemen and dinosaurs. Plus, there are hot-air balloons--and you can teleport! :D A tip, pay close attention to reading the "secrets" you find...although they aren't necessary to beat a level, these actually contribute to the plot, and help explain an encounter you experience toward the end of the game. Keep your eyes sharp, as the secrets can be VERY tricky to find. I found every secret in all three games, without cheating! Woohoo! #Though I did have to search around a lot.# Similar to a problem I experienced with the second part of the trilogy, I played the first level with no issues in the free trial, but then experienced a game crash on this level in the full game; it froze up, and Control+Alt+Delete revealed an error message. Just as before, I had to close the game and lose progress, and start over, but after that, everything proceeded smoothly. I did end up having to save in the middle of a chapter later on for different reasons, so you do in fact have that capability now, which was absent in the first game. The "table of contents" of the game keeps track of the length of gameplay per chapter; this game was the longest for me, with almost fourteen hours of play in relaxed mode. Adding up all three parts of the trilogy #33 chapters/levels#, I played for around 37 hours. Talk about more bang for your buck! This trilogy opened up my eyes to the fact that there ARE time-management/strategy-type games I can find fun, as long as I know where to look #i. e., for the relaxed mode#. I've already downloaded some other, similar goodies I hope to enjoy. So, thank you, "Adelantado Trilogy." I'm glad I took the plunge with you. :) Perhaps I'll enjoy you again in the future! I obtained my copy of "Adelantado Trilogy: Book Three" directly through Big Fish Games. The game folder takes up 161mb on my hard drive. I ran this game on Windows 7 with one bug/error #a single game crash, mentioned above# but no other problems.
April 10, 2014
Adelantado Trilogy - all 3
Hi - played the trilogy one for a bit; thought was boring; played trilogy 2 for a bit; got intrigued and bought it!! Was Sooooooooo hooked! Finished it! Played trilogy 3 for a bit - hooked again; went and bought trilogy one - such fun! Went and bought trilogy 3 and am sooooooo sad it's all over!! This is best game series ever, and ever! Everything, story line; graphics; the hunt and search; absolutely amazing game!!! My one complaint is after the conclusion on trilogy 3 - it never goes anywhere; I kept searching for a chapter three in the game; but didn't happen;didn't really come to a conclusive conclusion! Certainly hope there is more in same vein from this developer! This is the very first review I have given on any game!!! And while I've loved the TM games, mostly; this game was the icing on the cake! Thanks; now I'll be bored for a long time, I guess!! Jackie
January 28, 2014
Happy Birthday and Merry Christmas to me!
I wanted to buy it as soon as I saw the title; however so close to Christmas, I hesitated to purchase at this time. But I could not resist the temptation to at least try it for the hour. Well, I had not played more than the first level when I knew I could not wait to buy it. So, my justification was I would get it as a birthday present to me instead. Having a birthday so close to Christmas usually means I only get one present. The storyline continues where Adelanto Book 2 left off. If you liked the first two, you will be thrilled with this one as well. If you have not played the other two, play it anyway. (realize this means you must purchase the other two
December 24, 2013
I LOVED THIS SERIES: PLEASE FIND A WAY FOR IT TO CONTINUE.
YOU WILL LOVE THIS SET OF TIME MANAGEMENTGAMES. I ENJOYED ALL 3.. PER MOST OF YOUR CUSTOMERS REQUEST PLEASE GIVE US MORE. You will not want to stop! until the games is finished. AN IMMEDIATE PURCHASE FOR ME I TRULY RECOMMEND ALL OF THE: ADELANTADO TRILOGY BOOKS ONE THRU THREE...... ENJOY.
January 27, 2014
I am also sad....
Like others have said before me, this is one of the best TM game series out there. I still play one and two just as often. But alas as with any third chapter in a trilogy this is sadly the end. There is so much to do and the graphics are great. I also love the Healer and the Fire Department that comes to put out burning buildings. Maybe a Adelantado and Milintika Trilogy? Hint?! I too bought this the day it was announced and its well worth every penny. Enjoy.
January 23, 2014
Can't Stop Playing This Game!!!
I've been buying BFGs for 7 years. This is the first time I have played a game through at least 10 times...I just keep playing in a different mode trying to find all the secrets. I still keep missing 2 (total# in the first half and #2) in the second part. Fun game - addicting and one of the best building games I've ever played. I hope a new Adelantado 4 - NEW World comes out very SOON!!!! I'll be waiting. Is there really 19 secrets in Part 6?? Rats...I better go play it again!! Oh yea. I'm 59 and proud of it!
January 17, 2014
Adelantado Trilogy: Book 3
and to top it off there is this one another great series
January 10, 2014
Love this Game!!!
This game series is remarkable. I hope the developers come out with a similar series now that the Adelantado trilogy is complete. In an ideal world, there would be a new version of this type of game every couple weeks!
January 3, 2014
Love Adelantado Story
Was absolutely thrilled when Book 3 appeared with Big fish Games. Would have to say they are my faves. Story line is terrific & continues from 1 & 2 nicely. Like others have said, secrets are very hard to find in some levels.( I always play timed levels but played untimed on this one so I could search for those secrets I was missing. ) Still could not find them all though. Are they REALLY all there developers???? Please please come up with more games like Adelantado. So sick of having to wait for new Time management/Strategy games, when new HO games are always on offer :/
January 1, 2014