Adelantado Trilogy: Book Three
The story of Adelantado continues in Book Three – get ready for an epic conclusion of this amazing trilogy!

Don Diego finds himself on top of the high cliff. There he comes across a stone that tells the story of these ancient and mysterious lands and its beautiful but dangerous inhabitants. Despite the risks that lay ahead the brave explorer has to push forward and finish his quest to find the lost expedition.
Ten challenging levels
Mesmerizing locations and quests
Game System Requirements:
OS:

Windows XP/Windows Vista/Windows 7/Windows 8

CPU:

1.2 GHz

RAM:

1024 MB

DirectX:

9.0

Hard Drive:

171 MB
Game Manager System Requirements:
Browser:

Internet Explorer 7 or later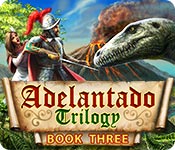 NEW299
The Big Fish Guarantee:
Quality tested and virus free.
No ads, no adware, no spyware.

Reviews at a Glance

Adelantado Trilogy: Book Three
0
out of
5 (
0
Reviews
Review
)
Customer Reviews
Adelantado Trilogy: Book Three
65
65
Bring It On
Ok, I have played off and on for almost a year. How about Adelantado Returns? I haven't found any other games that I enjoy as much and as a disabled retiree, this is one of my pleasures. Come On Bring Adelantado Back!!!
September 25, 2014
Just when you thought it couldn't get better! It excels!!!!
I can't believe how much more I like these version in the series more than I liked Book 2 - and I LOVED Book 2!!!! You continue to explore. The woman in the group has been kidnapped by cave men and now Adelantado is off on a mission of exploring, helping other natives, building and expanding his territory, all with the ultimate goal of finding her. No rock shall go unturned in this Book 3 of the trilogy. Again, there is little instruction in this demo, and workers houses have to be constantly built to get more workers. The more land you open up, the more workers, gardens, etc. you need, so don't forget it's not just about helping the natives - lol. And, remember to cut every bush, destroy every jug and barrel for riches such as gold, silver, food and secrets. There are 4 levels of difficulty, including "relaxed", which I am so glad the DEVS included for slowpokes like me - lol. I can't wait to get Book 1 and move on to Book 2 and 3. All are in my wish list. I hope this review encourages you to try the demo. If you liked Book 1 and/or Book 2, you will be thrilled with Book 3. Happy Gaming!
September 19, 2014
Super Excellent Game!
Definitely wanna see more like it or more of it!
August 31, 2014
Adelantado Trilogy Book Three/Simply Marvelous!!!!
I love this series. I have played each one many,many,many times. It never gets old! I would highly recommend any of the three to while away an afternoon, but my favorite has to be book three. I too am sad that this is the end of the series. Hopefully the developers will come up with a longer series that's just as good,if not better.I hope that it is soon,as I am sooooo bored with other games. Other games are such a come down after playing this delightful series! The ONLY fault that I could find with the game is that it yanks you across the screen when Diego unearths something,I hate that. Also, about half of the time,my medic is a no show when I am on a mission in another location. Hopefully the new updates will fix this glitch.
July 16, 2014
Loved the Surprise
The Adelantado Trilogy has become my favorite set of three games. The music, storyline, and challenge are beyond excellent. The "Column of Defense" was a very welcome addition in Book 3. (I had really come to despise those cavemen and dinosaurs.) I played in the relax mode because I didn't want to miss anything. I loved the surprise in the bonus or conclusion chapter. It reminded me of a History Channel II series and gave me quite a chuckle of delight.
June 19, 2014
Great Fun!!!!
These games take the player on an adventure in a Mayan-like land. Your main focus are: find the survivors of a previous expedition, discover new territory, and send gold to the homeland, Spain. But along the way you help the inhabitants of this culture-healing them, repairing huts, fences, and destroyed idols. You are sent on small expeditions to find missing relatives. And, don't forget the dinosaurs and cavemen that are trying to prevent you from reaching your goal. You can choose your level of play. Me, being the chicken that I am chose the relaxed mode, no timer. I bought all 3 of the games. My daughter and I played together. She on her laptop and me on the desktop. I must say that the fun we had can not be described. I love these games and am now replaying them just to see if I can do it at a different level. You know the strangest thing I've discovered about these games is this, even though I completed all 3 of the games, going back and replaying them is like playing them for the very first time. I say things to myself like, "I don't remember playing this world. But, I had to because I finished the game." And friends, it's one of those games where any age can play. If you like time-management games try these. They are just pure fun.
May 19, 2014
Great Game!
Love this series! Hope they continue making them! Dinosaurs and cave men can be a pain, but Bk 3 has a column u use to eliminate them....
May 2, 2014
One of the Best
This series is the best I've found. All 3 games are worth the price. I did like the 2nd one best. Plenty of challenge - you have to decide what to build and where. The time element really makes you think ahead. I really liked the added towers, so that you didn't have to keep bashing dinosaurs. I still have secrets I can't find! I'm really hoping the dev. continues the series, even though it was only supposed to be a trilogy!
April 18, 2014
Excellent games! Book 1 to 3
I love this game. I have book 1, 2 and 3 and I play each book at least 15 times. Graphic is super, good story line, challenging games. I wish they will come up with similar games in the future. I am very sad it ended on book 3.
April 13, 2014
Hands Down the Best TM Game
I've downloaded just about all the TM games for trial and most all of them are so tedious and boring I got rid of them quick. The Adelantado Trilogy is super cool with it's click and drag feature and wide game board to play on. The graphics are incredible and the music fits the story to a "T". You can play untimed or relaxed, normal or hard mode which is a plus in my book. What I like best is that you are the boss who oversees the production workers. You have them build the sawmills, gardens, farms, granite mines, watch towers etc. and then the workers go about doing their jobs without you having to constantly click on them to do their jobs. You also don't have to constantly click on food items on the trail or "income" money or any of that stuff. You are free to go explore the territory and interact with the Indians. You do need to upgrade buildings and refresh them periodically however, so you do need to keep an eye on your workers and what they're doing. And you start out with several workers in a house, not just one. There is a lot of clicking you have to do in the sense that you need to clear the fields of bushes so the workers can build the structures. You also need to break open many clay pots and wooden barrels to find gold hidden inside and other special items you need to advance in the game play. This feature keeps you busy while your workers increase the amount of the resources. Gotta say that the addition of dinosaurs and cavemen for distraction is kind of weird in my book since they didn't even exist then but I guess some people like that feature. I also don't like it when Don Diego breaks open a wooden barrel or a clay pot that has a bomb inside. Then he's down for the count until the worker from a healer's hut comes to his rescue. But that's really just a minor issue. I play this game over and over and am challenged every time. Loads of fun and well worth your money. Simply the best!
April 13, 2014