Adelantado Trilogy: Book Three
The story of Adelantado continues in Book Three – get ready for an epic conclusion of this amazing trilogy!

Don Diego finds himself on top of the high cliff. There he comes across a stone that tells the story of these ancient and mysterious lands and its beautiful but dangerous inhabitants. Despite the risks that lay ahead the brave explorer has to push forward and finish his quest to find the lost expedition.
Ten challenging levels
Mesmerizing locations and quests
Game System Requirements:
OS:

Windows XP/Windows Vista/Windows 7/Windows 8

CPU:

1.2 GHz

RAM:

1024 MB

DirectX:

9.0

Hard Drive:

171 MB
Game Manager System Requirements:
Browser:

Internet Explorer 7 or later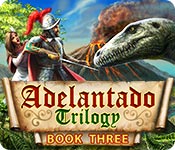 NEW299
The Big Fish Guarantee:
Quality tested and virus free.
No ads, no adware, no spyware.

Reviews at a Glance

Adelantado Trilogy: Book Three
0
out of
5 (
0
Reviews
Review
)
Customer Reviews
Adelantado Trilogy: Book Three
65
65
Great Games
Great fun! I loved all three of the Adelantado series! It combines time management with strategy! Thoroughly enjoyed playing these!
April 4, 2014
woot
all 3 are great games have played them over an over pitty no number 4
April 1, 2014
Really addictive!
I'm just sad this is the 3rd and final game. They found a formula that worked and it just didn't get old.
February 9, 2014
Love this trilogy
I like the pace of this game. I don't mind buying a game that you get actual play time. There is a mission but you can take many different paths to get to the finish line. Love that they fixed some time consuming things from the rest of this series.
February 4, 2014
Worth playing all three Adelantados!
Based on the positive reviews I found here I decided to try Adelantado and I started with the Book One. I liked it so I continued with Book Two, which was even better and I ended up playing Book Three few days later. It is a well ballanced combination of advanture and time management/strategy. If you remember the game Settlers, this is very much like it, but the controls allow you to explore on your own, smash jugs cut bushes and discover secrets, which I consider to be one of the best challenges, together with achieving the expert time. If you love adventure games, but are tired of solving the hidden object places, this is just right for you. And for many other reasons.
January 19, 2014
well worth it!
I came across this game and read the reviews....it got me thinking that I should give the first 2 a go before I bought this one. I mean if there's a 3rd chapter of this game it's got to be worth looking into right? And right I was...this game is amazing! Just when you think you're going to beat the clock there's ANOTHER cavern to explore or ANOTHER task to be done for an Indian chief. I bought 1 and then 2 and 3 straight after. Very addictive and like other reviews have spent nights going 'one more level and then I'll go to sleep'. I would highly recommend this game and congrats to the creators for your time spent factoring in great graphics, hauntingly beautiful pan music and telling a great story. p.s. the way the cavemen dive back into their holes is hilarious! : )
December 29, 2013
Just brilliant!
I am still playing it and am totally thrilled, the full trilogy was great and that last "book" doesn't disappoint: it really gives you food for thought on the strategy to adopt to get there, the graphics are just awesome, the level difficulty is challenging without feeling impossible...I wish I could tone my enthusiasm down but I can't, it is just a fantastic game and I hope to see many more like that by the developers in the future. Enjoy!
December 28, 2013
Adelantado Trilogy a must buy for strategy and TM lovers alike.
I love this series. If you don't have one and two buy it! This is defiantly a strategy game. I appreciate the relaxed mode. Make note there are hidden treasures you can hunt for in each chapter. I have yet to find them all. You build, hunt, chop, smash and fulfill quest for natives in this fun filled game. Always make sure you have enough man power. I recommend this game with high scores. Try it and see for your self . Swim on fishes.
December 27, 2013
FINALLY - Book THREE!
I have patiently waited and waited for the third installment of this game, and here it is right in time for Christmas. Let me start by saying, YES, there is a RELAXED mode but you can make it as challenging (time-wise) as you'd like. Overall, the same as the previous two, build huts, uncover secrets and treasures, get food, collect orator stones and help the natives. They have improved on some of the gameplay and the hidden items are many and extra hidden. :-# Yes, there are dangers in the way of cavemen and maybe even those big behemoths? Time will tell. As far as the buildings are concerned, they can still be built, upgraded and demolished. And... there are new ones! My hour trial was over before I was ready, and I was able to make it through two large levels #taking my time to find all the secrets). This game will keep me entertained for hours and hours. Enjoy!
December 23, 2013
Beat the bushes to reveal the secrets!
As with the other games this follows very much in the same vain. As the last one was released a good while ago, I 'had' to refresh my memory with number two in order to be up to speed with 3. I must say though that it can be played as a standalone as the story is pretty much insular just the same characters but on a new 'chapter' of their lives as it were. Whilst I enjoyed the game and owing to the current sale, I will probably purchase it (and I have the other two also), but what I was finding increasingly uneasy from my point of view, was as a Christian, I felt that some of the 'speech bubbles' were just re-workings of scripture, and the values were again the Christian values, I know that in the worlds of Indians and Sharmans, the same truths would exist, and this thus noble etc, makes me feel slightly uneasy as to my mind it seems slightly blasphemous. I may be reading too much into this and maybe overthinking, I have a tendency to do that, but if I took out the dialogue, which is difficult as there is a lot of it and it drives the game, then you are left with a good solid game. Like I have said in previous reviews of this game, the gameplay is almost of retail quality, and I would not be surprised if BF didn't release them as a retail triple pack, and I am sure people would buy it. The sound and graphics were akin to what you would expect in this genre of gameplay. Don't be put off though by the fact that the blurb says 10 levels, within those levels are many sublevels, thus each level takes around 30 minutes to play. In the demo version, I had just got onto level 3 when the 'buzzer sounded'. If we bear in mind though that the first levels will probably be the easier ones, then there is I would have thought around 10 hours game-play, which is not that bad for a casual game. There are three timed skill levels and a relaxed one with no timer. I played on the normal, but there was a 'race' element in the fact that you had a competitor who was UI for expert mode, thus if you finished before him that you got extra points. And finally, If you follow the title, all manor of secrets will be unfold. I do recommend this game, whether you are new to the series or if like me you have the others.
December 24, 2013