Adelantado Trilogy: Book Three
The story of Adelantado continues in Book Three – get ready for an epic conclusion of this amazing trilogy!

Don Diego finds himself on top of the high cliff. There he comes across a stone that tells the story of these ancient and mysterious lands and its beautiful but dangerous inhabitants. Despite the risks that lay ahead the brave explorer has to push forward and finish his quest to find the lost expedition.
Ten challenging levels
Mesmerizing locations and quests
Game System Requirements:
OS:

Windows XP/Windows Vista/Windows 7/Windows 8

CPU:

1.2 GHz

RAM:

1024 MB

DirectX:

9.0

Hard Drive:

171 MB
Game Manager System Requirements:
Browser:

Internet Explorer 7 or later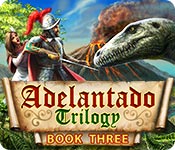 NEW299
The Big Fish Guarantee:
Quality tested and virus free.
No ads, no adware, no spyware.

Reviews at a Glance

Adelantado Trilogy: Book Three
0
out of
5 (
0
Reviews
Review
)
Customer Reviews
Adelantado Trilogy: Book Three
66
66
Beat the bushes to reveal the secrets!
As with the other games this follows very much in the same vain. As the last one was released a good while ago, I 'had' to refresh my memory with number two in order to be up to speed with 3. I must say though that it can be played as a standalone as the story is pretty much insular just the same characters but on a new 'chapter' of their lives as it were. Whilst I enjoyed the game and owing to the current sale, I will probably purchase it (and I have the other two also), but what I was finding increasingly uneasy from my point of view, was as a Christian, I felt that some of the 'speech bubbles' were just re-workings of scripture, and the values were again the Christian values, I know that in the worlds of Indians and Sharmans, the same truths would exist, and this thus noble etc, makes me feel slightly uneasy as to my mind it seems slightly blasphemous. I may be reading too much into this and maybe overthinking, I have a tendency to do that, but if I took out the dialogue, which is difficult as there is a lot of it and it drives the game, then you are left with a good solid game. Like I have said in previous reviews of this game, the gameplay is almost of retail quality, and I would not be surprised if BF didn't release them as a retail triple pack, and I am sure people would buy it. The sound and graphics were akin to what you would expect in this genre of gameplay. Don't be put off though by the fact that the blurb says 10 levels, within those levels are many sublevels, thus each level takes around 30 minutes to play. In the demo version, I had just got onto level 3 when the 'buzzer sounded'. If we bear in mind though that the first levels will probably be the easier ones, then there is I would have thought around 10 hours game-play, which is not that bad for a casual game. There are three timed skill levels and a relaxed one with no timer. I played on the normal, but there was a 'race' element in the fact that you had a competitor who was UI for expert mode, thus if you finished before him that you got extra points. And finally, If you follow the title, all manor of secrets will be unfold. I do recommend this game, whether you are new to the series or if like me you have the others.
December 24, 2013
Good, but no significant improvement on Book Two
I really enjoyed Adelantado Books 1 and 2, so purchasing Book 3 was a no brainer. The game stands well on its own but I was a little disappointed when comparing it to Book 2. Book 2 was a significant improvement in terms of game play from Book 1, by introducing new game mechanics (e.g., allowing you to see the number of raw materials in addition to processed materials) new buildings, and new maps. The changes between Book 2 and Book 3, however, are very minimal. There are more "secrets" to find in each level and the graphics are enhanced, but Book 3 feels more like a continuation of Book 2 rather than an improvement. It was also a lot shorter. In summary, I enjoyed the game, but was a little disappointed that there was not much improvement from the previous one.
January 1, 2014
Color me disappointed
Let me start by saying I love the Adelantado trilogy. This is an extremely well-designed strategy game that goes way beyond the "oooh, I can upgrade my house to level 3, more income!" type of game. This is resource management at it's best. The Aztec storyline is shrug-worthy, but what made the first two games fun is the "Bonus" level that involved (spoiler alert) spaceships and aliens! So, I was totally prepared for #3 to rock that to the end - maybe Diego getting whisked away by the aliens to help them settle some other planet. But no, total dullsville. All that - three games - and "oooh, a staff!" So, -1 star for all the build-up and a blah ending. Otherwise, fantastic series of games - I highly recommend them!
January 27, 2014
I struggle with these games
I always look forward to playing these games-but I struggle very hard with them at times. I have never finished a chapter in time.(But you can play on anyway, just in case you don't know.) I am always short of supplies. Would be helpful in the stone cutting areas to have graphics make it more obvious that the whole area is available rock. I thought just the small mounds were all there was and when they were gone that was the end of your supply. However, for some reason you can still build the stonecutters and they still work despite no remaining mounds. Doesn't make sense but there it is. I get quite cross that only one knight is able to explore, chop trees find artifacts etc. AND HE IS TOO SLOW. I think the speed he does when he's "on the red stuff" should be his normal speed and give him a faster-than-that-speed for when he's on the red stuff. LOVE THE CAVES graphics really capture the feel here. Not much point in knocking all stalagmites down though. Liked the cave within the cave ,should do more of those. Not much point the chopping the trees and bushes this year, except to make space. So, after starting a chapter again I didn't bother- it saves time of course and there is no need to be that thorough cause there's nothing there, most of the time. I've learnt not to get too bogged down just keep looking for the look-out plots and statues.
December 28, 2013
A good final part for a good series
I played the whole Adelantado series, and this final part did not disappoint me. In facts, this last episode is even more entertaining than the previous two. The game keeps the usual good quality of graphics and smooth game mechanism. There are no huge changes with respect to the other episodes, but you will discover some nice novelties, like a couple of new buildings and upgrades. If you played part 1 and 2, then I recommend part 3 as well. If not, my suggestion is to start from part 1 in order to better follow the storyline.
February 7, 2014
After one hour you get bored
In the beginning this game is really exciting but after playing one hour or more its get bored because is the same goals in different levels. so i will not buy it.
May 28, 2014