Adelantado Trilogy: Book Three
The story of Adelantado continues in Book Three – get ready for an epic conclusion of this amazing trilogy!

Don Diego finds himself on top of the high cliff. There he comes across a stone that tells the story of these ancient and mysterious lands and its beautiful but dangerous inhabitants. Despite the risks that lay ahead the brave explorer has to push forward and finish his quest to find the lost expedition.
Ten challenging levels
Mesmerizing locations and quests
Game System Requirements:
OS:

Windows XP/Windows Vista/Windows 7/Windows 8

CPU:

1.2 GHz

RAM:

1024 MB

DirectX:

9.0

Hard Drive:

171 MB
Game Manager System Requirements:
Browser:

Internet Explorer 7 or later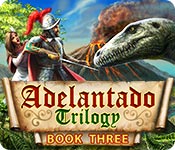 NEW299
The Big Fish Guarantee:
Quality tested and virus free.
No ads, no adware, no spyware.

Reviews at a Glance

Adelantado Trilogy: Book Three
0
out of
5 (
0
Reviews
Review
)
Customer Reviews
Adelantado Trilogy: Book Three
57
57
A Review With Mixed Emotions :) :(
All good things must come to an end and I'm super thrilled with this game but also super bummed that this is the conclusion to the wonderful adventures of Adelantado. This is one of the best TM series out there and the graphics get better with each new edition. Plenty to keep you busy, cutting bushes, picking berries and mushrooms, picking up wood and gold and smashing pots that contain goodies. You even get to explore caves in this one! You have your typical quests such as building saw mills, worker housing and more, and you must build watch towers to expand your territories. You will also have side quest from the Indians asking help making potions, mending fences, totem poles and alters. You will find hidden caches of gemstones that give you strength, speed and the ability to understand and communicate with the native people. The thing I like the most about this chapter is all the dinosaurs roaming around. if you haven't played 1 and 2 it's okay, you can still play this as a stand alone game, but I suggest you try them all because they are really fun games, enjoy!
December 23, 2013
Finally, Book Three!
I love this series! I was so excited that Book Three was finally out, I replayed Book Two from beginning to end plus the extra round, just so I could remember how we got to where we are in Book Three! You are still Don Diego, and this time your Indian girl friend Milintica - whom you rescued from an arranged marriage in Book 2 - has been carried off by cavemen. So now you must search for her. You still get to build gardens, and woodcutters, and sawmills, and granite mines, and silver mines. You build watch towers to expand your territory. There are still 10 Chapters, 5 each in Part 1 and Part 2, plus a bonus Chapter. And a Relaxed Mode, for players like myself who want to take their time and enjoy the game. You still fight the occasional dinosaur and caveman. One new quirk is some of the barrels explode, so you have to build a hospital to fix up Don Diego and various other sick Indians along the way. You still need Money, Land, and Survivors, as well as Secrets, to progress to the next level. And Don Diego still needs Strength, Speed and Oratory skills. If you haven't played Book 1 and Book 2, I recommend you try them as well! You don't need to, in order to play Book 3, but they are great fun! What a great holiday present!
December 23, 2013
Yippee!! 3rd installment ... sadly ... last one
I absolutely love the Adelantado trilogy! No, I haven't completed the 3rd and final (waaaaaa) installment, but I've played enough of it to know I will be spending hours playing it. I still go back time to time and play the 1st two installments; still fun and still challenging. I only hope Realor will come up with a new game that is as good as Adelantado!
December 23, 2013
Instant Buy!
BASED ON PARTIALLY COMPLETED GAME I didn?t even have to think about it, my fingers had already hit the buy button before I remembered that it is bonus punchcard Monday! This just never happens to me, even with games I know I?m going to buy. But the AdelantadoTrilogy is unique among build style games in being able to keep me up late to finish ?one more level?. This game continues the tale from the first two books of Adelantado. Don Diego is still on his quest to find the lost expedition, and he?s got some strange new challenges ahead, the most immediate of which are dinosaurs of all varieties. The cavemen are still raiding the camps, but not in the first few levels. The game is an identical replica of Book Two, but with added structures, production goods and new gold transporters. The graphics and animation are the same high standard. Even the music is the same. My favourite thing is this game is still that you can play it in 3 difficulty modes, or play it untimed. Something for everyone. Some of this game?s other features include: 1. You control Don Diego, while he controls his men. So you can queue for yourself, foraging for hidden gems, for instance, and while keeping occupied with that, direct the action for all your building and production men. 2.You can demolish, restore to peak efficiency or upgrade most buildings. So when the woodcutter runs out of wood, you can reutilise the space. Which is very good, because as with the first games, space is the biggest problem. 3. There are again new buildings such as healer?s huts to add to your productive value. 4.There are gods that provide short term power ups such as increased speed or productivity. 5. Cool awards. 6. The levels are long and increase in difficulty. The first chapter is still the ?hand-holding? forced building program where you can only do as instructed, but in level two you have almost complete flexibility ? although you must have unlocked structures and so on, as with the other games. I am already really enjoying this one, even though I have only completed chapter 3.
December 23, 2013
Love this series!!!!
I am a huge fan of the Adelantado Trilogy and was so excited to see Book 3 finally released. I love these games. They are so much fun and each one has gotten better. I think the addition of dinosaurs in this one was one of my favorite parts. I now own all three books in this series and wish they didn't stop at a Trilogy. I would very much like to see a continuation of Adelantado's adventures. Happy Gaming!
December 23, 2013
Superb game!
Like others before me it was a no-brainer...as soon as I saw it was out, I hit that button to buy it! The challenges are pitched just right for me, it's fun - my only quibble is that I wish everything were a little larger as I have bad eyesight! I would recommend this to anyone and if you haven't already played Book 1 & 2 - you should try them out! There seem to be some secret items missing from some of the levels (eg Part 2 Chapter 1, I could only find 18 secrets and I've heard others say the same thing too, so I don't think it's just me...) - if you have found all the secrets - please let us into your secret! I especially like that it has a relaxed mode of play - I can't be doing with rushing around madly clicking my mouse. I like ot be able to look around without time penalties! I hope the game developers realise what a gem they created in this trilogy and come up with some more games along these lines and *quickly* - we waited so long for Book 3, and it's already half-finished and then what shall I play!!!
December 28, 2013
Excellent
This is one of my favorite games.. This game did not disappoint!!
December 23, 2013
He's Baaaaaacckkkk !!!!
The third installment of Adelantado has arrived !! Oh happy day. I had to take a break from trimming the trees and decking the halls to buy this game. I absolutely loved the first two. Don Diego is back with his crew of helpers to forage new paths through the wilderness and find his missing bride. You still have building to build, ie, gardens, farms, bakeries, etc. But there are also some new ones. At times when Don is breaking open pots, they explode causing him to need a healer. So, of course, you need a healer's hut. Choices of difficulty are still the same, with a relaxed mode too... yay. There are caves to explore with many levels to these caves. There are also transporters to whisk Don from one part of the field to another. You still have your cavemen and dinosaurs. The secrets are very very well hidden. I played the first chapter on relaxed and it took me going over the entire level to find them all. This was an immediate buy for me. Try it yourself as always. Sadly I must pry myself out of this chair and continue with Christmas preparation. :))
December 23, 2013
Immediate buy
just like Justthefact stated this was an immediate buy without any thinking about testing it before and I agree to everything of his/her statement ! A really great game again and I do hope there will be more games like this: great job dear developers ! Merry Christmas to everybody.
December 23, 2013
Fantastic Game
I have loved every installment in The Adelantado Trilogy. Part 3 is a cracker ending. The storyline is engaging, although the female Indian love interest is given next to no part in the story. I would have liked seeing her take a more active part in the story. The artwork is really excellent and brings to life the lands that Adelantado and his men encounter on their quest. The level of detail is wonderful. I was especially immpressed with the background in one area where Adelantado is on a high mountain. The backdrop gives depth to the area and looks very realistic. Well done! The game play itself is a combination of Time Management (to reach gold level and receive a reward), Strategy (making the right choices about what to build first and upgrades, etc.), and Adventure (a purposeful journey during which various people are met and tasks given). In this particular game, certain buildings are required to be built before you are free to build others and move on. I wasn't bothered by this because I still had to decide which resource I needed to build up in order to progress in each level. That is where the strategy meets the time and resource management. I really enjoy those two elements in this game. The level of challenge in this game is quite good. Some levels are more difficult to accomplish with gold than others. That said, I did have to replay some levels in order to get gold because I had not managed my resources well. The discovery of smaller settlements within a level adds to the challenge and strategy aspects of the game. I really enjoy being immersed in this game and working to get the gold. The levels take longer as you progress. Each level takes between 20 and 50 minutes (my estimate) to complete, so there is real value for money in this series. I highly recommend this game and the whole series. Start from the beginning if you haven't played before. You'll find it is worth it to play all three parts. Developers, please bring us more of this series or new games like this!
January 12, 2014