Dark Angels: Masquerade of Shadows
Save the world from demonic forces in this thrilling hidden object adventure! Use your weapon, the Chakram, to not only eviscerate evil but also to solve puzzles, go back in time to cut off the demons at their knees, and solve the mystery of your amazing destiny. Packed with rich interactivity and stunning animation, Dark Angels will captivate you from beginning to end!
Exciting time-traveling storyline
Stunning modern and medieval locations
Interactive conversations
Achievements for special actions
Puzzle-based HOG scenes
Game System Requirements:
OS:

Windows XP/Windows Vista/Windows 7/Windows 8

CPU:

2.5 GHz

RAM:

1024 MB

DirectX:

9.0

Hard Drive:

942 MB
Game Manager System Requirements:
Browser:

Internet Explorer 7 or later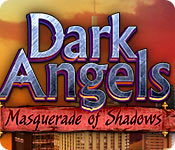 NEW299
The Big Fish Guarantee:
Quality tested and virus free.
No ads, no adware, no spyware.

Reviews at a Glance

Dark Angels: Masquerade of Shadows
0
out of
5 (
0
Reviews
Review
)
Customer Reviews
Dark Angels: Masquerade of Shadows
22
22
what i like
this is a cool story for me .a girl that see people different that you go a therapist she ask you questions and you have choice to answer going to work you a fashion helping your friend or boss collocation after work you go home and then you feed your cat then you do mini games around your house suddenly someone knock your door it's the police but they are not what they say so you hurry to get thought the window then you go to the roof they tired to get you when some intervene and it seems to be a group of some girls telling you go to candy cafe.it was Good for me.
June 14, 2014
Great Game
The game has a great story to it and is easy to follow. I am actually thinking about purchasing this game.
December 27, 2013
When Nightmares Haunt You...
You never knew your father. Your mother was killed by a burglar when you were very young, or was she? Nightmares haunt you every night, horrible nightmares of your mother being murdered over and over and over again, not by a burglar but by something not human, something evil! At first you may get a bit bored playing this interactive game in which you get to choose which questions to ask and which answers to make, you may even choose to remain silent or simply mumble through the whole conversation. This game also allows you to make decisions such as jumping, running or going up or down which is kind of cool. The HOS are interactive progressive finds where you find one item as shown as a silhouette in the inventory, and then use that item somewhere in the scene and then receive the next item. Mini games were new and different, printing out fashion outfits and then dressing a mannequin with a complete outfit as shown on the sketch including accessories. It will take you a while to get into the newer concept style of this game, parts of the game are slow moving, but it is a good change of pace from the same ole same ole. Try this game it's not fantastic but it is enjoyable.
December 26, 2013
A Buried Treasure!
BASED ON COMPLETED GAME FIRST IMPRESSIONS At first, you may be thinking you downloaded the wrong game. I mean, did you plan to download a game where one of the first tasks is to prepare the fashion collection for delivery? In your ultra-modern very realistic office? Your only hint (outside the original main menu visuals) that you are in for a supernatural battle between good and evil is those strange hallucinations you have. But that?s the pills, right? You must bear with this game through its first 15 (?) minutes, while your situation is carefully presented to you, preparing you for the leap of faith needed to play the rest of the game. That game is almost 100% medieval locations, HOPs and mini-games. SIGHTS & SOUNDS There is not the too-oft-taken-for-granted spectacular intro on this game, but in a way it has something just as powerful. The main menu screen is simple if excellent art and the music is a song ? yes, vocals ? very eerie, haunting and addictive. And it is not without its dramatic impact. (Trust me). In the early part of the game we find pseudo-realistic imagery done very well, with extraordinary animation. Later, that becomes handpainted, subtle and lovely art. A totally irrelevant aside ? including this, I know of only 3 HOPAs which have actual songs on the main menu page, and I absolutely adore all 3 ? both song and game. (Dying For Daylight & Chimeras) Perhaps noteworthy, developers? WHAT?S HAPPENING When your ordinary (birth)day, turns absolutely extraordinary, you learn that you are a member (by birth) of the Order of Keepers, a secret sisterhood of warrior women who are bound to the task of defeating ?the Dark Ones?. (In style and purpose they remind me of Red Riding Hood Sisters from the Dark Parables series.) Just how you end up in the Middle Ages I?ll leave you to find out for yourself ? and don?t expect it to be easy getting there! *evil grin* The ending was satisfying, tying up the loose threads, providing closure and leaving a possibility of a sequel ? which I hope they do. MAKING PROGRESS At first this game has the feel of an adventure, rather than a HOPA. Sure, there are puzzles and HOPs (although not many early on), but with so much dialogue, you choosing your own responses to situations (i.e. ?Lie? or ?Tell the truth? to your psychologist), and trying to barricade your door, it just *seems* more ?freewill? than most HOPAs allow. Once into the medieval part of the game, the mood changes to more of what we?re used to. And you get your own interactive jump map. There are a large number of HOPs that are not at all monotonous as they come in many varieties. Interactive lists, progressive silhouettes, fragmented objects, related pairs and misplaced items. There are also a lot of mini-games (some requiring a little hand/eye coordination ? like the ?click within the green section of a slider?). There is also still plenty of adventure-style tasks to complete. As well as the usual gameplay, you will need to acquire special skills potions to perform certain tasks. These you can get by finding the Keepers? figurines. Again, they *feel* like collectibles, but are not because they are necessary to the immediate gameplay, and are placed on a board game needed to complete the game. There are also 30 Achievements. Presented in a very unusual if somewhat confusing way ? but you can also opt for a simple list ? nice innovation. WHAT?S WRONG WITH IT? Well, it?s true, I would have given this game an easy five stars, but for 2 very annoying problems, either of which might put you off the game entirely. 1.It is very hard to get the voices to the right level, often you can barely hear them, other times they are too loud. A shame, because the voice acting, when you can hear it ( there?s subtitles) is absolutely wonderful and sometimes very subtly ironic. 2. The back arrow takes up too much screen space too high up, so that I was always getting tossed out of somewhere for getting too near the inventory bar. (Could have used an inventory lock too) FINAL VERDICT I?ve had a lot to say about this game, and while that is hardly something new for me, it is a lot less than all the impressions and responses I had to this game. Technical issues or not, this is a truly involving game. The music is still playing over and over in my head (I already have the words just about memorised), and I keep seeing that main menu page. It?s a story where you really want the good guys to win, and where your curiosity is likely to run away with you. As a stand-alone soft release SE it is truly buried treasure!
December 26, 2013
Fun extras help this game
At first I was not impressed with this game because of average graphics but it gives you options to change course of story by giving you options to interact with story by various options where you decide what characters do and respond. There are some things in this average appearing game that made it fun to play. Where I normally game this game 3 stars I gave it 4 because of the higher playing options and fun
December 26, 2013
Nice SE...
Catching up on my pre-Christmas demos today. The graphics in this game aren't too bad, nice colors. Game play is good. Music is good, even changing with what is happening in the scene, which makes it more interesting. Very nice sound FX. Not too many HOGs (disappointed), but clean and easy to find items. Puzzles were not difficult either. The voice overs left a lot to be desired and I didn't really care for "pick what you want to say or do next" in some scenes. Old school and silly to me. That being said, I liked the story line and found myself wanting more when my demo time ran out. It is not all that challenging, but the game kept my interest and was fun. This is one of those lazy day games. Definitely using a credit on this one. As always, try it for yourself and see what you think. We all have different tastes in games and you may not care for this one at all. Thanks for the reviews.
December 28, 2013
To Tell the Truth or Lie?
I completed this game and have mixed feelings about it. At several points I decided I hated the game only to continue game play and finally finish. All in all I liked this game because it is different. One of the reviewers mentioned it's material for a movie and I can see it too. Things I didn't like were (1# there isn't a walkthrough. I think this would have been very helpful; #2# the map was only available when the character time traveled; and #3) while there weren't any technical issues preventing game play I did experience some minor issues that really irked me, e.g., when I knocked down the solar system and got the earth, the inventory showed the earth but called it a candlestick; during a HOS there was a butterfly hint which looked very much like a bow to me; and another was the dialogue said "what an unpleasant person", when, in fact, the person was smiling. There were a few others, but I think you get the idea of why I found it irksome at times. The HOS consisted of lists, silhouettes, put an object in the scene; and find multiple things to create one. All were very easy. I played in the easy mode and there wasn't a penalty for mis-clicks. The puzzles were nothing special. I, like another reviewer, had trouble with the slider puzzle, where you had to keep it in the green. One worked, but the others didn't so I skipped. The skip button charges quickly. The tile puzzle -- like dominos -- gave me a fit because one tile I had placed I accidently touched it again and it wouldn't go back into its spot, but I was able to complete the puzzle with the tile still stuck to my cursor. This really could have been an awesome game if it had been a little longer and not had so many flukes. I didn't time my game play but it was the shortest game I've ever played. Read the reviews and play the demo. I certainly think it's worth a buy
April 16, 2014
Great game - some glitches
Game was fairly good, a little short. I had some problems with glitches where the inventory would freeze closed and I would have to quit the game and come back in (running it on 64-bit Windows 7). Otherwise was fairly easy (once I found my chakra on the side of the inventory window).
January 19, 2014
The demo was promising and then I purchased it.
I love HOG's I'm always trolling for the newest one to show up on BFG. So when I saw this one I immediately downloaded the demo and tried it out. I finished it pretty quickly and thought it was fun enough that I purchased it. It looked really promising, the story was good enough, and the graphics are well drawn as well. It wasn't until I really got into playing that I started having issues. A couple of times during a mini game to find the objects needed I encountered a bug. It basically made some of the items needed to disappear and I had to exit out of the game and restart it for those items to show up. Then there is the whole not being able to choose an item without it backing you out of the scene you're in. Then there was that one mini game where you had to move your mouse up and down. No matter how fast or slow I moved it did nothing. Once I did get it moving I couldn't keep it there. I got frustrated and essentially skipped that game altogether. It shows up twice in the game and both times were skipped. The game wasn't too hard to beat and I finished it in less than an hour. I didn't care much for how quickly the story progressed. I'd rather have gotten multi-part games and have a better storyline. Overall, it helped to pass the time, but i was left wanting my money back for this one.
December 27, 2013
Too Boring and Slow Moving
Based on the demo. This game had a lot of promise as the storyline was excellent, but then as the adventure went on it became boring and moved extremely slowly, not just because of the lag between scenes but because there were too many things ancillary to the storyline to make it interesting. It was all over the place. The visuals were lacking, as was the soundtrack. The voiceovers, with the character's lips moving well after speech had concluded, were laughable. I couldn't find one thing I liked about this game. It is a no buy for me.
December 26, 2013