Haunted Halls: Nightmare Dwellers
Exclusive
Race to uncover an ancient secret in Haunted Halls: Nightmare Dwellers! The night started out like any other. A local collector was complaining about paranormal activity in her mansion, and the authorities called you to get to the bottom of things. But it turns out that the pit of bizarre activity was bottomless. Now you find yourself lost in a living nightmare brimming with strange creatures, comatose colleagues, and mysterious tentacles reaching out around every corner! Can you find the source of the happenings and destroy it before it's too late? Find out in this thrilling Hidden Object adventure game!
Game System Requirements:
OS:

10.9/10.8/10.7/10.6

CPU:

1.6 GHz (INTEL ONLY)

RAM:

1024 MB

Hard Drive:

549 MB
Game Manager System Requirements:
Browser:

Safari 4.0 or later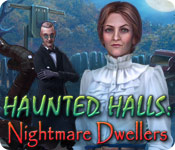 NEW299
The Big Fish Guarantee:
Quality tested and virus free.
No ads, no adware, no spyware.

Reviews at a Glance

Haunted Halls: Nightmare Dwellers
0
out of
5 (
0
Reviews
Review
)
Customer Reviews
Haunted Halls: Nightmare Dwellers
29
29
This Is The Stuff Nightmares Are Made Of!
Don't close your eyes, ever again! get ready for the creepy crawlies,and the heebie jeebies because that slimy tentacaled freak, Dr. Blackmoore is back and better than ever. Agent Lloyd has asked for my assistance at 5 Cuckoo street where there is a whole lot of paranormal phenomena occurring at the residence of Dr. Gauss, a psychologist. Strange behavior seems to be the norm ever since the crystal skull once belonging to Morpheus, the god of dreams, was taken. The secret service has equipped us with some goggles that decipher unusual symbols otherwise know as mini games. You have to choose pairs of symbols by matching the last symbol of the first pair and so forth until all boxes are filled and a clue will be revealed. The HOS are mostly interactive, progressive finds but there are list finds as well. The mini game I enjoyed the most was 8 x-rays with crystal skull pictures on 4 different triangles, one of which was taped and couldn't be moved. You could hand one piece up on a clip to free up a space and then you had to pick up one of the triangle pictures and place on a rotation button and rotate until it was in the correct position for completing a skull picture. You can choose your own custom settings of difficulty and the map is located on your computer. If you like games with a paranormal flare then give this one a try, enjoy!
December 27, 2013
Radical! Good Nightmare!
Fun and different! (Based on both trials = collect+regular, I just bought this game. OK so how is it radical? Relevant to the total experience or atmosphere of a game, are the features. This is one of two games in recent times that are revolutionary in that they have unique features that I do hope will be incorporated into more games in the future. With this one you can shorten the time for skip and hints! to 0 seconds! So much more pleasant when skip means skip now not in 5 minutes! ...(the other wonderful new feature noted, (sorry can't remember which game) is having a lighter and knife that you just have with you through everything so you are always equipped! No torture to find the tools you need). I love this game also because I am a sucker for the cute little animals, and these have definite personalities. Also some unique mini-games... Definitely a winner! ;o)
December 27, 2013
BE AFRAID OF NIGHTMARES
The story is really interesting (especially since we all have had nightmares). The HOS are very nicely done indeed - not junk piles like many - and very colorful, bright, and detailed. The puzzles, especially the one with the goggles which is played many times, are unique and refreshing. There is a real sense of humor, like the pepper-eating frog and the fancy flight of the flamingos when they hear bagpipes (guess they're not Scottish). Lovely graphics and artistry. Exceptional production values, as are all the Haunted Halls games. A nice addition to my gamelist.
December 27, 2013
Creep Factor is 110 % in This Game
Based on the demo From the first cut scene and beyond the creep factor was 110%. Unfortunately in the beginning of the game there was a noticeable cheese factor also. The psychiatrist's address is 5 Cuckoo Lane? Seriously? And the police detective shows up with a box of donuts and a cup of coffee? Seriously? The music/soundtrack is great. The voiceovers are not bad. The graphics are not the way I like them, they were a little lackluster in some places, but it did not detract from gameplay. There are several animals and animal helpers in this game: flamingos, a champagne drinking frog, a little penguin cutout, a bird in a nest, a crab that helps you cut things, a hamster in a birdcage, a cat sleeping on a cushioned couch and a little mouse assistant. They are all a lot of fun and enhance the game. The storyline is excellent if you like dark and creepies as much as I do. Hidden object scenes are different and interactive, a little on the easy side. Mini puzzles were pretty challenging. I really enjoyed this game. It's a buy for me.
December 28, 2013
Excellent Game!
This game was great from start to finish and I did not want to stop once I started playing. I totally recommend this game! Really fun!
December 27, 2013
excellent game after the "fix"
my game picked up where i left off when i downloaded the fix and started playing again.you can set how fast the hint and skip buttons charge. the hint system will "hand-hold" if you like. there is a note pad to takes notes. you are once again trying to destroy dr. blackmore and his tentacles. i like all the haunted halls games and this one is no different. sequel????? i believe so!!!!!!!!!!!!!!!
January 11, 2014
Top notch game!
I love these haunted halls games and this is no exception. I am just surprised that it hasn't got a higher star rating. I bought the standard game and it was a long one. Great graphics (I love the spooky teapots). The games are pleasantly challenging without causing too much of a headache. I can't wait until the next one is released!
January 16, 2015
A Game Done Very Well
I really liked this game for a lot of reasons. One was that I had left it alone for maybe 6 months, but between the stratagey guide, and the hint button I was able to get back on board fairly quick without having to start from scratch again. Once I figured where I was I could figure most of it without help again. The graphics are great, but the music gets a bit tiring after a while (Don't you just hate it when those tunes stick with you long after you're done playing?) Otherwise there's a lot of fun levels. By that I mean the developers don't try to be cute and hide things so many levels back that you either get bored running all over the place time and again or you need a walk though to get through. I like a challenge, but I hate a massive hide and go seek just because some programmer wants to be cute. I have the whole Haunted Halls series and will most likely jump on the next addition soon as it comes out too. They really know what they're doing.
September 9, 2014
Nightmare Dwellers is a dream come true
Based on the demo: Absolutely loved this game. Short description: it is delightfully weird. Demented but clever, is that possible? Well, it seems to be here. At last a game that does not take itself too seriously. You will almost certainly laugh at the crazy, kooky characters. It does have a semi-serious story about a mysterious stolen skull causing paranormal activity, which allows it's possessor Dr. Blackmoor to make dreams (or rather nightmares) into reality. The fun part is that along the way you interact with so many goofy animals, and each one is uniquely funny, strange, and lovable at the same time. The voices and sounds for these are also well done. The puzzles and mini-games are similarly unique (can I say that?), and the hidden object scenes are multidimensional, requiring plenty of interaction. There is a match three option but I did not attempt it, it was too much fun the "normal" way. You also need a sharp eye to explore every possible area on the screen or you may miss something important. Active areas are not as obvious as in some other games. That said, nothing seems too difficult and instructions are clear. Clues are given in various ways, many by looking through strange glasses at a large eye symbol, where you are required to match a number of dual symbols together in a line. You will do this exercise over and over as you progress, but these are not really that difficult either (< 1 minute). It is almost impossible not to enjoy playing.
December 27, 2013
I Dreamed a Dream like this before...not once, not twice, not...You get the idea...
This game is based on completed play of the game (including bonus features from the Collector's Edition). I was very excited when the Collector's Edition of this game came out. I have loved this series of games. Nothing in the first hour I played changed my mind and I wrote a glowing review. Then I bought the game, played through to the end and realized that I didn't think/feel the same way after I'd completed the game as I did after playing for just an hour or so. Thankfully, BFG removed my first review so I could re-review the game and give a far more accurate accounting of my experience. Nightmare Dwellers is an excellent game, there is no question about that. It is brought to us by the same team that produced Green Hills Sanitarium, Escape from GHS, Fears From Childhood and more. As per usual, in the great tradition of this series, Nightmare Dwellers is technically superior and a lot of fun to play. But, these halls are not really haunted anymore. And the dreams aren't nightmares unless you're 5 years old. In the main section of the game you get what you can reliably count on from this developer: first class visuals and sound with a fun story line and puzzles and HOGs that you're sure to enjoy. There are about 20 of each with the edge to puzzles/mini-games over HOG. Again, these are absolutely superb. There's really nothing more to say about the game, though. Like a novelist who's figured out the winning formula and has re-written the first book 15 times over with different characters' names and backgrounds and a slightly different crime and an oh-so-minor shift in thrilling outcome, the substance of Nightmare Dwellers is the same as everything that came before it in this series. Would it be a Haunted Halls if there weren't references to Dr. Blackmore? If you loved the first games in this series (and I did) and don't mind playing basically the same game over again (I do mind)...If this is exactly the style of game you prefer with lots of fun but not a lot of intensity (it isn't anymore), then it is a five star game. Notwithstanding my complaints, I still heartily recommend Nightmare Dwellers. I enjoyed the game. It was a lot of fun. My complaint is that what thrilled me before is no longer thrilling: There is neither the unique approach to storytelling nor the incredible creativity of the puzzles and HOS found in Nevertales (is there anything else out there like it today?). You will not find the amazing depth of storyline or the incomparable attention to detail that you do in Portal of Evil: Stolen Runes (Talk about haunting! Down to the background music of, what sounds like, chanting monks and special effects that give new meaning to the word "special" Stolen Runes is in a class by itself!!). After all is said and done, there is still nothing technically wrong with Nightmare Dwellers. In fact, there is much that's great. As a break from some of the intensity of other games, this is a welcome relief and a good bit of fun. I would boil my "issue" down to this: I don't like my Arsenic serve with Old Lace anymore. I prefer games that are much more intense and much less formulaic. With this game, a Special Edition as opposed to a Collector's Edition, the question is, does it present a better value proposition as an SE? Not necessarily. Of course it's much less expensive (free, even, if you have a coupon). Despite my complaints about the game, I still very much enjoyed it and I think it's worth what you spend on it. If you don't get the Collector's Edition, you're also not getting: a. A bonus chapter. b. Achievements and Collections. c. Re-playable mini games and Hidden Object puzzles. d. The "who cares" assortment of screen savers, wallpapers and concept art. e. An integrated strategy guide. I think all of the components listed above really add to the value of Nightmare Dwellers and consequently, while I recommend this game as an SE or a CE, I much prefer the Collector's Edition and all the extras that come with it. I think you will as well.
December 27, 2013
The Apple logo is a trademark of Apple Computer, Inc.
The Windows logo is a trademark of Microsoft, Inc.