The Great Gatsby: Secret Treasure
The once glamorous Gatsby Mansion is now wrecked and seemingly deserted. Judy, a talented architect, is given her dream job when she is asked to restore it to its former beauty. Just as she is about to begin, Gatsby's criminal past intrudes and she finds herself caught up in a kidnapper's scheme to discover the notorious socialite's secret treasure. Immerse yourself in an adventure full of puzzles and hidden object scenes entwined with Gatsby's devoted love and criminal dealings in The Great Gatsby: Secret Treasure!
Free Judy's friend from a kidnapper's grasp
Find the whereabouts of a lost treasure
Solve cryptic puzzles and uncover a dark past
Game System Requirements:
OS:

Windows XP/Windows Vista/Windows 7/Windows 8

CPU:

1.4 GHz

RAM:

1024 MB

DirectX:

9.0

Hard Drive:

694 MB
Game Manager System Requirements:
Browser:

Internet Explorer 7 or later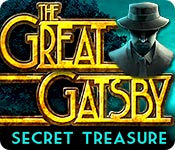 NEW299
The Big Fish Guarantee:
Quality tested and virus free.
No ads, no adware, no spyware.

Reviews at a Glance

The Great Gatsby: Secret Treasure
0
out of
5 (
0
Reviews
Review
)
Customer Reviews
The Great Gatsby: Secret Treasure
31
31
Great entertainment
Although it was sticking a lot on my computer, it was a fun game that rivaled a 'collectors' edition game. Kept my interest and loved the mystery!
January 7, 2014
Truly Enjoyed it.
Had a great storyline. Can't wait to buy it. Was not too difficult to play. Kept me interested.
December 26, 2013
Try before you buy. Just okay.
Game play is very slow, gets boring fast. Most puzzles are too easy but HOG are not bad. Poor actor choices, the inflection in their voices and lack of emotion makes the story/game unbelievable. I would recommend to try before you buy.
December 26, 2013
Bit Of A Fixer-Upper
BASED ON DEMO FIRST IMPRESSIONS This game gets off on the wrong foot with me straightaway. We all bemoan those black bars on non-wide screen games. This one has black bars all the way around. Presumably, it is simply made in too poor a definition to handle any sizable screen. It?s only for the movies, but it is still annoying. SIGHTS & SOUNDS Other than this downer, the game graphics are okay. Certainly not great, or even good, but bearable. Each new scene takes a bit to load, so you see a lot of the hourglass. The interactive map does not teleport, so you are doing enough moving from scene to scene for this to be a pain. And sometimes, the cursor becomes ?sticky? and movement does not flow, or you have to click several times for it to respond. The sounds, too, are glitchy. Some crackle and some dropping in and out. The music is definitely appropriate, and the sound effects are really good. Although I was very glad to get in out of the rain. The heroine?s voiceover is very good. The other characters ? weird delivery. WHAT?S HAPPENING You are a successful architect who has landed the job of doing up the abandoned mansion of the late great Mr Gatsby. The place is in ruins, and it is obvious you have a lot of work to do. A strange call from your flatmate sends you home, and you discover she?s been kidnapped. In payment for her return, you must find the Gatsby treasure. MAKING PROGRESS This is a HOG-heavy HOPA, with only a few puzzles, although some of them are unique and quite imaginative. The HOPs are all interactive word lists, and so far are visited only once. There is some need to find your way around and figure out your next move, but not too much. There is a diary with objectives and ?materials? , which I think means evidence. There are also plans to the Gatsby mansion which operate as an interactive map. Hint is directional. The most interesting feature of this game, which saves it from being just another not-quite-good-enough game is the flashbacks. You have an antique watch given to you by your mother, and when it flashes, the scene changes from today to the mansion as it was in its heyday. This transformation is done before your eyes and is truly excellent. While there, you do a mini-game. Another unique feature is the ?u-turn?. It is an arrow that curves down from its original upward direction, attached to the inventory, and it is the easiest way to back out of the scenes down to previous ones. I think I like it. FINAL VERDICT Ultimately, I have to come down on the negative with this game, unless the glitches are fixed and, although I had no need of one yet, I think a walkthrough is probably worth waiting for. In its current form, I can?t recommend this game.
December 25, 2013
Interesting, but tediously easy.
I love Gatsby, so the storyline in the game was interesting but too easy IMO. Pros: 1. Imaginative story set in modern day which involves Gatsby's property and story. 2. A pocket watch lets you see back in time occasionally. This is a nice touch in an otherwise dark story. 3. Easy enough for beginners. 4. Map shows the next action area. Cons: 1. A lot of talking. I finally turned off the voice overs and read the text. 2. Pretty linear as far as actions. You pick up something to be used the very next thing. I prefer to pick up items here and there to use later. 3. Lots of walking around. You can see where the next action is to be done on the map, but can't jump there. I recommend this one if you're a beginner, or just want to relax, and only if you don't pay full price.
December 25, 2013
Not bad but...
I'm glad I used a free coupon to get this game. It was slow going, too short, and the gameplay wasn't always intuitive, i.e. it didn't make sense where to go and what to do next. My biggest issue was with the inventory - every single time I thought I had picked up the item but I hadn't so I had to click on it again, picked it up, but it was dropped before I got to use it. One part had a grating with four screws - the screwdriver went back in to the inventory after each screw! Very frustrating and slowed the game down (which maybe was the point, since it was VERY short - took me less than 2 hours to complete). However, it was a good game for a coupon and I enjoyed it moderately well, though I would not pay money to play it.
January 10, 2014
Needs a lot of work
The overall game was okay, but the game was short, a little glitchy, slow, and the plot was predictable. I thought the story had many commendable parts, such as arranging the pictures in order, or being able to see the world through the eyes of someone in the 1920's, but these moments were limited, the game designers could have taken advantage of these unique qualities on several occasions but unfortunately these chances were missed. The puzzles were pretty weak, if they weren't easy this was just due to the lack of an explanation. Finally I thought the art wasn't bad if you ignore the attempts made by the artists to have small pieces in the art moving while having the overall piece be still, if this is not done right it can make ruin the whole moment of the story.
December 28, 2013
Decent hidden object game
There were some glitches here and there as far as clicking on the hidden objects. I had to click on a lightbulb five times before I was able to pick it up.
January 8, 2014
NOT AS GOOD AS THE ORIGINAL GREAT GATSBY
THE GREAT GATSBY: SECRET TREASURE was not nearly as enjoyable as CLASSIC ADVENTURES: THE GREAT GATSBY. Storyline was fine but the game was not very challenging and the movement of the cursor and games actions were very slow. The first Great Gatsby game was great on every level. This was a very disappointing sequel. I would not recommend this game.
June 3, 2014
Its a Pass for Me!
Before I begin, I will refrain from being politically correct and take this time to wish everyone in the Fish Pond and to everyone at BFG and to all game developers a very MERRY CHRISTMAS. Why we need to be sensitive about a holiday name that has been celebrated for two millennia is beyond me. For those who are of a different faith as I am, I ask you to welcome Christmas not only for its religious symbolism, but also as a time when we are reminded that the true spirit of Christmas is within all of us, to love one another and to express our own divinity towards each other. May peace and goodwill be with you and your loved ones. Set against the glamorous but deserted Gatsby Mansion from the Great Gatsby, a classic from the great American writer, F. Scott Fitzgerald, our protagonist Judy who is a talented architect, is given her dream job when she is asked to restore it to its former beauty. Upon arrival to the mansion, she finds herself caught up in a kidnapper's scheme to discover the notorious socialite's secret treasure. Unfortunately the story may be the only good thing about this rather out-dated HOPA game. However if you are an avid fan of Hidden object scenes, this game may appeal to your appetite as there are plenty. But first, let?s start with game features before we continue on to the mechanics. The Great Gatsby: Secret Treasure offers two play modes and from what I could tell from the demo, I came across no sparkles or glints of any kind. Graphics are dark but in some cases sharp with hand drawn artwork. Lighting is bad making some HO scenes rather difficult to play without resorting to hints. Animation is minimal and grainy, voice-overs are mediocre and I found that at times Judy talks too much throughout the game. Your tools include a diary that also outlines objectives and holds your clues. There is a map that does NOT allow for travel, therefore be prepared to do a lot of back tracking, although you do have a set of car keys that will allow you to travel from one scene to the next. Adventure game play involves a lot of exploring and coming across hidden object scenes for inventory items. I only came across one mini-game which was so basic and after 25 minutes of game play, I decided to call it a day. Today?s game looks like it belongs to the era of the Great Gatsby, old and tired looking. Needless to say, it plays smoothly and has a story that involves an interesting mystery. I doubt it is worth spending any money on this, perhaps if you have a game credit on hand to spare. However, I feel that the game just is not worth the time or effort. I just wish that this Christmas, we had more Christmas theme games to play so I guess I will now go back to my own archive and select a few of the old ones. Cheers everyone.
December 25, 2013
The Apple logo is a trademark of Apple Computer, Inc.