Excursions of Evil
Climbing volcanos, swimming with sharks, it's all in a day's work for Audrey! She roams the world in search of adventures and makes a living out of it with her popular travel blog. After receiving an e-mail from the travel agency, "Excursions of Evil," it's clear that her scariest adventure has yet to come. Will she take up the invitation to visit the spooky surroundings on the shore of England where a murder mystery has taken place? Find out in this exhilarating Hidden Object Puzzle Adventure game!
Engaging storyline
Beautiful art work
Mind-bending mini-games
Game System Requirements:
OS:

Windows XP/Windows Vista/Windows 7/Windows 8

CPU:

800 Mhz

RAM:

256 MB

DirectX:

9.0

Hard Drive:

263 MB
Game Manager System Requirements:
Browser:

Internet Explorer 7 or later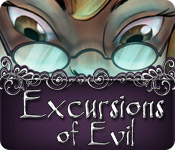 NEW299
The Big Fish Guarantee:
Quality tested and virus free.
No ads, no adware, no spyware.

Reviews at a Glance

Excursions of Evil
0
out of
5 (
0
Reviews
Review
)
Customer Reviews
A Fun Hidden Object Game
I really enjoyed playing this game simply because of the HOS, there is one in every room. You can't put too much thought into this game, the graphics are really basic and there isn't much to do in any scene except play the hidden object game and an occasional mini game here and there. I will say that the mini games are a bit confusing, I had no clue as to what I was supposed to do with the small, medium and large diamonds until I presses the skip button and saw the solution. You can play some games that the murderer sends you on you phone, some of them are quite entertaining like matching falling cupcakes or a game of pong with a skeleton skull and bones. If you look at this game as just a hidden object game then it's fun, don't forget to use the battery on the hint cat to activate him, enjoy!
January 15, 2014
You can't judge a book by it's cover...
... nor games by their simplistic graphics. :] IMHO, anyone who hasn't finished this game is missing out on a super great, and suspenseful storyline!! Granted the graphics are not what we are used to on BFG and the mini games were unexpected and a bit frustrating at first, [given they were a focus and one of the criteria for finishing the game], yet, again: WOW, good storyline! And the games are VERY do-able once you figure them out! : } Anyhoo, with patience and an adventurous spirit, anyone can get through this game and you will be glad you did. The game has a true beginning, solid substance in plot design and a great ending. Also, if you take the time to 'soak in' the environment, envision yourself first person [trying to save your friend], you may also appreciate the design as well. It truly does all pull together once you get into the flow of the game. So, once I got the 'hang' of this game and got into it, I thoroughly enjoyed it and am very happy I didn't pass it up as I was about to when I checked out the demo. Don't dismiss this one too quickly, especially if you enjoy 'outside of the box', creative and immersive gameplay!
February 14, 2014
Expect a fun moment
I fell in love with this game. The graphics are great. The story is really funny. And plus, it doesn't make ventilation noises on my laptop. These days, it happen offenly with the new games. So it is a five star!!
January 18, 2014
GREAT REVIEWS!!
Short but sweet comments: I downloaded the demo to try it out because of the reviews and must say those of you who posted did not let me down. I was so disappointed when it was over because I was enjoying it so much I could have sworn I'd only been playing for a few mins. Would love to see a sequel!
January 19, 2014
I enjoyed it!!
I really like this game and the theme, make me relaxed and i love the music and the mini-games a lot! Also the twist near to the end i love that way of story telling.
November 26, 2013
Super intriguing game!!!
Seen a lot game out there but i must say, once playing the first chapter its really kicking in to the story, using the mobile as life line, it great!!!
October 31, 2013
Weirdly, I?m Hooked
BASED ON DEMO FIRST IMPRESSIONS Definitely for a niche market, this game is ultimately an almost pure HOG (Hidden Object Game), and a very primitive one at that, yet I defy anyone to say they?ve ever come across anything like it before. It had much that annoyed me, and not enough of the things I like, but I was totally caught up in this unique game. SIGHTS & SOUNDS Basic. Basic. Basic. The low-def graphics are a bit cartoony, oversimplified and cheap-looking. But you can see everything clearly, despite a tricky little number in the HOPs. There, the background is blurred a little, to give a false sense of depth, but it doesn?t affect the visibility of the objects. They are very clear and colourful, but sometimes craftily hidden. The music is almost not there. You hardly notice it at all. The same is true of the background noises. But there are voiceovers, and they are excellent. WHAT?S HAPPENING? You, an eXtreme traveller, are invited to tour a spooky English mansion by a travel agency called ?Excursions Of Evil?, whose idea is to visit places where acts of eXtreme evil have taken place. In this one, the butler (who else could it be?) killed everyone and then himself. Or did he? That seems doubtful from the minute you get there. Love love love this storyline! Something truly new and fascinating! GAMEPLAY Here we also have something truly unique. This is a HOG, there are lots of HOPs and only a few puzzles, and most of the adventure component is just getting to the next HOP. But getting there! No map. No hotspots or black bar hints. Instructions on the (difficult) puzzles, only if you click hint. And then it?s the bare minimum. Puzzle boards. The hint gives hints. Which unfortunately isn?t much help when you can?t find your way back to the bathroom! Or when you have one item that is part of a pair needed to activate a new location. The hint will tell you to use it, but it won't leave your inventory no matter what you do. Here's hoping there's a walkthrough! Every step of the way has been a battle for little intermediate me, even on easy mode. If they can forgive all the HOPs, the ?no pain, no gain? crowd should have a ball with this one. BUT...You do have a cell phone. On it you keep the emails, voicemails and games you receive. The games crop up as part of the story, and are of the arcade sort where speed counts ? drop matching(?) kind, and a ?paddle? one, and a ?zuma? kind of game. These are then playable at any time for ?fun?. Again, no instructions. As well, there are jokers to be found and collected, which you can use to keep going after failing in one of these games. At some point, it seems, high scores on these games will become important, but I haven?t figured all that out yet. There are some really annoying things about this game (aside from its general unhelpfulness). Using an inventory item, you don?t just click on it and then on where to use it, you must drag it there. HATE that. And the odd ways of going into and out of a location had me wandering in and out all over the place, unable to orient myself without a map to help me. And there is usually only one thing to be done in each room, boorriing. The opening of the game forces a tutorial on you, but it is the digest version and is relatively quick and painless. COMBINED IMPACT Irresistible! I must be getting sick or something, I actually spent precious demo time improving my score on one of the games! And I get a very ?Brink of Consciousness: Dorian Gray Syndrome? vibe from the bad guy. Not a crowd pleaser, this game is nevertheless unique and clever and involving. Among the adventurous, it might well be a hit! However, this is one game you really do need to try before you buy!
January 15, 2014
Evil Lurks Everywhere
What a fun game and so different from the usual. I wasn't sure at the beginning as the graphics were a bit too cartoon like but as the story commenced it was easy to get hooked. HOS were fun and hard enough to be a challenge as were the mini games. With no real instructions you really needed to use your thinking cap. I really enjoyed them because they were not the usual run of the mill. I especially liked matching up the cupcakes. The use of the mobile phone was very creative and for a change it was nice having no map. This game overall was very entertaining and strangely enough relaxing. Music was not overwhelming, it just kind of made you drift from scene to scene solving puzzles, playing HOS and seeing where it all ended up. Happy gaming with this one.
January 15, 2014
Fun minigames
While the actual HOG is basic I really enjoyed the mini games and the fact you can go back and play again and again to beat your own score plus the challenge of not being able to continue if you don't get the required minimum score....frustrating at times but worth persisting.
January 18, 2014
Review of Demo Only
I don't usually do reviews on demos but since there is no forum, I'll give this a whirl. The game out for only mac players (which rarely happens), is about a woman who lives in New York and loves adventures. It has voiceovers as it describes her life and then she gets an email on her phone from a friend who says she has a special once in a lifetime type adventure that is an "excursion of evil" and you must leave immediately so you pack up your cat and deport for London. When you get to London, you are told that you are staying in the same house as a serial killer did and that he may still be alive. Although I liked game initially, after 30 minutes of playing, I did not feel this game would be something Id buy. First of all the music is either on or off, there are no buttons to turn it down. The options menu is where you pick the difficulty and there is casual and advanced however there is no telling what those 2 entail since there is no description. It starts with a mandatory tutorial which I didn't feel was that necessary however its quick and painless. The main focus of this game appears to be the cell phone. You get messages from your friend and also voice messages from the killer. Its unclear if you are part of a game or its a real murder to solve. You also get games sent to you from the killer and it implies you must play these arcade type games and get a score of 1000 or more or "there will be no telling what I might do". They were games like marble poppers, match 3 with a twist and a brick type game so far. In some of the hidden object scenes, you get joker cards and they can be used while playing these arcade games to extend your time if you die. I really didn't like these arcade type games. If I wanted to play games like that, well thats what I do on my iphone. There are lots of hidden object scenes and although not interactive are still pleasant to the eyes and easy enough to do. However, the objects you get from the scenes seem to be repetitive. I have played a large number of scenes and only received keys and joker cards. The inventory bar stays up but even if hovered over or picked up, it does not tell you what the items are. So all the keys look the same and therefore it takes multiple tries to open doors etc. There were a lot of hidden object scenes but I liked them. I did run across a few puzzles that weren't the arcade ones in the cell phone. They were reminiscent of the ravenhurst, madame fate type style where solving a puzzle triggers a bunch of things to move however those puzzles were a lot harder than these. I did like them but I wish there had been more to them, if that makes sense. And so, thats my real issue with this game. I liked it but I felt like I needed more. There are lots of locations but once in said location, there is nothing to do besides one hidden object scene or a puzzle. There is nothing to pick up yet there is lots of walking around. I kept thinking I was stuck but then Id move the mouse and realize there were arrows pointing to different areas I could go. The hint button is helpful however make sure you put the battery in it in the beginning or else it won't work in the hidden object scenes. Its a cat, so that was appealing but overall I felt like something was missing in this game and I decided it wasn't for me. However, I do think some will like this game. It is different and well written. It has potential to be a good game. Its just not for me. Try it and see how you feel!
October 15, 2013
The Apple logo is a trademark of Apple Computer, Inc.