Excursions of Evil
Climbing volcanos, swimming with sharks, it's all in a day's work for Audrey! She roams the world in search of adventures and makes a living out of it with her popular travel blog. After receiving an e-mail from the travel agency, "Excursions of Evil," it's clear that her scariest adventure has yet to come. Will she take up the invitation to visit the spooky surroundings on the shore of England where a murder mystery has taken place? Find out in this exhilarating Hidden Object Puzzle Adventure game!
Engaging storyline
Beautiful art work
Mind-bending mini-games
Game System Requirements:
OS:

Windows XP/Windows Vista/Windows 7/Windows 8

CPU:

800 Mhz

RAM:

256 MB

DirectX:

9.0

Hard Drive:

263 MB
Game Manager System Requirements:
Browser:

Internet Explorer 7 or later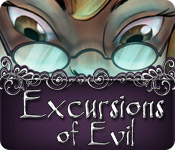 NEW299
The Big Fish Guarantee:
Quality tested and virus free.
No ads, no adware, no spyware.

Reviews at a Glance

Excursions of Evil
0
out of
5 (
0
Reviews
Review
)
Customer Reviews
Not worth the download even if it were free
No good explanation of game rules. Sketchy story line of investigating a haunted house. Suggests that this is a follow up of other games and assumes you know the characters. Standard HOS. I like that there are plenty of HOS but lack of engaging story line or characters makes this a disappointment. Almost as if the creators were dashing off a slap dash product.
January 15, 2014
where does it go from here
The help is really no help at all. I have seen all of the rooms in the house and I have three weights with nothing to do. Go from room to room asking for help and it tells me it doesn't see anything. Mini games come with no directions you just have to sort of figure out what it wants you to do. and it never tells you to add batteries to the cat for hints so you get stuck trying to figure out the first mini game with no instructions at all. Story just seems to be placed there as a means to present the game but offers no explanation. gonna keep my credit and look at the next one!
January 15, 2014
Pretty Good Until The End - Review Of Completed Game
STORY: You take on the role of Audrey (a blogger) and have made a name for yourself by writing about your travels You have been asked by a travel agency "Excursions of Evil to tour a spooky English mansion where a butler Gareth Greenwich has killed everyone including himself or did he? So off to England you go. 2 PLAY MODES: I played the harder mode. I had no sparkles or black bar tips. Hint which is a mechanical cat that needs a battery in it at the beginning of the game. It is not directional. Just tells you what you need to do. WIDESCREEN: NO (at least for me there wasn't as I had to change my settings) VOICE OVERS: YES GRAPHICS: Will definitely be "too dated" for some people and are on the cartoonish side. CELL PHONE: This holds you emails, voice mails and games that you will receive throughout the game. The games on this which are an "arcade" type crop up as part of the story and these cannot be skipped but you receive "joker" cards along the way that you can use to prolong the game so you can reach the score needed without starting over. There is a "retry" button though if you want to keep trying without using your jokers. There is also instructions on these. You have to click on the cat but it just stays visible very briefly then the cat goes back to sleep. MAP: There is NO map. GAME PLAY: Emphasis is definitely on the HOS with some mini game/puzzles and lite adventure thrown in. HOS: All found by word list and there are A LOT of these but no scene is repeated. They are not interactive. I had no problem here though definitely Sanford & Son junkyard pile side. PUZZLES: Not a fan but most of these I found doable. I did skip a few of these and didn't seem to take very long to do so. MY PLAY TIME: This was about 6 hours for me. OVERALL IMPRESSION: I'm gonna start off with the positive for me. I loved the storyline. It's a bit different than the usual games here at the Big Fish. I was hooked from the get go and held my interest to the end. The graphics/artwork I really liked this as well. The voice overs excellent. There are a lot of HOS but no problem for me since I like those. While I'm usually not a fan of the mini games well I really enjoyed the ones on the cell phone as I found myself trying to beat my previous score. I also liked having the cell phone as part of the game. I also didn't have a problem with there being no map though I will admit I did get hung up and lost a couple of times but I enjoyed trying to figure it out on my own cause while the adventure side was on the lite side for the most part not always obvious. Oh and a developer who knows how to do play modes - no sparkles/black bar tips - Also NO animal "helpers" that you have to name/dress up - THANK YOU! Now for where this developer could improve: Please have widescreen on your next game offering. I didn't like having to click on the X to get out of a scene as I just couldn't "back out" of it. The inventory the having to "click and drag" it. instructions for puzzles/mini games should always be available. Shouldn't have to use the hint as I found that "mechanical cat" downright annoying especially the noises it made. Also the ending to this game was abrupt and leaves a lot to be desired. I would of rated this 4 stars if not for this ending. Thanks Big Fish and developer. It was worth the use of my coupon code. As always, give it a whirl and decide for yourself.
January 16, 2014
Fun but aggravating!
This game is a lot fun but needs a tutorial... I got stuck numerous times and the forums were little or no help. Some of the mini-games can be skipped and some cannot. You have to WIN the important ones to move on through the game. There is no instruction on how to play these games, they are just there and 'good luck'. The HOS portion of the game is fine. Figuring out where to go next is tricky but I was able to do it. The 'hint' cat is entertaining but mostly worthless. Not too bad a game if you have patience and lots of time.
January 19, 2014
Excrsions of Evil
Not to sure about this game to be honest. I do know I did not like the HO games, the were way to crowded and objects were just to little and tiny, and you got nothing but HO's around every corner. I really love HO games but this one took it to far. Other then that I like the game. So not sure if I can recommend it or not
January 15, 2014
Not one of the best!
No skip of the intro or the 'tutorial' at the start although both are short however in the hog's one could see many of the objects as they stood out. The puzzles either came with no or impenetrable instructions. Visuals as stated very 2d
January 16, 2014
Could not get to far
I downloaded the demo and I thought it was going to be a fun game. I was wrong. I got to the point where I had part of a ticket for a lock and it had a 1 4 on it. I could not find the other part or figure out the rest of the combination. I do not recommend the game.
January 16, 2014
Excruciating Excursion
The main game page says this has an "Engaging storyline" and "Mind bending mini-games." All I can say is, uhh.... no. There is not much of a story except that you are "investigating" an alleged murder-suicide at an old mansion. Well, they actually say someone named Greenwich (rhymes with sandwich) "murdered everyone including himself" - whatever that means. Along the way, you are sent arcade type games on your (pink) phone that you have to achieve a certain score to continue. You also receive "jokers" which allow you to prolong the game so you can reach the score without starting over. Otherwise, it is one hidden object scene after another, which actually are somewhat difficult. After completing, you are given either an object (unrelated to the objects just found) or a joker. There are also a few mini games which hardly qualify as "mind bending" unless you have, umm.... a very simple mind. The artwork I found to be a positive. It is high quality and highly detailed. Unfortunately, most of it you just look at as there is little to interact with. Navigation was clunky because navigation arrows can be anywhere, left, right, up, or down. You have to visit all the scenes to continue so use your mouse to make sure you don't miss an area. This game might be more appreciated by pre- to early teenaged children, especially female. Personally, I felt like I had lost some intelligence after playing the demo. I'll skip this excursion.
January 15, 2014
Horrible and Clunky
I never made it to the end of the demo, and I really wasn't interested in trying, either. The game starts with an intro you cannot skip out of. What information you get comes from a phone/PDA type device, on which navigation is clunky and unintuitive. You get a game which implies that if you play it you will get needed things, but nothing ever happens. The hints are useless. The graphics are cheesy. The one HO scene I did wasn't too awful, but it didn't make up for the rest of this boring, frustrating game.
October 19, 2013
Excursions of Evil
OY OY OY...I saw alotta bum reviews and I thought, "Eh, can't be THAT bad!" Guess what...IT IS!! The music for one is soooo bad and the music in a game is important to me. I'm serious I have NOTHING good to say about this game. The playing was a drag.. I would really appreciate hearing/reading WHY anyone would find this game suitable for their short time on this planet. I'm always one to DEFEND and in this case...PFFFFFT!!
January 16, 2014
The Apple logo is a trademark of Apple Computer, Inc.