Dream Hills: Captured Magic
Many years ago, Dream Hills was a merry, bustling kingdom. Its residents led a fairy tale life, good always triumphed over evil, and everyone was happy – until, on the day of the festival of Great Balance, the evil witch poisoned the Fairy Godmother who had been watching over the kingdom and keeping it from evil. Everything changed then. Dream Hills was cast into darkness, and countless troubles began to assault its residents. Many years later, the Fairy Godmother finally woke up, free from the spell. She now must restore the fairy tale kingdom the witch has destroyed. Help the Fairy Godmother find her magic wand, get rid of the evil witch, and break the curse.Solve puzzles, help your favorite fairy tale characters, and collect magical artifacts. Give this story a happy ending!
Visit 35 locations
Enjoy picturesque fairy tale landscapes
Meet characters you have known and loved since childhood
Game System Requirements:
OS:

Windows XP/Windows Vista/Windows 7/Windows 8

CPU:

1.6 GHz

RAM:

1024 MB

DirectX:

9.0

Hard Drive:

274 MB
Game Manager System Requirements:
Browser:

Internet Explorer 7 or later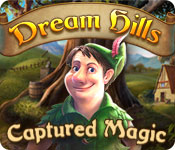 NEW299
The Big Fish Guarantee:
Quality tested and virus free.
No ads, no adware, no spyware.

Reviews at a Glance

Dream Hills: Captured Magic
0
out of
5 (
0
Reviews
Review
)
Customer Reviews
Dream Hills: Captured Magic
27
27
The Magic Is Captured!
I do not usually play these types of games. I am glad I did this time. I bought it! The object is to move through a magical land hunting for objects. You collect items to use in different areas. Some items you combine to preform tasks. There are puzzles to solve. Evil awaits at every turn. There are only two down sides to this game (1) It did not last long enough for me. (2)You had to return to places to retrieve one item.... go al the way across the enchanted land to use it and return to proceed. If you get lost look at the book. It will guide you. Other than that It was an awesome little game. The creator could have added a few more task like catch the mice loose in the theater room or bake items in the bakery to add to the story line. May be next time though! I would love to see a follow up game. Try the demo for your self and see. Swim on fishes !
January 10, 2014
awsome game!
How on earth was this game not showcased? i have just had a wonderful rainy sunday playing away!
December 29, 2013
LOVED this game
I get so tired of the dark sinister games all the time, playing one that is fun and bright and cheerful goes a long way with me.
January 8, 2014
Loved it
I love it when they slip in something new and unique in every once in awhile. This one has clear colorful graphics and is just fun.
January 2, 2014
Great game
I loved this game - it was very very nice. I at first thought it was more for kids - but I enjoyed it very much. I guess there still is a kid in veryone of us. The graphics were very nice and the gameplay really fun.
March 16, 2014
Loved Playing Dream Hills
Fantastic Game All Around and the Music Reminded me of Disney Especially one song Very Magical Game and Tinkerbelle makes a cameo appearance ;) Will Def be playing this again in the future Most likely with my younger family members
November 1, 2014
surprisingly good game
A lot of times the soft releases are just that....soft. Soft as in no challenge or nothing much to compel anyone to want said game. Based on completing the trial of Dream Hills, it's anything but soft. For starters it is a fairy tale and lots of players have been getting annoyed with so many storylines right out of Mother Goose or Grimm's Fairy Tales. I am part of the annoyed group. However for some reason which I am still trying to grasp, this game didn't annoy me at all. After playing for about 15 minutes, my impression was the game would be easy and best suited for beginners to the HOPA genre and children. Wrong impression!! As the game continued, some aspects of the game became harder and the hint button was useful. The story is obvious to a fairy story, an evil witch is doing her thing and the player, a fairy godmother, must complete lots of tasks to defeat the evil one. The plot involves meeting and working with many fictional characters. Included in the demo were a toothless Captain Hook and a rather portly Sleeping Beauty. I liked the campiness the developer uses in injecting this sort of humor into the story. I encountered 6 or 7 HO scenes in the demo and all of them had some of the desired objects cleverly hidden in plain sight. Some might find the music to be repetitiously grating after a while, it started to get to me for sure. The graphics are better than the typical cartoonish game. The developer, a new one as far as I can recall, did a fine job in creating a rather good game. Granted it is not as good as the Awakening series or the Dark Parable entries but I think a lot of folks will find this to be a welcome addition to the mix. I omitted to say earlier that the puzzles encountered were all easy to complete. This is a game my 7 year old grandson will enjoy and I'll have a good time playing it with him. These kind of games are terrific at teaching youngsters how to think outside the box. As for me, I will probably use a game credit to add it to my repertoire. Give it a shot, lots of you will be pleasantly surprised.
December 28, 2013
Kids? Game (I Thought)
BASED ON DEMO FIRST IMPRESSIONS This game, at first glance, seems very much a kids? game. We are the Fairy Godmother, found in fairy tale circumstances, among many well known fairy tale characters, and pretty cartoonish graphics. None of which would necessarily make it a kids? game, I suppose, when you think about some of the great fantasy games we?ve loved this year. And I see many people don't think it is for the youngsters. But this game adds simplistic and repetitive gameplay and simplistic and repetitive music to the mix, and those things I DO believe are only truly appreciated by the younger crowd. (Let me give my apologies early, to any grupps who love this game.) SIGHTS & SOUNDS The game is attractive enough, very fanciful as you?d expect, good quality but not much on the detail. The music really bugs me, not so much for its repetitiveness, as for its simplistic few bars. There are also not many sound effects and the ambient noise seems to consist entirely of tweeting birds, which again strikes me as too basic. WHAT?S HAPPENING? Well, you wake up from a nap to find far too long has gone by for it to have been an ordinary nap, you are alone in Rapunzel?s tower, and you are the Fairy Godmother. You realise evil is afoot, and you escape the tower, hoping to get to your cottage, where you have your magic wand, which can be used to fix all this mess up. Instead of an adventure with a clear goal in mind, I kept getting confused, as more and more story book characters were turned up everywhere. None of them were convincingly the characters we know, and their stories are not part of this game. But their existence overshadows any other plot feature that might have made things clearer. Anyway, we get to the cottage, and the wicked witch has stolen our wand, and we of course must get it back. GAMEPLAY Again, simplistic. There are word list HOPs and ones where you must find multiple items. The images are clear and the items easy to find. The puzzles are almost ridiculously simple, and are already repeating themselves. Not exactly, but the same puzzle with a different image. For example, the line up the rings puzzle has appeared twice so far, the only difference being what was printed on the rings. There are, apparently, 4 magic tools we will acquire, which give us 4 new special abilities, but so far we have not found them. VERDICT A nice, decent enough game, but too simplistic and repetitive for me. For all those young and 'young at hearts', good gaming!
December 30, 2013
DELIGHTFUL
loved the different characters!! there were very charming.this was a little different from the usual HOs and must say i loved it !! the HOs were changed up from time to time,that made it more interesting..so sorry that it ended..hope they do another one!!
January 8, 2014
need help
I like the game but am having trouble opening the flour sack in the bakery and cant find the handle for the water pump, has anyone gotten it
January 7, 2014