The Ultimate Christmas Puzzler
The Ultimate Christmas Puzzler is a stunning collection of over 100 jigsaws, spot the difference, rotating tiles and other diverse puzzles. With four levels of difficulty, everyone can enjoy the holiday puzzle fun. Sit back, relax and enjoy these terrific brain teasers hour after hour alone, or with family and friends.
Brain-teasing festive fun
A Christmas treat for the entire family
Hours of outstanding gameplay
Game System Requirements:
OS:

Windows XP/Windows Vista/Windows 7/Windows 8

CPU:

800 Mhz

RAM:

512 MB

DirectX:

9.0

Hard Drive:

287 MB
Game Manager System Requirements:
Browser:

Internet Explorer 7 or later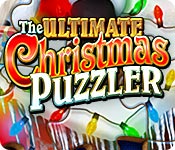 NEW299
The Big Fish Guarantee:
Quality tested and virus free.
No ads, no adware, no spyware.

Reviews at a Glance

The Ultimate Christmas Puzzler
0
out of
5 (
0
Reviews
Review
)
Customer Reviews
The Ultimate Christmas Puzzler
10
10
The Ultimate Christmas Puzzle Anyone Could Ask For!
Our whole family had fun playing these puzzling puzzles, what a variety! I especially liked the "spot the 20 differences" between the almost identical pictures and believe me it wasn't obvious differences. There are the classic jigsaws, very beautiful pictures that can be done in easy, medium, hard and expert settings. There are also pictures with rotating pieces with the same difficulty settings and in the harder settings several pieces move at the same time. The third group is what I found the most interesting. What a variety, spot the differences, place the reindeer correctly on Santa's sleigh, matching two alike pictures hidden under Christmas Wreath's, finding the correct keys for their matching keyholes and lot's more. It truly is a game for the whole family or for some relaxing times alone, enjoy!
December 25, 2013
Best Xmas Puzzle Game Of The Year
BASED ON DEMO This is a very well named game. It IS the ultimate if you like jigsaws, spin the tiles, and spot the difference and plenty of other image-based games. The game looks good, with excellent clear and bright graphics and well-chosen beautiful images. Most importantly to me, they are high quality photos and art that are truly Christmas-themed. The same with the music. Most of the music is recognisable Christmas classics, or what I can only describe as ?lounge music?, which may be adapted from more modern tunes I don?t know. This is saying a lot. I have reviewed a dozen or more Christmas games leading up to today, and this is by far the best puzzle game in creating a xmas atmosphere. Makes me want to buy it to play today ? and I don?t even celebrate Christmas! [And I do have to play A Christmas Carol - the 'ultimate' Xmas HOPA of the year] *happy grin* Now some stats on what you get: Jigsaws: Easy x16, Medium x41, Hard x28, Extreme x 8. The level of difficulty is determined by the number and size of the pieces and the amount of similar details on the image. This is not one of those games where you can customise. The only option is to see the image while you work. Spin the tiles: Easy x16, Medium x9, Hard x7, Extreme x7. The degree of difficulty is determined by the image, but more so by the number of small (1 unit) squares vs. the number of large (4 units) squares. In extreme, clicking one tile spins it and another tile ? not necessarily adjacent. Other Puzzles: Spot the difference x8. The images are very ?busy? Memory Pairs x6. None hard. Follow the wires x3 And a few others. One jigsaw in the ?Other? section is a map of the US with all the states as jigsaw pieces in their correct shape. Fun for this Aussie who is useless at geography! This is a definite buy for me!
December 25, 2013
Refreshing Change!
What a nice change this game is. Just puzzles, pure and simple. Plenty to chose from and varying levels of difficulty. The pictures on the jigsaws in particular were lovely. I also liked that the makers did not shy away from Nativity scenes etc. After all it is a "Christ"mas game! Good for them to be brave enough to include them! It lost one star for me for the very few games where the placing of objects was just that little bit too finely tuned, meaning they became rather frustrating to complete. But in the main, it was all good fun and worth a game credit.
December 26, 2013
Fun and Relaxing
This is a great game if you like puzzles, rotating pieces, find the differences, and other mini-games. (I do!) It's a game you can play for a short or longer time, with different levels of difficulty - "easy" for the kids and "medium, hard or extremely hard" for the adults. I find it relaxing, no pressure, just a few minutes of fun. And I like the music. I don't miss a story line, as they don't interest me anyway. I recommend this game!
January 3, 2015
no story line
It was ok got it for my mom to do for awhile say about 5 minutes then she quit won't buy it
December 25, 2013
Too small!
I am glad that I did not pay full price for this game. I did not like the "find the difference puzzles" because the items were too small to see. The pictures in the "rotate puzzles" were very busy and sometimes when dealing with the small pieces, it was again visually hard to determine which was the correct placement. When doing the jigsaws, I thought the frame was again too small, especially when using more pieces. I probably did about half of the puzzles (mostly at the easier levels) and then lost interest. I wasn't inspired to try the more difficult levels. I can see this being a game that a family might use, but I deleted it and can't really see myself re-visiting it in the future. When I did the demo, I made the mistake of only doing the jigsaws . I would suggest that others try all of the different kinds of puzzles before deciding whether or not to purchase.
January 2, 2014
The Ultimate Christmas Puzzler
This game was by no means an "Hidden Object" game!!! Lots of "match up" games and jigsaw puzzles. Very disappointed in it. It was a waste of money for me.
December 31, 2013
Too religious, unless that's what you're looking for...
I was just looking for some light game-du-jour entertainment today, and found myself instead looking at religious symbolism and nativity scenes. Not what I expected.
December 25, 2013
Big Disappointment
When I read the game description I was excited. You don't find many games with such a large variety of just puzzle games. First I don't know why it was listed under Hidden Object. It did not contain even 1 HOG scene. The jigsaws listed as the hardest only meant a few more pieces. They didn't rotate & if while sorting they were within 1 in. of their correct location, the puzzle would grab them & lock them in. Under Others there were some really simple & easy Find the Difference, Matching, Put in order, & others that might be OK for kids under 10. It should have been labeled for small children.
December 25, 2013
Don't bother
The games that require an item to be placed in a particular spot have no rhyme or reason. There are no clear areas, miss the mark by one milimeter and the game resets.
December 25, 2013