Christmas Adventure: Candy Storm
Lisa's grandfather, Santa Claus, has asked for her help delivering Christmas presents to a remote town. Trying to shorten her way, she drives through an old forest when suddenly her car turns into candies! Moreover, everything around is scattered with candies and covered with other sweets! Help Lisa investigate what's happened and help fix her car so she can make it to town in time to save Christmas!
Hilarious Christmas game!
Bright artwork!
Crisp and clear search scenes
Game System Requirements:
OS:

Windows XP/Windows Vista/Windows 7/Windows 8

CPU:

1.4 GHz

RAM:

512 MB

DirectX:

9.0

Hard Drive:

369 MB
Game Manager System Requirements:
Browser:

Internet Explorer 7 or later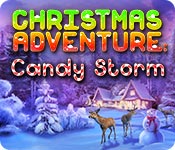 NEW299
The Big Fish Guarantee:
Quality tested and virus free.
No ads, no adware, no spyware.

Reviews at a Glance

Christmas Adventure: Candy Storm
0
out of
5 (
0
Reviews
Review
)
Customer Reviews
Christmas Adventure: Candy Storm
21
21
Save Christmas!
Ohhh nooo....The truck Lisa was driving to help deliver Santa's toys has turned into candy! (and that's a problem?) The friendly Grandma/Wizards are responsible so you will need to help them so they can figure out the spell to return your truck to it's unassuming state thus saving Christmas. This is a wonderful winterland HO adventure with plenty of Christmas joy and decorations to entertain young and old. The HOS are plentiful list finds and there are lot's of trinkets to find and things to fix as well as helping out the wildlife. This is a great wholesome, and lighthearted game, enjoy!
December 31, 2013
Fun adventure for all
Based on the demo. Even if this game is short I'd rather have a short fun one than a tedious long one. Characters are adorable but not syrupy, in fact, candy and syrup are the problem to be overcome. Very bright and colorful without being glaring. Not just for kids but kid-friendly. Silly, engaging story and all features work great. Will surely buy.
December 30, 2013
Magical!
My review is based on the entire game played through to the end. I bought this game right away, after playing the demo. One of the most magical Christmas games I've ever played. The scenes were beautiful, cheerful and fun. Really put me in the holiday mood! Loved the original idea to have one of the granny sisters "assist the birds" during the cold weather (I won't give details to spoil the surprise). This is my idea of what a Christmas game should be like. No serious moods or intense concentration required. Just plain, holiday-magic fun :) Such a shame it wasn't ready in time before Christmas was over. I have a couple of suggestions, but will still give this game 5 gold stars, due to the excellent, imaginative efforts put forth by the developers. I suggest that the language/dialogue be worked on, as there was quite a bit of broken English throughout the game. And, perhaps a few more mini games, in place of a few of the hidden object games, as this would make the game more interesting and more varied. All though, I give the developers lots of credit for the clear hidden object scenes, which had no junk piling. Just simple, colorful, festive scenes to wiz through, and on to the next task. Well done developers. Thank you for a magical, fun experience!
January 1, 2014
My type of game
I love hidden object games, but sometimes the storyline is SO drawn out and I just want to get to the game. This game had the perfect mix of character interaction, games and hidden object screens. It was too short in my opinion, but I really enjoyed playing it.
January 1, 2014
Adorable Cute Game
What a fun little game. Geared for kids, a little easy, but so enjoyable and fun! I bought it site unseen because I love Christmas games. It was nice to play a game just for fun. Not a challenge for adults, but fun fun fun for the season.
January 5, 2014
Christmas Spirit!!
I loved this game. It has to be the best Ive played in ever. Its what I have visualized Christmas should look like, sound like, feel like, taste like, be like ect...I wanted to just walk through the screen and into that world. I loved these 3 old ladies that you come upon, as someone how your vehicle and everything else has turned to candy. So you must help the Grannys fix things, find things as any HOG would. I loved the Nutcracker music. I could just drift away in it all. Its a very short game, I wished it could go on and on. The puzzles, the hidden Object scenes, the snow, the scenery, the rooms, so decked out in Christmas spirit how could you not get into the mood? I wish there were more games seasonal like this out. I would buy 'em all! 5 stars on everything.
December 2, 2014
Great Find.
Loved the game...I love ALL the games on BigFish..
December 30, 2013
An enjoyable afternoon
I purchased this game fully intending to play it later when my 11 yo granddaughter arrived and we sat down and played it together. There are no voice overs but plenty of reading, played without music. The graphics were a little stretched on my screen. But despite the older feel to the game it was a FUN afternoon!! There was so much interaction in each scene (unlike some newer games where the graphics are so beautiful but there's little to do in each scene). For the experienced player this might be considered a short game. I didn't find it so... or I was having too much fun to notice it. As others have said, the hos were bright and not junk piles. A lovely afternoon...... and it being almost November I know I will be replaying it with other grandchildren before Christmas arrives... I give this 5 candy stars
October 30, 2014
Pretty & Fun HOG For Xmas
BASED ON DEMO What a shame that this sweet little game did not make it onto Big Fish?s list until after Xmas! It is a lively and colourful game, very ?xmasy? and a lot of easy fun. Although I did find it a little challenging on the ?what do I do next?? side of things. The story is cute, a shortcut into an obviously magical forest sees your car turn into candy! And everything around you as well. Seems 3 witches (nice ones) messed up a spell, and you?ll have to help them fix it if you want to get into town in time for Christmas. What follows is a amusing adventure making pullovers for bullfinches, helping a beaver build a dam, and feeding a (domestic) spider a candy fly. That?s in the first 20 minutes. After that I don?t know, because that is where the demo finishes. A bit stingy I thought. HOPs make up almost all of the game, along with a bit of finding things to open doors etc., but no complex puzzles or long term planning required. The HOP scenes are very bright and vibrant with colour, the items are large and easy to see, and the location is not overly littered with junk. The inventory item you get will have nothing to do with the HOP, but is usually immediately useful. This is a low budget game, but the graphics look great, if a bit childish (it?s xmas, who cares?), and the music is a combination of very lively happy gallopers and classics, including the Nutcracker, of course. The sound effects when you find an item are overly loud (prepare to alter your sound settings), but full of bubbling joy. This game would certainly appeal to young children I am sure, but after my recent gaff, I wouldn?t dream of suggesting it was *only* for kids! *turns various unhealthy shades of red* Still, having kids to share this game with *would* be a plausible excuse for us playing it 'out of season' *evil grin* So I am sad to see that this game will no doubt languish unappreciated, because of a terrible case of bad timing and the underestimation of its appeal by our usually wise old mate Felix.
December 30, 2013
Short but Fun
I just had to try this game and I'm so glad I did. It has bright graphics and bold colors. Music is delightful. It seems you are driving and your vehicle turns into a candy car and you end up at the house of 3 good witches trying to do different things? That's what I get from the gist of the story. Oh but it is cute. There are many many HOS. They are simple and bright. I came across one puzzle in the demo. The demo only lasted 20 minutes, so it is a very very short game. However, it is just so likable, I believe I will purchase anyway. There are quite a bit of tasks you must accomplish and yes they do require some thinking. Such as helping a beaver build his dam and fixing a clock, etc. I see reviewers stating this should have come out before Christmas. Well, whenever it was released, Christmas-time is my favorite season and I could play Christmas games all year long. There are also parts of the world that celebrate the Epiphany, etc, and their Christmas is much longer than one day. Due to the short demo, I cannot really say more about the game. I had no technical issues, and the cursor was spot on. I really enjoyed it.
December 30, 2013