Mythic Wonders: The Philosopher's Stone Collector's Edition
Exclusive
You are awakened by a strange premonition concerning your uncle. Your intuition tells you something is wrong, and the project you were collaborating on may have put his life in danger. You will use the portal you built together to enter a new and mythical world, and along the way, you'll discover the secrets and powers of the Philosopher's Stone! Explore magical realms on your journey to save him. Overcome obstacles created at every turn by a strange and magical creature. Who is he? What is his agenda? Perhaps not everything is as it seems.

This is a special Collector's Edition release full of exclusive extras you won't find in the standard version. As a bonus, Collector's Edition purchases count toward three stamps on your Monthly Game Club Punch Card!

The Collector's Edition includes:
The origins of the Guardian bonus chapter
An additional new realm - the Nether
Twenty morphing objects
Beautiful soundtracks, wallpapers, concept art and a screensaver
Game System Requirements:
OS:

Windows XP/Windows Vista/Windows 7/Windows 8

CPU:

1.6 GHz

RAM:

1024 MB

DirectX:

9.0

Hard Drive:

1956 MB
Game Manager System Requirements:
Browser:

Internet Explorer 7 or later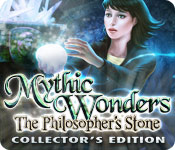 The Big Fish Guarantee:
Quality tested and virus free.
No ads, no adware, no spyware.

Reviews at a Glance

Mythic Wonders: The Philosopher's Stone Collector's Edition
0
out of
5 (
0
Reviews
Review
)
Customer Reviews
Mythic Wonders: The Philosopher's Stone Collector's Edition
44
44
Loved it, loved it!
Loved everything about it! Will buy. Nothing left to say!
January 5, 2014
Nice Game
Very enjoyable, with a very good bonus chapter! I liked this one a lot.
January 17, 2014
MYTHIC WONDERS THE PHILOSOPHER S STONE
FUN HIDDEN OBJECT GAME DIFFERENT FROM OTHES
January 4, 2014
Was this all a dream or not? You be the judge!
I finished this collector's edition in hardcore mode and I can tell you it's a great game. Big Fish and some other reviewers have explained the storyline quite well, so I'll get to the point. I don't need wallpaper, concept art, or screensavers. I've got enough on my computer and devices as it is. However, you can also save the music which I really like. That's optional. If you do, be aware that you may have to change the format of the music's audio files upon accessing it. Just be patient, it will work. I saved them in mp3 format. The music was very original and pleasing to the ear. The game play was quite interesting; the developers have put a lot of thought into this game--incorporating science and astronomy in the mix, making for a cool game, for sure. Previously I finished a 5-star game, and I'm also giving this one a 5-star. I really do believe that the developers are catching on to what we want in a 'perfect' game nowadays. The one negative is that in one of the HOS you had to find parts of a leaf and bugs, and I couldn't tell which was the bug or the leaf--I did play this game on my laptop. The scenes, especially the HOS, were panoramic, thereby, in my opinion, made objects appear smaller. However, the artwork was wonderful. The puzzles are tricky and clever and there is a lot to do. So you get a lot for your money. You're not bombarded with cut scenes but when they do occur the VOS/acting is pretty good. Good map and I had no need for the Strategy Guide, although it's good to have, and an okay hint button. When accessing the bonus game, I chose the picture on my right and was able to proceed without any problems. I would recommend this game.
February 23, 2014
Just A Little More Challenging...
BASED ON ONE HOUR DEMO FIRST IMPRESSIONS Than most of the other delightful fantasy games released last year. And this one is a delight. The opening cut scenes set the standard. High quality graphics, more beautiful than pretty, with an emphasis on realistic animation and totally imaginary images! For those of you worrying, is this another cute pet game? Well, so far the only animals, mythical or otherwise, have been a particularly mean and salivating Cerberus and a morphing spider. I love that the main menu?s background is of a very realistic, though moving, nebula. SO WHAT IS HAPPENING? You and your uncle have built a portal from plans found I know not where, but which you believe is the doorway to other realms. Well, you were right, but of course, Unc got himself into trouble and you are going to have to help. You find an artifact that reacts with the portal, and when you put in a series of code symbols, you are into another realm. A sinister someone/thing makes it clear you are unwelcome, and that you will never get ?The Stone?. SIGHTS & SOUNDS As I said, the graphics are great. Not the Wow! Kind, but very well done, beautiful and clear. And the imagination used in creating the different realms ? marvellous. The voiceover is clear and bright, but just a little too much to sound realistic. Still, not difficult to listen to. The other sounds and music are also lovely without being outstanding. GAMEPLAY I do like the HOPs in this game in particular. There are interactive word lists. Also multiples and pictures to find. These last two are as interactive as a typical word list, but there is no indication of which ones are affected, which makes it a little more challenging than other HOPs of that type. For instance, when looking for 12 beetles, you will need to shake things, open things and fix things to find them all. Unfortunately for more expert players, the cursor does change over an interactive object, and worse, the beetles will commence a-jigglin? if you take too long to find them. There is one more difficulty level, but I didn?t check it for this. The journal has notes, objectives, achievements, the artifact?s details, and unfortunately, the interactive jump map. It?s a hassle to get to it. The hint is directional. I didn?t find the puzzles too difficult yet, but they were a bit more challenging than in comparable games. Still I didn?t skip or use the SG for any of them. CE BLING! Fairly ordinary. 1 Screensaver, 17 wallpapers, 13 concept art (sketches), 10 music tracks. There are a fair number of achievements, and they are of the standard types. The collectibles are REALLY challenging. I did not get a single one, even though the tutorial pointed out the first one for me (the spider). They are well integrated, and morph slowly. LAST WORDS This game is a good CE game, a pleasure to watch and a little bit tougher than most fantasy games. Still, not spectacular.
January 4, 2014
Nice Way To Start The Year
I would have given this game 5 stars, because it really is a gem, but the woman's voice drove me nuts and I finally turned the volume to low. Plus the mouths don't move when the characters speak, which is a pet peeve of mine. So 4.5 is my overall rating. Previous reviews have already recapped the story, so I won't do it again. In the CE there are: 6 chapters, plus a bonus chapter 20 morphing objects to find strategy guide jump map variety of HOS, with some as lists, some as pictorals. All the ones I did were interactive lots of puzzles; some I'd never come across before directional hint button 2 levels beautiful artwork I love stories where you leap from world to world, whether it's through a portal, painting, whatever. I also like having an object, artifact in this case, that you collect parts for. This is a buy for me. As always, this is just my personal opinion, and potential buyers should try the free trial and make up their own mind :)
January 4, 2014
A mythically wonderful game...
Mythic Wonders: The Philosopher's Stone Developed by O2D Collector's Edition Review based on demo IN THE BEGINNING... You awaken from a nightmare that your Uncle Alfred is in terrible danger, and you suspect he has activated the portal you built together. When you arrive at his house, he is nowhere to be found, but all the signs are there that he has indeed traveled through the portal. Now you must follow him, gathering elements to power a magical artifact to aid you, and rescue him from an eldritch creature. PLAY THE GAME... In adventure mode, there are many items to collect and use, including all the pieces of the portal combination for each world you visit. The HOs are of three types: list, picture, and multiples of one object. All types are interactive, and quite a few of the objects are masterfully camouflaged. Puzzles include both the familiar and the unique at about medium difficulty. SIGHTSEEING? The graphics are lush and saturated with color, but not garish. They are realistic, but artistic, and quite befitting the ethereal mood of the game. In-game animation is smooth and lifelike, while character animation is a bit more cartoonish. Cutscenes are dramatic. SOUND WAVES? Although I had the music volume all the way up, I didn't really get an impression of it, so I would have to say that it's unobtrusive. Game and ambient sounds were appropriate. I did find the heroine's voice a touch naive considering that she was educated enough to collaborate with her uncle in building the portal. TOOLBOX? I didn't use the interactive jump map, as it's inside the journal. The journal also tracks the story and lists objectives. Inventory locks open. I didn't use hints or the SG, so that speaks to the difficulty level of the game. It is both linear and logical. EXTRA, EXTRA? In the bonus adventure, you discover the origins of the eldritch creature who keeps threatening you. You get to chalk up the usual achievements and find twenty morphing objects, which are much more difficult than usual. They morph very slowly and are not in every scene. And, of course, there are the usual offerings. THE LAST WORD? While this is a definite buy for me, it's not five-star material, in my opinion. I found it rather easy, for one, even though it was thoroughly enjoyable. The out-of-character voiceover was annoying. And putting the map inside the journal makes it too difficult to access. However, I do like the storyline and the beautifully surreal worlds, and I look forward to more from this dev.
January 4, 2014
Solid 4.5 stars!
I always demo in casual mode to get a feel for the game. Today's game has very nice graphics and game play. Colors are bright and clear. Voice overs are well done. The one thing I didn't care for was that when you click off the custom cursor, it stays on, just gets smaller. If I click it off, I don't want it at all. Instructions are set up differently. Although all instructions are pretty much the same, it was odd to see them laid out this way. Sort of packed in together Music wasn't bad, but I keep it turned down most of the time. There is a map, but I didn't use it, so don't know if it is a jump or not. I did look at it and the locations did seem to be well marked and identified. Inventory bar is locking, so you don't have the bar jumping up and down during game play. SG is the usual and customary, but the pictures of each scene are very small, even when you enlarge them. Still hard to make out where items are on some. Hint button and map are way too close together..always hitting the wrong one. Hint recharges fairly quickly and is quite helpful, so you don't really need to use the SG much. HOPs are very different and fun. Items are not difficult to see and quite interactive. I like the fact that when you combine an item in the HOP, it automatically is deleted from your items list, which makes for less clicking and more play time. Therer are a lot of achievements in this game, and it is not a simple walk through to get them. Puzzles are not difficult, but do take some time and thought to complete. There are morphing objects to find as well. They are not as easy as you may think either, which makes this game a bit more challenging. I do not give 5 stars easily, but this one is close. It is a nice game, with a nice story and enough challenge to keep you interested and moving. I will definitely purchase this game to add to my ever growing collection of CEs. I think this game will appeal to all level of players. As always, try it for yourself and see what you think. We all have different tastes in games and you may not care for this one at all. Thanks for the reviews.
January 4, 2014
Based on trial
I will probably buy this one. Only 4 stars because I don't know the length as I just played the 60 min trial. The graphics are excellent, the interactive map will get you there, the storyline holds interest, the puzzles are a bit of a challenge, and HOs are straightforward and not hard to see. The only hiccup was the map didn't always indicate the next move and I needed a hint. I'm a little rusty player but will use this to get back in the game. I especially like getting rewarded for being fast and accurate. If you're looking for a game to enjoy that is not a mind numbing challenge, this is it.
January 4, 2014
Discover the secrets of the Stone and reveal the mystery!!!
The Philosopher's Stone has strong production and superb graphics. Emma is your character who is bold and outspoken. I loved the storyline of the adventure and use of dialogue. Collect elements, inventory, complete puzzles and ho's to further your quest. You must think and use your skills and wits! I was surprised with how the game progressess and I didn't want to leave this fantasy world. The end of the game leads you into outer space and a fantastic ending. There isn't a map that teleports you and I am glad. Part of the fun is to remember locations which requires concentration! Kudo's to developers and Bigfish!!!
January 15, 2014
The Apple logo is a trademark of Apple Computer, Inc.