Mythic Wonders: The Philosopher's Stone Collector's Edition
Exclusive
You are awakened by a strange premonition concerning your uncle. Your intuition tells you something is wrong, and the project you were collaborating on may have put his life in danger. You will use the portal you built together to enter a new and mythical world, and along the way, you'll discover the secrets and powers of the Philosopher's Stone! Explore magical realms on your journey to save him. Overcome obstacles created at every turn by a strange and magical creature. Who is he? What is his agenda? Perhaps not everything is as it seems.

This is a special Collector's Edition release full of exclusive extras you won't find in the standard version. As a bonus, Collector's Edition purchases count toward three stamps on your Monthly Game Club Punch Card!

The Collector's Edition includes:
The origins of the Guardian bonus chapter
An additional new realm - the Nether
Twenty morphing objects
Beautiful soundtracks, wallpapers, concept art and a screensaver
Game System Requirements:
OS:

Windows XP/Windows Vista/Windows 7/Windows 8

CPU:

1.6 GHz

RAM:

1024 MB

DirectX:

9.0

Hard Drive:

1956 MB
Game Manager System Requirements:
Browser:

Internet Explorer 7 or later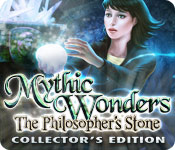 The Big Fish Guarantee:
Quality tested and virus free.
No ads, no adware, no spyware.

Reviews at a Glance

Mythic Wonders: The Philosopher's Stone Collector's Edition
0
out of
5 (
0
Reviews
Review
)
Customer Reviews
Mythic Wonders: The Philosopher's Stone Collector's Edition
48
48
The Philosopher's Stone With Boulder Potential!
Your Uncle finally figured out the sequence to open the portal into other dimensions, problem is he couldn't wait to enter the portal and now he's in trouble. You follow him through the portal into a mystical and stunningly beautiful world, but you soon find out the inhabitants don't want you there. Now you have to subdue three headed creatures, deadly fauna and alien creatures, and search for clues as to your Uncle's whereabouts. There are only two modes of difficulty, casual has lots of help and easier mini games where the expert mode has few hints and harder puzzles. There are 20 morphing objects that are very well hidden and slow morphing (at least on expert mode). HOS are interactive list finds as well as finding the matching items as shown on your list. The mini games are good with the right amount of challenge. One of my personal favorites was trying to match up stone wings onto a stationary bird pillar, if you moved one horizontal wing, others would also move. This is the kind of game that has you wishing you were there and keeps you interested from start to finish, enjoy!
January 4, 2014
A Game Full of WONDERS!
As most of you probably know by now, I am not very generous with giving out five stars. I set the scale rather high and grade according to a set of standards that I expect from a CE game. Mythic Wonders is a much welcomed surprise and after having played the demo, I am most certainly going to add this to my 2014 list of potential favorite games for this year; as it happens, so far this is the only game on the list. You have been working on a project with Uncle Alfred which involves a strange device that is able to open up portals and transport you to new and undiscovered worlds. Once you discover that your Uncle has already used it and has disappeared, you use the portal to go after him and find yourself teleported to a new and mythical world. While your mission is to find your Uncle, you will also end up trying to uncover the secrets and powers of the Philosopher's Stone! Although Graphics were again cartoonish, they were nevertheless sharp and bright with amazing artwork created by a very talented group. Animations were a bit blurred and I wish there was a touch of more realism in the characters, like mouth movements. These small details may not seem so important but they do have a greater impact on me when playing a game. Mythic Wonders: The Philosopher's Stone Collector's Edition offers great adventure game play with two levels of difficulties. If you do select hardcore, puzzles will get more complicated which I thought was brilliant as there are plenty of puzzles and mini-games to solve along with interactive hidden object scenes to play along the way. There is plenty to do in this game as I realized when I found my inventory stacked with items and tools which required a lot of backtracking along with a good memory. Thankfully you have a journal that includes a list of objectives, a map that will transport you to areas of interest and also has indicators, there is also a descriptions of artifacts that you pickup along the way and a list of achievements that are somewhat challenging to earn. Lets us not forget the most important feature, the Artifact Interface which you need to teleport into other Realms which is activated when finding some parts and solving riddles. A wonderful game that takes you on an adventure as you travel across 6 different Realms, all named after an element that plays an important role in your mission. There is also a baddie to fight off and of course a mystery to solve. Great visuals, great game play and overall, a great game.
January 4, 2014
Lovely And Engaging (But Apparently Flawed)
Lovely artwork, good voice overs. I was drawn in from the start and found the gameplay engaging. One of the first HO scenes had flowers & insects to find. So very pretty. The HOS are interactive and attractive. Morphing objects, but not in every scene so you'll have to be careful. Decent storyline and story telling. The occassional voice overs are done quite well, which is always appreciated. Only two difficulty levels. My one major complaint is mini-games apparently do not have a Reset button, unless I am missing something. In a Collector's Edition, you get the Strategy Guide so if you're stuck you can check. But not having a Reset means the SG is useless if you've already attempted the puzzle and moved parts around. I exited the game etc and even this did not reset the puzzle. Giving game 5 stars but will not be buying Collector's Edition unless they fix the lack of a reset button. How this got through Beta without someone commenting is strange. I apologize if there is a way to reset and I missed it.
January 4, 2014
This is a Mystic Wonder of a Game
First I want to thank Big Fish Games. I just lost my husband and thanks to BFG I spent nights playing the games when I couldn't sleep. There is so much to do in this game. There are 25 achievements both in accomplishments related to the game itself along with the normal "3 puzzles no skip" type. The hos were not overly junky and the items were not too hard to find. The puzzles were thoughtful and well done. There are also 20 morphing objects that are not all that obvious. An artifact which gains new powers as you go along is "your helper" thoughout the The music is not annoying and fits well into the background. The story itself was fun. You and Uncle Alfred are working on a project together. A portal to other realms. When he disappears, you go through the portal to find him. You immediately meet up with someone, and are not sure if he's good or bad, just that he thinks you are a thief and that you must leave.
January 4, 2014
A Journey Through Portals to Magical Worlds
You play the game as Emma and the story begins with a dream or is it a nightmare. You dream that your Uncle Alfred is in trouble and awaken knowing something is wrong. When you call him and get no answer, then you know your uncle is in trouble and take the next train to visit him to see for yourself that he is okay. When you arrive at his home, Uncle Alfred is not there and you suspect that perhaps he has activated the portal that you and Uncle Alfred have been working on. Who knows what l lies beyond the portal and if Alfred has indeed entered the portal, then your dream has become reality. Step through the portal and into the magical realms beyond as you try to find your uncle and discover the mysteries awaiting you. The graphics are excellent and depict the magical worlds that exist beyond the portal. The sound package is very good including voiceovers, excellent music and environmental sounds. The voiceovers are not lip-synced and the devs get around this with lots of self-talk as most of the initial dialogue is Emma speaking her thoughts. Maybe later in the game there will be some actual conversation with others. You have a journal located on the lower right of your screen. When you open your journal you will see tabs for notes, objectives and map so your journal is where you will want to go to easily access all three types of information. You can also access the map by opening the map scroll on the lower left if you wish. There are various types of interactive HOS, some are the standard list type while others may include find certain numbers of specific items or find the item pictured somewhere in the scene. I really enjoyed the HOS and found that the ones where we need to find a specific number of items also include some interaction but you are left to your own devices to figure out the interaction required, which is a puzzle in itself. Now, IMHO, where The Philosopher?s Stone becomes an excellent game is with the puzzles. Although we will find some of our favorite type puzzles, there are many that are different. Some puzzles are cryptic in nature and they are excellent. For me the game was an instant buy based on the quality of the puzzles I encountered. I particularly enjoyed solving the logic type puzzles required to activate the portals. Throughout the game you will find 20 morphing objects and earn 25 achievements. The remainder of the CE content is standard fare. Whether this game is a CE value or not is up to you to decide; however, I love it because of its many differences from the same types of HOPA games we normally see. With great puzzles, interesting HOPs and the gameplay, this is one of the best games to come along in recent weeks. I am sure the game will be at the top of my list of best games in 2014. As always, I recommend that you try the game to see if you like it.
January 4, 2014
Portals and artifacts and potions!
The cut scene opening shows your Uncle Alfred, in possession of the philosopher's stone, being removed by a robed creature with green eyes who tells him that doesn't belong to him. You play his niece, who has been helping him construct a portal following ancient plans. Somehow Afred finished and left without you! So of course you decide to follow and rescue him, once you figure out how to activate the portal. You find the artifact and the codes to activate the portal, and off you go - no fear, evidently! You meet the same green creature who tells you to leave, but of course you don't. The artifact is quite interesting. Besides opening the portal, you can find and add pieces that allow it to light your way, speed up sprout growth, and two other effects. You also get to make some potions, once you find the recipes. The HOS are quite varied and fun. You have the lists, which often require action in order to complete. Plus there are pictures you have to match, and they also require interaction to find the complete picture. Additionally, there are the find x items types. The neat thing about the HOS is, once you complete all the actions to finally find the item you need, it automatically delete itself from your list -- a nice touch. The mini-games are not too hard, and the skip button fills up about the time you get frustrated. The hint button is a pointer. The map is interactive, showing each scene plus a clue if there is an activity there or not. There are only two modes, however -- casual and expert. It does have a locking inventory, 25 achievements, plus 20 morphing objects (I only found one, which the game told me about, during the demo.) There are the normal extras -- bonus game, strategy guide, music, screensaver, wallpaper, and art. The journal nicely holds everything -- the map, the notes, the achievements, and the objectives. This is a very good game with great art and storyline, and fun to play. It is a buy for me!
January 4, 2014
Re: Bonus Chapter
I loved this game. It was really fun to play and the visual quality was fantastic. That being said, when I finished the main game, I was excited to start the bonus chapter. When the two "boxed" pictures came up, of the main female character, I chose the one on the left. It WAS NOT the bonus game. It was the start to the main game(again). IMO, it should have prompted "Are you sure you want to play this game again?" at the very least. Once you click on it, you do not gain access to the bonus chapter, unless you play the entire game again, which I did and actually, I loved it the second time around anyway! I correctly chose the right side picture and enjoyed the bonus game as well. I hope this helps. I know I'm not alone. Unless I missed something--let us know. Thanks and have fun!
January 19, 2014
ABSOLUTELY FASCINATING!
i found this game to be truly fantastical ... the artwork is just dreamlike! ... while there isn't a lot of "excitement" there is a lot of unusual experiences ... the music was very relaxing, but the TRAVEL was an out-of-this-world vacation ... i absolutely LOVED the feeling of FLYING in the ship/balloon sequence ... storyline is wonderful ... i can't wait to play the bonus chapter .. thank you big fish!.
January 8, 2014
Nought to do with Harry Potter
The storyline is fine, go find your uncle that you helped build a portal but he decides not to wait for you and uses it first. Your job is to find and help him. Of course there is an enemy who will try to stop you entering his world. Beautiful graphics, the voice over is fine and the music stayed in the background pretty well. Jumping from different worlds is helped by the map and there are morphing objects to find. Lots of achievements to gain. A really enjoyable game and the hour went before I knew it. Maybe slightly easy for a CE but its a buy for me.
January 4, 2014
This Game is a World of Wonder. And TRULY a 5-star game.
This review is based on several hours of gameplay. I have not completed the main game and cannot yet comment on the bonus chapter which is a prologue to the main story. Fun Factor: I wasn't so sure a the beginning that this game was going to be fun. It was clearly going to be a challenge. But fun? It seemed more like a pain in the patootie. But NO!!! I've mentioned in several other reviews that I'm a very slow player. I'm setting new records with this game. It's like i have a 25 lb. STONE tied to my back. But it's OK. Once I realized this game is TOUGH but very rewarding, I stopped fretting over my slower than normal pace of play. Why am I writing this review now? Because I don't want you to wait to get it for yourself. I am confident I've played enough of it to recommend it on the merits thus far. This game is one of the most beautiful I have ever played. There's my 5-star rating for visuals. It's stunning. If they pass out awards for "set direction" then this game wins. Many of my fellow reviewers compliment a game by writing it's totally immersive. I swear I feel like I'm in the middle of a masterpiece painting. Warning: I didn't feel so positively about even the artistry of the game when I began. The opening cutscene is not spectacular. It's much weaker than the rest of the game...so I was worried I'd gotten a clunker at first. You'll forget those thoughts right away. A note about the music: I think it's spectacular. As part of the "design" of the game, the music is superior. It's dark and plaintive and a perfect partner for this game. As far as game play goes, I think it's a little off mark to call this an HOG. It's really an adventure in my opinion. Numbers bear this out: there are only 16 HOPs. Many more games (33, if my count is correct). Along the way you collect many items for use sooner and later in the game but for strict HOS...not so much. There is a nice variety of HOGs: find multiple of the same object; find the named item; etc. I've found the HOGs to be very challenging. The games are either brand new, which is very nice or present such a new twist on an older game that they seem new. There's my 5-star rating for level of challenge. Storyline: In this first person game, your uncle created a "Philosopher's Stone" (isn't that the name of a book about a certain Quidditch-Playing boy across the Pond? <There are actually two title's for that book>) to gain access to another world. He made somebody really mad when he did this. He's gotten himself in trouble and you've set out to rescue him. In each of the chapters of this game you you open up another "element" of the portal to another world. Sound fun? It is. There's my 5-star review for Storyline. This is a Collector's Edition, so what do you get? 1. A bonus chapter of considerable length. 2. The "who cares assortment" of Wallpaper, concept art, music. 3. Achievements (nothing out of the ordinary). 4. A Map of where I am, where I should go and what I should do. 5. Morphing Objects (these are so well done I almost forgot about them. At various points you've gone too far to turn back...luckily I didn't miss the opportunities to collect the morphs). 6. Collectibles: 30 hidden symbols. 7. Game playing modes which determine the difficulty of puzzle play, NOT JUST hint modes!!! 8. The ARTIFACT: a different feature in each chapter that helps you complete the game. E.g.: in one chapter the artifact provides light when you're in a particularly dark place and unable to navigate. I typically like scary games. I don't find this to be scary. I think it's provocative and deep. It's unsettling at times. Scary it is not. Whatever you want to call it, call it a winner. This game is brilliant and I strongly recommend it. By the time a Special Edition is released I'll be able to comment on the extra chapter and the value of a Collector's Edition. For now, if you're looking for excellence and are ready for a challenge, you've found it right here. Don't hesitate to get this game.
January 5, 2014
The Apple logo is a trademark of Apple Computer, Inc.