Love Alchemy: A Heart In Winter
When a new romance blossoms, the door to mystery opens in Love Alchemy: A Heart in Winter. Follow a young woman as she's caught in the tightening web of intrigue surrounding her charming but mysterious lover. To do so, you'll have to search for hidden objects, solve puzzles, and win mini-games, even as the game romances you with its astonishing beauty. From opulent castle halls, to creepy dungeons, to exotic faraway lands, you'll want to stop and soak in the visual splendor. But you won't because each discovery will lure you closer to an ending you won't expect. If you enjoy adventures that hold your heart in their grip like a budding romance, then play Love Alchemy. As the door to mystery opens, you'll be helpless against it!
A magical love story
Amazing worlds inside paintings
A shocking alternate ending
Captivating characters
Challenging puzzles
Game System Requirements:
OS:

Windows XP/Windows Vista/Windows 7/Windows 8

CPU:

2.5 GHz

RAM:

1024 MB

DirectX:

9.0

Hard Drive:

497 MB
Game Manager System Requirements:
Browser:

Internet Explorer 7 or later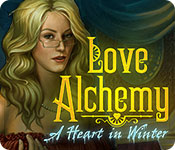 NEW299
The Big Fish Guarantee:
Quality tested and virus free.
No ads, no adware, no spyware.

Reviews at a Glance

Love Alchemy: A Heart In Winter
0
out of
5 (
0
Reviews
Review
)
Customer Reviews
Love Alchemy: A Heart In Winter
42
42
Good Game but very short
I found this game interesting and quite good. However, I took away one star for two reasons. One was the extremely small size and lightness of the font in the HOS parts. Like someone else mentioned, I have a 21" screen and it was hard to see even with that. The other was that I found the game way too short. I finished it in an hour. Fortunately I got it on a 1/2 price deal.
January 2, 2014
Fun Hidden Object Game
Based on the Demo An internet romance blossoms into a meeting, a candlelit dinner, romance, and love. The love of the main character's life (that she just met for the first time today) takes her to his castle, then leaves her there for some mysterious urgent business he must attend to. She goes through the castle, picking up objects, playing mini puzzles and hidden object games along the way. The graphics and soundtrack are beautifully done. There is a journal, an interactive map, and all the bells and whistles of a good hidden object adventure game.
December 31, 2013
GOOD GAMEPLAY
Lots of places to go and things to do. Nonlinear gameplay. Several locations can be newly-opened within a short time and you need to decide which one to explore first. HOS are list-based, but it is a little difficult to read the list. They are not too crowded but are the same color palette, so it is a little hard to find some things (although once you find them, it is obvious what they are). Puzzles are many and relatively easy for experienced players. To play widescreen, uncheck "Keep Proportions." No voice overs. Narration during cutscenes is a little fast. You also have to physically close out of close-ups. I don't think the game is worth the poor reviews it has received. You can anticipate the direction of the game (when Charles disappears for a meeting and tells you to feel free to explore the castle, but to be careful), so the many locations and what you find in them should not be surprising. This game isn't up at the very top of my list, but it's certainly a lot better than the "run-of-the-mill" games out there. I think I've encountered the story a couple times at least. But the gameplay is very good.
March 11, 2014
Good Story Line
I did enjoy this game. It does have a few issues for me. The list of HO's is written in very small, light print thus hard to see for players with visual issues. Also, this game is really in need of a map!! Lots of back and forth. I felt the story line was interesting with a lady to save the day!! I most likely will wait for this game to be on sale prior to purchasing it. Not that I did not like it, but for the reasons stated above.
February 14, 2014
Fun without major frustration
This was a very fun game. Not long, but a good storyline and for those of us who like to relax while playing, not frustrating! I enjoyed the whole thing and recommend it to anyone who enjoys games with a story that actually end up with a conclusion!
December 31, 2013
Didn't see that coming
I will say I enjoyed the game. I liked the story line, graphics, etc. I didn't like the way it ended. Be careful how you answer questions when asked.
March 25, 2014
LOVE ALCHEMY A HEART IN WINTER
IT IS A FUN HIDDEN OBJECT GAME
December 31, 2013
Love alchemy:Heart of Winter
The game was quite enjoyable. The story line was interesting. Unlocking the multiple doors to free each of the women captives was unique and completing each of the puzzles to free the captives was enjoyable. The game was not very challenging, but it was a nice and easy change. I recommend this game as an enjoyable change of pace. RJohn
June 20, 2014
Twisted Romance on Christmas!
OOOh What a Fun Christmas Game....NOT! The first thing that popped into my head when I saw the developers' name was great; the A-Team always comes up with interesting games. Unfortunately either they took a step back or this particular game came out of their archives, because it is a classic, another kind way of saying that the game is old-school. What we have here is a trip to 2008, when the first standard HOPA games came out: There are no voice-overs, no cell phones, no computer or I-pads, no list of objectives, no cute companion or animal to help you out and NO SG. Game features include two play modes to choose from and a rudimentary map that will only allow for travel. Graphics are cartoonish, but the resolution was sharp, art work was mediocre. Our story is an interesting love story, girl meets boy, girl falls in love with boy and girl goes away with boy to spend Christmas at his castle. Why not? After all, he is an artist and has a castle, who would say no? Girl soon discovers that boy is not as charming as he appeared and there seems to be some black magic and occult involved in his life. As she begins to roam about, she slips into portals, meets up with other unfortunate girls and spends her Christmas morning trying to save them, or so I think as I only met the first unfortunate victim being choked to death by some gigantic snake. Talk about a boy who has issues. Despite the lack of extras, the game does have a certain appeal to those who enjoy classic adventure gameplay. There are many clues and inventory items to collect, a lot of tedious back-tracking to do, many straightforward Hidden Object scenes to play without any interaction and unfortunately the hint system doesn?t seem to work with them. Items are small or well hidden and it was actually a challenge to find them all. There are mini-games to play and so far they were very easy to solve. Yes the game looks old but gameplay is surprisingly challenging when you have no directions to aid you in your search. The hint button only highlights an area of interest and that is about it. You really need to use those grey cells while playing and a walkthrough will be most welcomed. I give this a three star but as the storyline did intrigue me and I do have a free game to spare, I think I will go for this one, only because I did enjoy the challenge of roamingaround totally lost as to what I needed to do. Not exactly a game to end the year off with but then we had some really great games this year. Thanks to BFG and all the developers and everyone in the pond, I do wish everyone a very Happy New Year.
December 31, 2013
Not a bad SE...
Hello, Pond Pals! Was expecting something a little different for the last day of the year, but got this game instead. Not quite the usual for this dev. Graphics were clean and clear, with bright colors. Game play was not bad, but game froze up once and lagged a bit here and there. The music was very annoying! There is a jump map, but it is an SE, so unless you know exactly where you are going, you won't use it, and there is a lot of back tracking in this game. No voice overs, not much in the way of sound FX. No locking inventory bar, so it jumps up and down. Hint system is very helpful, fortunately, and fills quickly. Yes, Virginia, there is a click penalty in the HOGs...can you believe that! It has been a very long time since we have seen that. This game makes me think it was pulled out of storage somewhere and tossed back into the pot, meaning it is a very old game (or at least looks and plays that way#. HOGs are quite simple, items easy to find. Haven't seen much in the way of puzzles yet, only saw three extremely easy puzzles so far #musical notes, match rocks, jigsaw puzzle#. The story was drawn out too long, so you really don't know what is happening when you start. Hard to get drawn into a story like that...at least need a hint. A lot of dialoge and you can't skip through it if you read faster than they do #didn't like that). Can't tell how long the story may be. I "saved" 3 people in 45 minutes and am still confused. Yes, I get the gist of the story line, that's easy, but it doesn't flow very well at all. Each "save" is a very short and simple game, so no challenge here. All that being said, I would like to see what Charles' story is and what his master plan may be. This is a no brainer game and that's where I'm at today. I have a credit that needs to be used or lost, so I will get this game...I may be sorry, but I may be surprised. As always, try it for yourself and see what you think. We all have differen tastes in games and you may not care for this one at all. Thanks for the reviews. Here's to a Happy and better New Year!
December 31, 2013
The Apple logo is a trademark of Apple Computer, Inc.