Love Alchemy: A Heart In Winter
When a new romance blossoms, the door to mystery opens in Love Alchemy: A Heart in Winter. Follow a young woman as she's caught in the tightening web of intrigue surrounding her charming but mysterious lover. To do so, you'll have to search for hidden objects, solve puzzles, and win mini-games, even as the game romances you with its astonishing beauty. From opulent castle halls, to creepy dungeons, to exotic faraway lands, you'll want to stop and soak in the visual splendor. But you won't because each discovery will lure you closer to an ending you won't expect. If you enjoy adventures that hold your heart in their grip like a budding romance, then play Love Alchemy. As the door to mystery opens, you'll be helpless against it!
A magical love story
Amazing worlds inside paintings
A shocking alternate ending
Captivating characters
Challenging puzzles
Game System Requirements:
OS:

Windows XP/Windows Vista/Windows 7/Windows 8

CPU:

2.5 GHz

RAM:

1024 MB

DirectX:

9.0

Hard Drive:

497 MB
Game Manager System Requirements:
Browser:

Internet Explorer 7 or later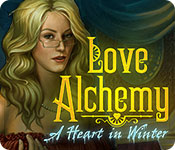 NEW299
The Big Fish Guarantee:
Quality tested and virus free.
No ads, no adware, no spyware.

Reviews at a Glance

Love Alchemy: A Heart In Winter
0
out of
5 (
0
Reviews
Review
)
Customer Reviews
Love Alchemy: A Heart In Winter
43
43
Not a bad SE...
Hello, Pond Pals! Was expecting something a little different for the last day of the year, but got this game instead. Not quite the usual for this dev. Graphics were clean and clear, with bright colors. Game play was not bad, but game froze up once and lagged a bit here and there. The music was very annoying! There is a jump map, but it is an SE, so unless you know exactly where you are going, you won't use it, and there is a lot of back tracking in this game. No voice overs, not much in the way of sound FX. No locking inventory bar, so it jumps up and down. Hint system is very helpful, fortunately, and fills quickly. Yes, Virginia, there is a click penalty in the HOGs...can you believe that! It has been a very long time since we have seen that. This game makes me think it was pulled out of storage somewhere and tossed back into the pot, meaning it is a very old game (or at least looks and plays that way#. HOGs are quite simple, items easy to find. Haven't seen much in the way of puzzles yet, only saw three extremely easy puzzles so far #musical notes, match rocks, jigsaw puzzle#. The story was drawn out too long, so you really don't know what is happening when you start. Hard to get drawn into a story like that...at least need a hint. A lot of dialoge and you can't skip through it if you read faster than they do #didn't like that). Can't tell how long the story may be. I "saved" 3 people in 45 minutes and am still confused. Yes, I get the gist of the story line, that's easy, but it doesn't flow very well at all. Each "save" is a very short and simple game, so no challenge here. All that being said, I would like to see what Charles' story is and what his master plan may be. This is a no brainer game and that's where I'm at today. I have a credit that needs to be used or lost, so I will get this game...I may be sorry, but I may be surprised. As always, try it for yourself and see what you think. We all have differen tastes in games and you may not care for this one at all. Thanks for the reviews. Here's to a Happy and better New Year!
December 31, 2013
2 hours flew by!
I haven't felt so entertained by one of these games in a long time. Once you accept the silliness of the premise, this game is really a lot of fun. However I was glad I didn't pay full price. The game is, for one thing, pretty short. For another, it's pretty simple compared to a lot of the newer games. No achievements, no voice overs (that I recall), in other words, no bells and whistles - but right about now that actually feels refreshing. I recommend this game with a caution. For old shcool HOA lovers this is a find, some may not like it.
January 1, 2014
Maybe good for a freebie
I really like the premise but this is a VERY short game. I went through about 5 of the paintings during the demo. The artwork is beautiful, there are no voice overs (which for me is a plus) and the dialogue moves quickly. There is no interaction in the HOs but the scenes are lovely...however, towards the end of the demo I came to several HO scenes which did not have the English word for the item, so you have to click around a lot to find things. (For instance a "Wap" turns out to be an 8 ball) The map is of no use at all and the hint button is directional only. The few puzzles I came across were very simple. This game is for people who like the artwork and possibly the storyline.
January 1, 2014
Simple fun game
Based on the demo, I'd saved half the girls before quitting so think it would only take another hour to complete. The first girl took the longest to save while the others took only a few minutes. Really needed to be more challenging to free each one. As a result, although I was actually enjoying this game, I wouldn't buy it unless I used a game club code. While there were no voice overs, pets, or awards, it still was an easy, fun game. The heroine did go from "in love" to "out of love" very quickly and believed the girls way too easily. I did find there were several misnamed items in the HOs (wap = 8 ball, sheet of paper = leaf) and one item that was in Russian (ended up being a dart) plus the hint didn't work half the time. I'd get the hint "sound" but no actual directional indication or found object in HOs. I thought it might be because of my memory even though I have 12GB but exiting the game and re-entering it did not help.
January 1, 2014
Didn't get past the demo
The game has a good storyline, nice graphics and smooth gameplay. It starts with black bars down the sides, which annoyed me, but once I'd figured out how to make it widescreen, it was much better. The music was a bit annoying, but you cannot turn it off without turning off the ambient noises too. Grrrr! Unlockable inventory, another Grrrr! However, the game was enjoyable and I liked playing it, but..... ....after reading the other reviews, it looks really short. I finished the demo and have saved four girls, so if the reviews are correct, I only have one more to get and then I'm finished! Won't be buying I'm afraid if I've only got one more task to do!
January 1, 2014
Good but not worth the money
I enjoyed it just it was very very very short not worth the money great story but way to easy it reminded me of a child's game with the level of challenge.
January 1, 2014
It was not more than I expected.
I liked this game. There were no voiceovers which was odd, since there was enough talking to warrant them. It might have boost the appeal. The game started off well enough but with each successive painting it got easier until there was no challenge at all. I used a free game coupon and since there was not much of a selection of SE's for me, this is what I chose. It was o.k. for free!
June 21, 2014
I Don't Know How to Rate This. . .
Based on the "completed" game. The game is not long - for slow players like me maybe 2-3 hours, which is fine with me. Easy game play, flows right along. Lots of easy HOS and mostly easy puzzles. The settings are beautiful and well drawn and the storyline was suitably creepy. While the heroine essentially repeats her rescue of others seven times, each rescue has a slightly different premise and contributes to the story. Each rescue opens a piece of the puzzle of why things are happening. I like this. Here's the problem. This game has an alternate ending. I chose unwisely. Partly because I didn't really have a clue that this was the ending! I have chosen unwisely in the past, but at least I knew what I was doing. NOW, I have to go back and play the whole game AGAIN! Not happy. So you can choose for yourselves.
June 19, 2014
short game
All I have to say is this game is very short. I finished the game completely in less than the 1 hour trial with several minutes left. It is not a bad game just a little easy, and short.
June 18, 2014
Short and Not so Sweet
This game I believe came out of the closet somewhere. Just to let everyone know this game only took me an hour and a half to finish so is definitely not worth the price. Maybe on a daily deal but I don't think so. There is 7 girls to save which took little time to do. The puzzles were few. The HO scenes were repeated. The graphics were just ok. No map and lots of back and forth. I can't believe BF put this out as the last game of the year.
December 31, 2013
The Apple logo is a trademark of Apple Computer, Inc.