Witches' Legacy: Hunter and the Hunted Collector's Edition
Exclusive
Carrie and her adopted daughter Lynn had finally found peace within the mansion that had once known only tragedy. But that peace is shattered when an ancient Order of Witch Hunters kidnaps Lynn. Carrie must now join forces with an old foe to locate their secret headquarters and rescue her. Time is running out for Lynn. Can Carrie convince them that her daughter uses magic for good? Find out in Witches' Legacy: Hunter and the Hunted, an exciting hidden-object puzzle adventure.

This is a special Collector's Edition release full of exclusive extras you won't find in the standard version. As a bonus, Collector's Edition purchases count toward three stamps on your Monthly Game Club Punch Card!

The Collector's Edition includes:
Infiltrate the Order of Witch Hunters
Achievements and collectibles
Bonus chapter starring your imp friend!
Soundtrack, wallpapers, and concept art
Game System Requirements:
OS:

Windows XP/Windows Vista/Windows 7/Windows 8

CPU:

1.6 GHz

RAM:

1024 MB

DirectX:

8.0

Hard Drive:

1411 MB
Game Manager System Requirements:
Browser:

Internet Explorer 7 or later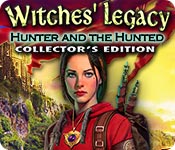 The Big Fish Guarantee:
Quality tested and virus free.
No ads, no adware, no spyware.

Reviews at a Glance

Witches' Legacy: Hunter and the Hunted Collector's Edition
0
out of
5 (
0
Reviews
Review
)
Customer Reviews
Witches' Legacy: Hunter and the Hunted Collector's Edition
40
40
The Legacy Continues!
I feel confident that you are going to buy this game after a mere 15 minutes of playing if not sight unseen! Lynn has been using her magic for good things even healing people in her neighborhood, and her new boyfriend has made her happier than ever! Things quickly turn to chaos when Elizabeth returns and warns that Witch Hunters are after Lynn. Elizabeth isn't known for her honest nature but with the help from that adorable Imp, we're off to another fantastic adventure! There are 40 puzzle pieces to find before putting together and 35 well concealed morphing objects to spot. There are plenty of achievements such as using your Imp to help you 8 times. There are 30 hidden object scenes and they are interactive list finds. The puzzles are really fun I especially liked the one where you had to move a lens to a particular spot on a map by using arrows. The up arrow moved 1 space, the down arrow moved 2 spaces, the left arrow moved 3 spaces and the right arrow moved 2 spaces. This is a quality game with all the bells and whistles you could ever want, beautiful crisp graphics and entertainment from start to finish, enjoy!
January 9, 2014
Never trust an evil Witch!! :)
This is the 3rd installment of the Witches? Legacy series. And again, we have to rescue our adopted daughter Lynn? If you didn?t play the first two games, you?re going to understand this story, as there is a short briefing at the beginning. Graphics are very lifely and detailed. Animation of the characters are really welldone with good voice-overs. Facts: 6 chapters plus bonus-chapter, the 3 usual difficulty-modes plus one custom-mode (can be changed during the game), interactive jump-map shows available action, lockable inventory, 12 achievements, 35 morphing objects, 40 puzzle-pieces to collect, strategy guide doesn?t follow your progress, detailed journal, direction giving hint, our imp helps us to reach things (but this time he doesn?t interact in the scenes - he sits on the inventory, waiting for his mission *sigh*) more CE-extras: wallpaper, screensavers, art gallery, soundtrack. 29 minigames, like ?draw paths between crystals, without crossing their paths?, slider-puzzles, repeat sequences, different sorts of rotation-puzzles, swap tiles? 30 hidden-object-scenes: all from list with some interactions and most of them played twice. With the end of the main-game after 3,5 hours (2nd mode) the story is 100 % complete. Bonus-chapter is an additional story with some new settings? I liked it a lot, this is really a welldone fantasy adventure!! :)
January 9, 2014
Save Lynn from the Witch Hunters
The story is the third installment of the Witches? Legacy series and begins with a good recap of the previous two games so, although it is not necessary to play the previous games, you might consider doing so simply because the games were good and because it will give you the background story to this game. The game begins as you and Lynn have finally settled into your home at Charleston Manor and have built a new life for yourselves. Lynn is well-respected in the community for her healing abilities and for helping those in need and life is wonderful. Lynn also has a new young man in her life and all seems well but you have a foreboding sense that something is wrong. Just when life seems perfect, are things about to change? Team up with an old nemesis and find an unexpected ally to save Lynn from the Witch Hunters. Graphics are very good and IMHO better than in the previous Witches Legacy games. The artwork is very good but sometimes a bit grainy and at others crystal clear and crisp. So depending on the scene, the graphics quality can change or appear different. The game has lip-synced voiceovers that are very good and fit the characters well. Speaking of characters, our little friend Imp is back and he is a cute as ever. Our other ?helper? is a doll of the witch Elizabeth from the past. While Imp is cute and funny, Elizabeth is rather ugly and just as we picture the storybook witches of yore ? warts and all. The game has the interactive HOS that we have come to expect in more recent games. If you would rather not look for all the objects on the list you have the option to play a matching type game and unfortunately I ended up choosing the matching option more than usual because I did find it very difficult to find some of the items in the scenes. The puzzles are nothing new but are fun and not overly challenging at this point. I expect the puzzles may become more difficult as the game progresses. You have a journal and a map to help you navigate the game. The map is a transporter type that indicates where you have available tasks. Throughout the game you will find collectible puzzle pieces that will unlock a story of the game?s hero. And for those of us who love them, we also have an abundance of morphing objects to find. We don?t see too many games from this developer in a year and that indicates, at least to me, that the ones they bring to market are top quality. Witches Legacy Hunter and the Hunted is proof of that, with this being one of the best installments in the series. Because I found the demo so enjoyable and because I know the quality of games from this developer, it was a no brainer and an instant purchase. As always, I recommend that you try the demo to see if you agree.
January 9, 2014
Best of the series
I really enjoyed playing this game. I played the whole game and the bonus chapter. I have yet to collect all the puzzle pieces and I am going back to try and get them, which you are able to do in this game by replaying it and it does not eliminate what you have already found or delete current achievements it just adds to what you have missed. That is rare in games and I love that option. The SG is helpful, the hint is also helpful. The little imp in the main game is fun, and not overly cute. The bonus chapter you play as the imp also fun. Most of the mini games are fairly easy and straight forward there were only a few I had to really work on but not to worry if you mess up you can hit the reset button which I did from time to time. The voice overs are okay. I have seen better but the graphics are spectacular, I found myself just looking around and taking my time to just take it all in. This story does pick up where the last one left off just into the future and it gives back ground info to bring you up to speed. There are a lot of HO scenes but it does not interfere with the flow of the game at least in my opinion. Give it a try you may like it I did.
January 10, 2014
Great Legacy. A must add to my game collection!
Just when you think it was a happy ending....Lynn has been kidnapped and you have the help of a evil looking Elizabeth doll and a creepy but cute Imp with green glowing eyes. I've only been through the trial but I can't wait to purchase this and keep playing. Graphics and music aren't a huge deal for me but sometimes I mute the music b/c it gets annoying after a while but I didn't even notice the background music. The graphics I thought were crisp and clear. The characters mouth's do move when they're talking as I know this bothers alot of gamers if they talk without the mouth moving. 4 modes....Easy, Normal, Hard and Custom (I love this option!#. Inventory is lockable and there is a strategy guide #I'm not sure if it follows your progress as I haven't had to use it yet) There is a diary, a transportable map that indicates areas with available tasks, the imp is also on the inventory bar and gives you your objectives. The imp also assists you when you can't reach something. There are 29 puzzles which are very fun...not too hard and relatively unique. I've played 5 HO games in the trial so far that are interactive list. Very clear, not junked up. If you prefer, you can play a matching game instead. I love this option as I'm not a big HO fan but I found myself torn because I found these HO scenes fun to play. Collectibles: There are 40 puzzle pieces to find and as you find 8 pieces, it will open a story in your diary. There are also 35 morphing objects which are very fun to find but actually pretty hard to spot. I didn't play the 1st two witches legacy games so I'm not sure how they compare but this one is a winner in my book. I love the customizable game play and option to play a different game instead of HO scenes. I hope this helps you decide if you want to try this but this is one of the best Big Fish games I've played in a while. Definite buy for me!
January 9, 2014
Witches are HELPING you this time!
This might be the best of the series of the three Witches Legacy games. The first two are summarized in the preview to the game. Your now adopted daughter Lynn is a witch, now using her powers for healing, instead of chasing after Elizabeth, the witch that killed her family so she could be the heir to magical powers. Elizabeth was destroyed in a previous game, but she is now back in the form of an animated doll who is helping you. So Lynn's boyfriend is actually a member of the Order of the Witch Hunters and their "date" becomes a capture of Lynn by the witch hunters, who take her to their castle. Elizabeth keeps an altar in your house - Charlton Manor - and convinces you to help her help rescue Lynn. So off you go again, through the portal to the Witch Hunter's castle. The witch hunters believe "all magic users must be destroyed", even if they are good witches. One of the hunters evidently had a bad experience when one of his creations - supposedly enchanted by a witch - killed his daughter. So they plan to kill Lynn unless you rescue her. Whew! The same nice touches from previous games are back. You have Lynn's imp, who helps you with small places and high places. He also opens up scrolls listing your next objective. There are 4 modes of play, including custom. The map is teleporting and shows tasks ready to be accomplished. The hint button refills quickly and shows a picture of the location you should jump to, or exactly what item within the scene you should concentrate on. The HOS are clear and clean, although all are lists with some interactive objects. A nice touch is the ability to switch to a matching objects game where 2 matches equals one item. The mini-games are interesting and not too hard. There are 40 puzzle pieces for you to find, which opens up a bonus puzzle at the end. You can also search for 35 morphing objects. You can win 12 achievements. There is a bonus chapter, and strategy guide - not really needed, plus the normal CE extras. I really enjoyed the demo of this game, and will certainly buy it!
January 9, 2014
ANOTHER GREAT GAME ADDED TO THE LEGACY SERIES!!!
I like this witches' legacy continued series the best. It has everything that you expect to see in a CE. You collect puzzle pieces, morphing objects and there is enough adventure with beautiful graphics along the way. The background music is just right and not annoying. Again, you have a cute little imp that helps you and there's also a cute little imp that guides you as well. The developers have definitely improved on this series of which I have the previous ones and I'm not disappointed in this one. Good storyline and I always appreciate the choice between doing the HOS and the matching cards game. The mini games aren't too difficult but fun to play. Wished they had better screensavers & wallpapers to choose from..
January 16, 2014
Best of the Bunch
I thoroughly enjoyed this game as i have the entire series. I think this one was the best of the series as a matter of fact. The storyline was very engaging and there was a good mix up of things to do (morphing objects, puzzle pieces, puzzles, and of course the adventure part) I hope they do continue this series.
January 21, 2014
JUST LOVE IT
SUMMARY: 5 minutes into the game, I knew I would be buying it. Good story, beautiful graphics and interesting, well thought-out gameplay. Very good production values - probably more so than the previous Witches Legacy games, which you won't need to play to understand the story. The cutscenes are very good and the voice overs are better. 4 volume controls; music is pleasant enough. 4 modes of difficulty, including custom (if you play custom, you can turn off the penalty for bad aim when clicking in the HOS). Morphing objects and puzzle pieces to find. 2 Helpers: Imp which we've met in the prior games helps us out and Elizabeth, a doll which will give us direction in rescuing Lynn. Graphics are outstanding; HOS are mildly crowded, interactive and list-based. Puzzles are varied, many not seen a lot, and range from mildly to moderately difficult. Promises to be a few hours of very pleasant entertaining day.
March 15, 2014
Witches' Legacy: Hunter and the Hunted Collector's Edition
I have liked this series so far and I still like playing games with help
January 10, 2014
The Apple logo is a trademark of Apple Computer, Inc.