Haunted Train: Spirits of Charon Collector's Edition
Exclusive
Charon's train has left the station, and you'll never believe who's on board.

You and your fiancée were supposed to be happy, but someone's destroyed your wedding day, and your lives together. Now her ghost beckons to you from the train of death. Can you put this vicious deed to rest – and help Charon bring justice to your love's tragic end?

This is a special Collector's Edition release full of exclusive extras you won't find in the standard version. As a bonus, Collector's Edition purchases count toward three stamps on your Monthly Game Club Punch Card!

The Collector's Edition includes:
A bonus chapter that explores Charon's origin
Wallpapers, soundtracks, and concept art
An available Strategy Guide
Game System Requirements:
OS:

Windows XP/Windows Vista/Windows 7

CPU:

2.0 GHz

RAM:

512 MB

DirectX:

9.0

Hard Drive:

759 MB
Game Manager System Requirements:
Browser:

Internet Explorer 7 or later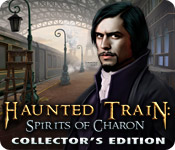 The Big Fish Guarantee:
Quality tested and virus free.
No ads, no adware, no spyware.

Reviews at a Glance

Haunted Train: Spirits of Charon Collector's Edition
0
out of
5 (
0
Reviews
Review
)
Customer Reviews
Haunted Train: Spirits of Charon Collector's Edition
58
58
Ghost rides
A good game for people who love ghost games
January 13, 2014
Deadly fun
First off, let me just address my main complaint--those horrific accents. Since when does a woman named Medici have a Southern drawl that Scarlet O'Hara would envy? The white-haired boy never had the accent of the place where he was. And I kept waiting for Charon to say "Arrr, matey!" at any moment. Some may not mind, but I found it jarring and distracting. Now, on to the good stuff. Good storyline, great graphics, very clear HOGs (I've played some that you need a magnifier for), good musical background, and the action moved along at a satisfying pace. I did hit a glitch in the bonus game waaaay at the end, but it was minor--just a repetition of the dialog and a sudden change of scene when I accidentally hit a key on the keyboard, so it may have just been me. The gameplay wasn't always intuitive, but at least the hint button actually was useful in providing direction, so much so that I didn't have to consult the Strategy Guide very often. All in all, I would be most interested in and willing buy a sequel if it was up to the standard of this game. But, please, get the accents right next time.
April 6, 2014
The Haunted Train Has Some Issues - Review Of Completed Game
STORY: You take on the role of Daniel. It is your wedding day and your bride Olivia has been killed and you've been knocked unconscious. When you come to you have a train ticket in your hand and you just manage to catch the train before it leaves. Once you are on board "the ghost" of your bride Olivia explains what you must do Charon, the train master who takes souls over the Styx would be more than glad to let your bride go but first he sends you on a quest to find four villains who have died but refuse board the train to the afterlife. If you manage to capture all four, your bride will be given back to you. The setting of this game appears to be early 1900's and starts off in Paris but you'll visit several different European cities throughout the game. 12 Chapters plus bonus chapter 3 PLAY MODES: All have sparkles and black bar tips. Only the hardest mode has the hint/skip disabled. I played the middle of the road mode. Hint is directional outside of HOS. Hint/skip didn't seem to take too long. JOURNAL: Is the "floppy" cards down at the bottom which holds notes and some used for puzzles. MAP: This is transporter and shows where there are things to do. MONOCLE Shortly into the game you get one of these that helps you "see" ghostly people and areas. GAME PLAY: Lite adventure. Emphasis on HOS and puzzles. HOS: All found by interactive word list and the same scenes are visited twice. Some scenes for me I thought were well done and graphics clear along with some cleverly hidden, some not so clear and grainy, and some downright "Sanford & Son junkyard. I did have to use a few hints here. PUZZLES: Not a fan. Less the better. Some of them while I found them to be easy they were different from what I've seen in other games and some the usual run of the mill that varied in challenge for me. I did skip a few of these. ENDING: Main game came to conclusion for me. The bonus chapter does start off where the main game ended as far as location and Charon sends you on one "last" quest and all areas but a couple are from the main game. The ending of this which also came to a satisfactory conclusion for me however seems to hint a sequel. Whether or not there will be one well time will tell but that was my impression. MY PLAY TIME: Main game 5 hours. Bonus Chapter 1 hour. CE EXTRAS: Bonus Chapter, Strategy Guide, 8 wallpapers, 6 music and 9 concept art I honestly wanted to rate this higher but this had some issues for me. I'm gonna start off with the positive for me though The graphics/art work is right up my alley. I had no problem with the graphics except for a few of the HOS I thought could of been more sharp and clear. Also era appropriate. The story held my interest and I liked the characters. Voice overs a well done along with sound effects. I also enjoyed using the monocle throughout the game. This was also long enough for me as I don't need for games to go on for many hours. As for collectibles, achievements, morphs, meh, I no longer need this extra "fluff" in my game. Now for the issues: First off after the demo I got 3 access violation errors. I didn't have to start the game over but it was an annoying disruption of my play time so I deducted one star just for that. My other star deduction is I don't understand why this developer has 3 play modes if they are going to sparkle/black bar tip all of them and just disable hint/skip on hardest mode. Just do a custom mode and let us choose what we want. Since I absolutely LOATHE this. ENOUGH with the cutesy animals especially when they don't fit with a game that is suppose to be creepy. I shouldn't have to give a dog a bone and cat some milk. Are you kidding me??? Thank goodness this was VERY BRIEF. Yet another game if I would of had to name them dress them up, well this would of been getting the stop madness, cut off and pull the plug rating. My last issue since this is a CE I thought the bonus chapter should of been all new locations and NOT just about all from main game. As for my "recommending" this game. If you are one that the extra fluff is important then well no I don't. While this stuff is no longer important to me well I didn't and wouldn't pay $13.99 I would definitely get this on sale like I did in my opinion. As always, give it a whirl and decide for yourself.
January 12, 2014
Nice Premise, but Never Quite Arrives at the Station.
Based on demo. Your bride is killed on your wedding day and you must save her soul from an eternity on a death train. Charon has traded up from his ferry to a train and many souls are trapped on his train until their murderers are caught. You must help other souls find peace to save your bride. Okay BFG and Developers everywhere---when are you going to learn you cannot label games as CEs unless they actually provide tangible extras!! There are no achievements, no collectibles, and no morphing objects. Nothing! This attempt to pass off SE games as CEs is a very irritating trend. Stop it! This would have been fine as an SE game and should have been billed as such. The graphics are fine, music okay, VOs well acted and the story is fairly original. HOSs and puzzles are of medium difficulty. I'm sorry I can't recommend the game as it is billed because it is not a CE. Use a coupon when it arrives as an SE since there are no extras it will essentially be the same game.
January 11, 2014
Not as well developed
I didn't think this game was as well developed compared to many other games these days. It was alright to play and had a good storyline but I just didn't care much for the mechanics of the game nor the graphics. HOS even seemed ordinary so this one is a no for me.
January 11, 2014
Mixed Feelings
This review follows my playing the full collectors edition game. I enjoyed the main game. The storyline was creative and a little different from other games I've played. It wasn't super deep, but fun. The game play was fine, not great, not bad, just fine. The voice overs were okay. In general, a fine game, There were a few glitches. I probably wouldn't pay full price for it, but if it's discounted, or you have a coupon, go for it. My complaints were around the bonus game. The plot was sad, there were several glitches, and puzzles were frustrating. It's like they just threw something together at the end to make a bonus game. Definitely wouldn't recommend the collector's edition.
January 12, 2014
"Haunted Train" Fails to Leave the Station
Sorry, I did not like this one. It did not feel "creepy" as others described. It was trying to, but came off instead as ... uh... silly? Others have described the basic story behind the game. It definitely had potential. However, the developers did not manage to pull this off. First of all the game is way too easy. Many times an object is picked up, then used almost immediately. Secondly, I felt the voice acting was not convincing. This is where the game falls flat. #Ok, the story is kind of dumb too, but that applies to many games#. Voice acting, if done well, can help to "suspend your disbelief." That didn't happen here, not even close. The voices sounded to me like they were just reading lines off a page. The drawing is well done and is of a standard with the better games. The story is set in the past #as far too many are# and a good job was done with the artwork in capturing the spirit of times gone by. The music and sound effects are helpful in this respect as well, just enough to capture the mood without being heavy-handed. I cannot see any reason to purchase this as a CE unless you are one of the few people who wants concept art or wallpapers. I cannot conceive of anyone needing the strategy guide. Wait for the SE and/or when you have an extra credit. Possibly even as a DD. Otherwise, I will wait for the "next train."
January 11, 2014
not CE worthy
The story line started out interesting, but the game ended up a little disappointing for me. Loved the fact that the HOS were not at every other click of the mouse! However, you should definitely wait for the SE to come out. This game had one of the worst bonus chapters I have ever played. Easy 20 minutes with one or two things to do per scene, and a bunch of HOS thrown in to extend the time.
January 13, 2014
A Good Story This is Not
I was getting married and my bride vanished and I woke up with a ticket in my hand and I saw her at the train station and I got on the train and she is there and she is dead and cannot pass to the other side because she was killed and the monsters have to be brought to justice and there are other people on the train and they can't have peace because they were victims to the same monsters and I must save the day and let all the other souls go in peace but I am going to get my dead wife back! Then some guy Charon is thrown in there who--I guess--is the grim reaper--who escorted folks to their death--but now likes to ride a train to do it. All that in the first few scenes. A good story line is played out over a period of time not told to me in the 1st sixty seconds. This was a jig-saw puzzle of ideas and other stories pieced together in this one game. I really tried to like Olivia and I know Olivia tried to act but she just did not sound convincing. What exactly are these devs doing on their coffee breaks?Could have been a very good game. Definitely for beginners or if BFG makes for a free game. Enjoy! -Mama Mia-
January 14, 2014
So-So - Not worth the $$ for the CE
This game was only OK. Kind of creepy story line but very predicatble, Puzzles are OK. Very typical for the HO/puzzle genre. Animation was sadly lacking. More like stop motion than animation. Wait for the regular version. Don't waste your money on the CE. Added content takes about 10 mins to finish :(
January 22, 2014
The Apple logo is a trademark of Apple Computer, Inc.