Haunted Train: Spirits of Charon Collector's Edition
Exclusive
Charon's train has left the station, and you'll never believe who's on board.

You and your fiancée were supposed to be happy, but someone's destroyed your wedding day, and your lives together. Now her ghost beckons to you from the train of death. Can you put this vicious deed to rest – and help Charon bring justice to your love's tragic end?

This is a special Collector's Edition release full of exclusive extras you won't find in the standard version. As a bonus, Collector's Edition purchases count toward three stamps on your Monthly Game Club Punch Card!

The Collector's Edition includes:
A bonus chapter that explores Charon's origin
Wallpapers, soundtracks, and concept art
An available Strategy Guide
Game System Requirements:
OS:

Windows XP/Windows Vista/Windows 7

CPU:

2.0 GHz

RAM:

512 MB

DirectX:

9.0

Hard Drive:

759 MB
Game Manager System Requirements:
Browser:

Internet Explorer 7 or later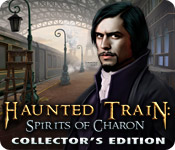 The Big Fish Guarantee:
Quality tested and virus free.
No ads, no adware, no spyware.

Reviews at a Glance

Haunted Train: Spirits of Charon Collector's Edition
0
out of
5 (
0
Reviews
Review
)
Customer Reviews
Haunted Train: Spirits of Charon Collector's Edition
58
58
Same Ol' Same Ol' Nothing Different
I guess if you like these grim & morbid adventure / hos games, your going to like them even though its just the same tasks & stories recycled over & over again. Find a key, find a doorknob, get a lantern, need a ladder... Ho hum zzzz. C'mon how 'bout creating something fresh & new? I'm about to cancel my Big Fish subscription due to boredom.
January 11, 2014
Did not care to play the bonus game
I got to the point that I could not wait to finish the game out of boredom. It starts out good with original puzzles and a good story line, but becomes very repetitive during game play. Not very challenging at all. I was very disappointed in this game. I was hoping to enjoy this game and was excited to finally see that it was not a kids game and that it would be creepy and a good mystery, but it is not whatsoever. A beginner might enjoy this game.
January 13, 2014
Good, But Definitelly Not a CE
I played the one hour demo and enjoyed the game. BUT I agree with 43Colorado and some others, this is not a CE and should not have been released as a CE. It has no extras whatsoever. I think when the SE is released, we will see very little difference in the play. As I said, the game was enjoyable. I cannot in fairness give it a 5 Star as a CE nor recommend buying the CE. As a SE, yes I could.
January 12, 2014
Weak Collectors Purchase
Glad I got this on sale, because not the caliber of recent collectors...enjoyed it, but if you purchase the standard version, I think you'll find the story ends abruptly.
January 20, 2014
A tedious tour of Europe chasing ghosts....
.....which is just my opinion. The best part of this game is the opening cut scene with the beautiful wedding scene on the cliff. As expected, bliss lasted less than a couple of minutes and were off to the races to save the gorgeous bride.....only this was more like the race between the turtle and the hare. There was urgency to get things done, but to me this game was very slow. They did attempt to introduce some different elements in the games and game play, but it was very disconnected. Even on the casual level, I had to rely on the map or hint button continuously. I think the developers knew that because it recharged very quickly. The story was a bit confusing as a good ghost or a "good grim reaper" was chasing a bad one to allow the souls of the dead to finally get off this never stopping train. At times it wasn't clear who was the good guy or the bad guy.... Anyway....this game did not challenge or entertain me personally. The characters were from all centuries and all over Europe, however they had the same accents which were very poor. It's like nails on a chalkboard. I won't go as far and say NOT to purchase this....but play the demo and get a feel for the pace and the story. The graphics are very good, and that's the best I have to say about the entire game. It's a good game for someone new to this type of format, but not the best example of what is out there!
January 18, 2014
Didn't I play this last week?
Based on demo Review is more for expert players Other people seemed to like the game, but I have to disagree. Since many people have left long reviews I am keeping this one short. If you have played more than 50 games, you have played this one. Game play is boring, same old same old. The graphics are good, clear and textured. Music is actually pleasant....but it's just the same game I played last week and the week before. You are not going to have to do much thinking here. It's very easy. Game ran fine on my PC.Give the demo a try, but I think this is more for novice players.
January 12, 2014
I THINK MY TRAIN RAN OUT OF GAS
I won't go on at length about this game. I don't think it's high quality in terms of play so it would lend it far more import to give a typical review, I think. There were some positives: a. It was a winner artistically. Throughout the game you progress through a variety of cities beginning in Western Europe and ending in Eastern Europe. Each one of the locales had a particular European feel to it. So, props to the environment, or "set design." b. It was... Wait. I'm sorry. That's all I can say about the game that was positive. Two schools of thoughtf now: 1. If you can't say anything nice don't say anything at all. 2. If you can't say anything nice come sit by me. Maybe I'll try to take a middle position. a. The animation was very poor. I'll give a couple examples to illustrate: 1. In one scene a lemon was being squeezed into a cocktail shaker. The lemon hovered over the shaker, there was no "liquid" going from the lemon to the shaker. After a moment the lemon was gone. Big deal? Maybe not. But we have certainly seen games where you'd know that liquid was being poured into a container from another source. 2. An item, fallen between the cracks of a grate on the ground need to be extricated. Through normal play, a hook was in my inventory. As the hook neared the grate, but before it reached the location, the grate mysteriously rose. Well, maybe the grate was haunted. I know these don't seem like great examples, but they are typical of the play throughout the game. There was NO attention to detail. b. The story line that carried us throughout Europe was, to my mind, incomprehensible. A woman was taken hostage by an evil count on her wedding day. We board a train searching for a number of other people (souls) who have been taken hostage as well. The deal is this: you (the player, in the first person game is a man, the fiancee/newly wedded husband, of the kidnaped victim) have made a deal with somebody who wants revenge of the kidnaper. If you help him and subdue the evil Count Orlock who is the culprit, the guy you made a deal with will release the should of your new wife. So, if this person has the power to release your wife's soul? to you, why doesn't he do it? He seems just as evil as the original kidnaper!!! c. When I completed the regular portion of the game and...for who knows what reason...I tried to play the bonus section I couldn't retrieve an inventory section nor could I access the monocle (a tool you get...not sure how...that allows you to "see" para-normal things the ordinary eye cannot grasp. Without inventory or monocle it's really "game over." In the end, I'm not complaining. So, game over. One last little note: This was a Collector's Edition. I have absolutely NO idea why. There's wallpaper, concept art and music that's re-playable. There are no morphing objects, collectibles...I used to think gamers made too big of a deal about these things. This game made me realize if I'm going to pay for a CE, the game better have some CE features. I wouldn't recommend this game as a CE for sure and if you're even contemplating buying it as an SE make well sure you use a coupon or it's on serious sale. Do NOT pay full price for this game. Sorry Ladies and Gentlemen. IMHO this game does not deserve a positive recommendation.
January 18, 2014
Nothing Special Here
Well I played for about 40 mins, just long enough to convince me that this game was definitely not CE material, the characters were really cheesy, and the game itself was poor quality. Not impressed at all. No extras that I could see, morphing objects, collectors items, for example. I may use one of my free game credits to play the SE version when it comes out, but I'm not buying this CE.
January 13, 2014
This Train Never Left the Station
Based on the Demo The soundtrack and voiceovers were okay. The narrative in the beginning was intriguing. The visuals and graphics were excellent. The characters were a mess. Blood thirsty murderer BlueBeard was portrayed as a doddering old man, limping, and muttering under his breath. It was laughable. There was a folder of postcards instead of a journal, a monocle to detect any mystical activity, a strategy guide, and a map. Hidden object games were great, mini puzzles were fun, but that wasn't enough to hold my interest and certainly not enough to warrant a CE price. There was really nothing in here. This train should have stayed at the station.
January 26, 2014
Just Leave Me At The Station
Based on Demo Only. Nothing original just rehashed old story line, that was less than awesome or great, with ghosts, dead people, & someone, again, has to be saved from the ghost. VO's are so so. Olivia's sounds contrived like she's trying to hard. The characters are wooden with no animation. Graphics are cartoonish but the music is better than usual. HO's are messy with VERY small objects to find. Other reviewers have called this well constructed & game of the year. I found it tedious, boring & plodding. Just the same old stuff with nothing to excite me about the game. Per the first screen the game is from the developers at Deep Shadows. Sorry to say devs but this game should of been left deep, deep in the shadows!
January 11, 2014
The Apple logo is a trademark of Apple Computer, Inc.