Haunted Train: Spirits of Charon Collector's Edition
Exclusive
Charon's train has left the station, and you'll never believe who's on board.

You and your fiancée were supposed to be happy, but someone's destroyed your wedding day, and your lives together. Now her ghost beckons to you from the train of death. Can you put this vicious deed to rest – and help Charon bring justice to your love's tragic end?

This is a special Collector's Edition release full of exclusive extras you won't find in the standard version. As a bonus, Collector's Edition purchases count toward three stamps on your Monthly Game Club Punch Card!

The Collector's Edition includes:
A bonus chapter that explores Charon's origin
Wallpapers, soundtracks, and concept art
An available Strategy Guide
Game System Requirements:
OS:

Windows XP/Windows Vista/Windows 7

CPU:

2.0 GHz

RAM:

512 MB

DirectX:

9.0

Hard Drive:

759 MB
Game Manager System Requirements:
Browser:

Internet Explorer 7 or later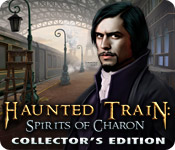 The Big Fish Guarantee:
Quality tested and virus free.
No ads, no adware, no spyware.

Reviews at a Glance

Haunted Train: Spirits of Charon Collector's Edition
0
out of
5 (
0
Reviews
Review
)
Customer Reviews
Haunted Train: Spirits of Charon Collector's Edition
58
58
All Aboard.....The Soul Train...Last Stop Hades!
You have been knocked out cold, as you slowly come to, shaking away the haze and fogginess, panic suddenly snaps you back to reality for this is your wedding day and your bride is missing! The only clue you have is a single train ticket clutched in your hand. You barely board this mysterious train as it is leaving the station, destination...Hades! Your dear bride is now dearly departed and the transporter of souls, Charon, vows to return your bride (hopefully alive) in exchange for the capture of his most elusive murderers to face his judgement. Kudos for a fresh story line! I love everything about this game, however there isn't enough substance to qualify this as a collectors edition. The HOS are interactive list finds and the items are nicely concealed. Most of the mini games are new, such as re-arranging colored glass gems to match a shadow of a man holding a lantern. You have a lens that helps you "see" ghostly areas and people, but other than some wallpaper and a strategy guide, it isn't enough in my opinion to qualify for CE worthiness compared to other games of recent so I will probably wait for the SE. Awesome story though, enjoy!
January 11, 2014
Original All-Round!
BASED ON DEMO FIRST IMPRESSIONS Although subdued, the opening sequences are impressively high quality. The tale is told simply and well, and we are soon ready to take on the challenge. SIGHTS & SOUNDS I am often of two minds about this developer?s art. The cut-scenes are exceptional quality ? possibly the clearest I have seen. I particularly liked how the bride and groom looked. Yet the location graphics are grainy and visibly low definition (I have large monitor though). The HOP scenes are again clear and sharp and a pleasure to look at. Why this difference? I?ve never figured it out. The narrator/main character?s voice is used wonderfully. Some of the other voices are not so good, but none are bad. The music has a lot of crashing piano chords and other exciting stuff, but otherwise did not make much of an impression. WHAT?S HAPPENING? Your bride is killed on your wedding day, you are knocked unconscious, and wake with a train ticket in your hand. You just manage to catch it before it leaves the station. On board, the ghost of your bride begins the explanation of what has happened and what you must do. The train belongs to Charon ? the ferryman who takes souls over the Styx. Caught up in a battle between Charon and a gang of evil doers, your wife and the others aboard cannot pass over until these men are lured to the train and disposed of . That?s where you come in. The game is broken up into the capture of 4 of these villains and rescuing your wife. It?s an interesting and involving story, structured ideally for this kind of game. GAMEPLAY The emphasis is on HOPs of the interactive list and misplace items kind. With a couple of variations as well. A scene can be revisited, but with a new search method. They are exceptionally entertaining HOPs. The puzzles are also wonderful. Original and challenging, but not overly so, and they are kept nicely in context. I normally tolerate puzzles at best. These were a pleasure. As well as the directional hint, notebook (which replays movies) and an interactive jump map that gives you quite a lot of information, there is also a magic monocle. This glows when it can be used, and reveals the truth behind magic glamours. Special effects are used, giving the scene an ethereal green glow, and highlighting the hidden information. It?s used quite a lot for this type of feature, but each time is different and interesting. There is also a game timer, and in the 45 minutes it took me to do the demo, I completed roughly 20%, or 2 out of 12 chapters. And there are 3 choice of difficulty. I played the simplest. CE BLING! There?s little here except the bare bones. Wallpapers x8, Music x6, and an unknown number of Concept Art sketches that are locked until you buy the game. And the obligatory bonus chapter and strategy guide. I am tempted to say this game should not be a CE, but the quality of the art and story are there, just not the bells and whistles. So it?s a tricky choice. COMBINED IMPACT Either way, I think this is an excellent game with lots of appeal, in either edition.
January 11, 2014
The Ferryman Charon now has a Train!
I couldn't resist so I just bought this. It has a cool new storyline. You play Daniel, whose bride Olivia was taken - killed - by Count Orlok on your wedding day, and put on the Spirit Train. The trainmaster is Charon, who no longer has a boat to ferry the dead, but uses a train instead. And some of the dead, like Count Orlok and Bluebeard - a member of his band - won't stay dead but escaped the train to go on with their lives. In order to free Olivia, you must lure Count Orlok and his men back to the train so Charon can capture their souls, and free Olivia and the other wrongful dead from the train. Kind of a neat new storyline, I think. Olivia gives you a magic monocle that glows green when it is in the presence of something otherworldly, and helps you discover items and find clues. There seems to be four members of Orlock's band you need to track down and bring to the train. One is in Paris, one is in Italy. The Paris guy's wife Mary married Gilles de Rais, who it turns out was really Bluebeard and killed several other women and stashed their belongings in his secret room. Poor Mary stumbled into it, and now she's on the train, too, killed by Bluebeard. The HOS are all lists, but very clever lists that require a lot of interaction rather than just finding and clicking the item. The mini-games reflect the country/city you are in -- French themed games in Paris, for example. Not too hard, but enjoyable. The hint button and the map are sufficient to guide you along. The map is also clever -- representing the train and the city scenes that are offshoots from the train. There are three modes to choose from, and the normal extras including the bonus chapter and strategy guide. The inventory locks open - one of my must haves - and the cut scenes are attractive, especially the opening one of Daniel's and Olivia's wedding. It is not clear yet what the connection between Olivia and Count Orlock is. Try it, I think you will like it. I am off to finish the game!
January 11, 2014
Hey, Wait A Minute!!
Well folks, this is an amazing game! I am reviewing this with 20 minutes left on the trial because to be honest, it will be a buy for me from the get go! I can't even go into the story line because you need to do that for yourselves and you will know that too much information would spoil things. There is amazing detail in this game, wonderful graphics, beautiful HOS with vivid color and clarity, and a sophistication that I have not seen in any game thus far. Puzzles offer difference from other puzzle games but not so much that you hardly notice, the game is that good. There is a map and all the other stuff that helps us through our games but you know, my whole point is to get you to try for yourselves...I'm off now to finish my last 20 min.of trial.
January 11, 2014
Beautiful
I haven`t played such a beautiful game in a long time, it is so easy going, pleasant and feast for the eyes, one of those you do not want to finish!
January 13, 2014
Wonderful Original Story, Great Voices, and Super Graphics
A hauntingly beautiful and original story. The graphics, especially the opening scene, were very well done and grabbed my attention immediately. So immersive - just really beautiful in the details. The voice actors were great!!! - especially the female character Olivia and the trainmaster(or grim reaper). I went away wishing the game were longer. I would love a sequel to this game. Well done!
January 14, 2014
GHOST TRAIN
I remember playing this one for the beta testing, loved it then, loved it this time. The visuals and sound quality were just great and the voice overs were perfect. In my opinion. I did like the storyline as you chased different killers to return them to the prison train. I don't like to say to much about a game as it gives to much away for the other players before they can enjoy the game for themselves. I think this game is very enjoyable even though the hos could get a little junkie,and I did mention that in my review of the game for the beta testing. I do recommend this game though,Its a buy for me.
January 11, 2014
Perfect game!
It was nice to play it. It's more than 5 hours + what is more important a lot of original minigames.
January 13, 2014
An intertaining ride!
This is based on the demo. Three modes of play: Casual, Expert and Professional. Interactive map. There is written dialog also, which you can use the space bar to speed up. Also an option for no sound, which I've noticed some people like that feature. Has 12 chapters, plus a bonus. HOS are somewhat interactive and some are different, such as placing correct items with the correct person. I found this to be a different and fun game and intend to purchase it. BF is really coming up with some good ones lately.
January 11, 2014
Awesome game,
i really enjoyed the story line of this game, the puzzels were challenging in some parts it took me a few min to work them out but it wasnt so hard that you cant figure it out without skipping, i find games with voice overs are better to play, then you dont spend the whole game trying to read instead of watching the story.
January 13, 2014
The Apple logo is a trademark of Apple Computer, Inc.