Myths of the World: Spirit Wolf Collector's Edition
Exclusive
The wolf spirit still haunts… will you heed its call?

You're an expert in Native American symbolism who's been called to investigate some glowing glyphs. Your amulet, which has been in your family for generations, begins to glow as soon as you arrive, as if it's part of this place…

As you begin to investigate, you encounter strange ghosts from the past. Find out what caused their rift all those generations ago and how you're connected to this place and its spirit. This is a special Collector's Edition release full of exclusive extras you won't find in the standard version. As a bonus, Collector's Edition purchases count toward three stamps on your Monthly Game Club Punch Card!

The Collector's Edition includes:
Break the symbol barriers using your interactive amulet
Play the bonus game to unlock your amulet's secrets
Get soundtracks, wallpapers, screensavers, and concept art
Try the available Strategy Guide
Game System Requirements:
OS:

Windows XP/Windows Vista/Windows 7/Windows 8

CPU:

1.6 GHz

RAM:

1024 MB

DirectX:

9.0

Hard Drive:

1440 MB
Game Manager System Requirements:
Browser:

Internet Explorer 7 or later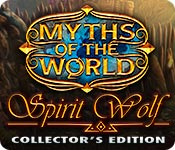 The Big Fish Guarantee:
Quality tested and virus free.
No ads, no adware, no spyware.

Reviews at a Glance

Myths of the World: Spirit Wolf Collector's Edition
0
out of
5 (
0
Reviews
Review
)
Customer Reviews
Myths of the World: Spirit Wolf Collector's Edition
55
55
Fantastic Native American Lore!
I absolutely loved this edition of Myths of the World which delves into Native American culture, the graphics are stunning and the soundtracks simply wonderful. There are 35 Sun Runes to collect and missing pieces of your eagle amulet which helps you to lift the spirits from certain items. You come equipped with binoculars which have to be adjusted in 4 sections right, left, top and bottom. I thought the HOS were very well done and they were very interactive list finds as well as finding items that matched the silhouetted shapes. Mini games are fun such as swapping tiles to create a complete picture. You can choose to customize the mode of difficulty to exclude sparkles or lower and raise hint and skip times. This is a very exciting, well produced game and who doesn't love wolf spirits and Native American folk lore? Enjoy!
January 23, 2014
Another Splendid Adventure
BASED ON DEMO FIRST IMPRESSIONS Okay, it?s official. Eipix is now my absolute favourite developer. And this is one of my favourite series. But, while I love it, this game is not their best. We begin with our admittedly grandiose narrator reminding us of ?the enduring power of myth?, which is fine, and then off we go for an adventure in North America. SIGHTS & SOUNDS Gorgeous of course, both in quality and art. Crisp clean graphics, brought to life with great animation. The spirit wolf is stunning. The locations and close ups are as spectacular as you?d expect. I was disappointed with the cut scenes, though. I thought they were markedly lacking in clarity. Sometimes I wasn?t even sure what I was seeing. What?s that all about, guys? Music and ambient sounds were great. Very appropriate to the story and varied enough to be interesting without getting in the way. Except for a really annoying humming sound in a couple of locations. Probably belonged there, though, and I just don?t know the meaning. Voiceovers are excellent, and the acting was also good. WHAT?S HAPPENING? Your friend runs a Native American cultural exhibit, and when he comes across some weird symbols that have started glowing, he calls you in as the expert. Your family heirloom, an amulet, starts glowing as soon as you arrive. Ghosts come forth claiming that you are the one to help them, you begin to see connections with a legendary lost civilization, and a spirit wolf seems to be following you. GAMEPLAY The base gameplay is straightforward HOP, Puzzle, Adventure Lite. The HOPs (23) are interactive lists or silhouettes. You can opt to play a Bubble Popper game as an alternative, or a bit of both. The Puzzles/Mini-games (23) are all doable and most are really very easy so far. Getting around and finding what to do is not hard, and is aided by an interactive jump map that tells you where you have tasks to do immediately. The hint is directional, and there?s a journal with basic information. So much for the standard stuff. As well... You have a set of binoculars, which you use when the cursor changes, for, duh, seeing faraway things. It comes with a simple mini-game all its own. So does you amulet. It destroys magical barriers. You need to find the pieces of the amulet as you go, and complete a simple mini-game to make it work. Other (standard) features include: game timer, combining items in inventory, and 3 levels of difficulty plus a custom one. CE BLING! Well, it makes quite a list. Wallpapers (8), Concept Art, Movies, Music, Making Of, Bonus Game, Strategy Guide, and replayable HOPs and Mini-games. As well, there is a Souvenir game (common to other Eipix games), a Sun Path game (which my guess is finding all the sun runes you didn?t get in the game), and Collectibles and Achievements. The collectibles are sun runes, all the same, and easy to find. The achievements are the expected, and are dream catchers, housed in their own section. COMBINED IMPACT Despite my criticisms, I really loved this game. Its atmosphere is lovely and all new to me, so I found HOPs especially fun and a little more challenging. I also love that the mini-games are not too hard. I am an experienced player, but there are still always puzzles I just can?t get. Eipix make the best quality games while not over-burdening my poor brain.
January 23, 2014
Excellent Sequel
Myths of the World have proven to be one of the more successful series and with its third installment, Spirit Wolf, these developers continue to produce an excellent Collector?s Edition game. Our story?s theme deals with Native American culture which always holds a fascination with me. As an expert in Native American Symbolism, you are summoned to investigate a mystery involving glowing glyphs that are suddenly appearing at the Center of Native Culture. As you make our way there, you notice that your own amulet, a family heirloom, is also glowing. There seems to be some sort of connection between you and what is occurring at the center and your adventure begins with your first encounter of the Spirit Wolf. As always, I love that these developers use sound and special effects to enhance the overall gaming atmosphere. The graphics are good and art work very well done. Although I did notice that the resolution was not as sharp as I would have liked it to be. In comparison, I thought that the first game, Chinese Healer was done much better. Nevertheless, as we begin our adventure, you have four levels of difficulty which can be customized to your own personal settings of choice. Game play is your standard HOPA with extras that at times are distracting but nevertheless does make the game a bit more interesting. Your tools include a journal, an amulet that requires you to locate tiles and use it to remove symbol barriers and binoculars that help you to see far away. Hidden object scenes are varied, standard list with interactions required and silhouettes of items to be found. Mini-games are well conceptualized and some are even time-staking which I prefer. In this game, you also have the choice of playing the Bubble game which was not as easy as I anticipated. I love the bubble chain but this one does have a challenging quality about it. In addition to all this, you have sun symbols to collect, all 35 of them and you also have a list of achievements as well as a souvenir room to attend to. Overall I found the game entertaining and it does look to be rather time consuming. Still, the first of the series remains a favorite of mine when it comes to visuals, but still Spirit Wolf is much better than the second game which was geared more to family entertainment. I do however love the Native American culture and look forward to unraveling the mystery that lays before me.
January 23, 2014
Summoning the Awesome
OK I dont review very often just because most people end up sharing my sentiments on those games in which I would even consider reviewing. However, this game is just too good to pass up. I have to preface this by saying I just finished the demo and of course WILL be purchasing, but this review is only on the first 60 mins of game play. I found the puzzles fun, and the hidden object scenes challenging enough without driving you bonkers. There is an interactive map, amulet (cool touch) that helps when coming across new symbols, and a diary. Also I found the binoculars function to be really neat, haven't seen that in any other game. I don't know how long the actual game is but from what I played its a nice pace. I have to say this is by far better than the last Myths of the World game (although I did like that one too it seemed at times to simplistic) and a tie as by favorite with the Myths of the World Chinese Healer. CE vs SE hasn't ever been an issue for me as 9 times out of 10 I never touch anything that comes with the CE i.e. concept art, wallpapers or achievements but I buy it because of length of game and time/bonus chapters. Again I would defer to another member on game length and bonus content since I don't know about either just yet. P.S. and by the way, as a Native American myself I found the game to be beautifully done, I found nothing offensive about it and I trust that this gets people interested in the culture ;) Well done!!!
January 23, 2014
Symbols, Myths, a Glowing Amulet and a Spirit Wolf! Fun!
Based on demo. You agree to help a friend at a Native American Cultural Center and when you arrive your amulet begins to glow. How mysterious! Then spirits arrive, including an elusive wolf spirit, and the game begins. This is the third game in the Myths of the World series. I like this series. I feel as though I'm an anthropologist with a new field of study each game. First it was China, then Scandinavia, and now North America and Native American culture. Each game feels authentic to me and I enjoy the immersion in another culture. This is a true CE. There are lots of achievements to earn and sun symbols to collect. The graphics are very good and make me feel as though I really am at an Native American Cultural Center. The VOs are terrific. The characters mouths move when they speak and the dialogue moves the story along. HOSs are silhouette and list type. I did find some of the objects difficult to locate due to the style of the graphics, but it's not overly distracting. You can opt to play a shooting marble game instead of playing the HOS if you want. The puzzles are of easy to medium difficulty. I think you will enjoy this game. It is fun and appropriate for the whole family.
January 23, 2014
Another great game from a top developer
BASED ON WHOLE GAME AND BONUS Exactly a week after the last wonderful game, comes an equally fantastic Collector's Edition from this developer. As ever with Eipix, the graphics are colourful and crisp and the voiceovers second to none with near perfect lip synching. The theme is Native American throughout, which is a personal favourite of mine. The music was suited to the game, suspenseful in some place and typically Native American in others. The teleport map is, once again, a piece of art by itself. There are no furry helpers here. You find tiles throughout the main game that fill your Amulet which is used to disperse spirits. There is a sun rune collectible to find in every scene and they are not hard to detect. The HOPs are a mix of the usual lists and silhouettes and I counted a massive 30 HOPs in the main game, with 5 in the bonus. Not all are full length HOPs, some of these are 'minis' with only 5 items to find. The puzzles weren't overly difficult - 32 in the main game and 4 in the bonus. You can play a bubble shooter game if you get tired of the HOPs. There are also 7 binocular puzzles. These are easier to do than the bow and arrow in the last game. The game took me around 5 1/2 hours with 1 hour 15 minutes for the bonus. The main game is finished off nicely and completely with the usual dramatic ending from Eipix. There is nothing overly scary here. However, in the bonus you use your Amulet to get rid of some animals that are mutations and they are not pretty. One was a Tarantula/Horse/Eagle. There are 7 mutations in all so if you don't like this, you may wish to wait for the SE. As ever, you have a souvenir room after playing the bonus to find an extra object in each scene. You can reply the HOPs from the Extras to try to earn all golden paws. The 'Making of' video is a bit of fun and Bonnie from the last game makes an appearance in this. Another fantastic game from this top developer. Highly recommended!
January 23, 2014
Must be a Wolf. It ain't no Dog!
An old friend has called you to help him sort out strange happenings last night at the North American Heritage site. As you travel there an amulet that has been in your family for generations begins to glow...just as strange symbols appeared at the Heritage Center and began glowing as well. You use your expertise in symbology to solve the mysterious events of the distant past that revolve around love and betrayal...and the epic myth of the wolf FUN FACTOR: Dan Brown and the Da Vinci Code meet Native American Mythology. This game is stunningly beautiful to the senses and will thrill you as you play. That Amulet that's been in your family proves to be an invaluable tool...And you'll find out how if you decide to play. No mystery here for me. Yes, this is a worthwhile game. I thought the FUN FACTOR was off the charts because: VISUAL/SOUND QUALITY: Visuals: Grand Canyon at night is a "cavalcade of color" with rich hues. The developers created something very special and the painters knew what they were doing. Sounds: From the first second of the Eipix (the developers) intro music you're immersed in sound. Both background and special effects are very well executed. Level of Challenge: HOGs: There around 25 HOGs. There are two types: regular HOGs and Mini-HOGs. The first is the usual "pick em" list. The second is silhouette matching (and no more than six items. Both formats are difficult. The most difficult I've encountered in game playing. The scenes are richly packed with items. It is NOT a junk pile. Items are very clear and distinct but they blend with the background so perfectly they are very difficult to see. Mini-Games: YES. Some brand new games for you to enjoy. There are approximately 20 mini-games and some of them you've never seen before. They range in difficulty from "do it with your eyes closed" to "I think I need the Strategy Guide." But, don't give in. You'll solve the puzzles. Look out for the one with the beads later in the game. The directions aren't perfect, but the gaming and fun is. Storyline: See above. This game is another great combination of HOG/GAMES/STORYLINE. If I tell you more than I did above I'll be taking away some of your fun. The storyline drives the game and it's very engaging. As a CE there are plenty of extras: 1. Achievements (including one that's good: finishing HOG without and over-clicking penalty). Now that's an achievement! 2. Re-playable AND BONUS HOGs. 3. Concept art, re-playable music, movies. 4. The Making of the game video. 5. Jump-to Map which indicates where you are, where you can go and reminds you of the task at hand. 6. A Bonus Chapter thats all about the amulet. The bonus chapter has around 10 HOGs and 3-4 mini games and is about 20% of the length of the basic game. 7. Integrated Strategy Guide (that includes a game play clock!!). I don't think there's a SE yet. I wouldn't wait for it. As always, I suggest taking advantage of the free hour of game play. While I very much enjoy the total immersive environment of this game, you may not. I just finished Stray Souls: The Dollhouse Story. Honestly, that game is much more along the lines of what I enjoy. It's dark and very scary. This is not. The quality is objectively very high for this game but it might not be frightening enough for you.
January 23, 2014
Love Myths of the World games...
This is a beautifully developed and great game next to what has been offered up lately. I beta tested it and gave it 5 stars then. The American Indian setting is great (at least it's not another haunted run down building). Some of you don't like the cutesy games but I enjoy them. I love the artwork and gorgeous scenery. This game is fun to play and you have several choices in playing. I love that it has a transport map. It has an amulet to get rid of glowing signs, binoculars to see far off, collectables, and achievements. So what's not to like? Some of the new games don't even have full-screen. As for me, I'm buying!!!!
January 23, 2014
Another Great Myths of the World
As the game begins you are on your way to help an old colleague, Jesse Whitecloud who runs the Center for Native Cultures. As an expert in the field of Native American symbolism, Jesse has requested your help with strange glyphs that have begun to appear around the center grounds. As you approach the center you notice that your amulet, a family heirloom, has begun to glow ? something it has never done in the past and you soon understand why Jesse is very concerned. Not only are there glowing symbols everywhere, but the mushrooms have grown to one-hundred times their normal size. What on earth is going on? The graphics are great quality and really very beautiful using the color palette of the American Southwest and Native American culture. The only complaint I have about the graphics is that at times the developer used a smoky mist that I believed compromised the clarity of some scenes. The sound package in Spirit Wolf is wonderful and one of the reasons that Eipix recommends using the sound in their games. The music includes the sounds of the Native American culture with drums and flutes adding to the overall ambience. You have a diary and a transporter type interactive map that are located on the lower left of your screen along with your amulet that you will use throughout the game to interact with the symbols that you find on your journey. There are various types of interactive HOPs, some are the standard list type and others are silhouette type. If you don?t want to search for items in the HOS you can change to a bubble shooter type game that is quite a bit of fun. It looks like this game has an equal number of each HOPs and mini-puzzles if I counted correctly. At least in the demo portion of the game the puzzles were not overly complicated or difficult but I am sure that they will become a bit more challenging as the game progresses. As with all EIPIX games we have tons of extras that contribute to the CE Content. Usually I don't care about the wallpapers but since this game has such awesome graphics I may actually use some of the wallpapers on my desktop. There are collectibles to find and achievements to earn, some of which will be used after you complete the game. All in all, this is definitely a CE worth adding to my collection. Because I have always had a deep interest in Native American culture, I knew this game would grab me and it has. It is a visual feast complete with all the sounds that I have come to associate with Native American culture. The story is very interesting and captured my attention from the beginning, and since I know the quality of games that come from EIPIX and the way their games can sweep me away to another time and place for several hours of immersive entertainment, I knew that this game would be a definite buy for me. As always, I recommend that you try the demo to see if Spirit Wolf is a game that you will enjoy.
January 23, 2014
A Glowing Amulet, a Spirit Wolf, and Giant Mushrooms!
This is the third in the Myths series and it doesn't disappoint. This time you are summoned by your friend Jesse to the Center for Native American Culture to deal with some strange happenings - glowing symbols, supersized mushrooms, and spirits. Of course you also have an amulet that begins to glow when you enter the grounds! Once you assemble your drum and beat it, the spirit Ayanna appears and asks for your help with Misu, the escaped wolf/man spirit. The entire game sticks to the native American theme, from the hint button headdress, to the graphics full of totem poles, to the spirits that appear. The HOS are interactive lists or silhouettes, and can be swapped for a bubble shooter. The mini-games all have Native American themes but are not too hard. You have an amulet that you add symbols to as you find them, which enables you to overpower the symbols on doors and other items. Some of the items you find require assembly with other items, like adding batteries to a flashlight. There are four modes, including custom. The achievement awards are dreamcatchers. There are 35 sun runes to collect, with a "sun sign" in each scene that lets you know if you've collected that one or not. You receive binoculars that let you focus in on distant scenes. There is a bonus game and a strategy guide, an interactive map showing areas with objectives, plus a sun path and souvenir site that cannot be opened until the game is completed. Of course there is also the normal CE extra stuff of movies, art, etc. This is a great game with a good theme that is followed throughout each part of the game. Try it and you'll see! I also recommend the two previous titles -- great games as well!
January 23, 2014
The Apple logo is a trademark of Apple Computer, Inc.