Mystery Tales: The Lost Hope Collector's Edition
Several years ago you suffered a tragedy. Your sister Margaret died. Margaret lived with her husband, Emmett, in a small little village lost in the mountains. After her death, Emmett, overcome with grief, disappeared from the town.

And now many years later, you have received a mysterious letter in which he invites you meet with your dead sister. You are so intrigued by this unexpected letter that you head to the village of Reagan, where your sister had lived and where she was buried.

Learn whether you will meet your sister and discover what mortal dangers you will face in Mystery Tales: The Lost Hope.

This is a special Collector's Edition release full of exclusive extras you won't find in the standard version. As a bonus, Collector's Edition purchases count toward three stamps on your Monthly Game Club Punch Card!

The Collector's Edition includes:
Learn the story of tragedy in the bonus chapter
Achievements, zoo and interface shop
Re-playable hidden object scenes and mini-games
Soundtracks, wallpapers and concept art
Game System Requirements:
OS:

Windows XP/Windows Vista/Windows 7/Windows 8

CPU:

1.6 GHz

RAM:

1024 MB

DirectX:

9.0

Hard Drive:

1286 MB
Game Manager System Requirements:
Browser:

Internet Explorer 7 or later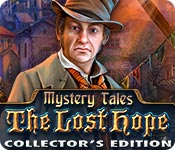 The Big Fish Guarantee:
Quality tested and virus free.
No ads, no adware, no spyware.

Reviews at a Glance

Mystery Tales: The Lost Hope Collector's Edition
0
out of
5 (
0
Reviews
Review
)
Customer Reviews
Mystery Tales: The Lost Hope Collector's Edition
55
55
5 stars game!!!
I've enjoyed this game very much. The storyline was great, the graphics extremly good and the music was nice. HOS were fun and you can switch to puzzle or match3 and I like it!!! The mini games were challenging and some of them unique. I hope to see more of these games.
January 27, 2014
Great Game!
The graphics were so outstanding in this game that I caught myself just gazing at the scenes to appreciate such details and color. Everything seemed to be well developed. I liked having the option of HO or puzzle. Mini games were pretty easy but ok. A lot to do with picking up different animals for the zoo and then picking up crystals to animate the animals. You get coins also to buy upgrades and you earn some simple achievements. All to make it more CE worthy!
January 25, 2014
Awesome gameplay!
Really enjoyed this one. If you love hidden object games then this ones a must. So many good games coming out right now. Please keep them coming!
February 2, 2014
Lovely, wonderful, beautiful game!
Oh wow, what a great game this is! It's so incredibly beautiful, you just have to keep on playing. I found myself all the time gazing at the wonderful scenery, or stop playing because I just wanted to listen to the lovely music. There is loads to do in every scene, and there are a ton of locations, they just keep on coming. Good thing there is a jump map, because there is a lot of to and fro, and the layout is not Always very simple, but I have to say that I honestly loved that. Makes the game more interesting. The storyline is told in a very cool way, loved the dossier, making clear who where the good guys and who where the bad. The HOS and puzzles are very well done, LOVED being able to switch to jigsaw-puzzle, loved how you opened the wallpapers with that feature. So, I see I have a lot of love for this game :) Just try it, I'm sure you'll be enchanted by it too. Have fun!
January 31, 2014
Excellent Game!
The CC edition was well worth the money. Beautiful story, great graphics, interesting and different mini games.
April 3, 2014
Dead People Walking
It is certainly refreshing to take on the role of a male hero which will definitely please some gentlemen users out there. Our tale today begins with a cryptic letter from your brother-in-law. Years have passed since the tragic death of your sister who once upon a time ago lived with here husband Emmet in a little village called Reghin. The letter requests your immediate visit along with the invitation to meet with your sister, which is rather chilling news. So off you go to the town of Reghin where your adventure begins and it looks like it involves dead people walking. Alchemy, murder and the supernatural all play a role and so far the demo certainly delivered a most thrilling time. The graphics are sharp and I really liked the artwork, hand drawn scenes with using vibrant colors that actually camouflages the sinister elements within the game. You don?t have the dark and dreary tones here but you do have the cartoonish quality of the graphics which makes the game appear less threatening. You have three levels of difficulty to choose from as well as the option to customize your settings according to your own preference which is a huge plus for me. Your tools include a journal and files, a map that allows for travel as well as indicates areas of interest. The map actually is a huge help since I discovered that there is a lot of backtracking involved in the game. This is a standard HOPA game with the usual inventory list of items to locate, hidden object games to play and puzzles to solve. Hidden object scenes are also very standard, a list of items to locate with some interaction involved. The surprise is the choice to play a jigsaw puzzle instead which was an interesting alternative and will ultimately make the game longer. I enjoyed some of the mini-games that I came across, although I found the directions could have been better, games were well conceptualized and actually some were even challenging to solve. As for extras, you do have a couple here that may peak at your interest, you have collectables such as gold coins, crystals and zoo animals which made me scratch my head. With you coins, you get to purchase crucibles and panels which unfortunately I have no idea what they are for or why I need to go to the shop to buy them. I suppose I will find soon enough. Then there is your set of achievements to earn as you play. Surprisingly enough I really enjoy the demo and found many hidden challenges involved in the game play. It is not as easy as it looks and I did manage to get stuck in a couple of places. Although there isn?t anything new or innovative about this game, the story certainly deserves to marks as I a eager to find out just who is our villain and is my sister actually alive. Not an outstanding game but certainly a game well worth the extra coins and time and besides, something tells me that zombies are part of our storyline and who doesnt love the walking dead?
January 25, 2014
Interesting Twists**
BASED ON DEMO FIRST IMPRESSIONS Looks interesting from the start, even though it is not a wildly exciting beginning. The graphics of the cut scene are very nice, easy on the eyes and good quality, and the voiceover is excellent. The story is a familiar one, with an interesting twist. Although you are once again going back to a town of sorrowful memories to aid a friend, he also wants you to come so you can see your (dead) sister!! SIGHTS & SOUNDS The graphics are a tad busy at times, but you certainly can?t fault the detail in this game. The art is hand painted style, with plenty of colours, but running to browns, and sometimes a little dark. The HOP objects are easy to see. The voiceover of the narrator is excellent, I was very impressed. Then came a young girl, always it seems the hardest voice to get right, and she was excellent as well. Lip synch is not attempted, but the faces are keen and lively and focussed on you, so I felt it quite real. WHAT?S HAPPENING? Well, who would not answer an invitation to visit your dead sister! Certainly not intrepid adventurers like us. When you arrive at the village, however, there are some immediately disturbing signs. There are people dead and missing, your brother-in-law?s been blamed for the crimes, and everywhere seems deserted. There are strange things happening to the townspeople, which has something to do with a strange and evil green light. You didn?t think it would be easy, did you? GAMEPLAY Gameplay is quite refreshing. Both the puzzles and the HOPs I encountered were a notch above the usual level of difficulty, and some of the puzzles were very original (and more difficult) twists on games we know. The HOPs so far have been interactive lists, but you?ll notice how many of the items on the list are things that are out of place in the scene. A pot lid, for example. I believe we will return to these scenes at some point to replace them in the correct spots. I love this combination of HOP tasks. Or you can switch to an easy but enjoyable jigsaw alternative to the HOP, where placing 4 pieces removes 1 item. I don?t think anybody will find the adventure side of things too difficult, but it is a bit tricky on occasions too. But the flow is logical and well-paced. There is an interactive jump map for directions if you need it, and a directional hint. There are 3 mode of difficulty plus a custom level. There is also a journal, which keeps track of the story, and a Dossier which gives details on the characters you meet. CE BLING! Another twist in the gallery. The wallpapers are in sepia and locked until you play that scene, at which point it turns to colour. Nice. There is also a fair bit of Concept Art, and Music. There are replayable HOPs and Puzzles. A Strategy Guide and a Bonus Chapter. Additionally, there are Achievements (both types, story and performance, in a list) and Collectibles. The collectibles are 10 exotic animals, their statues can found in the locations. In your zoo, accessed from journal, you can use crystals you?ve collected to transform them to life. The other collectibles are the crystals, and coins which can be used to buy decorations for your Crucible, an alchemical gadget that acts on objects that are glowing green. There are also decorations for the Inventory Panel. Cool! COMBINED IMPACT Apart from the story being a little slow, and a little brown, I have no criticism of this game. While not overwhelmingly exciting, I think it is building to a pleasant stroll through a game that adds its own twists on familiar concepts.
January 25, 2014
I don't get it....
Yesterday, I got this game to beta test...and today it is released? What was the point? Clearly they were not trying to elicit feed back...possibly looking for rave reviews that could be used on the site? But, I will tell you what I told the devs....I liked it, with some reservations. The extras are very nice and there are a lot of them. The graphics are beautiful, some ambient sounds and VOs good, and the game play flows smoothly along. It's just that some things really bugged me...I thought some of the story was really silly; some of it was window dressing to stretch out the game. (Why does the guy tell us to meet him in the cemetery, then plant a big green monster in our path?) I also failed to understand the green jug of chemicals, as it never seemed to do the same thing twice...what the? Parts of the background noise I found especially irksome. Every time you run you cursor over a door, it makes a loud opening and closing sound. Some of the mini-games also have really irritating sounds (the oven, in particular). I liked the switch to jigsaw option, but the M3 game was horrible...really slow. Overall, I would recommend this game just for the extras, but I can't see it making a good SE. 3.5 stars
January 25, 2014
Fun HOGs and puzzles!
Again, I ran the demo in the casual mode to get the feel of the game and game play. I'm not familiar with this dev, but that doesn't mean much. The graphics weren't bad, a bit monochrome in color, which is tiring on the eyes. Cut scenes were a bit fuzzy, but that seems to be the norm these days. Otherwise, the graphics were quite clear and nice. Game play was good, but a little slow when moving from one scene to another. Music got old very quickly, so I turned it down. Locking inventory bar, so you don't constantly have it jumping up and down. Voice overs were nice, but few and far between. Not much in the way of sound FX either, very disappointing. The "whip" sound you hear each time you find something gets very annoying as well. SG is the usual. Hint system is helpful and fills at the normal rate as any other game. Jump map is useful and locations are well identified. HOGs were a bit messy, but fun in that you can switch between straight HOG to a jigsaw puzzle #I'm a major jigsaw puzzle person, so I loved this part#, then the HOGs switch to "place me where I belong" and a match 3 jewels. This is nice...you don't get bored with the same old stuff throughout the game. Yes, you do repeat the same HOGs, but they switch out how they are played. Puzzles are not difficult, but a few take some time and thought to complete and are fun. I liked that there were multiple things to do and look for in each scene, rather than run around for one here and one there. You do repeat the same area multiple times, but your time is better used when you do. There are a lot of achievements, so you are on your toes throughout the game. There isn't really much instruction as to what you are to do with the coins, jewels or animals once you get them, but you can figure it out. Coins are well hidden, jewels are fairly easy to find, as are the animals. The only thing I really didn't care for was that I read faster than they speak, so when I click on the "click to continue" button, I expect the next phrase to come up, not skip the entire dialog, which happens most of the time. Other than that, I did find this game interesting. Nothing new in the story department, but the HOGs and puzzles were fun. Not sure this is CE worthy at this point, so for now, it goes in my puddle for a second thought. As always, try it for yourself and see what you think. We all have different tastes in games and you may not care for this one at all. Thanks for the reviews.
January 25, 2014
Beautiful Artwork with Lots to Do!
If you like to keep busy, this is the game for you. Reminds me of the Puppet Show games. Artwork is very detailed and amazing. Wallpapers are interesting in black/white. No morphing objects but you collect coins/gems to purchase items in your shop. You also search for exotic creatures for your zoo--like the minotaur. Gamer can choose to work the hidden object scenes or switch to a puzzle. Game can be customized to fit your level which I would like to see in every game. Puzzles - 22; HOS - 26. There's puzzles, hidden objects, searching for other times mentioned above in every scene so the game will keep you busy with lots of variety. Enjoy! -Mama Mia-
January 25, 2014
The Apple logo is a trademark of Apple Computer, Inc.