Mystery Tales: The Lost Hope Collector's Edition
Several years ago you suffered a tragedy. Your sister Margaret died. Margaret lived with her husband, Emmett, in a small little village lost in the mountains. After her death, Emmett, overcome with grief, disappeared from the town.

And now many years later, you have received a mysterious letter in which he invites you meet with your dead sister. You are so intrigued by this unexpected letter that you head to the village of Reagan, where your sister had lived and where she was buried.

Learn whether you will meet your sister and discover what mortal dangers you will face in Mystery Tales: The Lost Hope.

This is a special Collector's Edition release full of exclusive extras you won't find in the standard version. As a bonus, Collector's Edition purchases count toward three stamps on your Monthly Game Club Punch Card!

The Collector's Edition includes:
Learn the story of tragedy in the bonus chapter
Achievements, zoo and interface shop
Re-playable hidden object scenes and mini-games
Soundtracks, wallpapers and concept art
Game System Requirements:
OS:

Windows XP/Windows Vista/Windows 7/Windows 8

CPU:

1.6 GHz

RAM:

1024 MB

DirectX:

9.0

Hard Drive:

1286 MB
Game Manager System Requirements:
Browser:

Internet Explorer 7 or later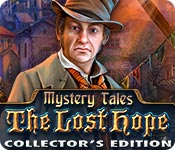 The Big Fish Guarantee:
Quality tested and virus free.
No ads, no adware, no spyware.

Reviews at a Glance

Mystery Tales: The Lost Hope Collector's Edition
0
out of
5 (
0
Reviews
Review
)
Customer Reviews
Mystery Tales: The Lost Hope Collector's Edition
55
55
Supercalifragilisticexpialidocious!
You know how much I appreciate out of the box thinking, so thank you devs for all the extras on this game! There are zoo creatures to find throughout the game, nothing special right? Wrong, find hidden crystals and use those crystals to "transform" your creatures and bring them to life. There are also coins to find and there is a shop that allows you to upgrade your panel, something I have never see done before. You can upgrade the inventory panel, the journal and even the alchemist crucible you receive from Emmett. There are plenty of achievements, some achievements unlock wallpapers. That's just the beginning folks, there are a ton of mini games and a lot of them are either brand spanking new or twists on older games. I liked the bridge puzzle where you had to flip over boards with 6 different levers until you completed the picture. The HOS were interactive list finds and you could opt for a jigsaw puzzle instead. The story is good, you are summoned to your childhood town of Reahin by your best friend Emmett who claims that his wife is no longer dead! Green demons are wreaking havoc on the town and the few citizens you find are blaming your friend Emmett. Hope is not lost, is it?
January 25, 2014
Green skeletons, zoo animals, a chained up Annie!
I played the beta of this game and it is sooooo much improved from then. There are so many things to do you can't get bored! You receive a letter from your brother-in-law Emmet, 5 years after your sister's death who implies she is alive. So you drop everything and go to the town of Reghin, where all the people seemed to be zoned out and controlled by some green skeleton heads. You also discover Emmett is known as the Alchemist, and is suspected of murdering 5 people including the mayor and the doctor. You find Emmett's little sister Annie chained up in a tavern, and eventually you run into Emmett who says he has some unfinished business to attend to, but gives you his alchemist's crucible for help with the enchanted "green" items. Whew! There are 18 achievements to earn, 10 zoo animals to find and transform (like Pegasus, Phoenix, and Cerberus), coins to find and spend on decorating your crucible and inventory panel. plus a bonus chapter, strategy guide and the other CE goodies. The HOS are either lists, for which you can substitute a jigsaw puzzle , or "insert the item", which you can substitute a Match 3 game for. The mini-games are fun -- some are a bit hard. You get a journal, a dossier of the key players as you find them, and an interactive jump map which shows where active areas are. The four modes of play, including custom, show satisfy all. This is a great game from a new developer. Try it -- it's fun!
January 25, 2014
What fun!
I just finished this game and loved every minute. I think it is well worth the money. I played on the casual level. Even though the games were not highly challenging, they were just plain fun. The map is excellent and I always appreciate when it allows you to be teleported to your next area of interest. Of course, you might decide not to use it or the hint button. The length was long or, at least seemed so. I played off and on today in between running errands Looking for collectables and being able to use them in a couple of ways, added to the enjoyment. Also, it had a good story line and I loved the way information was provided for each character as the game progressed. The HO's were varied in that at times you had to look for objects, place objects in the scene, etc. The graphics I thought to be excellent. I have to admit that, on occasion, I could not find or place that one last object. Don't you hate that? Strickly my fault and I found myself switching to the alternative play (match 3, or place pieces into a puzzle). I had promised myself I would not resort to that. <g>. I have not, yet, played the bonus chapter but am looking forward to doing so. A higher level of challenge was given because you are allowed to change this level during the game and can adjust this at will. I highly recommend this game.
January 25, 2014
Fabulous and Fun Hidden Object CE
Based on the demo. This game has everything. The Voiceovers are well done. The soundtrack is extraordinary, beautifully orchestrated, professionally done. The visuals are beautiful and detailed, using brilliant colors where appropriate and muted colors when needed. The game begins with the brother in law asking the player to visit him and the player's sister, Margaret, who just happens to be dead. The hidden object scenes are moderately easy, as are the fun and entertaining mini puzzles. The player can opt to do a regular puzzle instead of a hidden object scene. There is a map, a journal, and a strategy guide. Achievements include completing a mini game in less than one minute, completing 3 mini games in a row without skipping, completing a hidden object scene without a hint, and completing 3 hidden object games without a hint. This hidden object adventure is the real deal: entertaining, fast paced and a lot of fun.
January 25, 2014
This Game Totally Enthralled me
Your brother-in-law sends you a letter asking you to come to your childhood home where you met your now-deceased wife, promising to meet with you and your deceased wife. Hmmm. So off you venture in your horse and buggy and arrive in town to find mostly everyone gone and a green creature wreaking havoc. The people who are still alive tell you your brother-in-law (Emmett) is behind the murders. Score one in my book for the creepy storyline. HOS are list and interactive. If you choose, you may play a puzzle instead. I really enjoyed that touch. Puzzles were interesting, some very new. Most not difficult, but fun to do, and I am not a big puzzle fan. You get 4 modes of play including custom which I love. There are collectables such as coins to upgrade your panel (which upgrades the alchemist box Emmett gives you, your inventory and other things). You can also collect crystals to spend at the zoo (this one perplexed me... a zoo??). These crystals will bring your animals to life. I found the game to be challenging. More out of the box than the usual games we see and I applaud the developers for that. I love non-linear thinking. The graphics were perfect for me. Painted, bright. There are no voice overs with the characters. Short dialogue to read instead. I saw in some spots that English did not appear to be the native tongue of the writers, but I can overlook that. This is one of the best games I've played in quite a long time. I definitely recommend.
January 25, 2014
great game and puzzels! what more can I ask for
I enjoyed this game and particularly loved that I could switch to solving puzzels rather than finding things. when I am not playing big fish games I am working on puzzels so what more can I ask for. the story line is interesting, great map and hint button this will be a buy but probably when the regular version comes out. unless I need a collectors for a free game I don't care about extras so don't buy collectors too often. when the regular version comes out this will be a buy for me.
January 25, 2014
Mystery Tales: The Lost Hope Collector's Edition
Money well Spent!!! There is so much I want to say about the game and none of this is negative. For start I love the fact that you can decide whether you want to play the HOS or a puzzle to get the item you need! The length of the game was very good. I've lost track of time because I was so involved in the game. But I think it took something about 6 hours. There were 4 levels of difficulty to play. The puzzles were not too difficult but enough to give you a little challenge. The music was good and the story line good also. The graphics was outstanding one! There is a map that lets you jump from area to area so not to back track to much a good thing to have in a game like this. Altogether the game was great. A must buy in my opinion and well worth the money spent.
January 27, 2014
Absolutly amazing game
The graphics are fantastic. Everything is detailed and wonderfully done. The level of challenge is very good. The puzzles are not easy and not very difficult. They are just right. You can choose between three playing modes or custom your own difficulty more. The HOS are well done and there are two types of HOS in the game. Usual one and insert the item. You can substitute this HOS with jigsaw puzzle and match3 game. You can collect crystals, coins, animals while you are playing. And also you can decorate your UI and make animals alive in the zoo. I really like the last! The developers made a great job and I can't wait to see other their games!
January 27, 2014
Mystery Tales: The Lost Hope Collector's Edition
I liked playing this game and there wasn't much horror in it and that makes a change for me
January 27, 2014
This is a 5 star plus game for me
This is a 5 star plus game for me. It has all - great graphics, story line, voice overs, interesting puzzle and HOS. It is the game that everyone who likes HO games should have in his BF library for sure.
January 27, 2014
The Apple logo is a trademark of Apple Computer, Inc.