Amaranthine Voyage: The Living Mountain Collector's Edition
Exclusive
A brilliant but misunderstood professor, you've been to the Tree of Life, and lived to tell about it. Only no one will believe you. Your students have even begun to make fun of you… Until an elderly gentleman shows up at your door, and your whole life changes once again.

Are the Three Stones really a portal to another world? Find that out and more as you follow your colleague's trail to track down the truth of his strange disappearance. Explore beautiful, strange worlds, and watch out for surprising twists that will leave you wondering. If the tiara fits…

This is a special Collector's Edition release full of exclusive extras you won't find in the standard version. As a bonus, Collector's Edition purchases count toward three stamps on your Monthly Game Club Punch Card!

The Collector's Edition includes:
Play the bonus game to bring back the Sun Diamond!
Find collectible dog biscuits and flitting fairies!
Get soundtracks, wallpapers, screensavers, and concept art
Read more in the Lore Book
Use the available Strategy Guide
Game System Requirements:
OS:

10.9/10.8/10.7/10.6

CPU:

1.4 GHz (INTEL ONLY)

RAM:

1024 MB

Hard Drive:

1432 MB
Game Manager System Requirements:
Browser:

Safari 4.0 or later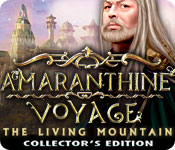 The Big Fish Guarantee:
Quality tested and virus free.
No ads, no adware, no spyware.

Reviews at a Glance

Amaranthine Voyage: The Living Mountain Collector's Edition
0
out of
5 (
0
Reviews
Review
)
Customer Reviews
Amaranthine Voyage: The Living Mountain Collector's Edition
59
59
Outstanding HOG
This game had different types of hidden object games that I enjoyed. The graphics were exceptional and the interaction was terrific. I really enjoyed playing the demo and will definitely purchase the full game. I highly recommend this game, however I did play it on the "casual" setting.
January 16, 2014
fun
loved it exciting and cant wait to buy it
January 16, 2014
Great game...fun extras!
I had somehow missed this installment of Amaranthine Voyage, so decided to catch up! This is an all around great game, with inventive puzzles and graphics. I particularly liked the extras in this one, particularly going back to each scene to find "souvenirs" and being able to collect items missed in the regular and bonus play.
August 28, 2014
WORLD CLASS GAMEPLAY
SUMMARY: Flawless gameplay; outstanding graphics and color palettes. Well thought-out story development and exceptional production values. Lengthy game with plenty to do and see. A nice day of exciting gameplay. GAMEPLAY: Immediately grabs and holds your attention. Superb artistry - full of color. Special effects are outstanding. Voice overs are terrific; music is compelling; lots of HOS (list and silhouette; very detailed and not too crowded, with nice color palettes); fun and interesting puzzles (wide variety of difficulty). Play bubble shoot instead of HOS if you want. BASICS you get: map with objectives and active areas (you can turn off); journal; 3 standard plus one customizable difficulty mode (turn on/off only those aspects you want, including time sets for hint and skip recharges); hint shows snapshot of where you should go; helpful messages. Helper dog (but he won't dig, only fetch). CE includes achievements; collect fairies, souvenirs and dog biscuits; making of; pictures of process of drawing characters, et al.
March 17, 2014
Relaxing fun
This is a game for fun. It's relaxing in easy mode but there are several modes to choose from and it could get very complex. The story line is clear and easy to follow. The characters are good with some more bad than others. I loved the artistry, it is light and clear with no dark and gloomy places. There's a little dog to help you and you can be transported to different scenes with a map that will tell you if there is something to do somewhere else. Most of the time you can sail through the game achieving on your own with very little need for hints. I have enjoyed it.
January 25, 2014
Well, yes but...
My review is based only on the one hour demo. Graphics were lovely though they became less sharp during cut scenes. I found the HOS easy and fun and appreciated that in the "find the silhouette" scenes the action moved from one part of the scene to another. Nice touch. Refreshing also is the ability to play a bubble-shoot game instead of finding hidden objects. Plenty of achievements to accumulate and finding dog biscuits and fairies is fun albeit distracting from the action. I appreciated that the inventory could be locked and that the hint button opened a portal where appropriate. Another interesting touch is that at the end of the pre-set trial you're given a "coming attractions" cut scene of what to expect if you purchase the whole game. Sort of a commercial for the game within it. No doubt you've already seen plenty of explanations of the plot points so I'll get to the point of why I didn't give the game 5 stars and why I may not actually buy it... PLEASE NOTE THAT THE FOLLOWING APPLIES TO ***ALL*** GAME DEVELOPERS AND IS MEANT AS SUGGESTIONS FOR FUTURE GAMES. I've played many, many of these games and frankly I?m longing for more realism in them! For example, if I start out with a knife in my inventory why on Earth would I ever discard it, and why can't I use it to pry up a loose floorboard instead of hunting for some other item specifically meant for prying up floorboards? If I come across a broken glass why can't I use that same knife to remove the glass instead of searching for a glove or a scarf or the fluffy wool of a passing alpaca? Another example - why must I hunt for brooms or feathers or such things to brush away cobwebs that I could easily remove with my hand? It's ludicrous to think that the brave heroine who faces murderous antagonists and goes through portals to who-knows-where is too prissy to wipe away a cobweb with her delicate, manicured fingers. Come on, developers - the point is that you all seem too intent on filling up the games with objects to manipulate rather than choices to make and mysteries to solve. Another distraction for me is the constant running from pillar to post #often literally# to find these endless, silly objects. This breaks the mood of the game and distances my involvement. I find that endlessly hunting for pieces of thingamabobs that I have to insert into the whatever-it-is makes playing the game TEDIOUS! And while I'm complaining about factors that appear over and over and over again why is there always "someone missing" that the player has to find? Can't you guys come up with any other reason for the action of a game to begin? Please don't get me wrong - the structure and atmosphere of this game is LOVELY and WELL DONE ? but ::yawn:: the action is just same 'ol, same 'ol. Seems as though both developers and players have fallen into a ?formula? and I?ve played that formula too many times. I never seem to have to use my MIND to solve a mystery or truly affect the outcome of a game. All I have to do is find the talking unicorn, pick up the pieces of that magical whoozis and I?m guaranteed that I?ll arrive in time and all will be well. Why not program a game where the outcome is NOT automatically guaranteed to be ?and they lived happily ever after?? It would make players far more invested in the story if it played out more realistically and if our actions and decisions actually affected the outcome. Food for thought?
January 16, 2014
Marry a Treacherous King to Save the Kingdom!
Based on demo. To help an old man find his son, you travel to a fantastic kingdom. Your arrival fulfills a prophecy and you discover you are to marry the not-so-nice king! Not exactly the perfect marriage. This is the second game in this series from Eipix developers. I didn't play the first game, but from the demo it appears you don't need to---this game can stand alone. The devs did a top quality job. The kingdom is beautiful and enchanting. And the VOs are great! The characters mouths move when they speak and that adds a lot to the game in my opinion. Static characters are such a distraction. The graphics are great. Nicely imagined and well executed. This is a true CE with achievements to earn, dog biscuits to find, and fairies to collect. These extras make a CE worth the money. An interactive map and journal help guide you. The HOSs are silhouette and the standard list type. The puzzles are easy to medium difficulty. The cut scenes are well done and add to the story. And best of all, you have a puppy friend named Bonnie who is always there to be your best friend. I love animal helpers! This game is not fast paced. There is a leisurely quality to it that makes it perfect for all family members. Nothing too scary or difficult. I enjoyed the demo and will buy the CE.
January 16, 2014
Beautifully Drawn!
A very well developed game with beautiful graphics and good background music along with good sound effects. It's great when you have a choice between the HOP and bubble shooter to kind of break things up a little. You collect dog bones and earn achievements. Not one of the most exciting games I've played but enjoyable.
January 16, 2014
THE VOYAGE CONTINUES!
This review is based only on the hour free trial; however, I had to stop and purchase before I got to the end. It is a visually beautiful HOG, with lots of extras to pique interest. I especially appreciate the addition of a map, so if I get a bit stuck or distracted, all I need to do is refer to the map or get a hint. Even the map is interesting to me in that it is instructive, but also helps with the "treat" quest. Easy to follow but challenging enough to carry through. I don't give a summary of a game; one can see that before the download. I surely enjoyed the story and can't wait to continue the journey. A definite yes for me!
January 16, 2014
I Can't Wait To Buy This One! But Which Version Do I Want?
Oh, Eipix, you've done it again! It seems no matter what you do, you always find a way to make me enjoy it. At first, I thought this was going to be your average boring HOPA, but it's anything but! As I played through the demo, I got more and more hooked. I can't wait to play this one. The story is good, but not great, given that it starts off fairly weak. The weak start almost made me give up, but I played through, because I know stories can get better as you go along, as this one did. To be honest, the story was weak through the demo, but when I got to the end, there was a twist that I really did not see coming! I thought I had the story all figured out and I thought I knew what I was going to have to do, but I was completely wrong! That twist just makes me want to play on and find out what happens next! Credit to the developers for such a great twist that turned an otherwise boring story in to a good one full of surprises. The gameplay is good too and, as always, was enjoyable. The HOS were fun, as were the puzzles. There are two types of HOS: Silhouette and Junkpile. Both are fun and both are fairly easy. The silhouette scenes are divided up in to three parts, thus giving me the feeling that they are longer. The HOS differ in some way because at the end of them there is a riddle relating to one of the objects left in the scene, and that is your inventory item. Although the riddles were extremely easy, I enjoyed solving them. The way the HOS are better than most is that you have the option to play a marble popper type game (think Luxor or Zuma) in place of finding Hidden Objects. Every time you make a three-ball combo (with one of the ?special? balls included), an item is erased from the list. This is a great alternative for those who aren't crazy about HOS. As I said, the puzzles are enjoyable. Although I wasn't able to solve a lot of them (I think I solved one in the demo), I enjoyed attempting them and trying to figure out what to do. The puzzles are fairly old, so experienced players will be able to solve them easily. The puzzles have clear instructions, so I knew what to do straightaway. In this game, we have an animal helper in the form of a dog named Bonnie, who we meet early in the demo. She is the missing pet of one of the other people in the game. Her job is to reach things that are in small spaces. She is not used often, maybe twice in the demo. We also have the use of a bow and arrow, which is picked up late in the demo. It is used to reach things that are in high places and out of our reach. Accompanying the bow and arrow is a minigame. You have to aim for the target, and if you are accurate, you get the item. This was used once in the demo, but was enjoyable. Other than those things, this is your average HOPA with all the features (journal, map, etc) that HOPA players are used to. I would recommend this to beginners because it was fairly easy. The graphics are good. They're really clear, well drawn and detailed. The character designs are really good. They look a lot like real people. In general, each scene was clear. The voice-overs were standard, with English accents for the most part, and some American accents. I have no comment on them. FEATURES 4 modes of difficulty: Casual, Advanced, Hardcore and Custom. Difficulty can be changed mid-game. I don't particularly like Eipix's Custom settings, so I played Casual. Hint/Skip- both recharge incredibly fast for their difficulty. I hardly have time to attempt the puzzles before the Skip charges. The hint is useful outside HOS. Sometimes it will allow you to teleport to your next location if it is far away. Journal- Keeps track of events. Map- The map is interactive and very helpful. It lets you know where your next task needs to be completed. Bonnie- your animal helper in the game. She isn't used very often in the demo. She is used to retrieve things in small spaces. Bow and Arrow- this is kind of similar to Bonnie, except it is used to retrieve things in high places. CE EXCLUSIVES Strategy Guide- useful for puzzles. Bonus Chapter- unsure if needed. Achievements- the majority of them are gameplay based. Collectible Dog Biscuits (48)- There is usually one in every scene. The map also lets you know where there is a dog biscuit to be collected. Wallpapers Concept Art Photos Replay Movies Replay HOS/Puzzle Something called ?Biscuit Hunt? (unlocked after completing bonus chapter) Something called ?Souvenir Room? (unlocked after completing bonus chapter) Something called ?Lore Book? WHICH IS THE BETTER BUY? The CE has a lot of extras, but I'm not really the type for achievements/collectibles. I'm personally unsure as to which would be the better buy, but it's clear that Eipix have put a lot of effort in to the CE. I'm really stumped on which version I want to buy. For those that like CE Extras, the CE is for you. Overall, I really liked this game. I'm definitely going to buy it, but I'm unsure on which version I want. The CE definitely has a lot of extras, but I don't think I like the game enough to get the CE.
January 22, 2014
The Apple logo is a trademark of Apple Computer, Inc.
The Windows logo is a trademark of Microsoft, Inc.