Mystery of the Ancients: Three Guardians Collector's Edition
Exclusive
Uncover the secrets of Green Hill in Mystery of the Ancients: Three Guardians! After receiving a frantic call from your niece, you arrive in Green Hill to discover that things have really gone to the birds. A flock of mysterious crows has been terrorizing the town, attacking citizens and causing them to vanish in their tracks. But they're just the hired help. A strange man in a feathered cloak has a vendetta against your niece's boyfriend, and he'll stop at nothing to clear his path to revenge. Can you uncover the secrets behind his feathered fury and rescue Green Hill before it's too late? Find out in this gorgeous Hidden Object Puzzle Adventure game!

This is a special Collector's Edition release full of exclusive extras you won't find in the standard version. As a bonus, Collector's Edition purchases count toward three stamps on your Monthly Game Club Punch Card!

The Collector's Edition includes:
In the bonus game, the Dead King's crown corrupts an ally
Screensavers, soundtracks, and concept art
Collectible figures from the game
Available Strategy Guide
Game System Requirements:
OS:

Windows XP/Windows Vista/Windows 7/Windows 8

CPU:

1.6 GHz

RAM:

1024 MB

DirectX:

9.0

Hard Drive:

1480 MB
Game Manager System Requirements:
Browser:

Internet Explorer 7 or later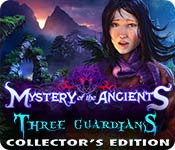 The Big Fish Guarantee:
Quality tested and virus free.
No ads, no adware, no spyware.

Reviews at a Glance

Mystery of the Ancients: Three Guardians Collector's Edition
0
out of
5 (
0
Reviews
Review
)
Customer Reviews
Mystery of the Ancients: Three Guardians Collector's Edition
95
95
Very enjoyable!
Great graphics, well done and interactive HOS, easy but amusing puzzles, collectibles diffcult to spot, backtracking and good lenght. Very very good!
February 20, 2014
A Really Good Game ...
Great Graphics, Sounds, Voice & Video Bits ... The Voices Were Very Well Done ... I Thoroughly Enjoyed This Game, Perhaps With The Exception Of The "Dot-To-Dot" Puzzles After A While ... Also Had A Bug Or Two, But These Were Fixed By The Update Without Having To Start Again ... Definitely A Must Of Your Shopping List For This Year ... The Extra Chapter Was A Nice Conclusion, But Perhaps A Little Short ... So Wait For The Bargains And Make Your Purchase ...
February 8, 2014
Almost an Excellent Game
Alfred Hitchcock would have had a field day with this game. A Murder of crows, missing people, an evil sorcerer and an old legend that comes to life as you uncover the secrets of Green Hill. Your adventure begins with a frantic call from your niece whose boyfriend has gone missing. You arrive in Green Hill only to discover that crows are terrorizing the town, attacking citizens and causing them to vanish. A sinister man in a black feathered cloak is behind all this and he is on a path to vengece so have fun with all of that. The graphics are stunning, very good artwork and animations, sharp resolution and great sound effects. It shows that the developers have put tremendous work into the sound and visuals, all enhancing the game experience. You have three settings for difficulty but unfortunately you need to set it at hardcore in order to get rid of all glints and sparkles. There seems to be a tad too much hand-holding in this game and the level of challenge is low. A standard HOPA with hidden object scenes that require you to take action with objects and unlock puzzles within the scenes. There are a variety of mini-games but alas, most of them were quickies that really dont require too much effort on your part to solve. There is alot going on, backtracking is involved and you have your classic adventure going on as you pick up clues along the way. Your tools include a journal which also has film reels to review, a map that will allow for travel and indicates areas of interest. You have your mystical amulet which you will need once you find all the parts of the missing crystals. There are 34 squirrels to collect throughout the game along with 9 figurines as well; all very easy to find. There is also a list of achievements to earn. Visually I loved everything about the game hwever I found the gameplay just too easy and predictable. Still, great effort has been put into technical effects and the story, a bit of a fairy tale does carry itself. It isnt anything we havent seen or done, but then that seems to be a rare thing these day where games are concerned. A solid four star game with alot to offer and as I did only played the demo, I think that it will be a favorite amogst those who enjoy the storybook tale of the three guardians. I just wish there was a bit more punch in the gameplay which is really why I cannot wholeheartedly give away the extra star. To be honest I found the game all together a bit forgettable but perhaps enjoyable for the here and now.
January 30, 2014
REALLY GOOD FUN
I really enjoyed this game and there is lots to do. You have: * Voiceovers; * Casual, Advanced and Hardcore modes of play; * Interactive map; * Achievements board [there are 10 of them]. You also have to find: ~ 20 puzzle pieces; ~ 33 squirrels; ~ 9 collectors; ~ Pieces of the amulet to kill demons. I played in Hardcore throughout the game and bonus. The hidden object games are interactive [and there are even mini-games within them as well]. Its easy to see everything and they are not hard to play. You find one object to use to find another object, etc, etc. There are also straightforward HOS as well. There are many mini-games to play and once again they are very easy. I didn't see any that I hadn't played before. Most were fun and I'm sure you will find your favourite ones in there. The graphics are gorgeous - they are clear and bright with no dark or grey blurry areas. There are 6 pieces of music which are nice and play quietly in the background. You can replay videos or pieces of music again if you wish. The story flowed well and the characters are likeable. The game is very long. It took me about 8 hours to get through the main game and about 1 hour in the Bonus. As an expert player, I didn't need to refer to the Hints or Strategy Guide, so unsure how well these work. So overall, a good adventure game. A bit on the easy side for an expert but I think that beginner and intermediate fishes will love this.
February 8, 2014
EASY GAME, BEAUTIFUL GRAPHICS, PRETTY GOOD STORY
BASED ON ***COMPLETED*** GAME AND BONUS CHAPTER ON INSANE MODE WITHOUT HINTS OR SKIPS I had stopped writing reviews because I was tired of seeing reviews by people who had only played the demo. I don't think those reviews should be allowed because it's not fair to the game or the person trying to decide on whether to purchase the game. That said, I have to say a few things about this game. First of all: GLITCH WARNING: Halfway through the game, when I had to put an angel with a triangular base into a case, the game refused to take the second of the two angels. I uninstalled, re-installed etc, and it was still stuck. I had to completely restart the game and when I got to the two triangular-based angels, wait until I had them BOTH before I inserted either. Only then would the game take the second angel. That was a LOT of wasted time, so be forewarned on that one. The game is basically as others have described, but I found the puzzles extremely easy. A lot of them were literally connect the dot. It's a well thought out game, easy to beat and interesting to play. The achievements were VERY easy to earn. The ending left me a little irritated but the bonus chapter wrapped it up satisfactorily. Good luck and enjoy. It is worth the price, but it's not an expert's game.
February 4, 2014
Old Storyline .. But a Good Game ... Lots to Do!
While not an option, I give this game 4.5 stars, taking off a half star because there is not much creatively in the storyline. One might get bored, I did not. Three game modes, bonus chapter after finishing the game. Interactive map which jumps you to areas needing action, collectables, fine all the squirrels, 33 and 9 collector items. Hidden object scenes and mini-games are the best in the game. Mini-games while not difficult, are fun to play. All the scenes require some interact. There are different types of scenes. For example, items by name, items by shapes. Some of these hidden object scenes may also have a mini-game. Speaking of mini-games, there are more than enough to keep your interest. Throughout the game, you will also have to fine fragments of an amulet. Then you will have to charge the amulet to use it to fight off evil. After using it, you will have to play a mini-game to recharge it, moving stars around to make a shape to charge three symbols. I like the game a lot and will purchase as soon as I finish this review. Enjoy!
January 30, 2014
Well done, but...
Afternoon all. Another nice addition to the Mystery of the Ancients series. I have the first two and thoroughly enjoyed them both. Like the others, this one has very nice graphics, but the cut scenes were a bit fuzzy. Seems like everyone is doing that these days...must be for effect. Other than that, the colors were very nice and clear. Game play was good, with no problems at all. Music was nice and mellow and seemed to move with what is happening in the scene at the time. I liked the story, a bit different with the addition of the crows. The jump map is a little crowded, but works well and is used often. Locking inventory bar is great and appreciated, but I did not care for the constant moving of the item within the bar when you are looking or clicking on something to use. Hint system is helpful and fills rather quickly. Voice overs weren't bad, but some didn't fit the setting or time period, e.g. Sheriff, and you could not click through the dialog if you read faster than they speak. Very nice sound FX, appropriate for what is happening at the time. SG seemed to be missing a few steps here and there, e.g. shoot rifle...at what? or use glass cutter...on what? If you are going to have an SG, it needs to be specific with where and what, not just the last step to accomplish a task. HOPs were interesting and quite easy. Rather than straight silhouettes, the items were a single color to clearly identify what they are. You find one to complete another and there are mini puzzles within the HOP...more than there are outside the HOPs. Did not care for the storybook puzzles, as they were extremely simple and moved very slowly. There is a lot to do in this game and you are constantly on the move. You have 33 squirrels and 9 collector items to find. Others have mentioned jigsaw pieces, but I haven't seen any. Guess I'll go back and try to find them. This is not a bad game, not very challenging, but interesting enough to make me want to add it to my collection of ever growing CE's. This will probably appeal to all levels of players. I do not give 5 stars easily and I down-graded this one because of the SG and the same old, same old HOPs throughout the game (so far). They need to change from straight HOPs to silhouettes to whatever to keep your interest. As always, try it for yourself and see what you think. We all have different tastes in games and you may not care for this one at all. Thanks for the reviews.
January 30, 2014
Good game, not outrageous, but good
I really enjoyed this game, though I was a wee bit disappointed in the bonus chapter and don't care that much for the other frills and whistles. I enjoyed looking for the squirrels, that for once was a fun little "extra". There really wasn't anything wrong with this, except I didn't get a "wow" while playing and nowadays that's the bar for 5 stars in my book. What I found the nicest by far in this were the puzzles, they were varied, not just the usual and the level of challenge was just right. The story line was a bit convoluted and I am getting seriously tired of evil mysterious forces. Doesn't anyone have any other ideas in making a suspenseful, fun and enjoyable game? I certainly would buy this again, though not the CE and perhaps only with a punch bonus or as DD.
March 11, 2014
How many crows does it take to make a murder? You'll want to find out.
Mystery of the Ancients: Three Guardians Developed by MariaGlorum Collector's Edition Review based on demo IN THE BEGINNING... A frantic call from your niece Elena has you traveling to the town of Green Hill to uncover the enigma behind a string of disappearances, including Elena's boyfriend Stephen. Each disappearance is heralded by a raucous murder of crows with glowing red eyes. The crows seem to be controlled by a figure in a feathered cloak who wields a magic staff capable of amazing things. And just when you think you've met your match, you learn that he's just a minion! Fortunately, you've found an amulet that protects you from his magic. Hopefully, once you restore the amulet, you can vanquish him and his hidden mistress. And find those who have gone missing before Green Hill becomes a ghost town. PLAY THE GAME... While there's nothing truly groundbreaking in the gameplay, Three Guardians does still rise above because gameplay is intuitive. There's no ridiculous use of objects here. HO scenes are of two types: interactive list and sequential action silhouette. Puzzles are mostly retreads, but graphically beautiful. Overall, it's a fairly easy game. SIGHTSEEING? Here's where Three Guardians really shines. The graphics are superb with much attention to detail through texture, dimension through light and shadow, and mood through color and tone. The in-game object animation is incredibly lifelike, and the cutscenes are cinematic in direction and production. SOUND WAVES? Loved the music?ambient and moody, never intrusive, totally download-worthy. Voiceovers were extremely professional, as were environmental effects. Game sounds were nicely unobtrusive. TOOLBOX? I used neither map nor journal during the demo, so I won't comment there. Inventory is lockable. And you have the amulet?the pieces to which you gradually find?which keeps the cloaked figure's magic at bay. EXTRA, EXTRA? Extras include a bonus adventure, the SG, performance achievements, several different collectibles, and the developer's portfolio. THE LAST WORD? While this is not at all a challenging game, it is a glorious sensory experience and fun to play. The storyline, thus far, is suspenseful and draws you in. For these reasons, I do recommend it.
January 30, 2014
I enjoyed this .
Not partial to hidden object games generally. If there's a good one , I'm tempted. The graphics were very good on this. Delighted that the "Objects" were not too small. You don't need a memory like an elephant for this one. Also, quite a variety of puzzles which I enjoyed very much-particularly the "pairs puzzles".
February 6, 2014
The Apple logo is a trademark of Apple Computer, Inc.