Order of the Light: The Deathly Artisan Collector's Edition
Exclusive
Rural Smalltown used to be peaceful, until a burst of paranormal activity turned everything upside-down. People are fleeing for their lives as paintings come to life and poltergeists destroy their property. As the newest initiate of the Order of the Light, it's your job to investigate the reason behind this chaos. You'll have to explore every inch of the town if you want to find the truth. The Order has outfitted you with their latest gadgets, including a ghost-catching device, but will that be enough to stop whoever is behind this? Find out in Order of the Light: The Deathly Artisan!

This is a special Collector's Edition release full of exclusive extras you won't find in the standard version. As a bonus, Collector's Edition purchases count toward three stamps on your Monthly Game Club Punch Card!

The Collector's Edition includes:
Wallpapers, Concept Art, and Soundtrack
Hidden collectibles and achievements
Reunite a couple in the bonus chapter!
Save the people from the living paintings!
Game System Requirements:
OS:

Windows XP/Windows Vista/Windows 7/Windows 8

CPU:

1.0 GHz

RAM:

512 MB

DirectX:

9.0

Hard Drive:

581 MB
Game Manager System Requirements:
Browser:

Internet Explorer 7 or later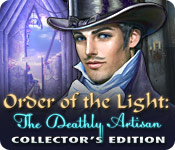 The Big Fish Guarantee:
Quality tested and virus free.
No ads, no adware, no spyware.

Reviews at a Glance

Order of the Light: The Deathly Artisan Collector's Edition
0
out of
5 (
0
Reviews
Review
)
Customer Reviews
Order of the Light: The Deathly Artisan Collector's Edition
44
44
Who Are You Gonna Call???
Ghosts, paranormal activities and paintings coming alive, who are you gonna call?? As lead detective, you are summoned by a secret organization, the Order of Light to investigate recent paranormal activities that have taken over the town of Smallville. Upon arriving, learn that Locals are either going mad or fleeing town as evil begins to spread as the deadly sins start manifesting in their behaviors. Your adventure begins and your main mission is to capture the pesky ghosts and for that you have a special device called, what else? Ghost Catcher and there are apparently 35 of them roaming around. Main menu offers three levels of difficulty to choose from which you can change while you play; unfortunately sparkles disappear only in advance mode. Graphics are good, not brilliant, and resolution could have been a bit sharper. Good artwork, lots of colors and hand painted scenes; again, all good but not brilliant. I liked the music and voice-overs are well done, especially our narrator at the beginning. There are minimal special effects and animations are a bit stiff. Game features include a notebook, a special device for capturing ghosts and a map that allows you to jump. I noticed that there are many collectables and achievements to earn throughout the game. You also receive points for performance while playing Hidden object scenes and there is a score sheet in the menu. Adventure gameplay is standard, searching for clues, picking up inventory objects and catching ghosts. Hidden objects scenes that I have come across are standard; a list of objects with minimal interactions. I like that the collectables come in series, there are prints, fruits, etc. I like this game and was pleasantly surprised when I wanted more after my demo trial period ended. As I said, visually it is not spectacular but definitely interesting as you go around catching ghosts and picking up your collectables. As my wallet is a bit strained this week-end, I will have to take advantage of any CE sale available and definitely add this game to my collection. I liked it; it looks good and plays smoothly. My one pet peeve was the language; some of the translations are a bit off. Not exactly the Ghost busters, but is interesting enough for those who enjoy a decent adventure. Many may find this game not very challenging but I have to say that the achievements and points is a clever incentive to play carefully.
January 18, 2014
not difficult, but definitely engaging!
this game is a super busy one! the storyline is not really too fleshed out, but the gameplay flows smoothly and there's a lot to look for. there are 30+ HO scenes, around the same number of puzzles, 50! hidden symbols of all sorts of types (footprints, origami, easter eggs, etc. - 5 of each#. keep your eyes open! you're also given a ghost finding device, where you'll scan it over each scene to find and capture the ghost. achievements? we've got plenty! you also earn up to 3 stars for each HO scene, the more stars you earn the more points you get. you also obtain points by finding the hidden symbols #the quicker you find them, the higher your points#. I couldn't find anywhere to actually use these points. the options available include 3 levels to choose from #and you have to select the "no hints/skip" option if you want to lose the sparkles. but so far there hasn't been any need for those buttons anyway. the game looks to be relatively short - in 40 minutes I'm 17% complete. there is also a section in the extras menu for your statistics - how many hints / skips you've used, how many tools you've found, etc. not particularly helpful, but interesting. it's a buy for me.
January 18, 2014
Should be "Ghost Catcher"
Bear with me for my first post. BASED ON DEMO An old church was being demolished despite a warning prophecy of not disturbing spirits, when, *whoosh* out comes a gray cloud of smoke and trouble starts plaguing the town. Not just any trouble...the seven deadly vices or loss of sanity. The artifacts found were put on display in a museum and some are stolen. You're called in to solve the mystery. There is a map but I didn't try it to see if it was transporting or not. Parts of the map are only revealed as you travel there, clouds cover the rest. Through the clouds you can see objective marks everywhere. There were three levels to choose from: casual, normal, and hard/expert. Casual has black bar tips, sparkles #they are not that bad--a sparkle now and then, not constant like some#, and fast recharge of hint. Hint in casual tells you exactly what to do and where. Normal has sparkles, slower recharge of hint, no black bar tips. Hard/expert has nothing, you're on your own. No hint, no skip, no black bar tips, no sparkles, zip! There are collectibles, but instead of one type of thing throughout the game, they are different things: prints, chess pieces, statues, fruit, and others. They are intermixed in the game, not find 5 of this kind first, then the next 5. You are also awarded points for finding them and for the HOS. There are also ghosts to catch. ***SPOILER ALERT*** You have a "ghost-catcher" but you don't see the ghost until you use the catcher. Ghosts may show up as morphing pictures, disappearing designs, strange glowing, an "uneasy feeling" when you click on something. ***SPOILER END*** HOS are list type with simple interactive actions. No problems finding anything. Hint works well. Graphics were okay. Game play was logical #didn't really need the strategy guide, at least not during the demo#. There are VO with text but you have to click to continue the dialogue between sentences. Sorry---mouth movement yes, but not synched with the words--lips move up and down and that's it. This could be an interesting story. I'm tired of all the ghost stuff though. Try it to see if you like it.
January 18, 2014
A Very Enjoyable Game ... Despite Some Poor Pre-Reviews ...
Graphics & Sound Are Quite Good, With Some Nice Effects Here & There ... Voice Over Bits Are OK Too ... The Pre-Reviewers Almost Put Me Off Trying This Game, But I Gave It A Blast Anyway. Perhaps A Little Over Loaded With HOG's, But Very Enjoyable And Should Not Be Overlooked ... As Is Always My View It's A CE Worthy Of A Special Offer ...
January 19, 2014
An Enjoyable Game
This, I believe, is a developer new to Collector's Editions. I am finding the game quite enjoyable, in large part due to the fact that the game has a system whereby you score points based on how many collectables you have found and other achievement goals throughout the game. It reminds me of some of the older adventure games I used to play where there was a total number of points possible after having completed the game, but you could finish the game with fewer points. This gives the game replay value, and it will be fun to play it again to see if I can do better the second time around. I look forward to this developer's future endeavors.
January 18, 2014
Too short for a CE
I played this game in the hardest mode, yet finished the game in less than 3 1/2 hours, and the bonus in less than an hour - both without using the hint button at all. Too short in my opinion. Whilst this was an enjoyable game to play, I think that the shortfalls were greater than the positives. The hidden object scenes and puzzles were very easy, with the hidden objects having very minimal interaction. A good ratio between the two though. There were bonus objects to collect and achievements to earn. However, the game did not register the ones i had earned in the trial, only those after purchasing the game. There were a few typos/grammatical errors. The game itself flowed relatively well. The mouse felt slightly jerky to move. The storyline was weak and uninteresting. The bonus chapter was not essential to the story of the game. It was mostly hidden object games. I would recommend this game, but suggest waiting for the SE.
January 24, 2014
Living Potraits
The story begins with you being a detective to solve the case of what is happening in Smalltown, which was covered by some kind of fog that was allowing the residents to gorge themselves in the seven deadly sins. There is a lot to do in this game. Multiple types of collectibles such as cards, paw prints, statues, chess pieces etc. There are achievements and you get points for completing hos, mini puzzles, and collecting the collectibles. There are 3 levels of difficulty that can be changed during the game. The hos are a little junky. I was also confused what time period this was supposed to take place in. The cars that were in the game seemed to modern to be there. There are your normal types of extras, with the added addition of statistics that included interaction, accuracy, hints used etc. It wasn't a bad game and I did enjoy it. Need to try before buying though.
January 18, 2014
Save Smalltown
This is a very nicely put together game. You are called in by the Order of Light to stop paranormal activity running amok in Smalltown. It seems renovations to a building is disturbing the spirits. Game flows very nicely without any glitches. Colors are vibrant, but sort of washed out. Not grainy, just not clear and blinding. HOS are interactive list. Puzzles are on the medium side and are interesting. I very much like the story line. You do get a ghost catcher to nab the spirits who are wreaking havoc. You also get a map and a journal. There are more achievements than you can shake a stick at. Collectibles galore. And a score card to tell you how well you did in the game. I like this game. Something catchy and different about it and keeps my attention.
January 18, 2014
Its Good.
The game has a nice flow. Fair in Challenge. Other than that Nothing Exciting.
January 23, 2014
Ready, set.... SCORE!!!!
Everytime you do something right in this game you will get undoubedly get an achievement or up your running score. Talk about positive reinforcement!! Order of the Light has a sinister storyline with a welcome twist at the end and although the plot is something we've seen in other games, The Deathly Artisan does a good job thinking out of the box with great featuresvlike a ghoast catcher (an integral feature at the end of the game) as well as TONS of collectables that give you bonus points when found good for those with a competitive spirit. HOS and mini-games were fun and creative. I played the CE and enjoyed both the main and bonus game playing as "the detective" trying to decifer a paranomal mystery. Definitely an enjoyable game that I would recommend to adventure fans!
November 23, 2014
The Apple logo is a trademark of Apple Computer, Inc.