Order of the Light: The Deathly Artisan Collector's Edition
Exclusive
Rural Smalltown used to be peaceful, until a burst of paranormal activity turned everything upside-down. People are fleeing for their lives as paintings come to life and poltergeists destroy their property. As the newest initiate of the Order of the Light, it's your job to investigate the reason behind this chaos. You'll have to explore every inch of the town if you want to find the truth. The Order has outfitted you with their latest gadgets, including a ghost-catching device, but will that be enough to stop whoever is behind this? Find out in Order of the Light: The Deathly Artisan!

This is a special Collector's Edition release full of exclusive extras you won't find in the standard version. As a bonus, Collector's Edition purchases count toward three stamps on your Monthly Game Club Punch Card!

The Collector's Edition includes:
Wallpapers, Concept Art, and Soundtrack
Hidden collectibles and achievements
Reunite a couple in the bonus chapter!
Save the people from the living paintings!
Game System Requirements:
OS:

Windows XP/Windows Vista/Windows 7/Windows 8

CPU:

1.0 GHz

RAM:

512 MB

DirectX:

9.0

Hard Drive:

581 MB
Game Manager System Requirements:
Browser:

Internet Explorer 7 or later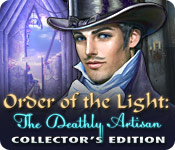 The Big Fish Guarantee:
Quality tested and virus free.
No ads, no adware, no spyware.

Reviews at a Glance

Order of the Light: The Deathly Artisan Collector's Edition
0
out of
5 (
0
Reviews
Review
)
Customer Reviews
Order of the Light: The Deathly Artisan Collector's Edition
44
44
Incredible Game Worthy Of A Collector's Edition!
This game may even qualify for a new category because quite simply there are tons of items to collect, and some new and exciting features. I am a fan of out of the box thinking, good or bad (in this case all good) because it's the only way to keep games exciting and unpredictable. This game actually grades you on your overall game experience with points and stars given on basically everything! There are several collectible items, 5 of each item, 100 total, items such as prints (paw prints count too) fruit, chess pieces, statues, cards, art and more AND you get various points for finding these items. The Order of Light has equipped you with a ghost catching device which glows when a ghost is near, you line up the crosshairs with the ghost and click to "catch" a total of 35 ghosts AND you get points for that too. The HOS are interactive list finds AND you get 1-3 stars depending on how many misclicks you have. The mini games were fun, such as swapping colored pieces of stained glass so that no identical colors touched, for a total of three puzzles. Another game I enjoyed was swapping tiles of keys, keyholes, and locks, in order for each line to have all tiles of a single item such as all locks on the first line. To swap tiles you had to move whichever line to the right or left until the tile you want to swap lines up with that lines swapper point in order to exchange those tiles. I truly enjoyed everything about this game from the story, the graphics, and quality to the ghost catcher and the mini games. I wish however that the ghosts moved at a faster and more challenging pace which in my opinion would have been much more fun catching them. You are going to want this game in the CE, all of the frills in this game are well worth the extra cost, enjoy!
January 18, 2014
An Incredible 'Light'!
This review is based on the Demo...I write as I download the full version. Order of the Light: The Deathly Artisan is a joy to my eyes, ears and mind. The artwork, cut scenes and voiceovers are brilliantly executed. Puzzles are challenging but not mind-numbing and hidden object scenes are easy enough with some animated 'tasks' to complete to find some items. One thing a bit different from the usual fare in recent months is the scoring of points for completing objectives and finding collectibles, of which there are many sets to discover. I actually found myself trying not to use a hint during the Demo in order to get the highest points allowed! Points don't normally matter in a HOG, at least to me, but I was striving to work harder in this game to take my time and focus more on the tasks at hand. The story line is a familiar one, with a nasty entity accidently let loose during a renovation and now it is wreaking havoc amongst the towns people. After all, there only so many basic plots! But this one, in my opinion, catches your interest immediately and engages your investigative skills to the utmost. You are the detective assigned to the case and you are given a handy-dandy ghost catcher to help you along the way. Discover who the stranger, accompanied by a mysterious swirl of smoke, is who seems to be following you around the town. Collect finger prints, small statues, cards and sea creatures, to name a few of the extras offered in this true Collectors' Edition! I will not go further into the story details, beautiful music, and detailed landscapes, as I don't want to spoil any of the delightful surprise you will see for yourself when you try Order of the Light: The Deathly Artisan... My game has finished installing. I must return to Smalltown to help the poor citizens!
January 18, 2014
An engaging game from start to finish by a new developer
BASED ON WHOLE GAME AND BONUS PLAYED I had no problems with any part of it. It filled my large screen perfectly, transitions were seamless and items easy to pick up and place. The graphics in this game aren't phenomenal, but if you've just played Amaranthine Voyage: The Living Mountain, the poor developers may have drawn a very short straw with this coming out a couple of days later. You've got to like your HOS. Because there are an awful lot of them and some are junk piles, others not so much. They are the usual list/interactive type. The puzzles aren't overly difficult, but you can achieve 3 gold stars on each by being quick. You can replay from the extras to get them all. What makes this different is that you have collectibles (50 in total) which are divided into different types of items i.e. fruit, masks, origami, chess pieces etc. Each set of 5 makes up a collection, so 10 in all. You'll find 7 sets in the main game and 3 in the bonus. Each scene will only have one in it. However, you won't know if it's a fruit, mask or other so it varies from finding one and the same all the time. They aren't all that difficult to find, however. You have something else - a points system and the game challenges you to collect as many points as you can to see if you can beat your friends. That's a bit of fun in itself. Almost everything achieved here earns you points. There's also a statistics screen that shows you how well you've done. My HOS accuracy in the main game was 64%. Good? Bad? No idea, as I've never seen this before, but it's a nice idea. You will receive a ghost catcher and it's not just a gimmick, as you'll see. The ending of the main game is nicely done and finished. You can also go back to find collectibles you may have missed as you are in the same world map. The map at first seems incomprehensible; full of yellow !!! for objectives which are still locked. This could have been done better, because as the areas are revealed, a beautiful map emerges that is almost as exquisite as the one in Living Mountain - cutaways of detailed locations complete with furniture. Inaccessible areas will still have a cloud over them; accessible areas will have a light blue ring when moused over. I got a good 5 + hours from the main game and just over 1 hour from the bonus. Again, not a rocket science game, but very nicely done. Highly recommended!
January 18, 2014
Who, what, why plus ghosts!
What a unique game! You are either going to love it or hate it. It is very different from any other game, which makes it fun and interesting, with enough bells and whistles to be a CE. You are the detective hired by the Order of the Light to rid Smalltown of all the ghosts that have been released with the demolition of the old chapel. Plus see if the ghosts are related to the theft of museum artifacts found in the old chapel. You are given a ghost catcher device, to catch 35 ghosts -- pretty easy to spot, it glows red when there is a ghost in the room. You get points for everything in this game, which leads to achievements. You get to collect 5 each of prints, statues, fruit, sea, cards, chess, and more -- and you get points for each. You get gold stars for finishing HOS quickly, without misclicks, or hints. Which also become points. When you save the mayor, you get points. It is a lot of fun! Meanwhile, you realize there are at least four other people in danger, based on art they purchased from another citizen. There are plenty of HOS -- all lists but not that easy. The mini-games are new -- not too hard. And you get points for not skipping as well! The whole game is interesting and fun. Try it yourself and see!
January 18, 2014
Bring on the Light!
This game has it all!!! There is never a dull moment, so much to do, collections galore, points for everything, stars for achievements and a pile of fun you won't want to miss! In a town called Smallville strange events connected to stolen artifacts from the local museum have put the local townsfolk in turmoil and devastation. As Detective and newest member of the order your job is to determine what was stolen, who took it and how they're related to the strange events. You run into many obstacles as you weave your way through this dilemma. You encounter many ghosts but with the aid of a ghost catcher you are able to clear areas of negative otherworldly energy. The graphics are super, cast of characters delightful and music holds you in suspense. The interactive HOS are clear but challenging as some items are well hidden or small enough to distract you away from locating them. Mini puzzles different and entertaining with just the right amount of challenge to ward off total frustration as can be experienced in other games. I somehow recalled having played this game as a Beta trial but I can't be certain. At any rate it definitely captured my interest and in my opinion is well deserving of a CE position. Right up there at the top of my list! Give it a try, you won't be disappointed, oh, and happy gaming!
January 18, 2014
Great Game Play!
I really enjoyed this game mainly because you get to collect so many things. Unlike most games, this time you collect things for several different categories like masks, chess pieces, fruits, art things and so on. The HOS were kind of dull though with not much interaction but I think between adventure and collecting things, it's ok. You also can earn many achievements and I do like how you can get up to 3 stars for how well you do the HOS. You get a ghost catcher that alerts you that there is a ghost in each scene to catch. Not too crazy about how the graphics looked and cutscenes weren't all that well done but again, some of the things you get to do make up for it. Will definitely be on my list to buy.
January 18, 2014
Order of the Light: Thed Deathly Artisan Collector's Edition
I liked playing this game because it made a change to all those horror games that I have been playing
January 19, 2014
Over the Top Hidden Object Adventure
Based on the Demo During the demo period I played 8 hidden object games so if you don't like H.O.s this is not for you. You have to play them to get objects you need for the adventure. They ranged from moderately easy to very challenging. Mini games were thought provoking, sometimes difficult, always fun. The storyline is good, nothing original, but done in a different way: A mysterious stranger breaks into a museum, steals some artifacts, a dark cloud menaces the civilian population, causing them to turn into sinners. You as the detective are called in to stop the madness. The soundtrack is great, narration in the beginning very good, voice overs clear, crisp, and realistic. The graphics are okay, sometimes a little one dimensional and simplistic, but that did not detract from gameplay. There is a map, a journal, a strategy guide, and a ghost catcher (to help you eliminate the many ghosts and spirits in the town). You get points for finding certain objects from certain categories. There are achievements you earn for not skipping mini puzzles and for not using hints in the hidden object scenes. This was a must buy for me. It has everything and really keeps you busy.
January 25, 2014
Lots to do
I really loved this game! There are so many extras to find, I sort of lost track of them...prints, art, fruit..not sure I even got them all....love that! Also, lots of achievements and the bonus material looks interesting...there is a section labelled puzzles, so that could be fun. The graphics are very nice and the creepy music is just right, although it needs turning down just a bit. There a lots of HOs which have slight interactivity and the puzzles are quite fun, with some new ones so far. There is a tool for catching ghosts which I got a kick out of, as well. There seem to be 5 characters to save, and in the demo you save one of them, so this game should be a reasonable length. It seems like a good old HO game, so some people will probably feel it has too many HOs and not enough story, but it just appealed to me, and with the weekend sale, I think it is definitely worth it!
January 18, 2014
based on the demo this will be a buy for me
just not sure if I will get the collectors or wait till the ce comes out but this will be a buy. story line is interesting, love the ghosts etc. I don't care about extra's which is why I may wait for the ce unless getting the Collectors helps me get a free game. and I don't use sound so can't rate that but as I said this will be a by for me
January 18, 2014
The Apple logo is a trademark of Apple Computer, Inc.