Fall of the New Age
In the dark times of the Medieval a baleful society of the Cult and its adherers strived to seize the rule over the city, control its inhabitants and destroy all sources of knowledge and culture. Help Marla uncover the secret conspiracy, release her kidnapped brother and save the city! Solve numerous quests and puzzles, display courage and wit, and don't let the Cult take control over the Kingdom!
Original medieval world
40 exciting locations
Dozens of tricky mini-games
Amazing cut scenes and 3D reels
Game System Requirements:
OS:

Windows XP/Windows Vista/Windows 7/Windows 8

CPU:

2.5 GHz

RAM:

2048 MB

DirectX:

9.0

Hard Drive:

610 MB
Game Manager System Requirements:
Browser:

Internet Explorer 7 or later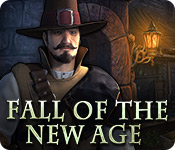 NEW299
The Big Fish Guarantee:
Quality tested and virus free.
No ads, no adware, no spyware.

Reviews at a Glance

Fall of the New Age
0
out of
5 (
0
Reviews
Review
)
Customer Reviews
Fall of the New Age
41
41
Could have been a better game...
I enjoyed this game, but the extreme hand holding spoilt it for me. I played advanced mode, and tried hard 'not' to look at the black bar tips. Had there been a customisable option, it would have been a better game. The only HOP (I came across so far) was different and I enjoyed it. Puzzles are nicely done. Hint and skip refill fairly quickly, and the music was in keeping with the game. It had an 'old' feel to it, as though developed half a decade ago. The constant egg timer loading each scene is annoying also. Def get it with a punch voucher, but wouldn't buy it as there are zillions of better HOGs out there. 5 years ago would have snapped it up!
April 15, 2014
Not very impressed
It is an OK game but the puzzles are really easy (and I am not that brilliant) and the hint button does not work. It keeps sending you back and forth between 2 scenes. The dialog doesn't sinc with the written word. Not very impressed.
February 7, 2014
Spooky? Hardly. Where Are The Occult Scenes?
The Game started off well and I was impressed by the beautiful Graphics, nice voice-overs, and Storyline. The Hidden Silhouette Objects were different and a great idea. The Critter Helper was very cute but also very SLOW. There was a lot of "giggling" sounds and twirling around 3 times before the Hint was actually given! To my great disappointment the Game ended very abruptly with the Lady finding her brother and that was it! There were NO Occult Scenes or getting the bad guys - which I was looking forward to! If I had known the way the sudden way it would end I would NOT have bought the Game. Some people said this Game was "Spooky" but I didn't think so at all. How can it be Spooky without any Occult or Black Magic scenes?
January 16, 2014
My kingdom for a wrench...
I have to admit that I did not get very far on this demo. So my review is limited at best. The story line looks good so far. For once we are not traveling and crashing a vehicle into a desperate situation. My little brother and I are thieves, which is a bit different as well. In the act of stealing we stumble into a medieval blood ritual, and are caught by a the Cult, thrown into prison, and must escape with the aid of a mysterious man who seems to know all about our particular "talents". The graphics are a disappointment, however. Not terrible, but certainly nothing engaging either. The sound is only adequate as well. But the biggest problem is the hint button. I have played dozens of these games and have never needed a strategy guide before, but the hint button here leaves you with no where to go. All I got from it was "there is nothing to do here" in every single scene. Which left me unable to continue the game at all. Don't get me wrong, I hate when the hint guide tells all the first time you ask. But an arrow pointing in the right direction might have been at least helpful. Or a map indicating the active areas is also a good way to go. I gave up after only 20 minutes for lack of a wrench, something I have never had to do before. I am sure others had better luck as most of the reviews were positive. I wish I could agree.
January 6, 2014
Pencils in my eyes
Painfully mediocre and a long way to go for nothing for what they put you through to get there. They left the ending for a continuation. It would be interesting to see if it is worse that the first....that would be hard to achieve.
March 2, 2014
Just Didn't Do It For Me
I can't really put my finger on what I didn't like about this one. It started out fine, but I quickly became bored with it. Judging by all the great reviews, I'm definitely in the minority on this. I probably shouldn't have played it right after Fate's Carnival. Nothing compares to that one, in my opinion. You may like this one just fine.
January 25, 2014
Fall of the New Age
Wish there was a walk through for this game. It is a bit annoying to get stuck in an area and you can't figure out what you are doing wrong. If I had known it didn't have a walk through I wouldn't have purchased it. Read some of the reviews and it sounded as if it were simple and easy, yeah, I like and follow the KISS logic.
January 19, 2014
Oh My Goodness.. Did I Really?
This is posted after completing the whole game. I have to say, this was the worse game I have ever purchased and I have bought a lot of games. It simply was not fun at all. There was nothing to the game. I ran out of time on the demo to really get the feel of the game, so after reading some of the reviews, I went ahead and bought it. Wish now I had saved my credit for something worthwhile. The graphics were excellent and the voice overs were very good and clear. The hidden objects were clear and the games were varied. That was the plus. The mini games, were either impossible for me to understand what I had to do or were just too hard. It took me the longest time to figure out how to use the lock picks. I know I'm not the brightest bulb in the box, but I'm not really all that stupid either. The hidden objects were really interesting and the level of challenge varied with then. Some were challenging some were very simple. With the variety of hidden object scenes, it did keep me interested. The story line.. um, what story? This was really sadly done. It had the chance to be a really good game, but if they left the ending as they did for a sequel, I'm afraid they will have some problems selling that one. This one needs to go back and start over. The basics were there, but that's about it. I can't in a clear conscience cannot recommend this game.
January 14, 2014
Truly Awful
This one was not for me. I actually started the game over again and played in casual mode. It is most likely me, but I found it irritating.
April 19, 2014
Disappointing
This game failed to meet any of my expectations. Initially the storyline was interesting and caught my attention, but it quickly fizzled out and the plot was never developed. The ending was anticlimactic (at best) and happened so abruptly that I didn't realize it was actually the end until the menu screen popped up. The visuals were good and the scenes were interesting. My favorite aspect of the game was that the screens scrolled from left to right. This gave the impression of looking around - a fun and unique quality! Sadly, however, the visuals were undermined by bad audio. The voice acting in this game was atrocious and at times the conversation was completely nonsensical. Game play was also disappointing. Only one or two mini games offered any challenge at all. The rest were simplistic, boring, and often tedious. Some of the games require zero input from the player other than clicking to activate the next sequence. Painfully boring. The real challenge was trying to find the next interaction point, which again often made little or no sense.
January 10, 2014
The Apple logo is a trademark of Apple Computer, Inc.