Rebuild the European Union
Help the European Union restore its most famous landmarks! Europe needs you to take charge and restore its buildings to their former glory. Gather resources, solve puzzles and immerse yourself in the rich history of Europe's finest architecture in this fun Match 3 game!
Classic Match 3 levels with new gameplay elements
Jigsaw puzzles
Power-ups, combos and more
Game System Requirements:
OS:

Windows XP/Windows Vista/Windows 7/Windows 8

CPU:

1.6 GHz

RAM:

512 MB

DirectX:

9.0

Hard Drive:

172 MB
Game Manager System Requirements:
Browser:

Internet Explorer 7 or later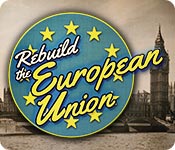 NEW299
The Big Fish Guarantee:
Quality tested and virus free.
No ads, no adware, no spyware.

Reviews at a Glance

Rebuild the European Union
0
out of
5 (
0
Reviews
Review
)
Customer Reviews
Rebuild the European Union
27
27
bam BAM BAM
Liked the game but there is an annoying noise when the "arrows move" I hope I can turn that off. The music whilst playing is excellent. I like the icons (except the lemon, orange & coin look similar) Hoping I get different ones further into the game.
January 6, 2014
Addictive!
While I was initially put off by the rather poor storyline, the dreadful translations, and the gloomy music, I got caught up in the game play. I played in the timed mode and found it quite challenging. The switches are different and can be annoying, but added to the action overall. I agree with most of the other reviewers -- if you are wanting a relaxing Match-3 game, this is not it. If you want a challenge, try the timed mode. Don't play it at night if you have to get up for work, because you won't stop until you beat the level!
January 7, 2014
Fun Match 3 game!
This game has lots of strange tiles that twist and turn and move the blocks all over. Have only played the free trial, but it is definitely different and fun. Took quite a bit of play to figure it out, but after that, fantastic fun.
January 16, 2014
Rebuild The European Union
I have never played a political based game before so this makes a change for me
January 7, 2014
Unusual 3-Match
This game was easy to start, but then you have arrows that switch the objects. Each level becomes more challenging. You can collect money and buy powerups on the shopping basket in the beginning of each level. Level 3s are unique. After completing all six levels in a City, you obtain a puzzle to complete. I thought the puzzles could have been more fun if the pieces where not all the same size squares. There is a solve putton if you prefer not to complete them.
January 23, 2014
I actually bought this!
If you are looking for a Match game that is exciting or a game that is beautiful and will help you zone out, look else where! I actually disliked the first 15 minutes of game play but decided to stick to it and guess what? I really started to enjoy this very odd game. Especially the jigsaw puzzles you get to solve after the completion of each level. The graphics are sharp but not very exciting and the artwork is nothing to write home about, rather boring visuals. The story is a bit discerning; it seems you need to rebuild various monuments and historical buildings throughout Europe. The recent economic crisis has led to mass protests and the demolishing of various sites. Now with your help, you get to collect the necessary resources to rebuild and refurbish. Don?t get too excited, there aren?t any actually buildings or gardens to buy or purchase or build like in some M3 game. This is a much lazy and simple game. There are no voice-overs, no characters, no animation and no great special effects. The music is very quiet and on a loop but I hardly noticed it. So what made me like this game? To begin with, you have three modes of game play, Timed, Semi Timed and Relaxed. I opted to play semi-timed and that means if I am unable to collect enough resources, I have the opportunity to replay game boards within the level until I fill my quota. Game mechanics is your standard swap Match 3 game but with a twist. After the first level, you start getting these directional arrows that causes your board to switch around and that is what makes the game challenging and frustrating at the same time. If you are playing relaxed no problem but if you are timed, that is where playing requires a bit more strategy. Icons are a bit small and it can strain the eyes a bit. I really cannot explain why I will probably end up buying this game only that I really started to enjoy it and was rather dismayed when my demo trial ended. The instructions are a bit vague but you do get the hang of it. Not an extraordinary Match 3 game but interesting enough to spend a credit on it. The jigsaw puzzles are interesting and not so easy to solve. I didn?t really care for the story but I did enjoy playing the boards, especially as they got more difficult with each level. This is definitely not a game for relaxing or zoning out. There are no creative animations and no exciting special effects. Rather dull looking but interesting enough for M3 fans to at least try the demo. I am interested what others will say about this very peculiar game with some historical facts about certain buildings in Europe, that is if you are interested.
January 6, 2014
Different, but Not in the Way I Like
I completed the demo and had just begun level 2. Whew! I'm exhausted. Let's start at the beginning. There are 3 levels - timed, timed and relaxed (whatever that means) and my favorite -- relaxed -- which I chose. Lots of reading, beginning with the story, but the dialogue went by so quickly I didn't get to read it all -- not a good start, so I won't even begin to tell you what the story is about. So the M3 started out relaxed, making matches over colored tiles while making a certain number of matches of each of the 4 tile faces, i.e, brick, wood, glass, and -- oh gosh, I forgot what the 4th tile was in the beginning. But then the tutorial got confusing and tiles started moving while playing a repetitive tune -- nerve wracking! Then there was my first puzzle --putting square tiles onto a very blurry background to form a picture of a building "I" had just saved. This took some time, but my nerves healed (LOL) and I enjoyed it very much. Then I was at the second level. I never finished the first game and my nerves were already frazzled. I haven't read any of the reviews and I usually do but I didn't want my opinion influenced which sometimes can happen particularly a game that is very different, which this certainly is. I wouldn't play this if I owned it. If there had been a help section which I could have read at my leisure explaining the rules again things might have been different, but unfortunately there wasn't one, so a no buy for me. I think you should play this game before rushing in to buy it. For those who rated this a 4 or 5, my hats off to you. You must have nerves of steel LOL. This isn't my preferred genre -- HOPA are,so I tried not to be too critical of this game.
January 9, 2015
Not going back to that
Being from Europe I thought that this game especially would appeal to me but it did not. I feel like I stepped back into the 70's with those really simple and boring graphics. Not even the music is good. It is ok if the game is challenging after a while but all the other components need to line up too...Match 3 is nice and I even enjoy puzzles but it just needs to be more fun. Glad that Europe does not depend on me....
January 6, 2014
Hilariously Awful
If you want a game that's so bad it's almost good, then this is your game. The hilarity comes in the form of the "storyline," which makes little to no sense. For example, the grammar, and just general language use, makes the story difficult to follow and understand; however, I'm still pretty sure at one point I was told that I was assigned to fix Versailles (yes, that Versailles), and if I did an adequate job, I'd get better jobs in the future. What? The storyline takes too long to get through in the beginning, and even though I hate hitting "skip" in a new game, I was so very, very tempted this time around. Once the scene has been set for you, the game then offers almost no motivation for completing the match-3 puzzles, earning supplies/points, and etc. If you don't care about storyline, logic, and are completely self-motivated to finish random games, I say go for it. Go for the 60 minute free trial, that is. Don't waste your money, time, or energy buying this thing. There are far better match-3 games out there for you to explore.
January 8, 2014
good title
The only good thing about this game was the title. I love match 3 games but I found this one boring and not fun at all. Sorry but this game is not my cup of tea
January 6, 2014
The Apple logo is a trademark of Apple Computer, Inc.