The Agency of Anomalies: Mind Invasion
Exclusive
All they wanted was a cure, but what they got was terror! Return once again as a detective for the Agency of Anomalies. This time you're called to a health spa in the Alps, where an evil professor has something terrible in mind for his unwitting patients.
Game System Requirements:
OS:

10.9/10.8/10.7/10.6

CPU:

1.0 GHz (INTEL ONLY)

RAM:

1024 MB

Hard Drive:

638 MB
Game Manager System Requirements:
Browser:

Safari 4.0 or later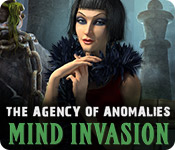 NEW299
The Big Fish Guarantee:
Quality tested and virus free.
No ads, no adware, no spyware.

Reviews at a Glance

The Agency of Anomalies: Mind Invasion
0
out of
5 (
0
Reviews
Review
)
Customer Reviews
The Agency of Anomalies: Mind Invasion
19
19
Wonderful Game! 4.5 Stars!
BASED ON COMPLETED STANDARD EDITION GAME From almost every game from this developer, it was either good story or good gameplay, never both. Now I can finally say that we have one with both! This is a great game with a gripping story and fun gameplay. I thoroughly enjoyed it from beginning to end. The story is actually quite interesting and is similar to another game I have played that is one of my all-time favourites. It is a gripping story with a good opening. It's executed quite well. The opening is done well. The story had quite a number of twists in it, ones that I weren't expecting. The basic storyline is that you are a detective and have been called to the sanitarium to investigate their treatment of patients. What I liked about this story was the files. They told the story of each patient. I liked how these were presented. Each character had a story similar to their personalities/occupations (e.g. the newspaper owner was told everything ever written in his newspapers was a lie). They made the game more realistic and enjoyable. I especially enjoyed the villain, Gerome Swens. He was portrayed in a way that made ever encounter with him exciting. The one thing I didn't like, however, was that it was never explained why he was actually doing what he was doing. The one essential part to a story is explaining why the villain is evil and that was missing here. Well, now that I've talked about the characters and stuff, I guess I should talk about the content. The story was relatively good. There were a couple of nice twists in there. I especially enjoyed the ending; there was a good twist I never saw coming. It was a great story from beginning to end; not once did it slow down. It has a great ending and also ends conclusively. A really good job done by the developers. The developer really deserves credit here for their HOS. There are quite a few different types and all of them are fun and have varying difficulty levels. There are three types: standard junkpile, replace the object and silhouette. The HOS are spaced out fairly evenly in the game and there are a decent amount in there. Most of the scenes were the replace the object type, but I didn't mind. I still rather enjoyed them. The puzzles actually a bit hard. I had to skip most if not all of them. That being said, I still enjoyed playing them. Like the HOS, the Puzzles are spaced out fairly evenly. They are nothing we haven't seen before. One thing I enjoyed about the gameplay was the significantly reduced amount of backtracking. Don't get me wrong, there's still a fair bit, but there's no where near as much as in previous games. Constant backtracking annoys me quite a lot in games, so I'm glad the developer has cut down on it here. At the end of the game, there is an option to take a quiz, Other than the multiple HOS, this is your standard HOPA. It's got no special features of any kind and has all the essential stuff (diary, map, etc.). If I'm honest, the graphics are a bit of a let-down. The cutscenes are good, but the graphics in general aren't as detailed as those from other games. The character designs are also poor. This is the one sour note on a good game. The voice-overs are standard. I have no issue. FEATURES 3 modes of difficulty: Casual, Advanced and Hard. Differences are the usual. I played Casual. Hint/Skip- both recharge at a reasonable rate for the difficulty I selected. Hint is useful outside HOS. Diary- keeps track of events. Map- the map is helpful and interactive WHAT DO I MISS OUT ON IF I BUY THE SE? Bonus Chapter- not needed. Game ends conclusively. Built-in Strategy Guide- useful for puzzles Achievements Collectible canes (31) Bonus Mini-games Concept Art WHICH IS THE BETTER BUY? Most definitely the SE. The CE has nothing in it to make me even consider buying it and the SE game ends conclusively, so there's no need for the Bonus Chapter. Overall, I really enjoyed this game. It earns a solid four and a half from me, with the only reasons it misses out on a five being the poor graphics and a couple of problems with the storyline. It's a great entertainer and you'll be sure to love it. I 100% recommend the SE. ON THE GAME LENGTH The game is quite lengthy. I was shocked to find I had not yet entered the second chapter when the demo ended. There are 4 chapters and each chapter is quite long, about 45 minutes to one hour in length. So you're looking at a 3.5-4 hour game on Casual Mode.
May 10, 2014
i really didn't like this one as much as the others in the series.
the graphics were good and i played casual with low sound. the mini games were somewhat different. hint and skip didn't take too long to charge. again you are an agent trying to figure out what is happening to the people and why they are disappearing and when he finds them he realizes that dr. swen is trying to control the minds of the world. he has a brain device that implants false ideas in their heads. one by one he frees them and i was surprised by the ending but i guess i should have been expecting it. sequel?? all the others have had one so i would say yes.
January 20, 2014
NEW AND VERSATILE
There are numerous different ways to solve the hos. A wide variety of different puzzles, some very challenging. Hint button works well as does skip since some puzzles after 20 minutes were. I am looking forward to seeing the other games with the same title.
April 26, 2014
Disturbing Brain Travel
The year is 1925. Your client Renee sobs that her husband has disappeared in a mental sanatorium. Professor Swens is suspected to brainwash his patients. As soon as you arrive in the sanatorium, you are anesthetized and find yourself as patient locked in a room. Strangely enough, Renee who obviously knows more than she concedes, provides you with Swens' portable device for travelling through other people's minds ... The game starts promising, has a good pace and many innovative things as paper key and paper locks, a 2D HOP with posters and ads, put tools back where they belong and so on. Not new, but still fresh and highly entertaining. It's longer than most games nowadays. Puzzles are mostly ingenious from easy to extremely challenging, I had to skip three or four. The characters appear cartoonish but charming, with a tendency to really big eyes, as if seen through very thick glasses. Maybe the graphic artist is actually wearing a pair of those, lol. The music is soothing, but has a slightly ominous, melancholy tinge which fits the sanatorium well. VO and sounds are excellent. You hear birdsong through a big part of the game, which is very agreeable, but makes it not less disturbing. This is finally a creepy game which can do without skeletons, black, red eyed monsters and similar nonsense. A quivering desk or liquids dropping from bottom to top have a much more uncanny effect. It's a great game, for me the best out of the series. Unfortunately, it goes like in many games also a bit downhill against the end (darn deadlines - I wish devs would be granted more time to tie loose ends). The story has an unexpected turn; clever, but alas the motifs of the concerned person are never explained. Well, maybe in the CE. A solid 4 and a half stars ... however I had to take one away for the use of bug spray. Dear devs, please stop pestering us with insecticides! Cease to poison our air, soil and water with those vexing biocides. Bees, butterflies, all useful arthropods like spiders, ladybugs, wasps and everybody who cares for environment will be utterly grateful ;)
January 23, 2015
Nothing special
This is pretty much a standard game. You have the evil mastermind, a few not-so-interesting characters, a dark sanatorium and a handful of not very challenging puzzles. Maybe MCF has spoiled me... but this game unfortunately didn't really interest me. No spooky factor, no plot twists - except one at the very end which you can see coming a mile off. What can I say? I didn't hate it... but that's all.
January 10, 2014
alright.
The artistry was a little too cartoony and the mouths didn't move to the dialog. Some of the mini games where very hard. I had to refer to the walkthrough 2 or 3 times on how to get past them. 2014
January 30, 2014
Didn't Care for This One
I was ready for this one to be over. Started getting bored with it about half-way through. Just didn't do it for me. Doesn't compare to many of the new games I've played lately. You may have a different opinion but it lacked something for me.
January 22, 2014
Way too easy.
Nothing new with this game. 4 hours from purchase to finish. Same tired formula and mini-games. Don't bother with this unless you're not very bright.
January 11, 2014
Waste og time and money
Another awful game - I find that is increasingly more difficult to find games worthy my time. I think this business is wasting talents on making badly constructed games on all levels, this one included.
January 20, 2014
The Apple logo is a trademark of Apple Computer, Inc.
The Windows logo is a trademark of Microsoft, Inc.