The Agency of Anomalies: Mind Invasion
Exclusive
All they wanted was a cure, but what they got was terror! Return once again as a detective for the Agency of Anomalies. This time you're called to a health spa in the Alps, where an evil professor has something terrible in mind for his unwitting patients.
Game System Requirements:
OS:

Windows XP/Windows Vista/Windows 7/Windows 8

CPU:

1.0 GHz

RAM:

1280 MB

DirectX:

9.0

Hard Drive:

625 MB
Game Manager System Requirements:
Browser:

Internet Explorer 7 or later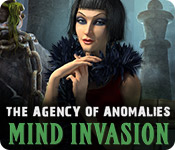 NEW299
The Big Fish Guarantee:
Quality tested and virus free.
No ads, no adware, no spyware.

Reviews at a Glance

The Agency of Anomalies: Mind Invasion
0
out of
5 (
0
Reviews
Review
)
Customer Reviews
The Agency of Anomalies: Mind Invasion
18
18
Get Out Of My Head!
The Agency has sent me on a new case to a suspicious "health spa" in the alps. My client Renee claims her husband's mind is being controlled by my archenemy, Dr. Swen. His involvement with the Brotherhood of Seekers in their quest for world supremacy is notorious and I must stop him at all costs! My investigation isn't going as planned and I wake up in a mindfreak of imagination, my mind is being controlled and manipulated, I must find a way to break free! This is yet another great Agency game with an unusual story and twisted graphic visuals as you use your mind control devise to enter the minds of other patients. The HOS are a mixture of finding the items that match the silhouetted shapes as well as putting inventory items back into the scene in the correct place. There are a lot of tricky mini games too. The one I enjoyed the most was typing a name on and old typewriter, however, you had to choose the correct keys, some would type the letter in the exact spot, some had arrows indicating a one or two space jump forward or backwards. This is a great game with that "professional" feel, and if you don't mind the absence of extras in this version it's well worth the SE, enjoy!
January 5, 2014
ANOTHER WINNER WITH A LITTLE SPICE
If you've liked any of the other Agency of Anomalies, you'll like this one. A different type of creative story - people's minds are being changed and you get a gadget that lets you into their minds. The HOS and puzzles are in a good ratio. The HOS are great and I like that they've put just about every type of HOS into the game - good variety adds a little spice. They are not too busy and you can find the objects without too much eyestrain. The puzzles are mildly to intermediately challenging - and all are doable. Artistry and graphics are outstanding and I love the little mind reader (another piece of spice) which lets you into the patient's "revised" mind and see things through his eyes - it's almost similar to those games where you change illumination and find new items and uses. Good animation. Fantastic production values and a good addition to your game platforms.
January 5, 2014
Excellent Game !!!
The 4th installment of the Agency of Anomalies does not disappoint. This time you are in the Alps in a spa (although it does NOT look like any spa I've visited ) trying to stop the mean and evil Doctor from brainwashing his patients.. You are offered 3 levels of difficulty. A jump map is available. A journal is there. You get to listen to recordings of each patient's background and anomaly. There are many (did I say many) HOS. Yes, they are very different from your standard HOS, but there are lots of them nonetheless. However, they are interesting and diverse and enjoyable. The puzzles were challenging and I enjoyed them. The length of the game appears to be quite good. This game has a great creep factor. I impatiently waited for the SE offering, as I felt the CE did not offer much extra. This is a wonderfully put together game, and you can see much thought went into this by the developers. I do not rank games 5 stars very often. This is a keeper.
January 5, 2014
Mind Bending & Involving
BASED ON COMPLETED GAME FIRST IMPRESSIONS When it comes to paranormal expertise, there?s no one quite like The Agency Of Anomalies. This is the fourth game of the series and combines some of the best elements of the previous games. The cut scenes are well done and I liked the intro ? but geez, developers, I really could have done without the close up of the woman?s pores. SIGHTS & SOUNDS Bad to good to great art, depending on where are in the game at the time. This happens in exactly the same way as that other series Echoes Of The Past, made by these developers. The location graphics are awful, really. Pixellation, blurriness, graininess. Just unforgiveable in an upmarket game. Which this is in every other way. On the other hand, the HOP scenes look great. Clear, detailed, imaginative. I loved the way the mental interior environments were visualised. The music is so appropriate to the (gumshoe again) era. And is easily tuned out if necessary. The other sound, effects and ambient, made little impression upon me. The voiceovers were all excellent. WHAT?S HAPPENING? Well, you come to investigate a health spa, looking for the husband of the woman who hired you. What you find is a bit more sinister. It is the Seekers again, your enemy from previous games, up to their usual shenanigans. They are seeking the ultimate in mind control, and they want yours! Your first challenge is to escape the horrors you find in your own mind! You must then enter the minds of other victims to save them. GAMEPLAY The game offers more HOPs than puzzles, but both are very original and entertaining. There are several types of HOPs, including interactive word lists, replace the displaced items, find the small picture part on the whole, and find the outlined items. Some of the scenes are visited again, but using a different type of search. The puzzles are very new and very clever and very hard. I had to skip more than half of them. I?m not good with puzzles, but even I can normally do better than that. Some of them are really fun, and I hope we?ll see more of them. Others were innovative and exciting new concepts about familiar games, so that they are a whole new type of challenge. COMBINED IMPACT This is an exciting and imaginative game, in the manner of the others of this series, but I found myself frustrated about those puzzles. I may even upgrade to the CE, just to get the help I need to solve them, but in the end, I am not so enthusiastic about this one as I was about the others.
January 11, 2014
Fun
I like games which have more than just hidden objects. I get tired of just looking for things, but this one has a variety of puzzles, and games besides the hidden objects and the story is very interesting with different scenarios. I played the CE instead of this one, but I believe you will like to play no matter each one.
January 5, 2014
Freaky Fun Invasion!!!
I'm a fan of the entire Agency of Anomalies series. They just keep getting better and better and Mind Invasion is the best yet. The HOs are interactive and interesting, and the puzzles are different and challenging. I'm not a big puzzle fan and usually skip the mediocre ones. I only had to skip a few of these. I have to disagree with the reviewer who said it was an ugly game. Not so. It is a lovely game, both in the graphics and in the mechanics. Even the supposedly "gross" stuff, like a sink full of dirty dishes, was beautifully rendered. Plus, the characters were not nightmarish at all, but more like cartoon images in a fantasy book. Mystic Hospital was an ugly, dark and atmospheric game, but fun, nonetheless. Mind Invasion is gorgeous AND fun! The only negative I can see is the abrupt ending, which in no way detracted from my overall enjoyment of the game. I didn't play the CE to the end, so I don't know if it ends differently. I wish there was a way to upgrade to the CE without purchasing the whole game, so I could experience the additional gameplay. There is only one other game that I would do that for- Eternal Journey: Mission to Mars. You owe it to yourself to give this a demo. You may find a new favorite, as I did!
January 10, 2014
WOW!!!!!!!!!!!!!!!!!!!!!!!!!!!!!!!!!!!!!!!!!!!!!!!!!!!!
I HAVE NEVER FINISH A GAME IN ONE SITTING. THIS WAS A GREAT GAME. CHECK IT OUT.
January 6, 2014
You WANT this Invasion!! But, do you want this Special Edition or the CE? Find out inside!
This review is based on playing the complete game, including the Bonus Chapter of the Collector's Edition. I was very excited to see Mind Invasion from Agency of Anomalies. I remembered Cinderstone Orphanage, The Last Performance and Mystic Hospital. I knew if this was half as good as the others it would be great. Well, it's not half as good, it's twice as good. It took some time for the newest offering. It's not hard to tell what the developers were working on!! I do NOT give out 5s easily: not every game deserves a 5, and I won't tell you a game is a 5 just to get your vote for my review. So, please believe me when I write that OVERALL this game is absolutely a 5 out 5. It's a 10 out of 5!. I've been excited recently with new offerings from old reliable developers only to be disappointed at game time. This is not the case here. The game is pretty glitzy: I mean, you know you're into something special from the very beginning. BUT, does it have the juice to maintain a high level after a few scenes? YES. The game begins with a lengthy Introductory cut scene which explains the storyline and why you are where you are. Also at the very beginning there is an option to take advantage of a "quick" tutorial. This is a change from the past. The tutorial is done all at once and it is done quickly. I recommend doing it. Unlike previous tutorials, this one is not intrusive and it doesn't last forever. It is quick and it is helpful. Visual/Sound Quality: The visual quality is great. It's top of the line ART in HOGs. The sound quality is very good as well. The music doesn't so much drive the action as accompany it and it's very pleasant music. Level of Challenge: There are three different types of HOG: a. Placing items in their proper places based on context. b. Matching silhouettes from the inventory list to the actual item. (This one was a little too easy: once you click on the actual item it automatically picks out the silhouette. Not enough challenge in this format.) c. Standard find the listed items HOG. The items are not crowded at all, but still they are hard to find. It's because they are well-hidden and well-drawn. Again, in type "b" above, it would have added another level of challenge if you had to find it on your own. In the big scheme, though, this doesn't hurt the overall value of Invasion. Games: You'll be very happy with the new twists on old games and brand new games of varying difficulty. Some you'll solve quickly, others take longer. I'd like to think that was done on purpose. I think the variety adds to the interest in this superior offering. Storyline: THIS is the reason why I wrote that this game is superior to many others: the story line. The story line isn't always so important (often it's just a very transparent effort at tying together HOGs and mini-games). Not so with Invasion. You'll find yourself really interested in the story. Each chapter gives one example of a character whose mind has been taken oven by a society bent on controlling the world. Yes, it's cheesy, but it's done really well and I think you'll have a great time with it and have a very hard time turning off your computer. I strongly recommend this game. I'd like to tell you more but I don't want to ruin what I think you'll find to be a very exciting game. It's NOT FAST. Admittedly, I'm not a fast player...so maybe you'll speed right through it. Resist the temptation if you can. This is the sort of game which makes me appreciate being a slow-poke. I'm was in no hurry for the fun to end. So finally, do you need the CE or is this Special Edition enough? If you get the Collector's Edition, here's what you're paying for: 1. An additional chapter which accounts for about 20% extra gameplay. 2. Concept Art. 3. 21 achievements (very typical...all the same stuff you always achieve in the normal course of a game). 4. One collectible 31 canes spread throughout the story. It doesn't get in the way of the game but it adds nothing either...and this game really doesn't require anything special added to it. 5. Built-in strategy guide. From my perspective, the story is what's central to this game and I think you capture it with the Special Edition. You spend a lot more money to get the CE and I don't think it's necessary. You will be very happy with this Special Edition and you'll be glad you saved the money. Get this game NOW. You will not regret it!
January 5, 2014
Loved this game!
Play a lot of games and this one had it all! I especially like the hidden object scene where you need to find where the object belongs in the picture ( finding the shapes is fun too ).
January 16, 2014
Hidden Object Adventure on the Dark Side
The graphics were okay, they were of the cartoon/comic book genre where they were exaggerations of the people they were supposed to represent. The soundtrack and music were appropriate for a dark and really creepy, most of the time gross, game. The characters were nightmarish, not in a dark way but in a gross ugly way. The Detective is called upon to find a woman's husband. After that the storyline is kind of discombobulated, was the Detective a victim of the mad doctor, or is he actually operating on his own to save the woman's husband and others who have fallen under the influence of the evil doctor? There is one scene in the beginning where the Detective must get past a sleeping nurse so his plan is to give her coffee with a sleeping pill in it? She's already so deep asleep that the detective has taken keys out of her pocket. It was just a little disconcerting. The rest of the action takes place in a speedy manner, with something to do every minute: mini puzzles, 3 different types of hidden object games, and an impressive 5 part labyrinth. If you don't mind gratuitous grossness, things like a kitchen sink filled with dirty dishes, and characters who will give you nightmares, this one's for you.
January 5, 2014
The Apple logo is a trademark of Apple Computer, Inc.