Cruel Collections: The Any Wish Hotel
Exclusive
Get to the bottom of a perplexing mystery in Cruel Collections: The Any Wish Hotel! When a guest at a local hotel goes missing, the owner calls you in to solve the case. But from the moment you arrive, you realize that this is no ordinary hotel. The guests seem to be afraid of you, and a strange man with unusual powers is following you around the building. Can you uncover the secrets of the Any Wish Hotel and escape before you become a permanent guest? Find out in this rousing Hidden Object Puzzle Adventure game!
Quickly travel to any location by using the detailed map
Play unique and challenging minigames
Meet mysterious characters and investigate an exciting mystery!
Game System Requirements:
OS:

Windows XP/Windows Vista/Windows 7/Windows 8

CPU:

1.6 GHz

RAM:

1024 MB

DirectX:

8.0

Hard Drive:

565 MB
Game Manager System Requirements:
Browser:

Internet Explorer 7 or later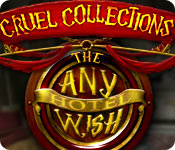 NEW299
The Big Fish Guarantee:
Quality tested and virus free.
No ads, no adware, no spyware.

Reviews at a Glance

Cruel Collections: The Any Wish Hotel
0
out of
5 (
0
Reviews
Review
)
Customer Reviews
Cruel Collections: The Any Wish Hotel
26
26
Trust Nobody
The owner of the Any Wish Hotel has asked for your help, one of their guests have simply vanished, but all of his belongings are still in his room! A stranger keeps appearing out of nowhere and his intentions aren't good, what does he want? Does this have anything to do with the strange glowing butterfly that seems to come and go as well? Your investigation is being sabotaged by the other guests who are paranoid that the "Collector" will come for them as well. Elevators are broken, and stairwells are being barricaded, making your investigation extremely difficult. BF seems to be on a roll lately with some really unique standard edition games. This game has one of those stories that pulls you in and dangles a carrot to push you forward wanting to learn more about the plot. I thought the interactive HOS were well done, many of the items were well concealed with just the right amount of difficulty. Put your thinking cap on and get ready for some of the mini games, they aren't difficult but you do have to use the old noggin to solve them. The one I liked the best was a chess board with 5 chess pieces and the goal was to turn every block green which would indicate the entire grid was defended. Sounds easy but that last little red block drove me nuts! When I play a demo and I become so involved that it surprises me when the demo ends, then I know it's a great game, enjoy!
January 8, 2014
Watch Out For What You Wish For at this Motel!
Here we go....You are an investigator asked by the owner of the Any Wish Hotel to help with the disappearance of one of his guests. This guest has just vanished- owing money and all his belongings are still in his room! While waiting for the appointment time with the owner you are across the street having a cup of coffee when all of a sudden a strange glowing butterfly lands on your table. As you watch it fly away, it soars straight across the street to the hotel to a window where a very sinister man is staring down at you. Upon entering the hotel you read the sign in list which is made up of some very "eclectic" clientele. You make your way to the owner's office where you see that sinister man and the owner discussing him being the bait to get you to the hotel. (Note to reader- we are about this time told that the odd butterfly will play a role in this story). Now the basic info: You are given 3 game play modes- Casual,Normal and Expert. There is no vocal dialogue.- reading only. There is some periodic light background music which I appreciate. I can concentrate on the game and not blasting, sometimes noise! Graphics are good but not specialized and there are a few scenes that are cartoonish. But that doesn't bother me. I look for the fun factor and lack of getting bored half way through. The puzzles are standard- but with their own twist. The HOS are interactive lists . I didn't come across any other styles in the portion I played. They are bright and not too cluttered! Oh yes, you are given a diary with your objectives and notes. Also you are provided with a transport map which indicates where there are tasks still to be done. To sum everything up for a SE HOPA I had a good time and rated it as such, but as I always suggest, because everyone's tastes are different, give it a try and you be the judge. Have fun fellow fishies!
January 8, 2014
Instant buy!
This was an instant buy for me, as I've been waiting for this since I did the beta test. Easy, fun, good for a snowy day.
January 8, 2014
Fun Game
I loved playing this game.I was surprised that it wasnt a CE.The graphics and sound effects are great.I loved all of the puzzles.Kept me thinking all the way through. I'd recommend this game to everyone.
January 25, 2014
Cute
Nice graphics and puzzles, well done HOS slightly interactive, good lenght and backtracking. The only complaint is the lack of voiceovers.
February 4, 2014
Enjoyed!
I thoroughly enjoyed playing this game. The story, the graphics, the music and the length was great. It has been along time since I really enjoyed a game like this. Thanks, we'd like to see more. Thank goodness it wasn't a collectors ed. And the map to go back and forth was great.
January 23, 2014
A simple game...3.5 stars
Another SE today (not complaining, tired of nothing but CEs). Not sure why the devs think everything needs to be in cartoon format these days. I don't mind it once in a while, as long as it is a good game and fun to play, but they seem to be backing up rather than moving forward. Today's game isn't bad. Graphics are clear with bright colors. Game play is good, no problems with any glitches, but moves a bit slowly. There are no voice overs, just a lot of reading, but you can click through it if you read faster and not miss anything important. This is a very quiet game with sound FX here and there, but otherwise very quiet. The initial music was hauntingly nice, but once you got into the game, it was very sparse and different. Hint system is very helpful and fills at the usual and customary rate. HOGs are very simple and interactive. They are clear and items are not difficult to find. So far, there hasn't been many. Same with the puzzles. Only ran across a few, but they were very simple as well. The chess game did take some thought and time. There is a lot of running back and forth and visiting the same area a lot. Be sure to check out the entire scene before you leave. This game is geared more toward the beginner, which is okay, because sometimes that is all I want. Story is nothing new and it is not really challenging. It's just a nice simple game. I will put this in my puddle for purchse another day (like a BOGO). As always, try it for yourself and see what you think. We all have different tastes in games and you may not care for this one at all. Thanks for the reviews.
January 8, 2014
Oh How I Wish?
My review is based on the demo and while in my opinion it isn't the most well put together game nor the most exciting, it does have an appeal that makes you want to keep going. I found the graphics clear, entertaining music and an interesting story line. Hidden object scenes were busy but clear enough to locate everything and they were also interactive. There was a map that was helpful and a journal that tracked what was going on in case you may have missed something. I did find some of the puzzles a bit challenging which is good, keeps the old grey cells working. I don't think it necessary to go into the story as that has already been done so for me I would just like to encourage you gamers to give this one a try. I thank BFG for some of these little SE gems and would like to see them keep coming.
January 8, 2014
Cruel Game Play At Times But Pretty Good - Review Of Completed Game
STORY: You are a detective called to France by a hotel manager of The Any Wish Hotel who is missing a guest. As you search the hotel you discover that guests are being abducted by a sinister man known as "The Collector" for their inventions. You do meet up with 4 of the guests: An inventor, an artist, an illusionist, and a musician. They are all acting peculiar, and it has something to do with a butterfly and "The Collector". The setting of this game appears to be the 1950's due to the 1957 Chevy (love the car ) in the opening scene of the game but not everything in the game has to do with this era. GRAPHICS: Will definitely be "too dated" for some but I had no problem with them being blurry except for the video scenes those were blurry and grainy for me. Other than that they were bright and colorful and seemed fitting to the game. Also on the "cartoonish" side drawn especially the characters. There is no voice overs so will be at first a lot of reading but then comes/goes and there is also some music at times which seemed appropriate. I actually liked the music and don't mind "dated" graphics. Actually I quite like them. There are 3 play modes to choose from. I had no sparkles however some black bar tips. Hint/Skip slow on charge up. Hint is helpful outside of HOS. JOURNAL: Holds notes and you can also play back some of the cut scenes if you wish. Also some notes will be used for some of the puzzles. MAP: This is transporter. Shows where you are, areas that have been completed, and areas where there are things to do however at times I found I didn't have the inventory yet to do some things. HOS: All found by interactive word list. No problem for me since I like HOS but for people that don't... These start out few and far between. I believe I did one maybe two scenes during the demo but after the demo time these do appear more frequent and sometimes back to back. You will also visit them same areas twice. PUZZLES; Not a fan. Less the better for me. These started out pretty easy for me but some I found to require a little thought and a few downright annoying and frustrating. The instructions for the puzzles leave much to be desired and one paper to use to solve one of the puzzles was so hard to make out and this one couldn't be skipped but I was able to solve it. I did skip a few of the puzzles. MY PLAY TIME: This was about 5 hours for me. OVERALL IMPRESSION: Well the title of this game alone "The Any Wish Hotel" really intrigued me. I just HAD to see where this game ended up taking me. The story is definitely "out there" but I really enjoyed it and held my interest till the end. For the most part I really enjoyed the game play. At first seemed to be more on the light adventure side but more into the game opened up to a lot of HOS and some puzzles but there is still some back/forth to this game. I found this to have a lot to do and places to go. The only criticisms I have with this game is I thought some well done voice overs would of really added even more to this game, the puzzle instructions on a couple of these and most important since I loathe them I came across two animal "helpers" more into the game (a cat and a squirrel) but didn't have to dress them up or get toys for them. Their appearance was very brief otherwise this game would of been getting my 1 star stop madness, cut off, and pull the plug rating. ENOUGH with the animals in the games. Though I will say the cat didn't look all that "cute." The cat actually startled me when I first saw it. Looked pretty scary. Thanks and developer for an overall pretty good game here. As always, give it a whirl and decide for yourself.
January 9, 2014
Any Wish Hotel
You are a detective called by the owner of the Any Wish Hotel to investigate a missing guest. However when you get there, odd things are happening. Someone is trying the impede your progress and the meeting you have scheduled with the owner is a bit late because the owner was knocked out by a mysterious sinister stranger. Hmmmm. The story line is very good. I was pulled in by it. Games will either grab my attention or not, and this one did. I came across two HOS. Both list form with very little interaction. I encountered a few puzzles, the chess one I found tricky. There are 3 modes of play. I always demo games on the easiest mode. There are many items to find and it is very easy to miss some. There was ingenuity used by the developers in the use of some objects. Soft background music is the only sound. No voice overs. Just some dialogue. Not much. You do get a journal and a jump map which are nice features. The hint recharges quickly which is a good thing because I missed picking up a few things and was wandering helplessly around. I enjoyed this game and will buy. Demo for yourself as we all have different tastes.
January 8, 2014