Cruel Collections: The Any Wish Hotel
Exclusive
Get to the bottom of a perplexing mystery in Cruel Collections: The Any Wish Hotel! When a guest at a local hotel goes missing, the owner calls you in to solve the case. But from the moment you arrive, you realize that this is no ordinary hotel. The guests seem to be afraid of you, and a strange man with unusual powers is following you around the building. Can you uncover the secrets of the Any Wish Hotel and escape before you become a permanent guest? Find out in this rousing Hidden Object Puzzle Adventure game!
Quickly travel to any location by using the detailed map
Play unique and challenging minigames
Meet mysterious characters and investigate an exciting mystery!
Game System Requirements:
OS:

Windows XP/Windows Vista/Windows 7/Windows 8

CPU:

1.6 GHz

RAM:

1024 MB

DirectX:

8.0

Hard Drive:

565 MB
Game Manager System Requirements:
Browser:

Internet Explorer 7 or later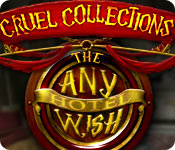 NEW299
The Big Fish Guarantee:
Quality tested and virus free.
No ads, no adware, no spyware.

Reviews at a Glance

Cruel Collections: The Any Wish Hotel
0
out of
5 (
0
Reviews
Review
)
Customer Reviews
Cruel Collections: The Any Wish Hotel
26
26
Good for a Beginner
I agree with the other posters who found this not to be very challenging, rather easy, and lacking in voice overs. However, I think it is a wonderful game for those individuals who are new to hidden objects games that especially carry a story/ The hint button works well, there is a transporter map, and helpful hints presented when you click on an item as it will inform you as to what you need to obtain the needed object. The graphics are pretty good, HO's are interactive, and you are not penalized for clicking all over the place if need be. Games can be skipped. I especially recommend this game to those who are just becoming familiar with games of this type.
January 8, 2014
LIKED IT
I liked this game. Other reviewers have told the premise of the story. It intrigued me. It sounds like you go to this hotel if you have wishes you want fulfilled - so I had to find out if the name of the game was consistent with that. Gameplay was straightforward. Not too many HOS in the beginning, but the number increases later. Nice balance with the puzzles - most of them are fairly easy but fun. A couple take a little thought. Fast-track map so to'ing and fro'ing through a lot of scenes can be avoided if you like. Inventory tray does get a little crowded at times unless you decide to use any inventory objects soon after you've collected them. No V/O but you can go through the dialogue as fast as you want (yeah!). Graphics are nice enough - I didn't find them fuzzy as some people did. Guess it depends on your computer. Overall, a pleasant game that I enjoyed.
March 5, 2014
Enjoyable
I disagree with the negatives of some other reviewers - the graphics were very good; cartoony? I suppose so but it is a casual game so I don't need real people and long storylines. I'll watch a movie or read a book for that. And the lack of voiceovers is a plus to me. Just as long as I can click through the dialogue (I'm a very fast reader) I'm happy. The music is good - it changes with each section of the game so it doesn't become monotonous. I did skip some of the puzzles, not because they were too hard but because they were a bit tedious. I'm not going to give myself a headache doing something I don't enjoy. It seemed like it should be a CE so sometimes it felt a little incomplete, as if the developers started it as a CE and then downgraded it and rushed through the rest of it. All in all a pleasant way to spend 5-6 hours.
January 12, 2014
I've seen better and worse
I also agree with the other posters who said this wasn't very challenging, however I thought it is was a wonderful game. Maybe if you are tired of the same ole same ole storyline or if you are new at HOG this would be good for u
January 13, 2014
It?ll Keep You Busy!
BASED ON DEMO FIRST IMPRESSIONS The opening sequences are not at all impressive. There is no voiceover, the graphics are sub-par and the story itself seems at this stage pretty obscure. Things do improve once the game proper starts, but it is still definitely a B grade production. Of course, some B grades ? movies or games - are just the thing in the right mood. SIGHTS & SOUNDS While the graphics are bright and colourful, they are a bit blurry, and have an amateurish feel about them. But they are not ugly, and are clear enough to see all you need to see, and if you?re on a laptop or small monitor, I doubt you?d notice the blur. The lack of artistic style, though, is obvious. The music is strange to me, but then I know nothing about music. I think this is jazz. It certainly involves excessive use of a big string instrument. I did not notice any other environmental sounds. There are no voiceovers, and that means a heck of a lot of reading in the early part, and throughout the demo it is still noticeable by its absence. I think the key to success without voiceover is to tell as little of the story as possible, and let the characters? actions speak for themselves, otherwise there is just too much time spent looking at the bottom of the page. WHAT?S HAPPENING? You have been enticed to the Any Wish Hotel to investigate a disappearance, but before you even walk through the door, the presence of a strange and malevolent looking man bothers you. So does a very beautiful and ethereal butterfly that is the highlight of the game. Inside, the hotel is a shambles, and just getting to the owner?s office is an adventure. The current guests include an inventor, an artist, an illusionist, and a musician. They are all acting peculiar, and it has something to do with that butterfly and the stranger. Things go downhill from there. GAMEPLAY Very basic. This a no frills game all the way, and that includes the HOPs and puzzles. The HOP scenes look quite good, but are very cluttered. They are interactive lists with some new interactions. The puzzles and mini-games are for the most part old, and very easy. Some, though, are quite clever. But neither types of game are the main focus. Most of the game is very easy adventure stuff. What I call inventory-driven. Wander around and find out what you need; then wander around and find out what you?ve got; put the two together. After the initial confusion, where you have a dozen inventory items and a dozen places to put things that don?t match with any of them, the game settles down into an easy rhythm. Each location has lots to do of this sort of thing, and you will certainly be kept busy, but the objects and their uses are usually pretty obvious. There is an interactive map giving you where there are active task, where you are finished, and of course where you are. It (sometimes ? you?ll find out) allows you to jump, which judging by the toing and froing, and the complexity and size of the map, is going to be a good thing. There is also a directional hint and a journal which allows you to replaying cut scenes. And 3 modes of difficulty. VERDICT One aspect of this game is fun. There is an ironic humour throughout, leading to black bar comments like: What a good place to hide a cane head! (The maintenance hatch of the elevator). I can?t get into this game. But it is not all bad. It is a nice easy game with some good moments and I?d never NOT recommend it on its B grade status alone. But, personally, I think there?s better. Maybe worth a punchcard coupon for some.
January 8, 2014
I Have So Many of These Games!
Is it me or are standard edition games getting older by the minute. It is like I stepped inside the TARDIS, travelled through time and Poof, its 2008 and I am playing the earlier standard HOPA game with sharp and clean graphics, no voice-overs, minimal sound effects, a cool jazzy music in the background, very easy mini-games that take about thirsty seconds to solve and basic hidden object scenes with slight interaction. You have a journal, a jump map and a hint system that merely highlights direction outside HO scenes. I suppose the only interesting element of this game is the storyline which takes place in the Any Wish Hotel, a couple of missing guests and you as detective hired to solve the mystery. It?s not a bad game, just a very old and familiar game. Ideal for beginners and those who enjoy nostalgia but for me, I have enough pre-historic games in my own fault to last me a lifetime. I really am expecting a bit more now that we are in the new year and I-phone 6 is about to come out. Well, I guest it is time to get back into the TARDIS with the Doctor and see what the future holds at BFG.
January 8, 2014
I just don't know
First, let me apologize I haven''t been on for a while so I haven't reviewed a game in a little bit. I wanted to like this game. I really did and something inside me wants me to just jump in and get it but there was no "wow" factor in it for me. The storyline: You are a detective called (lured) to the Any Wish Hotel to investigate a missing guests. The guests are all entertainers of some kind it appears. The characters are cartoonish and you have to do a lot of reading between found notes, the journal and the screen because there is no voice going on at all. The color scheme is bright so no dark and bumps in the night. There is a journal, a map that shows your progress, where you need to continue and where you have completed a room, and for a short while is a transporter map but you lose that ability and then have to find creative ways to get around because the elevator is out of order too. The hint button charges fairly quickly, probably under a minute. There is a beautiful butterfly that comes into play but I haven't figured out how or why. Nor have I figured out why the hotel is called Any Wish Hotel. Maybe we find out later in the game. Also, the hotel is in such disrepair why would anyone want to stay there anyway. Just lots of questions I think we should have answers to as we play along. It was incredibly easy. The HOs were somewhat difficult to find because of the crowdedness of things. The mini games I did not find to difficult. But, here's the thing. When I finish a trial period with a good 10 minutes to spare - that's when the big question hits - is it really worth it? If you've got an hour to spare go ahead and try it. But as I read what I write it's a no for me. Sorry. This Glam-ma was genuinely unhappy. boo-hoo.
January 8, 2014
Mixed feelings
I beta'd this games in what feel like forever ago and I could not wait for it to finally be released. Any suggestions I made were ignored (i.e. black bars on the sides) and the game doesn't seem to want to run smoothly now with access error violation codes and cursor freezing. I am really starting to wonder why I liked this game in the first place. The story is good and visually it is nice but the constant cursor lag and and just very uneven game flow is ruining the experience completely :( I turned off the custom cursor and it seemed to help with the game locking up but only for a little bit. I hope they fix this soon or I will be asking for a refund. For general info: *3 game modes *No bells and whistles really that I saw anywhere music is ok, I have it turned on low. The wind noise in outside scenes is annoying to me though. No voice overs. *Puzzles are tricky but solvable with patience or can be skipped even on hardest mode *A lot of back and forth travel until you establish a way to get around the hotel without use of the elevator and can jump around from the map. The map seems to tell you that there is a task in certain areas but are not necessarily able to be completed yet. * A good amount of HOS which are minimally interactive. Until they fix these error codes and graphic glitches, I don't recommend this game sadly as it did have potential to be a very decent standard game.
January 9, 2014
Yawn....
Okay, I could be wrong but to me this game was very very slow. Everything worked out just a little too easy, there are three modes of play and I played part of the demo in the hardest level which didn't seem too hard. I don't like games that are so hard they are frustrating but I do like a challenge and this one does not offer that, at least in the 30 minutes I played on the demo. I was bored so quit. Graphics are good enough, music upbeat, mini games super easy and I only encountered one HOS which was interative and very easy. Probably a very good game for beginners so I will recommend it based on this but not for people that want a nice challenge.
January 8, 2014
Run of the Mill Hidden Object Adventure Game
Based on the Demo The soundtrack is almost non-existent with a little jingle here and a little jangle here. There are no voice overs which means a lot of reading what the characters are saying and a farcical type of interaction between characters. Graphics are very good, very well done. The storyline was a little confusing. Guests seem to be disappearing and you as detective are called in to solve the mystery. There appears to be a mad scientis running around materializing objects from drawings. You have an interactive map and a diary to assist you with gameplay. Because the map doesn't differentiate between what you can do now and what must be done in the future you spend a lot of time riding the elevator from floor to floor. Hidden object scenes are well done, junkpiles with interactivity and straight lists. The mini puzzles are easy but fun: the usual like lock picking, chess games, and swapping colors. Nothing too hard, but very entertaining. The storyline was a great one, when I could figure out what was happening, but the rest was just mediocre and run of the mill.
February 8, 2014