Spirits of Mystery: The Silver Arrow
Exclusive
Discover your true destiny in Spirits of Mystery: The Silver Arrow! When you met Prince Philip, it was love at first sight... but his obligations to his kingdom kept you apart. Tradition required Philip to let Fate choose his bride by shooting a magical Silver Arrow into the sky. As luck would have it, the Silver Arrow chose you! But the moment it landed at your feet, a notorious shape shifter appeared and took it away from you! Now you must track him down and get back the arrow before his mysterious client can get her grubby hands on it and present it at the wedding. Will you make it in time? Find out in this exciting Hidden Object Puzzle Adventure!
Game System Requirements:
OS:

Windows XP/Windows Vista/Windows 7/Windows 8

CPU:

1.6 GHz

RAM:

1024 MB

DirectX:

9.0

Hard Drive:

541 MB
Game Manager System Requirements:
Browser:

Internet Explorer 7 or later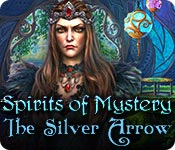 NEW299
The Big Fish Guarantee:
Quality tested and virus free.
No ads, no adware, no spyware.

Reviews at a Glance

Spirits of Mystery: The Silver Arrow
0
out of
5 (
0
Reviews
Review
)
Customer Reviews
Spirits of Mystery: The Silver Arrow
18
18
Love It!
I just had to write something after finishing the demo! Although the play is a little clunky and illogical, this game is so beautifully drawn, I have to get it. Just to look at it! Lovely details, beautiful colors, mysterious, fanciful designs. THIS IS THE MOST BEAUTIFUL GAME I HAVE PLAYED! So beautiful I really don't care about the clunky play or the illogic. (The music is pretty good, too.)
January 12, 2014
I Knew I was in Trouble When.....
Yep, I knew I was in trouble when I put my name in as the player and it came up, "Princess Patrick." That was a good for a laugh or two around the homestead. This is posted after playing the complete game. I was a bit surprised by the game. It is fantasy, but aren't they all, So far as fun, it was ok. I wasn't all that excited about it, but the game didn't bore me to death. It was kind of fun to me. The graphics and sound were well done. The voices very easy to understand and the music was .... interesting and kept with the action. Hidden objects were difficult for me. They were well done and clear, but the designers did a great job in hiding things. The Hidden Objects Scenes were harder to me than the mini games. I normally don't waste too much time on the minis, because I don't like them, but these, I could do and skipped very few. This kind I like. The Hidden Objects varied in what you did. Some were hunt and find, others placing objects where they belong, and one that really got me, were pairing various objects by association. Those were challenging. I suppose they could be classified as mini games. The map was extremely helpful as was the hint button which recharged very quickly. The story of Princess Patrick, and the Prince was interesting enough to keep my interesting. I won't go into the story description. Big Fish does a great job at that, but let me say, it was a story worth telling. A personal side note, I must be the only male to play games. Seems like they are all geared toward women with just a few exceptions. Come on designers... Princess Patrick indeed!
January 22, 2014
not bad...
The game was fun to play. I played in expert mode and it challenging. You really have to pay close attention to where the magnifying glass is in order to make up for no black bar tips. 2014
January 27, 2014
I wacked a mosquito but for good reason!
Yes, fun things like that and more! I really liked this game. Not a five-star but very good, nonetheless. Good tranporter map, good hint button if you need it. I played the SE and quite glad I purchased it. HOS are great, wonderful artwork; sometimes there was no rhyme to its reason as far as obtaining objects and knowing what to do with them--process of elimination and/or logic We gamers should be used to that by now; at least I am! Good game-flow, which I like, and there were tricky puzzles for sure. I think the SE was a long enough game, too. I would recommend this game. Now go and find that arrow!
March 3, 2014
A Nice Surprise, and Fun (non CE version).
I play these regularly (mostly CE) and it's been a while since I truly enjoyed an ERS game. This is mainly due to the fact they all seem to come from the same cookie cutter and thus became boring. This one was a surprise, and a nice one at that. It has the lovely, classic, deep graphics that I've come to expect from ERS but they have upped the ante a little on the games and puzzles. The music is not intrusive, the storyline is of the usual sort and makes logical sense. I love an interactive map and this one was useful when I got stuck. There was a bit of to and fro'ing, but the map made it easy to remember where you were and to hop to where you needed to be. With intermediate play, I could still decide if I played some of the puzzles in casual or hard mode. Nice! The non-CE game took me about 5 hours to play at a casual trot. I believe that's value for money. If ERS keeps up the good work and increase their store of games and HOS styles and challenges, I'm certainly going to give them a go more often.
February 25, 2014
Not Actually As Bad As I Thought!
Everyone knows I've been extremely critical of ERS as of late regarding their games being too cute and fuzzy, and not allowing something for we male players, so given the history of this series, I was a little hesitant to try this one. When the SE came out, I thought I'd better try it, so I did. I have to say it was a lot better than I expected, it still falls well short of a great game. The story, which I was expecting to be all cute, magical and cuddly, was not what I was expected. To my surprise, I actually found it exciting, and I'm a little curious to see how it ends! The story starts off a little slow, and is a bit boring to begin with, but it builds up and, at the end of the demo, I wanted more! There are not many twists and turns, but it's still rather enjoyable. The story goes like this: The prince shoots his silver arrow and it goes in your window, meaning you are his new bride according to the tradition. But before you can take it, someone steals it! So now, you have to get it back (with the help of the prince, of course). I especially enjoyed the villain(s) in this story. The first was some kind of shapeshifter, which was a bit different and nice. However, one element of the story I didn't like was how the game didn't come up with a name for the main character and decided to use your name instead. When you're a guy, to be called ?Princess _____? is a bit insulting! The gameplay, to be honest, was a bit sub-par. This is the first time I'm going to say this, but the HOS were a bit boring. They were easy, as usual, but I don't fancy every HOS except for one being silhouette. I want to see more junkpile. I would have enjoyed the game more had there been more junkpile HOS and less silhouette HOS. The one HOS that wasn't silhouette was a matching scene, where you had to match two objects to each other. This was a little more challenging and very enjoyable. More of these would be nice too. The puzzles were a little bit hard for me. I played one but skipped the rest. They were nothing new, but they were still fun to attempt. The puzzles will be a bit challenging to most people, but will probably be easy to experts. Those who skip all the puzzles should be warned that your gameplay time will be cut by quite a bit. I'm usually annoyed by cute fuzzy animals and the animal in this game, Ramos, is no exception. Its voice just drove me mental, and I couldn't wait until it stopped talking. I think it's about time ERS gave up on the cute and fuzzy and gave us more of the dark and gloomy. This is pretty much your standard HOPA. If you've played any HOPA before, it should be pretty easy to navigate. Experienced players will have no trouble making their way through the game. I would also recommend this for beginners. An ERS game brings us the same old ERS graphics. Don't let my usage of ?same old? confuse you, because I rather liked them. The art is well drawn and detailed, especially the character designs. Each scene was clear. I usually don't have a problem with voice-overs, but in this game I do. The voices of the Prince and Ramos were not done well. Ramos's voice, as I mentioned before, was incredibly annoying. Phillip's voice was terrible. Basil was frequently mispronounced as ?Bay-zul?. I have never heard it pronounced that way in my life. FEATURES 3 modes of difficulty- Casual, Advanced and Hard. In recent games, ERS gave us a ?custom? difficulty setting, and I was a little disappointed that it wasn't here. I played Casual. Hint/skip- both recharge fairly fast for Casual. The hint is useful outside outside HOS. Map- the map is interactive and extremely helpful. It lets you know when the location is complete and where there is a task to perform. Diary- Used to keep track of events. It's used fairly often. Ramos- This is your animal helper, and it's really annoying, as I've mentioned countless times before. So, I have to say, this isn't all that bad, but the best I can do is three stars. I'll happily recommend the trial, but this isn't one I'm going to buy.
January 14, 2014
What Happened?
What happened to Prince Therien? I thought Mortis was destroyed by the magician Brishare. This review for trial only. Didn't capture me like the others. Too bad. I have many of the other games.
January 10, 2014
Just Didn't Like It
I usually don't post reviews, but this game.. ugh..I really didn't like it. The storyline was good, but I didn't like all of the "get this and put it here" things in the HOS. If you like that kind of thing, you'll love this game. If you're looking for a plain old Hidden Object game, then this is not for you.
January 16, 2014
The Apple logo is a trademark of Apple Computer, Inc.