Spirits of Mystery: The Silver Arrow
Exclusive
Discover your true destiny in Spirits of Mystery: The Silver Arrow! When you met Prince Philip, it was love at first sight... but his obligations to his kingdom kept you apart. Tradition required Philip to let Fate choose his bride by shooting a magical Silver Arrow into the sky. As luck would have it, the Silver Arrow chose you! But the moment it landed at your feet, a notorious shape shifter appeared and took it away from you! Now you must track him down and get back the arrow before his mysterious client can get her grubby hands on it and present it at the wedding. Will you make it in time? Find out in this exciting Hidden Object Puzzle Adventure!
Game System Requirements:
OS:

Windows XP/Windows Vista/Windows 7/Windows 8

CPU:

1.6 GHz

RAM:

1024 MB

DirectX:

9.0

Hard Drive:

541 MB
Game Manager System Requirements:
Browser:

Internet Explorer 7 or later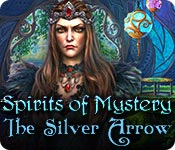 NEW299
The Big Fish Guarantee:
Quality tested and virus free.
No ads, no adware, no spyware.

Reviews at a Glance

Spirits of Mystery: The Silver Arrow
0
out of
5 (
0
Reviews
Review
)
Customer Reviews
Spirits of Mystery: The Silver Arrow
24
24
Fairy tale story in a fairy tale setting
This developer irritates me at times, but its fairy tales are always good. The storyline is always out of such fairy tales,, as are the settings and challenges (fairy tales are always full of challenges). This is a continuation of previous Spirits of Mystery, only it happens to the grandchild of the previous character. It is only the villain who is the same... Loved it!
May 30, 2014
Interesting Story, Fun Game
I have enjoyed all the Spirit of Mystery games, this one included. The story had more depth than most and got into the action quickly. The end wasn't abrupt and it was a lot of fun. Pros: Intuitive game play, varying landscapes, moving and suspenseful storyline - a little humor. Puzzles easy to medium. Cons: Some puzzles could use better instructions. Overall a fun and interesting game with classic imagery.
April 6, 2014
Beautiful Game.
This game was beautiful to look at and fun to play. It did seem a bit short to me even for a standard edition. The mini games were not your usual games and that made this game even more enjoyable.
January 12, 2015
SQUEAMISH PLAYERS BE WARNED!!!!
Normally when I write reviews I try to cover all of the basics without giving away anything in the actual storyline. And no, I would be no true Big Fishy if I let any spoilers slip out. Just be warned, this game is surprisingly up close and personal with injuries and wounds. Now, most games when an animal or person gets hurt, not much is shown?.and this game was very open about showing injuries. Within the first few minutes of game play, your beloved dog is attacked, DISLOCATES HIS SHOULDER and lies there crying in pain while you race around to find items to heal him. You have to wrench his little leg back into place! And later, a bear has his leg caught in a trap, and you not only free him, you stitch his bloody wound shut while he cries out in bear whimpers of pain. And those are just the first two instances in the first hour of gameplay! The graphics are beautiful and crisp, they remind me somewhat of Dark Parables and a bit of Nearwood style. Voiceovers are nice, the game has a great length for an SE I thought, about 5 hours give or take. I just?I liked the game. I did?but for anyone who does not like animals hurt or crying or whining or open wounds on cute loyal critters?.give this one a pass maybe. Or at least gear yourself up for it. I was completely unprepared and had to turn my sound off at least a couple of times because animals and bodily harm do not do it for me. I half-expected a Sarah McLachlan song to start playing when my dog lay there injured and in pain? I just didn't like it. t do better when people are hurt in games, weirdly enough. So yes this game was another ERS classic, in style, storyline, and HOPA. The HO's were great fun especially and the little details in the game were great. But for anyone who is kind of squeamish (like myself)?maybe try the demo first? I am torn between the rating?but I am giving it a four because without the critter gore, it would be an awesome game to settle down and play. Happy gaming, Big Fishies!
January 17, 2014
I Knew I was in Trouble When.....
Yep, I knew I was in trouble when I put my name in as the player and it came up, "Princess Patrick." That was a good for a laugh or two around the homestead. This is posted after playing the complete game. I was a bit surprised by the game. It is fantasy, but aren't they all, So far as fun, it was ok. I wasn't all that excited about it, but the game didn't bore me to death. It was kind of fun to me. The graphics and sound were well done. The voices very easy to understand and the music was .... interesting and kept with the action. Hidden objects were difficult for me. They were well done and clear, but the designers did a great job in hiding things. The Hidden Objects Scenes were harder to me than the mini games. I normally don't waste too much time on the minis, because I don't like them, but these, I could do and skipped very few. This kind I like. The Hidden Objects varied in what you did. Some were hunt and find, others placing objects where they belong, and one that really got me, were pairing various objects by association. Those were challenging. I suppose they could be classified as mini games. The map was extremely helpful as was the hint button which recharged very quickly. The story of Princess Patrick, and the Prince was interesting enough to keep my interesting. I won't go into the story description. Big Fish does a great job at that, but let me say, it was a story worth telling. A personal side note, I must be the only male to play games. Seems like they are all geared toward women with just a few exceptions. Come on designers... Princess Patrick indeed!
January 22, 2014
Much better as an SE...
Finally got to demo this one. I had run through the CE version (see review below) and was not especially kicked out about it. However, as I have said many times, I sometimes change my mind once I play it over again. However, I seldom go back and buy the CE. For some reason, the second time around was much better on this one. Wouldn't it be nice if we could demo twice before making our decision to buy or not? Still not all that challenging, but is a nice SE and I have used a game credit to get it. Please read the following for a more thorough review, based on the CE demo. "Well, this one has me on the fence, to say the least. Game play is good. Graphics seem old school...maybe back a couple of years, and a little washed out. Music isn't too bad. There is a locking inventory bar and a jump map. Jump map is not identified by location, only a picture...I lose interest in this type of set up quickly. At least the SG doesn't say "return to the tower," it tells you how many steps to go back, which can be quite a few. HOGs are okay, although straight silhouettes is very boring, and I like HOGs. Puzzles are not difficult, but take a bit to complete (the cup game was easy to figure out#. There are some sound FX, e.g. birds, bugs, water, but not a lot in the way of dialoge...except for the interpreter animal. Ug, extremely grating voice and why do we need to interpret animal speech when it is the land of magic and you just wave your hand? Did not care for that at all. Hint system is helpful and fills quickly. Not a lot I can say about this game. Only collectibles are the pearls and you only use them to upgrade the tower #yawn). It did not grab me and make me want to buy it to see what happens. The story is nothing new, location is nothing new. The game was not challening to the point of needing to use the SG to figure out what to do next...not necessary at all. I do not see that this game is CE worthy, but I may get the SE if there is a hot deal down the road. I sometimes find that a game is worth buying if I play it a second time, when the SE comes out, although not often. It is time that the devs do some upgrading of graphics, story and challenge...especially challenge. Really tired of the same old stuff. As always, try it for yourself and see what you think. We all have different tastes in games and you may find this one to be exactly what you are looking for today. Thanks for the reviews."
January 13, 2014
Love It!
I just had to write something after finishing the demo! Although the play is a little clunky and illogical, this game is so beautifully drawn, I have to get it. Just to look at it! Lovely details, beautiful colors, mysterious, fanciful designs. THIS IS THE MOST BEAUTIFUL GAME I HAVE PLAYED! So beautiful I really don't care about the clunky play or the illogic. (The music is pretty good, too.)
January 12, 2014
MOSTLY ADVENTURE IN A FAIRY TALE
SUMMARY: [Keeping short because others have gone into the details of the game.] Terrific sound and special effects. Nonlinear fairy tale. HOS are "place the objects" into the scene. Objects are found near where they can be used. Map with pending activities shown. Outstanding graphics and artistic extravagance, with very good color palettes. Lots to do in this mostly adventure game. Nice storyline. Well thought-out gameplay.
March 20, 2014
A Nice Surprise, and Fun (non CE version).
I play these regularly (mostly CE) and it's been a while since I truly enjoyed an ERS game. This is mainly due to the fact they all seem to come from the same cookie cutter and thus became boring. This one was a surprise, and a nice one at that. It has the lovely, classic, deep graphics that I've come to expect from ERS but they have upped the ante a little on the games and puzzles. The music is not intrusive, the storyline is of the usual sort and makes logical sense. I love an interactive map and this one was useful when I got stuck. There was a bit of to and fro'ing, but the map made it easy to remember where you were and to hop to where you needed to be. With intermediate play, I could still decide if I played some of the puzzles in casual or hard mode. Nice! The non-CE game took me about 5 hours to play at a casual trot. I believe that's value for money. If ERS keeps up the good work and increase their store of games and HOS styles and challenges, I'm certainly going to give them a go more often.
February 25, 2014
I wacked a mosquito but for good reason!
Yes, fun things like that and more! I really liked this game. Not a five-star but very good, nonetheless. Good tranporter map, good hint button if you need it. I played the SE and quite glad I purchased it. HOS are great, wonderful artwork; sometimes there was no rhyme to its reason as far as obtaining objects and knowing what to do with them--process of elimination and/or logic We gamers should be used to that by now; at least I am! Good game-flow, which I like, and there were tricky puzzles for sure. I think the SE was a long enough game, too. I would recommend this game. Now go and find that arrow!
March 3, 2014
The Apple logo is a trademark of Apple Computer, Inc.