Royal Jigsaw 2
Collect beautiful photos to uncover the greatest and most illustrious landscapes, castles and palaces of the world! Take an exciting voyage to the heart of a grand ball life, visit the golden throne room, and uncover a secret royal treasury. All the luxuries of royal life are here in this game! With over 700 unique puzzles, Royal Jigsaw 2 is the choice of real kings!
Collect 700 high-quality unique pictures
Ambient, relaxing sound and royal trophies
Optional game difficulty control for your comfort
Save game progress at any time
Game System Requirements:
OS:

Windows XP/Windows Vista/Windows 7/Windows 8

CPU:

1.0 GHz

RAM:

512 MB

DirectX:

9.0

Hard Drive:

168 MB
Game Manager System Requirements:
Browser:

Internet Explorer 7 or later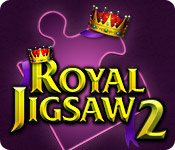 NEW299
The Big Fish Guarantee:
Quality tested and virus free.
No ads, no adware, no spyware.

Reviews at a Glance

Royal Jigsaw 2
0
out of
5 (
0
Reviews
Review
)
Customer Reviews
Royal happiness Jigsaw Style!
I am what you call a puzzle freak, I can put a 1000 piece puzzle together in a few hours time, so naturally I'm a fan of Royal Jigsaw and I never lose a single piece. I love the features available such as ghosting a picture in the background or hanging the image to the side. You can modify any of the puzzles where you choose how many pieces and what shape the pieces come in. You can sort the pieces, choose just border pieces to start with or put some pieces in a box to free up some space. There are achievements to earn and you can change the color of the background. This game has 4 different boxes and each box has 22 pages of beautiful landscapes, people and animals so what are you waiting for, enjoy!
January 13, 2014
Lots More Puzzle For Your Dollar
BASED ON ONE HOUR DEMO This game?s predecessor didn?t impress me much, but I am wow?d by this one. It has everything, including more great jigsaws than you can poke a stick at. The jigsaw photos come in an apparently random set of 4 boxes, each with 88 photos in each, a total of over 700 pix. They are all clearly professionally taken shots, and while many of them do have a regal theme ? crowns, palaces, for example ? it?s much more like they have been chosen for their beauty and glamour. There are many pictures of flowers, jewellery, landscapes and monuments. Everything from the Great Wall of China to a butterfly. All puzzles can be customised in the following ways: ? Number of pieces (from about 12 up to about 300) ? Degree of irregularity of the cuts ? Pieces can be rotated, or not ? Picture in the top left corner, or not ? Ghost, or not ? Sorted, or not ? Borders separated, or not ? Background colour, choice of 4 You can get scores based on speed and trophies. The music is pleasant and unobtrusive. The interface harmless, but boring, and I am not sure I like having no instructions regarding the customization, you just have to figure it out for yourself. You are not given an option to stick the pieces to the desktop, which is my one criticism. Otherwise, this game represents *years* of fun to me.
January 13, 2014
Very Good. Really Nice Photos.
How does this compare to Jigsaws Galore? Gorgeous photos that fit the theme. In fact, I like the photos in this more than Jigsaws Galore. You can customize the pieces somewhat but there aren't any "fun pieces". You can't import your own photos. Other points: Trophies and points to win but nothing to "spend" points on. Decent ambient music. I will be buying this game because there are enough photos that I like, it is worthwhile to me. But I would love to see a 3rd installment that really went further? maybe building a castle using points you get by solving puzzles.
January 13, 2014
Lots of Jigsaws!
The jigsaws from this developer cover a wide range of subjects and I've enjoyed each new game from them that Big Fish brings to us. The puzzle pieces can be locked down by going to the opening screen, pick the "options" icon, then midway down (below "sound"), on the right side you can choose to fasten the puzzle pieces to the board as you go along---this is a most satisfying way to play. The "ghost" picture option is a special treat, too. It's a wonderful way to enjoy jigsaw puzzles again after giving them up years ago.
January 13, 2014
Very Nice Jigsaw Puzzle Game
This is my first time trying an on-line jigsaw game. This one was done very nicely. The colors and graphics were clear. The pictures were all gorgeous. All said and done, you probably have a choice of over 700 pictures. You have many options to choose from such as rotate pieces, ghost, picture in the corner, border, etc. No instructions are given, so you need to figure out the options on your own, but it's not difficult. You can choose a puzzle with 12-300 pieces. Music is pleasant. If you are a jigsaw fan, you could have a field day with this game. It's enjoyable :)
January 13, 2014
finally
well, finally I have bought a puzzle game that excites me. tons of pictures and at first I thought, here we go again with the 12 piece puzzles but NO you can change to many more pieces. I LOVE it, bought it after 5 minutes!!
January 13, 2014
Great game
sure do like this puzzle game pics are really nice lots of color good quality
February 4, 2014
Royal Jigsaw 2
Good, helps brain power Grandkids and seniors need to do more brain excersie than texing
January 13, 2014
The Good and the Bad.....
Based on the completed Demo: I enjoy putting together jigsaw puzzles and this had a nice variety of 4 "boxes" to choose from a variety of animals, sculptures, architecture, art, castles and so on and so on. The puzzles varied between straight putting them together to a bit more complicated which way does the piece go? The music was consistent all the way through. I would have liked to had heard a variety of music maybe based on what category you were playing. There was a lot of help from giving you a "ghost" of the picture to the picture itself to giving you just the borders and .... so on. Which I'm guessing would be appreciated in the larger puzzles. Now the bad. The puzzles ranged from a relatively easy 12/13 pieces to well over 200+ pieces. My problem stemmed from the pictures I like to do (animals, maybe castles) were either a ridiculously easy 12/13 pieces or an astounding 250+ pieces with no middle ground. As I am just getting back into jigsaws after many years away, to delve into an easier puzzle for 3/4 puzzles was nice but then to have to drastically jump to a monstrous size puzzle was, to say the least, unsportsmanlike. One would rather prefer to start easy and work the way up to monstrous size. You have 4 "boxes" to work your way through - each page (22 pages in each "box") has a variety of pictures to choose from. If the developer just would have had a more middling ground I would have purchased this immediately. But for that reason this Glam-ma is giving it a pass. Please try it for the Free Trial - all you have to lose is an hour.
April 17, 2014
Terrible, clunky, "old-style," no fun jigsaw puzzle
I could stand playing just one jigsaw puzzle before I deleted the whole game from my computer. Good points: 1. Many pictures. Bad points: 1. Mix of average quality photos (I have better photos in my own family photo album). 2. There are 4 trays of pictures but with no separation into subject categories - like animals, buildings, nature, food etc. All pictures are jumbled up, and there are no differences between pictures in tray 1, 2, 3 or 4.. 3. There is a very annoying sound effects with EVERY correct placement of a jigsaw piece. I turned all sounds off after about 2 minutes. 4. The cursor has little red glimmering stars coming off it every time you move it (like a magic wand). Can't be turned off. 5. You have only 4 colors to chose between for background. 6. Pieces are rounded and fuzzy, and does not "fit" the cutout in a crisp way. Looks like they used 20 year old game designs and techniques. You have to guess and go by the annoying "sound" and light effects to see if the piece fit. 7. Each piece has a little shadow when it's "lifted" which is yet another irritant and totally uneccessary. It just adds to the fuzziness. (and my eye sight is pretty good) 8. It took forever to finish one very simple puzzle as it was just very slow-moving with too many effects. I normally do a 200 piece jigsaw puzzle in about 30 min. Here it took 30 min. to do a 50 piece puzzle! 9. There is no way to "check-mark" a puzzle after you've finished it, and there is no way to "save" finished puzzles, so I have no idea how I will know which jigsaw puzzle I have played and which I haven't played. You are supposed to just trust your memory with 700 "similar-looking" vacation pictures. Don't think so. 10. There is only one "style" of puzzle shapes. You can "bend" the pieces a little bit, but you can't change the shape. 11. Pieces end up "on top" of ghost picture which means you have to start by moving them all to free the board. At least I learned to try ALL future jigsaw puzzles out before buying them.
May 5, 2014
The Apple logo is a trademark of Apple Computer, Inc.