Archie: Riverdale Rescue
Archie and his pals need YOU to help rescue Riverdale! Play as Betty, Veronica, Jughead, Reggie, and dozens of favorite classic comic-book characters. Personalize, decorate, make Riverdale your own – while creating new relationship and completing fun quests and interesting tasks. Loaded with original artwork and comic content you can't find anywhere else – the whole family is sure to love this fun-filled city building sim. Help save Riverdale while helping yourself to heaps of Fun! Oh and of course, don't forget – you get to help Archie choose: Betty or Veronica!
Play for free!
Read bonus comic strips in-game
Enjoy fun, relaxing city building sim game-play
Share with your friends and be rewarded with kisses
Ongoing updates, content, and special events!
Game System Requirements:
OS:

Windows XP/Windows Vista/Windows 7/Windows 8

CPU:

1.4 GHz

RAM:

1024 MB

DirectX:

9.0

Hard Drive:

168 MB
Game Manager System Requirements:
Browser:

Internet Explorer 7 or later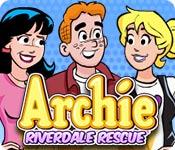 Top In-Game Purchases
1.

Diet Soda

$ 1.99

2.

Orange Soda

$ 4.99

3.

Soda Float

$ 9.99

4.

Soda For Three

$ 24.99

5.

Soda Helmet

$ 49.99
Game Club members
SAVE 30% on
in-game items.
The Big Fish Guarantee:
Quality tested and virus free.
No ads, no adware, no spyware.

Reviews at a Glance

Archie: Riverdale Rescue
0
out of
5 (
0
Reviews
Review
)
Customer Reviews
Archie: Riverdale Rescue
28
28
Great Game, Fun Characters
Despite some minor glitches at first (which was fixed in a later update) this a fun, easy to play game featuring the famous teen heroes of Archie comics. Fans of the series will appreciate the in-game comics, jokes, and character references. Newbies will find this an easy, playful introduction to the Riverdale cast. If you're worried about spending too much on a free to play game, most of the premium items (bought with in game sodas) can be grown by planting seeds or getting a lucky spin on the daily bonus game. You can save up for bonus characters like Kevin (adds new quests) or Hot Dog (keeps your energy refilled). 4/5 Stars, solid game all around.
April 17, 2014
Very Fun
I really like this game. There is a lot you can do without having to pay for extras. I do wish there were more shorter timed challenges though.
March 14, 2014
I love Archie and the gang
This is great game and fun too clean up the town and unlock characters and the time frame along with buying sodas really need too change.
April 6, 2014
Not bad...
It would be nice if you could skip the tutorial, and acquire soda's differently (not having to use real money) and more frequently. Also, my game restart for some reason, when I was up to level 8.
May 21, 2014
Not for Me
This is a "F2P" sim type game. I'm not familiar with the Archie comics, so I wasn't as keen on the story as others. The band comes back from a tour and finds Rivendale in a shambles. So they must clean up the town and fix things. You are given quests to fulfill. This involved just clicking on, for example, a broken street lamp, and then waiting 29 minutes or however long until the task is complete. You can of course buy power ups (soda, etc) to speed up these tasks. I played the full demo and this just wasn't a game to my liking. The graphics and colors were nice though. :)
February 18, 2014
Way too Slow!
Ok, I know this a "free" game, but let's face it, you are going to be bored to tears in a short while. Game starts out fun, as you complete tasks to clean up Riverdale and get new characters to help you. But pretty soon it becomes apparent that you must either have tons of patience as Archie and the gang complete a task --some require 12+ hours of real time-- or some deep pockets to make in-app puchases--soda--to finish a task faster. Even that I could tolerate; the developers have to make a little ching, right? But take a look at the prices and costs! I don't spend that much on real soda! I will continue to play once or twice a day for 10 minute stretches as I loved Archie as a kid, but this one will probably hit the dumpster soon...
February 24, 2014
lousy game
keep it at least it's free for has long has you want it to be but it gets boring after awhile not my cup of tea I like time management games
February 18, 2014
recommend for kids
to much reading not enough actual play-the game didn't allow me to work through the scene-it does a step by step-don't like that kind of game-would recommend for kids
February 18, 2014
Love Archie, Hate the Price
I love Archie comics and passed the love onto my own children. I was really excited to see this game and couldn't wait to play. Granted it is only a task/click game, but still, the storyline is cute, the graphics are just like the comics, and it's fun to read the comic strips as they unfold. However, I have never like the pay-as-you-go games that make it impossible to play unless you pay out real cash for items in the game. If they want to get money out of me every month to play a game, then just charge by the month, like a LOT of other games do, and continue to add content. The time delays for each task are ridiculously long unless you 'pay for the extra sodas', and the dollar amounts wanted to buy those extra sodas is ridiculous. It's rough when I pull up the game to get a little play time and find that all there is to do is click on a task for each person, then come back in 2- 12 hours to see if they are done. Overall, I have to say this game falls way short of Big Fish's usual fun.
March 2, 2014
Okay, but probably better as a mobile game...
I can remember reading old Archie comics saved by my Aunt when I was younger, even though a lot of those comics were before my time, let alone some being before her time. And he seems to have been going on continuously for a long time, with varying levels of popularity at different times. So when I saw this game, I was intrigued and figured I'd give it a try. It took me awhile, but I finally did so. Ultimately, this is a mobile game that's just been 'ported to the PC. It definitely plays that way, and if you try to look at it as a PC game instead of what it is, it's definitely a huge disappointment. As a mobile game, it's not one of the best I've tried, but it's not the worst either. The graphics are relatively simple, and very much in the style of the Archie comics. They're very one dimensional, so there isn't really any dimension added beyond what you'd expect in the comics. There is also relatively little animation, beyond watching the characters clean things up, and even that's a very minimal animation. The music is basically the same tune repeated constantly in the background and is really just "there" and doesn't get a lot of notice from me. The gameplay isn't hard, it's mainly just completing quests popped up by and for the different characters. You start off with just Archie and Jughead, and the tutorial takes you through unlocking Betty. Veronica is next, and then ultimately there's various other characters to unlock at different levels. (Some of which I don't remember seeing in any Archie comic books, but then maybe they're more recent ones; I haven't read one since I was a child.) The characters are used to complete the quests and remove different garbage-y items around town and spruce things up. Some of these activities use up energy, which is replenished slowly over time or by drinking soda. Sounds okay, right? Well, here's where the issue comes in. Most tasks take a fair amount of time to complete, like a lot of mobile games out there with tasks. So basically you'll start up the game, set the characters to tasks, and then end up quitting to let them go do their thing. (You can't let this run in the background and do other things on your computer, as it then acts like it's paused.) Unless you want to give them soda to speed it up. And that's where the micro-transactions come in. To get more soda other than the few you can occasionally earn for free, you have to pay real money for it. There are also items that can be placed around town to help decorate it that can also be purchased only with soda, so you have the potential to use up your soda supply rather rapidly. And there are mini games within the big game that use soda, but there's no definite way of knowing it until after you've played the mini-game at least once, using a soda you might not have wanted to "spend". Ultimately, I do understand this is a free game and they need to make their money somehow, but it's rather slow even understanding that. And the potential to earn free soda seems rather low, though I've only gotten about 5 levels into the game so far. If certain objects are going to require soda to buy them, then there needs to be a slightly higher chance of earning soda in game than what's appeared so far. (I've only earned 2 in addition to what the game gave me so far, and am hoarding it like a soda junkie.) I think I would possibly like this a wee bit better on a mobile device than my PC, but since I use Android devices that's not an option for me. And even then, I still think the game is a bit more of a money pit than some of these micro-transaction games. I really don't see myself doing a whole lot more with this game, as I suspect I will get bored of how slow it is and having to constantly launch and quit it on my PC just to check things. if the idea of this game still interests you, I would suggest it on your mobile device instead, and even then you'll have to be an apple mobile device user. I just can't recommend it as a PC game at all, and would still be hesitant even if you do have a mobile device that will work with it.
March 5, 2014