Archie: Riverdale Rescue
Archie and his pals need YOU to help rescue Riverdale! Play as Betty, Veronica, Jughead, Reggie, and dozens of favorite classic comic-book characters. Personalize, decorate, make Riverdale your own – while creating new relationship and completing fun quests and interesting tasks. Loaded with original artwork and comic content you can't find anywhere else – the whole family is sure to love this fun-filled city building sim. Help save Riverdale while helping yourself to heaps of Fun! Oh and of course, don't forget – you get to help Archie choose: Betty or Veronica!
Play for free!
Read bonus comic strips in-game
Enjoy fun, relaxing city building sim game-play
Share with your friends and be rewarded with kisses
Ongoing updates, content, and special events!
Game System Requirements:
OS:

Windows XP/Windows Vista/Windows 7/Windows 8

CPU:

1.4 GHz

RAM:

1024 MB

DirectX:

9.0

Hard Drive:

159 MB
Game Manager System Requirements:
Browser:

Internet Explorer 7 or later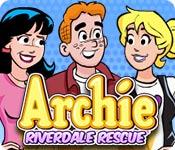 Top In-Game Purchases
1.

Diet Soda

$ 1.99

2.

Orange Soda

$ 4.99

3.

Soda Float

$ 9.99

4.

Soda For Three

$ 24.99

5.

Soda Helmet

$ 49.99
Game Club members
SAVE 30% on
in-game items.
The Big Fish Guarantee:
Quality tested and virus free.
No ads, no adware, no spyware.

Reviews at a Glance

Archie: Riverdale Rescue
0
out of
5 (
0
Reviews
Review
)
Customer Reviews
Archie: Riverdale Rescue
32
32
Archie And His Pals Rescue Riverdale
The Mayor has run off with the city's money, leaving the town of Riverdale in shambles. After returning from tour Archie, Jughead, Veronica and Betty decide to clean up, starting with Archies house (naturally). The idea of the game is to choose a quest, and choose which character to assign to that quest. There are trees and garbage to pick up, street lights and pavement to install, picnic tables and gardens to repair and much more as you progress. The characters run out of energy and need soda to keep them going and of course this is in limited supply. It all takes time unless you want to spend the money to hasten the project or unlock goals. Archie is a bit before my time and in my opinion, if you didn't grow up with this comic book/cartoon character, you won't be as thrilled by this game. I was actually on the fence between a 3-4 stars on this game for that very reason, therefore I recommend this game highly for those Archie fans.
February 18, 2014
Not bad
The only couple of complaints I have is the time it takes to do some tasks. The longer ones are good for over night or when you want to play and have other things to do. And the price of the soda's why can't we just use the money we earn to get sodas or get a free spin for coming back and playing everyday. This game really isn't much different than ones on Facebook that take time as well. Some are going to like it and some are not. Its time management. Its a good game overall.
March 2, 2014
Great Game, Fun Characters
Despite some minor glitches at first (which was fixed in a later update) this a fun, easy to play game featuring the famous teen heroes of Archie comics. Fans of the series will appreciate the in-game comics, jokes, and character references. Newbies will find this an easy, playful introduction to the Riverdale cast. If you're worried about spending too much on a free to play game, most of the premium items (bought with in game sodas) can be grown by planting seeds or getting a lucky spin on the daily bonus game. You can save up for bonus characters like Kevin (adds new quests) or Hot Dog (keeps your energy refilled). 4/5 Stars, solid game all around.
April 17, 2014
Not bad...
It would be nice if you could skip the tutorial, and acquire soda's differently (not having to use real money) and more frequently. Also, my game restart for some reason, when I was up to level 8.
May 21, 2014
Very Fun
I really like this game. There is a lot you can do without having to pay for extras. I do wish there were more shorter timed challenges though.
March 14, 2014
I love Archie and the gang
This is great game and fun too clean up the town and unlock characters and the time frame along with buying sodas really need too change.
April 6, 2014
Way too Slow!
Ok, I know this a "free" game, but let's face it, you are going to be bored to tears in a short while. Game starts out fun, as you complete tasks to clean up Riverdale and get new characters to help you. But pretty soon it becomes apparent that you must either have tons of patience as Archie and the gang complete a task --some require 12+ hours of real time-- or some deep pockets to make in-app puchases--soda--to finish a task faster. Even that I could tolerate; the developers have to make a little ching, right? But take a look at the prices and costs! I don't spend that much on real soda! I will continue to play once or twice a day for 10 minute stretches as I loved Archie as a kid, but this one will probably hit the dumpster soon...
February 24, 2014
Not for Me
This is a "F2P" sim type game. I'm not familiar with the Archie comics, so I wasn't as keen on the story as others. The band comes back from a tour and finds Rivendale in a shambles. So they must clean up the town and fix things. You are given quests to fulfill. This involved just clicking on, for example, a broken street lamp, and then waiting 29 minutes or however long until the task is complete. You can of course buy power ups (soda, etc) to speed up these tasks. I played the full demo and this just wasn't a game to my liking. The graphics and colors were nice though. :)
February 18, 2014
Love Archie, Hate the Price
I love Archie comics and passed the love onto my own children. I was really excited to see this game and couldn't wait to play. Granted it is only a task/click game, but still, the storyline is cute, the graphics are just like the comics, and it's fun to read the comic strips as they unfold. However, I have never like the pay-as-you-go games that make it impossible to play unless you pay out real cash for items in the game. If they want to get money out of me every month to play a game, then just charge by the month, like a LOT of other games do, and continue to add content. The time delays for each task are ridiculously long unless you 'pay for the extra sodas', and the dollar amounts wanted to buy those extra sodas is ridiculous. It's rough when I pull up the game to get a little play time and find that all there is to do is click on a task for each person, then come back in 2- 12 hours to see if they are done. Overall, I have to say this game falls way short of Big Fish's usual fun.
March 2, 2014
lousy game
keep it at least it's free for has long has you want it to be but it gets boring after awhile not my cup of tea I like time management games
February 18, 2014