Botanica: Earthbound
Exclusive
Play as two characters in this gripping hidden object puzzle adventure! Terror strikes the land of Botanica as a volcano erupts, threatening to destroy everything in its path. Play as Ellie Wright, a botanist looking for her father who disappeared 20 years ago. And play as Ian Garrett, a scientist who is trying to get back to his daughter on Earth. Follow their journey as they try to find their way back to Earth, a move that leads them straight into the volcano's path. Can you save everyone and get back home before it's too late? Find out in Botanica: Earthbound!
Game System Requirements:
OS:

Windows XP/Windows Vista/Windows 7/Windows 8

CPU:

1.0 GHz

RAM:

1024 MB

DirectX:

9.0

Hard Drive:

581 MB
Game Manager System Requirements:
Browser:

Internet Explorer 7 or later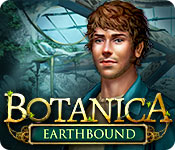 NEW299
The Big Fish Guarantee:
Quality tested and virus free.
No ads, no adware, no spyware.

Reviews at a Glance

Botanica: Earthbound
0
out of
5 (
0
Reviews
Review
)
Customer Reviews
Botanica: Earthbound
13
13
Still Stranded On Botanica!
Ellie and Ian have found the portal and they are homeward bound, or so they think! I absolutely loved the CE but this is a fantastic adventure game in any format. I really like the unusual features this game has to offer especially with the HOS. Each hidden object scene has several mini games within to solve. When you zoom into a close up scene you will find mini games that need to be solved before finding an item such as finding and using several codes on a lock but, you have to figure out which two pictures to put together to form the correct combination. Each hidden object has several mini games to interact with. Although the mini games aren't really new, they are fun, and some of them require you to interact with them until you figure out what needs to be done such as a radio panel with lot's of dials and knobs and bits and pieces of clues. You have to tinker with different dials etc. until the radio is working, with very little clues available. The graphics are beautiful and the story is good, the continuing saga in which Ellie is trying to find her father who disappeared, and along with Ian find their way back to Earth. I don't think you can go wrong with either edition, enjoy!
January 12, 2014
You're no longer Earthbound. But, how will you travel to the beyond? Will you ride the Collector's Edition or the Special Edition?
Whichever you choose, you?re getting a very impressive game. There?s so much that?s NEW and so much that?s new AND GOOD in Botanica: Earthbound. This game is an indication of the future of hidden object/puzzle/adventure gaming in my opinion. I?d give this 250 stars if they were available. The Fun Factor is off the charts. VISUAL/SOUND QUALITY Visual: Exceptional. The theme is nautical/island tropic/botanical (duh!). This theme is supported by the artwork and you feel like you?re in the tropics as you play. You start off at the site of a boat, feeling like a passenger, or, more to the point, like part of the crew investigating a sunken ocean liner. The HOGs, of which there are only 15, are superbly drawn. I felt like I was dealing with photos more than drawings. Sound Quality: The voice-overs are very clear and understandable. The music is pure background. Sometimes music drives the mood. This is not the case here. The musical style is appropriate and not at all annoying. LEVELS OF CHALLENGE a. HOGs: I?ve never complained about too few HOGs before this game. These HOS are the BEST I have ever played, and not by a small margin. The majority of items require an extra step. Many of the items require a puzzle solved just to clear them. If you?re a puzzle lover you?ll really like this extra treat. One example is the standard puzzle/mini-game where you need to remember the progression of buttons to push or you have to start over again. This puzzle has been incorporated into the clearing of just ONE ITEM in a HOG. Other HOGs require placing the item correctly in its environment to clear it. In another you match up a couple of items that belong together but have been separated in the scene (a pair of gloves, for instance). Only after joining them do you clear the item. My count is 15 HOGs. I wish there were twice that. b. Mini-Puzzles/mini-games: These are superior. This game presents puzzle designs I?ve never seen and it?s so exciting to see something new and brilliantly executed. Other, more familiar puzzles have a little twist to them making them seem like new. (OK, the CE version of this game has achievements. One is a rather dubious distinction at best: spend over 100 minutes solving the puzzle. I achieved this. I spent over an hour and forty minutes solving one puzzle. I couldn?t believe it when the achievement popped up but I wasn?t about to skip. I wanted to beat the puzzle and finally I did). There are over 30 puzzles in this game so if you?re into puzzles you?ll love this game. c. There is a third challenge: making potions from items (plants) and other natural substances you collect through game play. These are stored in your botany kit. When you?ve collected the necessary ingredients you follow the combining directions and make a potion that you use to accomplish your goal. STORY LINE A ship?s captain, who?s had a rocky life to begin with, accepts an invitation to go on a sailor?s dream voyage, through a portal to a place not of the earth. He gets lost and in so doing loses all he loves. His daughter (somehow?without explanation) figures out where he is and tries to find him and bring him home safe and sound. She is not alone. In this tropical setting she?s joined by another scientist who?s also lost and trying to find the portal to earth so he can return home to his daughter. There is a villainess who?s trying to keep them from getting where they want to go. The story is pure fantasy?You kind of know that extra-terrestrial travel has that strong possibility. More than that, this game is pure fun and it really ties all the puzzles and HOGs together. To that end this is a game where the story line, puzzles and HOGs are all important. This story is NOT scary. It is, though, exhilarating and very exciting. It?s a first person game in which you play two characters. This is not a central theme of the story in my opinion. I cannot strongly enough recommend this game. So the Question of the day: Collector?s Edition (CE) or Special Edition (SE)? Here?s what you get for the Collector?s Edition: a. A bonus chapter in which you play a third person. b. The ?who cares? assortment: Re-playable cut scenes, soundtrack, concept art, wallpaper. c. A strategy guide. d. A collectible: one item scattered through out the scenes. It?s not central to the story and you gain nothing other than an achievement if you collect all of them. It?s not distracting. In fact, atypically, it?s a little fun, actually. e. Achievements: normal stuff PLUS one thing I didn?t see coming and when it did it made me smile. f. A jump-to map which shows your location, where you need to finish up a job and where you cannot yet go. This is one of the best games I?ve ever played and I think you?ll think the same way. Choose one of the versions for sure. For me I?d choose the Collector?s Edition just because it presents more game time and that?s what I want with this. It?s not because the developers didn?t write a game that?s long enough?nothing would be long enough. As I wrote in my review of the CE: This game is like a new drug: I want MORE!!!!.
January 12, 2014
Perfect sequel.
Just when you thought they were on their way home, the portal sends Ellie and Ian somewhere else in Botanica. However, this time you're not just looking for Ellie's father but also trying to save the world from an impending doom. Big difference between the first Botanica and this one is you get to play as both Ellie & Ian which adds to the enjoyment. Still have the same excellent quality of visuals and the HO scenes are just as enjoyable and challenging as the original. If you liked Into the Unknown, you will enjoy this. However you do not need to play it to understand what's going on as when you open the game, it gives you a recap. Really hope they make another one on Ellie and Ian's lives after this adventure. Highly recommend.
October 1, 2014
Really loved the game.
Enjoyed playing this game. The mini games were different and interesting, not the typical ones we always see in games. Wish more game developers changed it up a bit.
April 17, 2014
Beautiful and inventive
It is a really beautiful game. You just want to look at it and be entranced. The minigames are not too hard and not too easy, and the HOS incredibly inventive, more like minigames theselves. The storyline keeps up the interest and when it is over, you hope for more Botanicas in the future..
May 6, 2014
Earth It Is!
Most of you already know this story so for me to review it for you again would be pointless. I simply want to share with you my overall feelings in regards to both games. For starters this sequel did indeed enlighten me! After having played the first "Botanica, Into the Unknown" (not CE) I have to admit that I had some difficulty along the way with it. Not sure why, it just seemed to push my comfort zone beyond! I loved the story, the graphics were great, yet the developers fell short on authenticity with the characters. They were believable, had definite personalities yet were somewhat chartoonie which I felt took away from the overall quality of the game. I did have some difficulty with puzzles but that in itself is not a critique, I, personally just struggled. I remember persevering despite my frustration and yet at the end found myself looking forward to the sequel. Well, hurray, I'm glad because I enjoyed it to the end and had so much more fun with the characters, feeling like I already knew them well. This to me is a special quality that the developers portrayed giving the sequel that much more credibility in its storyline despite the same cartoon like effect of the characters. The flow from one game to the next was fluid and even gave a brief review of the previous game to get you going again. Well done!! Whatever happened in the first game came together for me in this sequel. The struggle factor left me entirely! Maybe I just needed to go through the growing pains on this one to really appreciate and get the total picture. But hey, I'm glad I hung in there, I ended up loving the entire story and I hope you fellow gamers do too! Both adventures are worth the enjoyment!
January 13, 2014
Enjoyable Overall but a word of comment and caution
Interesting approach with a dual path of game play (2 different characters involved in multiple segments). There was a wide range of puzzle types including logic, HOGs, and object assembly, some of which were interactive while some were just straight solution. They varied significantly in terms of complexity and methods of solution. Some were very easy to solve while others somewhat difficult, some were sensible while some were sort of off the wall thus the game certainly presents a wide variation of challenges. There was an acceptable level of scene interaction (back and forth) but once you leave a segment, you never return to that segment. The story line was cohesive albeit somewhat typical of such games. The ending wasn't as contrived and short sighted as others I've encountered so there was a modicum of closure. My only complaint involved 1) a couple of scenes where the action didn't seem sensible for the situation (e.g. shooting a lever with a gun when you couldn't reach it to activate it) and 2) a couple of puzzles which proved impossible to solve given the configuration I was provided, thus the Skip button or referral to a walk-through guide was required to move the game forward. One puzzle involved a wiring connection puzzle where all nodes were to be lit but 4 of the nodes were designated as 0 connections so it was not possible to solve the puzzle. A second puzzle required ordering liquid containers lightest to heaviest where a means of weighing the containers was provided, however, all containers checked showed they were of equal weight, thus solution was achievable only by a lengthy process of elimination or some other means. I chose to discover the correct sequence via a walk-through guide. All-in-all, it was a fun game to play despite the idiosyncrasies I encountered. Whether those idiosyncrasies were unique to my downloaded copy or generic for the game itself, I have no way of knowing.
February 23, 2014
over all a great game
I finally finished this game and that is why I gave it a Rating of four not five. it is a great story line and of course you save dad and all is good. games are good and interesting. lots of fun stuff although some of the games are challenging and I skipped many. the only complaint I have is how long it took to finish. often I know people complain games are too short but this one I found a bit too long. took longer than I expected. but overall a great game. I don't use sound so can't rate that but I do recommend this game.
January 13, 2014
Good hidden object game
Like the illustration, though the story line is almost the same as others. But, overall I liked the game.
January 12, 2014
it seems it was a sequel but i don't remember the first game
played casual, low sound. skips/hints charge fairly fast. hints will take you where you need to go and then show you where you need to interact. there is an interactive map, and a journal. you are looking for your father who went missing a long time ago and you are helped by your friend, ian, and you play as the main character then as ian off and on in the game. could be a sequel. mini games are not too hard, i just couldn't do them all.
February 12, 2014
The Apple logo is a trademark of Apple Computer, Inc.