Midnight Macabre: Mystery of the Elephant
It was a perfect day for a walk, and Helen was out enjoying time with her daughter when something terrible happened—an evil creature kidnapped the girl! Play as Helen, a young mother trying to save her beloved Cathie, and dive into a marvelous journey filled with brilliant graphics and fascinating puzzles. Solve the mysteries of the dark castle, uncover the truth behind the mystery of the elephant, and rescue Cathie in Midnight Macabre: Mystery of the Elephant.
Hours of a classic hidden-object gameplay
Beautiful, immersive graphics
Unique and challenging mini-games
Game System Requirements:
OS:

Windows XP/Windows Vista/Windows 7/Windows 8

CPU:

1.0 GHz

RAM:

512 MB

DirectX:

9.0

Hard Drive:

1804 MB
Game Manager System Requirements:
Browser:

Internet Explorer 7 or later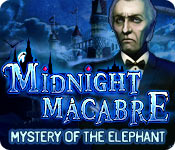 NEW299
The Big Fish Guarantee:
Quality tested and virus free.
No ads, no adware, no spyware.

Reviews at a Glance

Midnight Macabre: Mystery of the Elephant
0
out of
5 (
0
Reviews
Review
)
Customer Reviews
Midnight Macabre: Mystery of the Elephant
57
57
Not For the Squeamish
The creep factor in this game is off the chart. It is dark, eerie, creepy, gory, gross, just the way I like it. The storyline is a little back and forth and all over the place, but the hidden object scenes and the mini puzzles are great, some of them in the BB category. I had to skip one of them. The special effects in this game, the howling wolf, the creepy music, the demonic little boy with a haunting story, the beautiful graphics, and the mother searching for her child, made it a buy for me. This game is not for the faint hearted. There is a slaughter of a beautiful pet by a hideous demon, there are bugs in the hidden object games, and there were ants crawling around the castle for no reason that was obvious to me. It starts out slow and boring but after a few minutes it is addictive.
January 24, 2014
Good!
very good art, classical hidden object scenes and mysterious story
January 17, 2014
Midnight Macabre: Mystery of the Elephant
I like a good mystery to keep me on my toes and this did just that
January 14, 2014
Where Have All The Children Gone?
It's a beautiful day at the park until a creepy kid appears out of nowhere and creates a vortex portal and vacuums up all the kids. You are holding your daughter Cathie's hand so tightly that you are sucked into the portal as well! None of the children are in sight but you suspect they are being held captive in the mysterious castle just behind those ancient gates. I would have given this game a higher rating because the story is good and there are plenty of HOS and mini games, but, every time I used the map to travel to a different location, it took forever leaving me staring at a black screen. I wasn't impressed with the graphics either. The HOS are interactive list finds as well finding the item that matches the silhouetted shape, and just about every scene had a hidden object game. There are a lot of mini games as well, although nothing new, they are classic puzzles such as matching the bottom to the top teeth of a lock or jumping three tiles from the bottom to the top and the top tiles to the bottom by jumping over tiles. This is just a standard edition game so there aren't any collectibles or morphs, but it does offer a bonus section that can only be accessed by purchasing so unfortunately there's no info on what that might be yet. If you can overlook a few glitches and the bad acting at times then this game has an interesting story involving vampires, (and pet elephants too!?) enjoy!
January 14, 2014
Midnight Macabre:Mystery of the Elephant
I enjoyed playing the game. Enjoyed that there was the mom looking for the daughter and told more about why. The one thing I didn't like was the color is so dark trying to find things. I enjoyed it so much that I have already bought the game.
January 14, 2014
Little vampboy, kidnapin are pro?
I really enjoyed this game, while fishin, my thought was, khm, what i'm doin here? I'm going to find my little daughter or so? Kinda liked mini games, with gems (jewels) etc, was annoyed by puzzles, cause i really dislike that turn'n'act stuff. I Found videos pretty poor, anyway, sounds effects were awesome, some graphics done well, hidden object scenes were awful sometimes, cause i couldn't find any of em, and my eyes went to tear appart. Anyway, after 3 hours i'm done with this, and it is a really big deal, so solve the problem, hug my daughter once again.
January 17, 2014
It's Almost a Great Game, But....
With an interesting storyline, I figured this game for a winner. Not quite. The graphics remind me of water color paintings (rather blurry ones) and the misnamed objects (a light bulb is not a "lamp" in my vocabulary# didn't help my enjoyment. Hidden objects aren't so much invisible as blurred into the background, but that wouldn't matter if they were correctly named. There are some interactive objects but the only way to know which they may be is the small hand that replaces the cursor when you move over one. The voice-overs are good if a bit overdone. That wouldn't be a downer for me, but as the story unfolds, I found it just didn't hold up in terms of logic. No, I don't expect logic in a supernatural tale, but the sequence and cause/effect items leave me puzzled more than intended by the writers. The hints recharge quickly #easy level played# but don't always help much. You really should try this one before buying as you may find it more appealing than I did. But with no achievements or collectables #at least not in the 35 min. I played# it just doesn't measure up for me. But as I said, try it first and you may feel otherwise.
January 14, 2014
Get Out Your Punchcard Coupons
BASED ON DEMO FIRST IMPRESSIONS Don?t be mislead by the opening cut scenes for this game, which are basic, primitive, barely animated at all, just cartoonish art swirled around a bit really. The rest of the art is much much better. Still, it is a fairly cheaply put together game, and it is not a masterpiece. It does, as the blurb, remind me of older style classic HOGs. SIGHTS & SOUNDS Apart from the intro, the graphics are beautiful. Extremely sharp even on my large monitor, very clear, but also very dark. Not dingy, there is plenty of colour, but darkness shrouds everything in this game. This fits the mood of the game exactly. It is a dark one. There is not much animation anywhere in the game, least of all in the HOPs, and I miss it. The voiceovers at first seemed quite reasonable but soon became, well... the girl?s scream was so poorly done I was embarrassed. And the mother has too many ?statements of the obvious? ? ?I must find my daughter!?, that sort of thing. The sounds in the background are pretty good and the music is harmless. WHAT?S HAPPENING? A small boy wielding an elephant toy kidnaps your daughter into another world/dimension something, and you follow, of course. Trying to find your daughter you find an empty castle, and eventually the boy. He tells you a story about him and the elephant that seems to have no connection at all with the vampire (perhaps) master that makes him steal the children, or how he does it. The elephant?s story so far is only terribly sad and left me feeling quite depressed at the end of the demo. Although I admit, I am curious about what happened/s. GAMEPLAY Typical HOPA. Nothing very new or at all difficult. The HOPs are interactive lists where the interactive items are NOT highlighted. Or silhouettes. The puzzles balance the HOPs and are familiar. There is one puzzle at least that does not have a reset button that it really should have. However, when you run out of moves, it resets itself with a ?you lose!?. Another puzzle is a simple match-3. The adventure is basic. Inventory items are found with HOPs and puzzles, with only a few lying around, and they get used quickly. There is a jump map that does not indicate anything about your tasks. There is no journal. Tasks are available by clicking a rather neat little question mark in the top right corner. The hint is directional, and I found it useful. The demo took me 35 minutes on the easiest of 3 difficulty settings. The bad news? Well, the game does not hang together properly, partly because the story does not make sense at this stage, and partly because the integration of puzzles etc. isn?t handled very well. There are occasional lapses in localisation (a lamp is not a light bulb). To close a close up window you must use the ?x?. The cursor doesn?t change when you are going to another location. And the limited animation does drag the game down a bit. COMBINED IMPACT For me, this is a nothing-much kind of a game. The graphics are certainly a treat, particularly in a stand-alone SE, but the rest is pretty ordinary. It will not be on my wish list, simply because I couldn?t form any strong opinions about it ? and my wish list is already too long! Many of you are going to like it, some will even love it. I?ll be interested in seeing the reviews on the completed game.
January 14, 2014
A Game Even An Elephant Can Forget
Since many fishes quit after only a few minutes, I'll recount the story (this is all revealed during the demo so I do not consider it a spoiler, but don't read the next paragraph if you don't want to know.#. You and your daughter are enjoying a lovely day in the park when unexplainedly a young boy appears with an elephant toy. He causes you and your daughter to be sucked into a portal and get separated. When you awake,your daughter telephones and tells you she is trapped in a castle, before ringing off with a terrifying #or not# "Ahhhhhhhhh!" Eventually you make it to the castle and discover the boy, who says he is sorry and relates this story: He used to live in the castle with his parents when one night a robber broke in and killed both his parents. The robber was about to kill the boy too, when the boy's pet elephant #yes, pet elephant - c'mon it's a game!# intervenes and sacrifices himself for the boy. The elephant and robber die, but what emerges is an evil vampire who forces the boy to kidnap children. Your task, the boy says, is to get a certain cross artifact and use it to defeat the vampire and get your daughter back. Got it? Besides the appallingly convoluted story, the game itself is very mediocre. It did not pique #that's correct# my interest. I thought the drawing and artwork were fine, done in a realistic style. The hidden object scenes were more difficult than the standard game, owing to a darker palette and partially hidden objects. There are varying types, such as silhouette. Objects that required additional action to find are NOT highlighted or otherwise indicated, adding to the difficulty. Mini games were quite easy. Music and sounds were hardly noticeable, voice overs fine #except your daughter's, which failed to terrify#. The scenes also do not close automatically when finished, you have to close them. One plus - you do not have to click on keys to turn them, just put them in the lock - finally a game gets it right! But that's about all they got right so I can't recommend this one unless you have a free coupon.
January 14, 2014
Solve Mystery and Bring Girl Home--Rather Dark!
This game started off peeking my interested. However, the first hidden object scene let me know that this would be a maybe game. You have to use a flashlight to find the objects in a dark room, even with the flashlight, the scene is still a bit too dark to really find and see the objects. This "dark scene trend" is a major drawback of this game. In addition to the scenes being a bit dark, hidden object that require interaction also require a lot of click since they don't indicate what objects go with what. Mini-games are also a bit of a challenge since the instructions are not very clear or minimum at best. Storyline is just OK. Basically solve the mystery of the elephant and bring Cathie home. You will need to keep this in mind since the movement through the game can be jumpy at times. Speaking of jumpy, there is good news. There is a map that lets you jump to a location. The hint button also can point you to the next thing to do. This game has potential, but I think the developers missed some important game things like: Good instructions for mini-games, labeling items in the inventory -- rather than having to keep clicking on them to get the label for them -- hidden object scenes are too dark and objects difficult to see. I will recommend this game only because gamers have different taste and while I will not purchase this game -- too many faults for my liking -- others may enjoy it. Recommend with reservations.
January 14, 2014