Midnight Macabre: Mystery of the Elephant
It was a perfect day for a walk, and Helen was out enjoying time with her daughter when something terrible happened—an evil creature kidnapped the girl! Play as Helen, a young mother trying to save her beloved Cathie, and dive into a marvelous journey filled with brilliant graphics and fascinating puzzles. Solve the mysteries of the dark castle, uncover the truth behind the mystery of the elephant, and rescue Cathie in Midnight Macabre: Mystery of the Elephant.
Hours of a classic hidden-object gameplay
Beautiful, immersive graphics
Unique and challenging mini-games
Game System Requirements:
OS:

Windows XP/Windows Vista/Windows 7/Windows 8

CPU:

1.0 GHz

RAM:

512 MB

DirectX:

9.0

Hard Drive:

1804 MB
Game Manager System Requirements:
Browser:

Internet Explorer 7 or later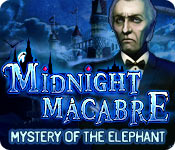 NEW299
The Big Fish Guarantee:
Quality tested and virus free.
No ads, no adware, no spyware.

Reviews at a Glance

Midnight Macabre: Mystery of the Elephant
0
out of
5 (
0
Reviews
Review
)
Customer Reviews
Midnight Macabre: Mystery of the Elephant
57
57
dark dated and dreary
game is very hard on the eyes being very dark and ho scenes are very small,game seemed really dated although the concept of the game was ok if a bit overdone certainly wont be buying it not even with a credit
January 14, 2014
what a riot
Based off of the demo this game was awful. The story seemed interesting at first and i liked the fact that its dark, but it was difficult to play. The items in the Hidden object scene were too small. At least you could endlessly click. Graphics are terrible. The story line was so bizarre that it was hilarious if you like the dark stories like myself and the bad acting just makes you cringe. Totally stumped on the point of the story. If this game wasn't so hard to navigate i might have bought it just so i could have a good laugh.
January 15, 2014
Disappointing
I thought this was going to be another SE gem that we have been so fortunate to experience of late, but such is not the case. While the story had lots of potential it did not seem to be developed well. Too many HOS and mini games and not new ones at that. As there were so many it just made the game drag on with very little happening. Graphics were not the greatest and it was difficult locating certain HO. Music eerie but had little effect on the story or excitement about it. Dialogue poor in parts with words left out of sentences and voices lacking in realistic expression. As I was not familiar with the developers it seemed like they had it all in the plan but tried too hard to come up to par with the newest games out there today that the execution came across with poor presentation. And to boot the trial ended 10 minutes short of the hour with indications of what was to come as well as a bonus section if you bought the game. There wasn't enough wow factor within the trial to excite me into buying so the whole thing fell flat. No folks this is not for me, but I do hope to see more of these developers in the hopes of improvement. This seemed to me to be a case of first try and I believe everyone deserves a second go around.
January 14, 2014
MORE CONS THAN PROS
I had high hopes for this game. It started out to be like it's title - spooky. But it quickly went downhill. CONS: - Voice overs were not convincing. - Sudden appearance of Suzy's diary was confusing - no Suzy was previously mentioned. Confusion wasn't cleared up in a timely manner, so I began to lose interest in her and her diary. - Music became unsuspenseful. - The promised overall spookiness was quickly dispelled by the too frequent appearance of main character who appeared unperturbed about anything. - Storytelling left a lot to be desired and the gameplay did not make up for it. - Puzzles frequently had inadequate instructions. PROS: - Good graphics and use of color. - HOS were mildly crowded. Sometimes, you got an item for inventory that wasn't even in the HOS. Tie-in could have been better. SUMMARY: Because the story and gameplay did not live up to the promise in the title, I don't recommend this game.
March 7, 2014
Well... It sounded like it would be a good game
The blurb describing this game sounded so promising. Sadly, once the game started, all that fell apart. The graphics are just OK. Poor acting, poor dialogue, misnamed objects in the HOS, etc. The HOS were blurry and on the dark side. I just can't imagine playing an entire game with those dark blurry HOS. I think with a lot of tweaking and work, this could be a good game. Unfortunately, it's a pass at this point.
January 14, 2014
Defintely Macabre!
I am sorry to start this review with such a negative tone but SERIOUSLY, what was that all about? I have a headache after playing the demo, which truth be told, I quit after I go to the combination lock. Those who have gotten that far will no doubt understand. Graphics are poor, outdate, blurred and animation is poor. Last night I just re-played Hidden Expedition, Smithsonian and to say that graphics are good would be an injustice on my part. Trying to make your way through Hidden object scenes is like trying to wade through treacle. I made the mistake of choosing Monster Mode and discovered that the hint button was disabled. I had gone back, re-entered a new profile and then chose the easiest mode to allow for the hint button which I have to say has very limited use. But wait I am getting ahead of myself. I really should start with the story which I normally would if I understood who is who. There is Helen and her daughter strolling through the park. Then we see this creepy boy appear, a vortex and both Helen and her daughter disappear, but apparently not to the same place. So now we have Helen who is reading a diary of Susan and her 'Handyman' Jack. So who are they? Anyhow, we need to get into the castle according to the daughter's frantic phone call. After my first hidden object scene which entail rummaging through a car trunk in the semi dark with a flashlight that really is of very little use, I realized that some objects are interactive, you just need to figure out which. Thankfully I got to use the hint button which saved me precious time. So now I find myself fishing for the key and then I need to cut the fish open in order to retrieve the key, how charming. SO now I have a map and thankfully it allows me to jump from one place to another. I again have to click away in the dark and discover another puzzle which after realizing, there is no reset button; you just need to wait until it resets itself. Suffice to say, after having encountered the safe I gave up after several attempts and decided that nothing about this game peaks my interest and will I call it a day. Sorry folks, but it is just a very poorly made HOPA game with an ambiguous story and my eyes just cant take much more.
January 14, 2014
Not Very Good at All
Rarely do I give a real bad review on a game. I try to take in the effort on the developer's part. But this is one time I cannot refrain myself. I suffered through a half hour of the demo, and just could not play any more. Seem like a game from way back. small screen, Sound was intermittent. HOS some objects were very small and real dark areas. About the only good thing I can say is that it had a good interactive map.
January 14, 2014
Could have been a nice game...
Morning all. I read all of the reviews and get a lot of very useful and helpful information from them all. However, I always try the game for myself, since my tastes may be quite different from anyone else's. After running through the demo, and quitting with 37 minutes left in play, I must say "HUH?" This is a very confusing story, one that really does not flow well and most movements don't make any sense at all. Dialoge is even worse "Cathy told about it," "What a mercy." Okay, not familiar with this dev, so I give them the benefit of the doubt. That said, the story is nothing new. Cursor did not change when I clicked off the custom mode. There is no locking inventory bar. Music isn't too bad. Voice overs are a bit silly and unrealistic. Game play was choppy but no glitches. Graphics left a lot to be desired..very old school and very dark.. There is a jump map that you will use frequently and the locations are well identified. The hint system is helpful, and fills quickly, but I had to click on the hint more than once to get it to finally kick in and work. HOGs are extremely dark and junky, so items are not that easy to find. You have to do a lot of searching and clicking around in dark corners and hope you land on something. Puzzles aren't difficult, but you cannot reset if you mess up. You have to wait for it to reset itself...very maddening. Couple of other oddities...since when does a puppy with a thorn in it's foot turn into an adult dog when you remove the thorn? Cut open a fish to get a key...harf! It just seems like everything was just thrown together in hopes of a playable game. Well, you can play it, but I doubt that even a beginner would find this one fun. I rarely do not recommend a game, but I find it difficult to find anything good about this one. Sorry, no buy for me today. As always, try it for yourself and see what you think. We all have different tastes in games and you may find this to be exactly what you are looking for. Thanks for the reviews.
January 14, 2014
not for me!
Well now, this could have been much better! The game doesn't open in widescreen, no option to change that. Game mechanics are unclear and weird Story is the same ol same ol, your daughter gets kidnapped and you have to save her from an old castle.... seen that a million times! Graphics are very clear, but movements and cutscenes are clunky. Voiceovers are ok, but the comments are.... how can I say this... not very intelligent. In the HOS some things are interactive, but no indication at all that extra action is required. In the first 10 minutes of the trial you have to catch a fish and cut it open to get a key. Didn't like having to kill this fish and then his guts falling out! I tried for about half an hour but couldn't stand it anymore and had to delete. I'm sorry for the dev's, but in this day and age this game is just not good enough. But try it for yourself, you just might like it!
January 14, 2014
Would not recommend nor buy this game
While I enjoy and usually wind up buying most of the new games after playing the demo. However I cannot say the same about this one. The over all screen was to dark. It took 3 times of going into the game and back out in order to be able to leave the gate to find the key. I was truly disappointed in this game and will not be buying it as I feel it was poorly developed prior to its release.
January 14, 2014