Pachinko Pop
Jump into a vortex and start marble popping! Travel into the past and collect ancient artifacts! Get your power-ups in order and Pachinko Pop!


Begin popping now!
NEW EPISODE IS HERE! BONUS LEVELS INCLUDED!
DEFEAT MONSTERS WITH COOL MOVES!
DESERT COURSES, PUZZLES IN GREECE, AND MORE!
Game System Requirements:
OS:

Windows XP/Windows Vista/Windows 7

CPU:

1.0 GHz

RAM:

1024 MB

DirectX:

9.0

Hard Drive:

316 MB
Game Manager System Requirements:
Browser:

Internet Explorer 7 or later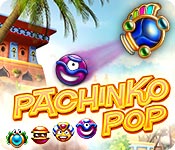 Top In-Game Purchases
1.

Rucksack of Gold - 150 Gold

$ 9.99

2.

Bag of Gold - 25 Gold

$ 1.99

3.

Bundle of Gold - 68 Gold

$ 4.99

4.

Crate of Gold - 315 Gold

$ 19.99

5.

Chest of Gold - 725 Gold

$ 39.99
Game Club members
SAVE 30% on
in-game items.
The Big Fish Guarantee:
Quality tested and virus free.
No ads, no adware, no spyware.

Reviews at a Glance

Pachinko Pop
0
out of
5 (
0
Reviews
Review
)
Customer Reviews
Love this game...
... it's like Peggle only even more fun. I strongly recommend!!!!!
July 15, 2014
Awesome Pachinko Adaptation!
Not sure if anyone has ever heard of Pachinko, much less played this game before. Pachinko is an old game where you dropped metal ball bearings into slots at the top of a large upright board which of course had a glass front. The balls would drop and ricochet off various pegs which would randomly cause the balls to move all over the board until they dropped into bins of different denominations and then some of the balls would return to you in a catch basin at the bottom and you would quickly drop those balls as well. Well times have changed and the computer version has brought forth some fantastic features, making this a fun and addictive game. You need to aim the shooter cannon with your cursor and then adjust the power of the shot by pulling the cursor up or down, click to release the ball and watch it go! Each level has certain criteria to meet such as earning 25,000 points or destroying 20 of the little face pegs. Some of the "pegs" are rubber and cause the ball to bounce off, these will be destroyed after the ball hits the same peg a few times. There are also walls that are destroyed after a few bounces, some walls and tubes are destroyed after just one hit, but you earn points for almost anything the ball hits each and every time. The ball will eventually end up in one of the urns at the bottom and some urns are worth more points than others. You will receive up to three gold stars for each level depending on the amount of points you earn. There are score boosters available once they are earned or unlocked such as a boost when your ball hits 30 times before falling into the urn. You can earn a bigger ball when you hit the same urn 5 times in a row, a larger ball enlarges your score. There is a doubler, when you hit both walls you get an extra ball with double the power. There is also a fireshooter which shoots fireballs from the cannon to burn your way to the urns. If you don't meet the goals for that level, you have two options, the first option is to lose one of your lives, the second option is to "pay" to continue with two more balls. You start out with 30 gold bars and many of the upgrades will cost you in gold bars which are difficult to earn, so eventually you will probably need to use real money to purchase more gold bars as the levels progress and get harder to beat. Other than that, this is really a fun game to play, and each level has different goals as well as different obstacles and patterns, enjoy!
July 15, 2014
Nice Arcade Bounce Game!
Fun and cute Arcade Bounce game ! Feel rly comfortable playing it. Funny storylane, interesting levels and good logic bonus levels. Rly like it!
July 1, 2014
chalening and fun
It is a fast moving and mind thinking game. enjoyed the different difficulties in each level
July 15, 2014
Great game!
Such a good game. Love it so much.
July 15, 2014
Addictive and I love it!
I am on level 77 now, Ive been playing this game for weeks. It was really cool to have to play during my surgery, it kept me busy and I felt like I was doing something really fun. There have been 2 levels that I found extremely difficult and had to buy some gold to get through them, but there have been a couple of bugs in the game where my ball was stuck in the air and never moved and the game was beat but I had to go back to the map, that was annoying, overall I havent had any issues. I love the graphics, the music could use some sprucing up. I love the map and the fact that as you go along after beating some levels you open up bonus paths and can win gold or other items for the game. Some levels are so hard..... but Ive gotten through them. Its all a matter of finding the right place to bounce your ball and how light or hard to bounce it. I am in the water now, looking forward to the Shark boss. I love that you can replay levels and try and earn more stars so that you can get through certain doors. They require a certain amount of stars. The maximum amount of stars you earn is 3 per level. So I go back and play levels where I only earned 1 or 2 stars and get more for the door I am trying to get through. COME ON GAME DEVELOPERS and get more levels created, cause once you get to a high enough level it says, "Coming Soon"....well I am almost to the coming soon area so get it done guys!!!
September 6, 2014
Delightful Distraction
This cute internet take on the classic Pachinko game is a lot of fun. Its not just a popper game, its addicting. Lots of power ups as you try to put your balls in one of the five urns at the bottom of the screen. Even the bumpers on here are animated. Free to play, so give this one a try.
July 15, 2014
Love It!!!!!!!!!!!!!!!!!!!!!!!!!!!!!!!!!!!!!!!!!!!!!!!!!!!!
I can not stop playing this game. It is so Fun. I Hope they make more games like this one.
July 15, 2014
Fun game to play
If you've played Peggle, this is the same type of game. There are a lot of challenges to this game, including trying to get to light the urn and getting some trapped items into the urn. You can lose a life if you haven't completed the challenge. If you do lose your life, you do have to wait a while (a little over 8 minutes) before you can get a life back, or you can purchase lives.
July 13, 2014
Cute game
I normally don't play these type, but decided to try this morning. Your nephew has accidently set off a time machine in a museum and sends you back to ancient Egypt. You must earn the points to get back home. The game is colorful and the pegs are adorable. The music can get annoying after so long, but is tolerable when I have turned down low. I had a good time playing this and would definitely recommend.
July 15, 2014