Hidden Expedition: Smithsonian™ Hope Diamond
Exclusive
You're on a train in the middle of nowhere, and a band of dangerous thieves demand you tell them where to find the Hope Diamond's shards. As the newest Hidden Expedition recruit, you've got to find the shards before they do...

In this exciting continuation of the Hidden Expedition series, your journey takes you from the Smithsonian Institution's iconic castle to the remotest jungle as you track down the missing shards and learn the Hope Diamond's secrets.

Check out the Smithsonian's sneak peek of Mystery of the Hope Diamond.
Game System Requirements:
OS:

Windows XP/Windows Vista/Windows 7/Windows 8

CPU:

1.6 GHz

RAM:

1024 MB

DirectX:

9.0

Hard Drive:

697 MB
Game Manager System Requirements:
Browser:

Internet Explorer 7 or later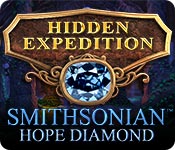 NEW299
The Big Fish Guarantee:
Quality tested and virus free.
No ads, no adware, no spyware.

Reviews at a Glance

Hidden Expedition: Smithsonian™ Hope Diamond
0
out of
5 (
0
Reviews
Review
)
Customer Reviews
Hidden Expedition: Smithsonian? Hope Diamond
32
32
The Hidden Expedition League Needs Your Help! H.E.L.P.
This is a fast paced action packed adventure sure to please all the thrill seekers and history buffs as well.Right from the start this game will have you jumping out of fast moving trains to escape the Robideaux family of art thieves and avoid being fed to Baby the Siberian Tiger! As the newest recruit of H.E.L.P your mission is to stop this ruthless family from stealing the Hope Diamond which they believe can cure their father's illness, but things aren't going smoothly and now you're tied up to a chair and trying to figure out your escape plan. The graphics are incredible and the videos are well produced. The hidden object games have a whole lot going on as well. The very first HOS is a 3 part game where you have to find gems that match the shape of sketched diamonds then the abbreviation letters for the periodic table and then list finds. Some of the HOS are list finds, some "find 12 feathers" others you need to find the item that matches the silhouetted shapes. I really liked the mini games, my favorite was matching the bobble heads to the correct body and names. If you are looking for a game with a different story and plenty of action, then you must give this one a try, enjoy!
January 17, 2014
Most Exciting Adventure!
BASED ON COMPLETED GAME FIRST IMPRESSIONS Spectacular. A really clever use of sepia drawings, merging into colour video, to futuristic impressions of astral bodies, to mechanical clockwork and a compass. This also covers, as you realise only after you play the game, the themes and icons of the story. SIGHTS & SOUNDS I could write about how much I enjoyed the sights and sounds in this game. But you?ll be faced with pages of it, when a quick look at the promo video can give you an idea of just how good it is, and I have much more to say. The music is very well suited to the game, very exciting stuff. Trust me, you will not be disappointed with the artwork. One comment on the voiceovers. These were well done, and Eipix have this thing they do which I think is the best answer yet to the problem of lip synch. Below the still image of the speaker, in whatever the current location, there is a bar for the subtitle, and a close up of the speaker?s face and a pretty fair attempt at greater voice synch. We have the option, then, to choose whichever we are most comfortable with. Excellent innovation. WHAT?S HAPPENING? Fun story, that starts with you jumping out of a moving train. Yup, it is going to be an exciting adventure worthy of Indiana Jones. The people from H.E.L.P. (Hidden Expedition League of Preservation) are impressed with your previous adventures (the previous 5 Hidden Expedition games), and after testing you by throwing you in the deep end (of a sewer). Then, you and your mentor are off to find the missing shards of the Smithsonian?s Hope Diamond before a nasty bunch of thieves get their hands on them. GAMEPLAY The great thing about Hidden Expedition games is their wide variety of HOP styles. Yes, there are a lot of HOPs, but no two are alike. I counted roughly 20 HOPs (and about the same number of puzzles), and among them were more than half a dozen different styles, often 2 or 3 types appearing in the same puzzle. This breaks up the HO action nicely for people who feel it slows down the momentum. For example, you might have 6 silhouettes to find, followed by 3 multiples of 5 or 6, followed by a short word list. In the one HOP scene ? in the one visit. The puzzles and mini-games were also varied. There were some we know, quite a few I didn?t, and some we see rarely. Occasionally, a puzzle appeared more difficult than it was, and none of them were ludicrously impossible. But patience and concentration were definitely an asset. For me, this game was just right, challenging me, without frustrating me. This game rivals Fate?s Carnival for the top spot in my list of all-time greatest HOPA games, but I actually prefer playing this one. It is geared toward a less expert player. Fate?s Carnival made me feel incompetent. There is an enormous gap between Fate?s Carnival and most games, and this game fits nicely around the intermediate level. For those experts who can actually play Fate?s Carnival without tension headaches, there are, of course, 4 levels of difficulty, including custom settings. Other features of note include: The H.E.L.P. kit which includes a journal and objectives. An interactive jump map. A hint system that hints. Items that can be altered or combined in inventory. VERDICT This is a splendid game, featuring excitement, variety, challenge and beauty. The developers covered all the bases splendidly, and have given us a game worthy of a very popular series, and their own growing reputation.
January 17, 2014
Exceptional game. The only question: Is the Special Edition enough or should you get the CE? Maybe I can help you decide.
No matter which you opt for, you can rest assured you?re getting a very high quality game. It?s appropriate that this is a collaborative effort between the Smithsonian and BFG. Each is at the top of their respective arenas and this game is right there with them. Here's the story: You've been recruited by the Hidden Exhibition crew to find shards of the Hope Diamond before a family of crooks beats you to the punch. Everything else you need to know about the story you?ll find out as you play. It?s an entertaining game, and remains faithful to the storyline as you proceed. I didn?t detect any incongruities. As the game begins you are held hostage on a train. You jump out the window and back in time a few weeks, arriving at the Smithsonian whence you were summoned. This game is the complete package, driven both by the storyline and the mini-games and HOGs. It is truly an adventure. FUN FACTOR I didn?t want to stop playing, and continued pressing on through the wee hours. I played in 3 sessions over three days. I am NOT a fast player and this game makes me appreciate being a slow poke. I didn?t want it to end. There's much to do and you're ceaselessly moving from one activity to the next, punctuated by HOGs and puzzles. (Note, you?re moving from activity to activity, it?s not just annoying backtracking.) VISUAL/SOUND QUALITY Visuals: As good as it gets. This game seems more like a movie than drawings that move. It is truly High Def. (Note: do NOT skip the opening sequence. It IS a movie explaining the ?curse? of the Hope Diamond.? It is of such high quality that you absolutely know you?re in for a treat with this game. The bar is set very high from the outset.) It is very colorful, and not just the environment. Even the puzzles make extensive use of the whole palette. It's beautiful to behold. Sounds: The background music is exactly that. It's a jaunty theme. This is NOT a scary game and the music isn't intended to scare the wits out of you. The music accompanies what?s going on in the game. Visuals and sounds come together in lip-synching and while the synching itself is only OK, the voice-over acting is excellent. LEVEL OF CHALLENGE HOGs: There are just under 20 HOGs of 4 different types: ?Silhouette,? ?Place ?em correctly in their environment,? ?collection of multiples of the same item,? and the standard ?Find-?em/List.? In the standard find-?em list there are normal stand-alone items and items which require a little more interaction to clear. The HOGs are superior. Items are not impossible to find but are very well hidden and well described. The ?multiple? item HOG was more difficult than I?ve encountered. It got much harder as I progressed. Puzzles: There are 15 +/-. Most of the puzzles are not new. Many of the familiar ones add a twist or two making them that much more fun. I don?t know how you couldn?t enjoy the puzzles. As I mentioned earlier, they are also very colorful and not so bad to look at, either. One new puzzle is really more a test of knowledge than a test of skill: you collect 4 bobble-head dolls in early game play. Later on you add them to a collection of other dolls already gathered together. You?re tasked with re-organizing the historically-significant and recognizable dolls in the location bearing their name. This is an educational element I?ve not seen before, and one veteran reviewer whose opinion I count on called this her favorite. I?m gonna take a guess that the real-world education factor is one of the reasons why. This test reminds me of actual Smithsonian exhibits. When I?m nearing the end of a game, I often grow anxious in anticipation. I don?t want it to be that way. It could be my ?fault? but I actually think it?s a function of games losing their way. Sometimes developers put too much extraneous material in the game because they?ve run out of important things to say and do but they have a need to fill space. Not so at the Smithsonian! The remaining question for you to decide, then: CE or SE? Which will it be? If you are ok spending the extra money, and it is a lot, do it. The Collector?s Edition is worth it and the game is better because of it. You will find real value in the assortment of CE extra features: a. A bonus chapter. b. Within each HOGs is one morphing item. Collecting them all is an ?achievement.? c. Additional HOG tasks AFTER completing the standard game: You can replay HOGs in an effort to gain a ?gold crown.? This is also one of the ?achievements.? Success is based on completion plus an added algorithm of speed and accuracy. d. Achievements, 20 in all. One dubious achievement is taking more than 10 minutes to complete an HOG. Another is sitting through all the credits. e. Collectibles: 1. Fact Cards: Found intermittently, these are interesting factoids about the Smithsonian Institute. There are 20 of them. Each one is bound to tell you something interesting about the Smithsonian that you didn't know before. 2. Smithsonian Emblems: along the way, in virtually every scene, you need to find one of the 49 total Smithsonian Institute Logo emblems. These are sometimes obviously located and other times more playfully placed. You need to be on the lookout for them. This is one case where a collectible is really fun and is really a challenge that adds to the quality of the game. f. The "who cares" collection: Re-playable movies/cut scenes; re-playable HOGs (ok, this isn?t ?who cares, but is actually important); Music; Pics (screen savers? wallpaper?). g. Maps, varying in the information provided, based on the level of difficulty you choose to play. The easy level map tells you where you are, where you need to accomplish things and the objectives. The next level up tells you only where you are and what you need to do, not where to go to do it; Level 3 gives only the layout of the game/museum. Finally, there is a custom level of play and a customizable map. h. A souvenir room: This is as close to a throw away as you can get in this game. It?s one more seek and find game, but it?s so easy, it really isn?t up to the quality of what?s come before it. i. Finally, before you can open up extra features, like a bonus chapter, you must successfully complete another mini-game! This is ATTENTION TO DETAIL!! Smithsonian Hope Diamond is family friendly. I consider this aspect a feature and it?s one that I like. I have now replayed it with my 12 year old (who already gets a kick out of helping out with HOGs and finding objects before me). We were at the Smithsonian this past summer and that connection alone, however tenuous, was enough to spur his interest. Despite the emphasis I?ve placed on the educational and family aspects of this game, please don?t think it?s like going back to school or that it?s ?namby-pamby.? It?s neither. It is a HOG/Puzzle Adventure game first and a very good one at that. While my own gaming preferences generally run to the dark and scary replete with dangerous criminals and murders and the like, this game is fully satisfying to me?enough to have replayed it. It is technically and artistically superior to most games I?ve played and I look forward to more efforts like this in the future from BFG and their partners.
January 17, 2014
WAITING ON THIS TO COME OUT!!
I played the test game and loved it and could not wait until the full version came out and now it is here - knew I would buy as soon as it did. Has interactive map to move from place to place and the graphics are beautiful and the game is full of knowledge about the Smithsonian. Easy to follow story line. Has lots of HOS as well as other games to play. You won't be disappointed!!
January 17, 2014
Memorable Hidden Object Game
I give high praise to the developers of Hidden Expedition: Smithsonian Hope Diamond. I have played and purchased many HO games from BF in the past five years but this for me is outstanding and most relaxing since the hints when shown were well lit and circled i.e. what goes with what. I applaud you as I have difficulty seeing but I was able to complete this game in two days. I hope you will soon develop a similar game and story involving AN ART MUSEUM. Looking forward to that!
January 21, 2014
And a Good Time was Had by All
This is posted after completing the whole game. I have been waiting for this to come out in the SE version ever since I looked at the CE. I have to say I was not disappointed. It was everything it was cracked up to be and then some. It was not only fun to play, but educational along the way. I thoroughly enjoyed the time I spend playing. The visuals were really good and the voice overs were almost like you would see in a cartoon. Almost lip sync. The graphics were beyond reproach. The hidden objects were clear, but that doesn't necessarily mean they were easy to fine by any means. The challenge was excellent. Even I enjoyed the mini games, so that means they were easy or well explained. As I said the hidden objects were really clear but they did an excellent job hiding things. Also, they had all sorts of hidden objects within the same scene. Not seen much of that or at least as well thought out. The hint button does a great job helping and is quick to recharge. Didn't get lost not one time, which is amazing for me. There is a inter-active map which was pretty helpful in itself. I did have a little problem following the story a bit though. I wouldn't say I was lost, but I eventually caught up with myself. Next time I play it I'll pay more attention. All in all this is one of the better games to come out here lately. It was different in the way it presented hidden objects and mini games. It was professionally made and I give it my seal of approval. Wonderful way to spend a Sunday afternoon.
January 19, 2014
Awesome!
Beautiful game. Perfect. Please make a sequel!
January 18, 2014
Everybody should give this a try
Just finished the game and enjoyed every moment, which is very rare for me. The graphics are sharp and clear, everything you need to find does not reduce to frustrating pixel hunting. The HO screens look cluttered, but they are designed so that everything you need is in plain view and actually look like what you expect, something not all of these games manage. The puzzles are not mind numbing but the logic is impeccable and anyone with some experience of these games will have no problem solving the challenges. I enjoyed collecting the Smithsonian fact cards and learning little snippets about the institution but don't think like the game is just an advertisement, its all very well done. The story is some hokum about the Hope Diamond containing the co-ordinates to find The Philosopher's Stone but really its almost irrelevant, as so many of these games plots are. The point is that the gameplay flows really well and you never find yourself stuck with objects that you haven't the faintest idea what you are supposed to do with them. All in all a very enjoyable experience, if a little on the short side.
March 7, 2014
it was like the others in this series
i didn't think the level of challenge was in this one like the others and the hint/skip charge charged in about 15-20 seconds. i played casual, low/no sound. the hints would show you where to go and take you there if you had to travel. sequel....i feel sure.
January 21, 2014
very good, recommend
loved it, very entertaining, fun & knowledgeable
February 1, 2014
The Apple logo is a trademark of Apple Computer, Inc.