World Mosaics Chroma
Exclusive
Solve complex puzzles!
Travel across the globe as you complete pictographic color puzzles to stop a mysterious criminal from robbing the world of color.
Challenge your mind with:
JUST ADDED! WORLD 8 IS FINALLY HERE!
NEW! DAILY SPIN FOR REGISTERED PLAYERS!
LAUNCH YOURSELF INTO LOGIC FUN!
Game System Requirements:
OS:

Windows XP/Windows Vista/Windows 7/Windows 8

CPU:

1.0 GHz

RAM:

1024 MB

DirectX:

7.0

Hard Drive:

155 MB
Game Manager System Requirements:
Browser:

Internet Explorer 7 or later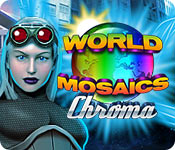 Top In-Game Purchases
1.

A Few Buckets

$ 2.99

2.

A Pile of Buckets

$ 11.99

3.

A Crate of Buckets

$ 29.99

4.

A Few Crosses

$ 1.99

5.

A Stack of Crosses

$ 3.99
Game Club members
SAVE 30% on
in-game items.
The Big Fish Guarantee:
Quality tested and virus free.
No ads, no adware, no spyware.

Reviews at a Glance

World Mosaics Chroma
0
out of
5 (
0
Reviews
Review
)
Customer Reviews
World Mosaics Chroma
89
89
OK but no desire to drop lots of cash...
The game was a typical Cross-Pic game. The difference here is the delivery system. You don't initially purchase the game but in order to get more lives or power-ups you have to purchase them for cash...this could add up quickly and since I belong to a game club to avoid this kind of thing, I won't ever spend the money to buy more and more time or power ups. I could find this type of game on the internet, kind of like a FaceBook game.
February 7, 2014
Not really worth it
I love the World Mosaic series and could play them for hours, but this one is a disappointment. I can understand utilizing "free to play" in order to attract people to the game, but after a while, having to pay to keep playing--or wait up to 90 minutes--is just wrong. I love the puzzles and the storyline is interesting, but I want to do the puzzles and I can't do the harder ones if all I am allowed is nine total errors. I would much rather have the option to buy it outright and not have to buy stuff to keep playing.
February 15, 2014
Awkward controls.
I really loved World Riddles: Secrets of the Ages and it's what I measure all other picto puzzle games against. This one, like so many, just isn't as good. My biggest complaint is that you can't right-click to smash tiles (or, in this case, place push pins). You can right-click to switch from a paint brush to a push pin but then you have to left-click to place the pins. Just awkward. I didn't make it past the second level.
February 10, 2014
OK but........
I have bought, played and enjoyed all previous World Mosaic games. I am enjoying the Chroma Version, so far, currently at level 55. But as a Big Fish subscriber I object to having to buy lives and other advantages in order to progress. What's 'free' when you have to pay to proceed? I do like the switching between colour levels and would have rated the game higher if not for the foregoing comments re-paying to progress.
February 17, 2014
SO sad it's FTP.
When I saw the TGT was a World Mosaics game I literally cheered and then almost as quickly groaned when I saw it was "Free" to play. I have purchased and loved ALL of the previous World Mosaics games and LOVED them! I think there are far too few of this style of game so I always snap 'em up when I see them. This is why I thought I'd give this a whirl even though I don't play FTP games which invariably make going very far nearly impossible in order to force the buying of power-ups. The one thing I did like a lot about this was the use of more than one color of tile. I created a level of complexity that was refreshing. But that's about it and the only reason this made the 3 stars. The graphics are far too bright garish and I miss the muted tones of past games. It forces you to take the tutorial which was tedious though I suppose necessary to show the added color twist but drug on beyond what was needed. The music is terrible too. Best hits of your local elevator... So while this requires no purchase I am not going to play it and have already deleted it after a few puzzles. This saddens me greatly as it likely means we won't see a standard World Mosaics game anytime soon if ever. Boooo.
February 17, 2014
What a disappointment!
LOVE all the World Mosaic games - I've played them over and over, so I was absolutely thrilled when this game came out. But as I got into the higher levels, the logic portion of the game was completely removed with no way to figure out where to place your makers (a 9x9 square with all 1's and the occasional 2?! really?!). It became more of a money making scheme, forcing you to buy the power-ups and hints so that you could move forward. I'd gladly pay for a few of them if the puzzles were more logical and I just needed a little boost. Really disappointed.
February 23, 2014
Like the Game, but BIG problems when playing it
I play this game every day, but almost EVERY time I get an ERROR 299 pop-up after it stops the game. Sometimes the progress is interrupted and you have to play that level over as it wipes out what you've done to that point. Otherwise, I really like the game.
March 18, 2014
Waiting for World Mosaic 8
After reading the mixed reviews I decided to give the game a try. I agree that the tutorial is quite aggravating. The format with different shapes and colors added a little but as you play and reach more difficult levels the inability to "earn" by play the power ups instead of having to actually buy, put a damper on my enjoyment. I love the smooth, versatile operation and challenge of the World Mosaic 7 and have played it repeatedly. I removed World Mosaic Chrome and hope there will be a World Mosaic 8 that is worthy of its predecessor (7).
March 2, 2014
good skill game but cost is a factor
I liked game but I have to agree with another review that my intent for downloading a game from Big Fish is to not have to continually pay to play if I want to have powerups, and have to wait 90+ minutes for extra lives.....would be just as great a game if you could earn powerups and extra lives with points you can earn instead of paying. As to whether I would recommend it is a yes because it has skill but no because of cost.
February 18, 2014
Would have been better as a stand-alone
I am a picross addict. Can't get enough of them. And having almost finished WM7 - working through the bonus puzzles - I was surprised and happy to see this - until I realized it was F2P. Nevertheless, I DL'd the sneak peek, and have been playing it. Meh. The story is the usual WM type story, but a little more complex. The music is the usual WM music, turn it off! The graphics are okay, good enough for this type of game. The gameplay is a mixed bag. The conventions are the usual. It defaults to "right click to swap", but you can uncheck the box and right click to place pins or left click to paint. What is NOT conventional are the grids, which have odd numbers of rows/columns, and are sometimes irregular. Okay, you really have to count - those heavy lines don't mean 5 squares! Then there is the fact that there are TWO colors to work with. Once a square is painted, it stays put, but the pins are color specific, and disappear for that color when you change to the other. Not as confusing as it sounds, but you need to pay attention! On some puzzles, you have to unlock the second color by clearing squares with keys, either by painting or pinning. Thumbs up for this twist. You also will have 3 lives to start. Losing a level will lose you a life. You will also lose a life if you exit in the middle of a puzzle to the menu. Big thumbs down on that. There are four power-ups: Palette: paints a 3x3 grid Cross: paints a row and column Bucket: paints all of one color Eraser: cancels your mistakes Of course, if you use them up (tutorial demands to use don't actually use any) you have to buy more. And you will either be a lucky guesser or use them. More on that below. (The lives do seem to regenerate overnight, but I'm not sure how many or how many hours it takes.) 'Nother big thumbs down. There are three stars per level - one for completion (and if you abandon a puzzle in progress, you lose a life), one for filling the rainbow bar with a specified number of points, and one for no mistakes. You will have to get a certain number of stars to advance to the next location. And believe me, the stars are HARD to get - especially the one for points. Ah, the points. You get the most points for dragging the paintbrush/pinner, and singly clicking squares will NEVER get you the star. So on harder levels, the ONLY way to get the star, ta-da, is to use power-ups - or snip the screen and work it on paper first. No way I'm going to that much trouble. Buy, buy, buy those power-ups! 'Nother big thumbs down. HUGE, ginormous thumbs down for the fact that THIS game, unlike any other WM, has - wait for it! - the dreaded AMBIGUITIES. Yes. You will have to guess. Or use power-ups. THIS, this one fact, KILLS the game for me. No dedicated picross fanatic likes a game with ambiguities. Plus, there's the horrible tutorial that cannot be turned off. Thumbs down on that. IF this were made as a regular purchase and play, it would be awesome, because it is challenging, with the two colors and unconventional grids. Having the progressive allowable mistakes with difficulty, as they usually do. Having no ambiguities. Having an on-demand tutorial. And having attainable points. Being able to buy additional mistakes with your stars, and not having the game shut you out if you make too many mistakes. As it is, I can't recommend it. It's constructed pretty much to force you to buy powerups if you want to progress. F2P is a big ripoff in general, but some games let you pretty much play on without a purchase. Not so for this one - at least as you progress to the more difficult levels.
February 17, 2014