World Mosaics Chroma
Exclusive
Solve complex puzzles!
Travel across the globe as you complete pictographic color puzzles to stop a mysterious criminal from robbing the world of color.
Challenge your mind with:
JUST ADDED! WORLD 8 IS FINALLY HERE!
NEW! DAILY SPIN FOR REGISTERED PLAYERS!
LAUNCH YOURSELF INTO LOGIC FUN!
Game System Requirements:
OS:

Windows XP/Windows Vista/Windows 7/Windows 8

CPU:

1.0 GHz

RAM:

1024 MB

DirectX:

7.0

Hard Drive:

155 MB
Game Manager System Requirements:
Browser:

Internet Explorer 7 or later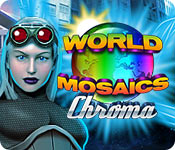 Top In-Game Purchases
1.

A Few Buckets

$ 2.99

2.

A Pile of Buckets

$ 11.99

3.

A Crate of Buckets

$ 29.99

4.

A Few Crosses

$ 1.99

5.

A Stack of Crosses

$ 3.99
Game Club members
SAVE 30% on
in-game items.
The Big Fish Guarantee:
Quality tested and virus free.
No ads, no adware, no spyware.

Reviews at a Glance

World Mosaics Chroma
0
out of
5 (
0
Reviews
Review
)
Customer Reviews
World Mosaics Chroma
89
89
Wish it wasn't "free" to play
I have all the World Mosaics games and love them. I hate that this one is not a game to buy since it's not really free to play. I love that there are different colors and you have to switch back and forth. Some levels are difficult to get started as you can't make a logical 1st move. Could you at least give us 5 lives before you die?
March 7, 2014
Great Concept but not cost efficient
I love the World Mosaic games and prefer to play w/o hints. I like a new challenge and this gives just that with different colors. I do not like the idea of having to pay for extras. The cost adds up and takes the fun out of it for me. This would be a great game w/o the extra costs. I would rather have the option of the previous World Mosaics or to choose this one. Disappointed as I was looking forward to another great game to be able to play over and over again like I do with the other World Mosaics. I own all up to this point.
April 28, 2014
overly long tutorial
I like mosaics games but this one was dissapointing. You can not switch off the highly irritating and long tutorial and by the time it ended (in level 7 or 8) I did not feel like playing it. It is possible to be overly helpful indeed.
July 14, 2014
Hate the up-charge offers-spoils a really fun game!
Terrific game other than offering you to buy everything from another life to another power-up! Constantly making sure you don't accidentally buy something is a real downer! My spouse loaded it and I didn't realize it was a free game with up-charge ads. I tried to find a way to just pay for the game and skip the advertisements throughout. So far no luck. I hope the game developers/Big Fish will consider the option. If not, I will stop playing fairly quickly. This is by far one of the funnest and most challenging games I have found. I hate games that are too easy. I like use my brain. I don't read the story at all.
April 18, 2014
Would be 5 stars if not FTP
I love the Mosaics series and this one has a unique twist. The rotation gimmick is great. However, the pricing for power-ups, lives and time are really excessive and hurt the game. As I get to higher levels it appears that logic is not always sufficient to complete the game and you either have to sacrifice lives or pay money - not good. Disappointing.
March 18, 2014
Disappointed in the "free" to play
I adore the World Mosaics games and have every one of them. When I saw this "Free to Play" one, I immediately downloaded it. And while the game is lovely and the new twist of having two colors in some of the puzzles is fun and interesting, I'm extremely disappointed in the power ups. It would be fine if they refreshed once every 24 hours or even once every 48 hours, or maybe if they refreshed once every world, but after your initial 3 free ones, you have to purchase them for the rest of the game? That's ridiculous and makes the "free to play" a total joke. A free to play game should allow you to do everything, or almost everything, without ever actually paying anything, even if it takes significantly more time, like My Singing Monsters or Dark Manor. As things stand with World Mosaics Chroma, you can't ever use the power ups again for the entire rest of the game once you use your original three unless you pay money. I would rather have paid for a Collector's Edition and gotten just hints instead of power ups, than have to constantly shell out more money every time I run out of power ups.
February 11, 2014
Love Mosaic Games, hate the forced tutorial & pay for power ups
The game itself is great. Using 2 colors is a great twist. You cannot bypass the tutorial. The tutorial is only good for showing the power ups and using 2 colors - the rest of it is really boring. I love these mosaic games and would gladly pay for another. But, I won't pay for in game items. Deleted the game.
February 17, 2014
Need Cash to play
I enjoyed the game, but got frustrated because no matter what you do unless you are paying cash for lives, and bonuses you can't reach the scores to get the stars after level 7. Unless you want to be putting out a lot of money for this game I wouldn't suggest buying it. It has excellent graphics and sound, but not worth buying, unless you have a lot of cash to throw away.
February 18, 2014
Got some flaws...
My mom and I own every World Mosaics game. If you want to try a WM game, go pick up one the first ones, like 2 or 3, even though those games aren't free. Chroma has a nice gimmick: the different colors of tile. Presumably, you should be able to have four different colors at a time. The different colors are each done on a different screen, and you swap between the colors you're using. In each level you can collect three stars: one for completing the level, one for reaching or exceeding a certain score, and one for making no mistakes in the level. A certain number of stars are required to proceed to the next area. Some of the puzzles are challenging, and some are easier...but this leads me to everything I don't like about this game. For one, the lives system. Every time you fail a level, you lose a life. And you fail a level when you make three mistakes. You can continue...for 99 cents. Or you can lose a life. After losing three lives, you aren't allowed to play. This can also be avoided by using powerups, which can make the puzzles easier...but after the tutorials using one of each of your starting powerups, you don't have many left. When you use them up, you need to buy them. Except some levels are almost designed for you to use powerups...other than the tutorial levels, I mean. I have beaten every level through the third world, using powerups only on the tutorial levels...but with guessing in a few places. And with only three lives, which...you can buy them or wait about 80 minutes to get a life back, and three mistakes...well. Next? Well, the powerups. Other than the ones you start with, you have to buy them. And I refuse to buy anything on free games with real money. The powerups can erase your mistakes counter, fill in a square, fill in squares in a cross pattern, or fill in the entire board for a single color. I guess these could be useful...but I feel like the filling in the entirety of a single color destroys the puzzles. Third, the storyline. I've given up on World Mosaics stories. I can't read them anymore. Last, the boards. This game has the weirdest shaped boards I've seen in a WM game. Not just the ones with pieces of the board missing in the middle of it. There are 14x14 boards subdivided into 7x7 squares. Why? Just...why?
February 18, 2014
Disposable game
The progressive levels of difficulty and multi-coloured or locked tiles make this brain teaser game very interesting. However, many items did bother me : 1) tutorial cannot be skipped (most of us know how to play this game). 2) Once used, power-ups are gone forever, unless you pay a lot to make them permanent. 3) Because you sign in with your email address in order to keep track of your progress, it is impossible to start the game over once you have completed it. You can play as a guest, but your game progress will not be updated and you will not be able to move forward. In conclusion, I would love to play World Mosaics Chroma over and over again, but the way the game is set up really deceives me. And by the way, I don't think storylines are mandatory in this kind of game.
February 17, 2014