Shadow Shelter
You have been hired as a private investigator to search for the missing heir to an old estate in Scotland. You might not expect to find anyone in an abandoned manor, but that would be a dangerous assumption! The house has a life hidden away from the eyes of a novice. Spirits and ghosts have long occupied the space within its walls and they will only let you into their dominion if you're willing to play by their rules!
Blood-chilling atmosphere and plot
Diverse selection of challenging puzzles
Impressive graphics and special effects
Adjustable difficulty level for experienced players
Game System Requirements:
OS:

Windows XP/Windows Vista/Windows 7/Windows 8

CPU:

1.2 GHz

RAM:

1024 MB

DirectX:

8.1

Hard Drive:

585 MB
Game Manager System Requirements:
Browser:

Internet Explorer 7 or later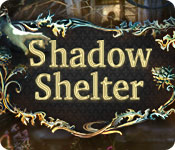 NEW299
The Big Fish Guarantee:
Quality tested and virus free.
No ads, no adware, no spyware.

Reviews at a Glance

Shadow Shelter
0
out of
5 (
0
Reviews
Review
)
Customer Reviews
Not good enough
This game has nicely creepy graphics, dark overtones, and interesting HOS. I really like the drawings of the items that you are supposed to find, makes it a little bit harder to find the items. BUT 1.There are way too many HOs, one after another after another, I never saw a puzzle in the hour I played the demo. 2.There is a homely little kid that pops up now and again and adds nothing to the game, why include that? 3.The plot is the overused "secret society that fights evil" hohum 4. When you need to use an item from your inventory, a picture of that item shows up over the area to use it, taking away any challenge. Too bad, I wanted to like this game.
January 25, 2014
Would have rated higher, but...
It became very annoying when every time I wanted to move to a different room I had to "watch" my footsteps on a map. If it had not been for that, I would have rated it higher.
January 20, 2014
Shadow Shelter
This game could have been great if we had not been so banal search for hidden objects and crosswalks more tedious than one place to another by displaying a map that eventually get bored. Indeed a very pleasant artistic concept, not uninteresting story, small innovative games but screen too small. Finally more real puzzles would not have been too. Short one clings to know the end
January 22, 2014
If you like a lot of HOS in a game
I could see a individual who likes to play straight HOS in a game might like this game, but I prefer more adventure in my games.
January 20, 2014
The game kept crashing
I couldn't go beyond the first two hidden objects games. As soon as I clicked on the switch, the game froze. I tried it on both computers (a Sony and an Asus) and ended up with the same frustrating result. Did anyone else have this problem?
January 20, 2014
This needs a violence warning
Usually, I don't review things unless I have something nice to say. But this is one of the oddest games I?ve encountered: after a short intro, the game just starts?no place to enter our name, pick difficulty level, or figure out what's happening. The game simply starts, as if we?ve been playing the game for an hour. After the requisite drive to the scene, we enter a mansion and crash through the floor to the basement. The HOGS are kind of fun?drawings of things that are in the scene. Unique little puzzles. But again, odd. There was a lot to keep me on my toes the first eight minutes and I thought I might like it, even with the strange beginning. I kept thinking I?d get a chance to ?sign in? or something. Anyway, as an animal lover who gets upset when a game requires feeding a butterfly to a spider or killing a mouse, I was deeply troubled by a scene early in the game where I had to trap a bear, harpoon a fish, kill a moose with a crossbow, shoot a bird with a rifle, and stab a boar to death with a knife (all with the cries of agony following each one). Certainly way out of my comfort zone and thus I cannot recommend the game with any faith whatsoever.
January 20, 2014
Shadow Shelter - okay if you like HOGs
I thought the visual was awesome - dark and spooky. But this game is only for those who like HOGs You follow a kid through a house completing different types of HOGs but there is no clear storyline. Fun...yes...but then I got to a point where there was nothing to do and when I tried to hint (I know - I hate to cheat but couldn't find anything!) it led me to a room where there was nothing more to do! Plus, it seems like whenever you try to move from one scene to the next, you had to wait for the scene to load. I got very tired of seeing the map with the footprints while the next room was "loading". Overall I think the game could have been a good one if it weren't for those few issues.
January 20, 2014
Extremely Frustrating!
The Graphics and Spooky themes were EXCELLENT but that's just about all the Game had going for it! Having the Inventory on the top was a BAD idea because I kept on going to the bottom every time to look for it. The Hint button was very SLOW and virtually USELESS just saying "There is nothing to do here." Searching the House from room to room to see what can done was extremely tedious as the scene changes were very SLOW. When you get stuck, there is NO help as to what to do next. This is one of the most frustrating Games I've ever played, and frankly not worth my time. If you're not going to provide a decent HINT Button then at least provide a Walkthrough! It's a pity because the Game had really great potential but due to all the problems it's unfortunately a Failure.
February 11, 2014
Could be a fun game but.....
Bought the game and began playing and thought "this may be a fun game, a little different then the regular" BUT the navigation is terrible, you can't get through 2 moves on the screen and a map comes up with an invisible person leaving foot prints all over the map, I assume to load the next section of the game. This goes on every couple moves you make and it takes it literally 2-3 minutes to load the next three steps your going to make. Even when you exit the game, the same map comes up for about 1 min to save your info. What a shame, I can't stand playing it because I play for 2 minutes and load for 3-4. It had potential...maybe its a bug, idk but not worth the hassle
January 31, 2014
Dont go anywhere until you have done everything in the scene!
OK this review is based on the demo. My scoring has been overwhelming influenced by the load time it takes from one room to another. I think that at least 25% of the demo time was taken up just loading rooms. This game is very dark, both in gameplay and artwork. The music becomes irrelevant with the footstep sounds ringing in your ears. The HOS are great with two variations and the need to search the entire building for the last one or two items is good fun, albeit frustrating at times. I really liked the potential this game has. If the devs can update it to allow for a better and faster scene transition then then I would be more than happy to increase my scoring, buy the game and recommend it for purchase.
January 29, 2014