The Emerald Maiden: Symphony of Dreams
Exclusive
After being abandoned at an orphanage 25 years prior, you've received an invitation to meet your biological mother aboard an underwater dream facility, a playground for the rich and elite, designed to simulate dreams. Powered by an ancient technology, the machine holds many dark secrets and surprises.

Set off on a quest to free your family, challenge the evil spirit, and escape the Emerald Maiden before it self-destructs!
Game System Requirements:
OS:

Windows XP/Windows Vista/Windows 7/Windows 8

CPU:

1.8 GHz

RAM:

1024 MB

DirectX:

9.1

Hard Drive:

912 MB
Game Manager System Requirements:
Browser:

Internet Explorer 7 or later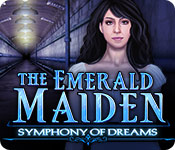 Daily Deal
The Big Fish Guarantee:
Quality tested and virus free.
No ads, no adware, no spyware.

Reviews at a Glance

The Emerald Maiden: Symphony of Dreams
0
out of
5 (
0
Reviews
Review
)
Customer Reviews
The Emerald Maiden: Symphony of Dreams
14
14
Dreams Never Fade!
You were just a baby, abandoned, left on the Orphanage stoop with only a necklace as a clue to find your real mother 25 years later. When you receive an exclusive invitation to board The Emerald Maiden with a promise that you will learn the identity of your parents, you set sail for a voyage only the rich and elite can afford! Aboard the Emerald you discover the Dream Machine, near lucid dreams can be achieved thanks to an ancient artifact found and it's energy harnessed, or has it? I think this Standard Edition is the better value because the CE simply didn't have enough frills to qualify. If you like underwater adventures with mechanical gadgets then you're in for a treat, other than the dream portals you enter, you won't be seeing beautiful floral and fauna. The HOS are slightly interactive list finds and most items are easy to spot. The mini games are mostly puzzles such as discs that form a picture, but when one disc is turned other discs turn as well. None of the mini games are new but they are easy to figure out such as playing the correct piano keys by association for example a picture of a fish matches the piano key with a fish hook. After finding several robot parts you reconstruct Atom a robot with a propeller on top and a key fob in front which allows him to access places you could not (I'm still trying to figure out how he stops the propeller and lays on the keyhole how does he take off, won't the propellers hit the ground?) hmm, Enjoy!
January 19, 2014
MOST INTERESTING STORYLINE
SUMMARY: Very different. If you want a straight-forward easy-to-follow story, this isn't it. This game plays a lot like a strange dream: you know the one, all kinds of things are happening, but you don't know how or why or when they will connect - you only know that they will. Easy but fun puzzles and HOS. I would choose the SE (see last para). STORY: This game has the most interesting storyline I've come across lately. At first, it seemed the usual story - a child given to an orphanage shortly after search, wants to know her history, yada yada. But once she gets her invitation to a dream facility underwater, there are so many twists, turns and discoveries in what appears to be a land of make-believe (i.e., the typical dream), that you can't wait to turn the next corner to see what happens. GAMEPLAY: So many enjoyable cutscenes, a smattering of easy but fun puzzles, lots of scenes (you get a map) and lots to do, typical list-based HOS (but uncrowded and easy-to-find objects), find the shown object HOS (which are then placed into the scene to complete an object (such as a robot or projector) so it works. Objectives are given periodically. Since magic is supposedly meeting science, the twists and turns and areas to explore are mindshattering and take the same turns as your dreams do. Keeps your mind on its toes. OTHER STUFF: 3 modes plus a customizable mode to an extent. (There are a few more sophisticated customizations out there, but this is still nice.) Nice unobtrusive music. Graphics are clear and the many types of locations are dramatically different but beautiful. Even though the scenes are so distinctive, they flow together seamlessly. No too much in voice overs, but what there are seems natural. CE v. SE: Besides the bonus chapter in the CE, it seems the only collectible is 16 roses. The other CE items seem to be the standard fare - wallpapers, character profiles, et al. I don't think the CE has enough these days to warrant a CE price, so the SE seems to be the way to go.
January 25, 2014
Wish I Could Find More of These!
The Emerald Maiden: Symphony of Dreams is a fantastic game. Beautiful artwork throughout. Music, ambient, and effect sounds that always fit their place in the game, enhancing every step of the way like good sound should. A storyline that is more than believable; it hauls you like a favourite book. My only disappointment was that it was not more challenging. The mini-games and hidden object scenes were all quite simple though this didn't bother me, or detract from the game; the plot's strong enough that this just didn't matter. The scenes are beautifully sparse with the objects you acquire always having a very direct relationship to the tasks at hand. I loved finding myself immersed in the virtual world the game creators made for us, and will be definitely searching out the rest of this developers games. I wish there were more of of this kind of game. I highly recommend The Emerald Maiden: Symphony of Dreams.
February 18, 2014
Was very Good
Good game, lasted super long, nice story line. Recommend.
March 2, 2014
Nightmares are dreams too!!
So many dreams?so little time! Review of the CE and SE version. This game was objectively very well done and had a few new puzzles that haven't been overdone and had a good length of game play. However it will frustrate some gamers because it is deceptively mechanic and hardware themed.... Yes yes, I knew it would be sic-fi but the name 'Emerald Maiden' evoked a rather Victorian feel for me. I am the type of person that loves to do cooking puzzles and sneak around castles, so putting together ray guns, and machinery after new tech machinery was rather boring and eye-glazing. It reminded me of the 'Abyss: Wraiths of Eden' game that also had a good storyline but so much grey metal scenes that it lost it for a fairytale adventurer like myself. Overall the length of the game was great about 5 and a half hours on 2nd mode, with three modes to play on. For those thinking of the CE version, don't. The length of the bonus game was abysmal?maybe 25 minutes with no hints and the main game had such minimal collectables (16 roses) and no notable achievements. Not worth it. The graphics were somewhat washed out, and the characters were very realistic from far away but startlingly cartoonish up close, which threw me off the emontional bond I like to create with the cast. The plot was easy to unravel after the first 30 minutes, and the ending was an obvious ploy for a sequel but still wrapped things up in a satisfying way. BIGGEST PEEVE: the dreams were at most one or two scenes?max. Which was sad to me. I thought the majority of the game would be in different worlds when in fact maybe an 1/8th of game time was bouncing quickly to a jungle setting. Boo? I would recommend this game SE version to anyone who is a big fan of the nitty gritty sci-fi tools and doesn't mind tinkering with radios and rockets, or for those of you who really want a change from the fanciful games out there. Worth the time it takes to play for the SE price or a free game credit. It had a few good tidbits, nothing wowed me but I didn't stop playing it either. Happy gaming, Big Fishies!
January 20, 2014
Mixed feelings, to say the least!! 3 1/2 stars...
Wow, I don't think I've ever felt so torn about a game. Creative and surreal story, TONS of potential, but poor execution (in some aspects, at least#. I Beta-tested this game, and I thought it was interesting enough to buy as an SE, although I wasn't willing to splurge for the CE. I will not wax on about the details of the story since you probably want to find that out yourself; I will get right to what I liked and didn't like #without giving anything away, of course#. THE GOOD: -Impressive visuals. I disagree that the mechanical-ish theme detracted from gameplay, for me personally, unless you *only* like fairytale type games. I do not prefer mechanical or sci-fi games, yet I enjoyed the visuals and setting of this game. The colors were bright and the scenes were clean and aesthetically pleasing. I didn't think any of it was visually dull, except for maybe a couple of scenes out of many. -Creative storyline, in my opinion. It is different than most of what we see in HOPA, which I liked. -Interesting, creative side characters. I was impressed by the novelty of the couple of side characters you get to interact with, who were both funny and endearing. -Cuteness factor. No, this isn't a "am I playing a child's game?" kind of frilly stuff that detracts from your gameplay. But who can resist adorable meowing kittens that you need to rescue and reunite with their mommy, and an equally adorable flying robot? I mean, this wouldn't be enough to affect my rating, but it did improve my enjoyment because they added lightness #along with those side characters# to an otherwise fairly serious game. -Music was appropriate and better than average at setting the right atmosphere without being annoying. -Emphasis overall is on the Adventure aspect, which I liked. THE AVERAGE: -HOS and mini-games were just ok...not bad, but just okay. I love mini-games, and I felt a LOT more effort could have been put into the mini-games in particular. At least it wasn't overloaded with too many HOS with tons of items #not my cup of tea#. -I personally like cut-scenes because they *usually* mean a more thought-out, in-depth, and engaging storyline. The problem with the "minute movies" that you encounter is that they don't always seem to be in the right order #e.g., it is possible to find the last one before you are really supposed to be watching it#. This made for a more disjointed storyline, which was a shame. THE BAD: -Disjointedness overall. I was saddened that a game with so much potential left so many holes and didn't try to clean up the game to make sure the parts were told in the correct order or fleshed out enough. I mean, I knew what was generally going on, but some things just weren't explained well throughout the game. -I did not like some aspects of the ending. I suppose saying that doesn't help you since I can't say anything about it, but...I guess I cared about the game enough to actually be upset about the fates of some of the characters, and the game left me WORRIED rather than satisfied with the closure. Normally, some emotional investment in the game on my part would be a compliment to the developers, except that I don't think they handled the ending well. They went to the trouble of creating some characters that we liked and then didn't seem to care about them themselves! NOTE that I'm not necessarily saying it has a sad ending - any game has the right to do that, and kudos to those that go against the grain in that way - that's not what I'm saying. I just didn't think they ended it well. -Glitches - minor but annoying ones - like zoom-in shots that didn't close when you were finished with them and that could still be zoomed into. I understand that this is normal for shots with notes in them, but there was more than one for which that was not the case. Sometimes you could still zoom in on it, despite it being completed, and sometimes you couldn't. That lack of consistency detracted from the gameplay for me. There were a couple of other glitches of this sort. It just seemed like they were on a deadline to finish this at the end and didn't check it thoroughly enough. That makes me sad since I was a Beta tester for it, and I didn't really run into those types of glitches during the portion that was Beta-tested; the errors were almost exclusively in the remainder of the game. I expected the remainder to be as smooth as the first part, especially considering that it was the only part I was technically paying for #having played the first part already in Beta#. I was split between 3 and 4 stars for this one...3 1/2 would be right. I think it is worth playing, but I really hope that the Devs read this review and give the result of their creative abilities the attention it needs to be a more cohesive and satisfying game, the next time around.
January 25, 2014
Different Hidden Object Adventure
Based on the Demo The soundtrack, narrations, and voice overs were great. The background movie provided an eerie spookiness and the voices were clear, crisp, and understandable. The graphics were good, a little cartoonish, but that only enhanced the game play of being underwater in an Atlantis type environment and able to use a dream machine to make your wildest fantasies come true. The story line was very interesting. Twenty five years the main character was abandoned by her mother and today she receives a message to meet her at the underwater resort for the rich and famous. Once she is at the resort things take a turn for the worse when she does not immediately locate her and the people she does encounter seem strange at best. The hidden object scenes are regular list type and picture type, both fun and moderately easy. Mini-puzzles were a lot of fun. There is a map but no journal so if you are given any numerical clues you better jot them down because you will never find them again unless you restart the game. As a SE this game is right on the money and well worth the SE price.
January 26, 2014
The Gogii Magic Is Missing In This One...
I waited to try the SE of this game, so when it came out, I instantly downloaded it. Gogii have given us some great games in the past, and while this one is not brilliant, it is certainly not terrible either. Some elements of this game seriously need some work, but overall it was enjoyable. Most of the time, stories by this developer seem to lack the ?wow? factor and their games are more based on the gameplay, but this time, the story is pretty darn good! While it does take some time to get in to, when you eventually do get in to it, you can't stop playing! The demo ends at a crucial moment, and I just want to find out what happens next. I'm almost tempted to buy the game. What this story did well with was the element of surprise. I thought I had the villain picked out after about five minutes, but come the end of the demo, I was proven very wrong, which was wonderful! I urge all players to give this story a chance, because when I first started the game, I thought ?It's just going to be the same old story: Orphan searches for parents, said orphan sees parents only to lose them again and go on a magical adventure,? but it's not! It's very different from what I thought it would be. This is a good story, but falls short of being a great one. That said, you must give it a chance first! The gameplay is just standard here, which I found to be a little disappointing, to be honest. The only thing slightly different to the usual HOPA is that there are two types of HOS: Silhouette and junkpile. There were five HOS in the demo (50 minutes). Of the five, three were junkpile and two were silhouette, so the HOS are spread out evenly. While both types of HOS were fairly easy, I did enjoy playing them. The puzzles were a mixture of hard and easy. They were nothing new, so experienced puzzlers should be able to solve them quite quickly and easily. I, however, struggled on a couple, but I still enjoyed them. The puzzles had clear instructions, so I knew what to do instantly. In this game, we have a helper in the form of a robot named Atom. He doesn't speak, but has subtitles to translate what he is saying. His job in this game is to unlock things with specific locks. To use him, you must first zoom in on the lock and use Atom on it. I found that Atom was used quite often in the demo, about five or six times. I enjoyed having Atom with me during the game. This is pretty much your average HOPA. It has most of the features (excluding the diary), so experienced players will have no trouble navigating their way through this one. I would recommend this game for beginners as there is a custom difficulty, which allows you to set the game your way. You can make it as easy or as hard as you like. The graphics are good, but I've seen better. That being said, I thought that everything was clear. The character designs were good, each scene was clear, nothing was hazy, so it was nice. I have a complaint about the music/sounds in the game. In the demo, you must find 5 kittens. As soon as you enter a room with a kitten in it, the meow sound plays and keeps going off constantly until you free the kitten. This is incredibly annoying and distracting. It also happened with the robot we had to fix too. This is my main problem with the game and it kind of puts me off buying it. FEATURES 4 modes of difficulty: Casual, Experienced (Advanced), Nightmare (Hard) and Custom. I played Casual. Hint/Skip- both recharge at a reasonable rate for the difficulty and the hint is useful outside HOS. Map- interactive. It lets you know where there is a task to be completed. Collectible film reels (13)- These film reels are an enjoyable part of the game and give you extra details of the mystery. Atom- Atom is our helper, and as I said before, is quite useful and is used often. I enjoyed having Atom with me. So, I did enjoy this game, but unlike previous Gogii games, I didn't love it. What made Gogii games so special was that they were so fun and unique that it didn't matter if the story was good or not, and that was missing here. So, this game gets a four from me, and I won't be buying it.
January 21, 2014
Good Adventure
There is a lot going on here. First you have to find your mother and escape from the Dream facility. There is a cute helper named Atom. The hidden objects and mini-puzzles are mostly easy. My one complaint is the strategy guide is outside the game on the main menu under extras. The bonus game in a plus.
February 2, 2014
Great Game !
Several mini stories with the game. Very fun to play.
May 15, 2014
The Apple logo is a trademark of Apple Computer, Inc.