Salawander
Welcome to the world of Salawander! Sala the salamander is on a quest to find the delicious bubble cake! Guide Sala through each surreal stage, collect jellyfish and exchange them for adorable hats! Be careful not to burst Sala's bubble though as you dodge and weave your way past bumble cats and other foes!
The cutest salamander you'll ever see
Customize Sala with hats and headwear
36 exciting stages across 4 locations
Unlockable racing mini-game
Game System Requirements:
OS:

Windows XP/Windows Vista/Windows 7/Windows 8

CPU:

2.0 GHz

RAM:

2048 MB

DirectX:

9.0

Hard Drive:

192 MB
Game Manager System Requirements:
Browser:

Internet Explorer 7 or later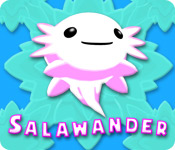 NEW299
The Big Fish Guarantee:
Quality tested and virus free.
No ads, no adware, no spyware.

Reviews at a Glance

Salawander
0
out of
5 (
0
Reviews
Review
)
Customer Reviews
An Addicting Game That's Not As Simple As It Looks
When I first starting playing this game I thought it was a cute and entertaining game for young kids. Then I quickly realized that as the levels progressed, it was actually one of those games that adults get addicted to! Sala is a salamander/fish (?) in a bubble that you move very clumsily along several narrow paths bumping into walls trying to eat floating jellyfish. Some of the jellyfish are in areas that require you to veer off the path to consume and if you bump into anything pointy, your bubble bursts and you have to either start at the beginning or if you have made it to any of the frog checkpoints you restart from that point. There are all different kinds of obstacles, bubbles with eyeballs that are hard to push out of the way and sometimes they push back, chicks that hatch spinning spike discs, eels that come out of holes, alligators that are relentless but semi slow, you get the point. This game will have you saying, just one more level, enjoy!
January 22, 2014
Cute, fun game!
I really enjoyed playing this game. The characters are adorable, and the environment is beautiful and fun! There are two game modes, so you can play a relaxed game or a more challenging race mode (the race mode unlocks once you reach level 6). This unique and original game will bring hours of fun to people of all ages. I will definitely buy this game!
January 21, 2014
Retro gameplay, and that's not so bad!
If you are a fan of old school 2D games like the SNES' Super Mario Brothers or Castlevania or Sega's Sonic The Hedgehog, then this cute little game is exactly what you are looking for! In this game, you play as a little salamander that has to get past many enemies and obstacles to get to your next level. You do have allies that help along the way, like the tasty jellyfish and frogs, but your enemies are far more numerous. There are spikes, bumblebee cats, eels, sea dragons, big one-eyed bubble things that block your way, birds, and puffer fish with tractor beams. Just about everything is out to get you! This game asks you to choose a screen resolution before you can play, so choose what looks best for you. Also, it is mouse driven, not joystick driven, so it might be a little odd to those who are used to the old-style console game pads. There are some perks in this game. You see, the little salamander loves bubble cake, and when there is bubble cake at the end of a level, he goes into god mode to get it, just plowing through all those bee cats, birds, dragons,and just about anything else to get at it. Sadly, these levels are usually at the end of a run, so you only see them about every ten levels. Also, you can play in race mode against computer opponents, and your salamander is far less vulnerable to spike and enemies, since it is some of your enemies you will be racing. This is a three lap run, similar to that in the older Need for Speed games. Salawander is a fun, but frustrating diversion, but it is quirky and cute, and if you are stuck in the 90s when it comes to video games, then this might just be what you are looking for, and I would not blame you a bit. The games really were better back then, and rarely did any of them involve looking down the scope of some kind of high tech gun, like most of the games do lately. If you can get past all those things that like to burst your safety bubble, or think your little salamander is the tastiest thing since bubble cake, then you'll do fine.
January 26, 2014
Nom, Bubble Cake!
BASED ON DEMO Never tried bubble cake? Then you obviously haven?t played this funny little platformer. Now, there?s only one kind of game I play worse than time management games and that?s platformers, but I did enjoy this one in the brief time I managed to stay in the game. You are given the choice to play in different definitions, or in windowed mode, and I found windowed the most comfortable. The graphics are cartoony and pretty, not much on detail, the music is a little childish too, but then so is the game. Salawanda is a cute salamander traversing the bottom of the pond (?) she is in. She encounters nasty bumblebees and nice frogs and eats all the jellyfish and bubble cake she can find. Staying alive is tough, though, because there are so many obstacles to get around, and later there are bully bubbles! And swimming is a bit of a hit and miss kind of thing. Your cursor moves Salawanda, but sluggishly, as she swims through the water, only speeding up after some time, and turning in response slowly and erratically. Salawanda must get all 6 of the jellyfish to score points with which to buy cute hats (choice of 3 only in the first stage, don?t know if there?s more later). Top scores are recorded, from 0% to 100%. I managed to get through the first 10 levels, to finish the Mellow Garden, in 30 minutes of concentrated play, scoring only 40-50% each level. Two levels later, I ground to a halt unable to pass 4 mean bumblebees. I don?t know how many stages there are to the game. This is not an easy platformer, but it is cute and light-hearted, and simple to grasp. It has the advantage of being a non-verbal game, so it can be played by anyone. As a time gobbler, it?s a beauty.
January 29, 2014
Great for the younger crowd
The graphics and challenge on this game would be great for gamers in the 8-10 yr old range
January 22, 2014
SO Slow. Boring beyond belief
Little fish took so long to respond to commands to change direction and get anywhere I gave up after 5 minutes of the trial. Has potential for being fun and challenging but not at that pace.
February 2, 2014